Biography
Carr took birth in Port Sunlight and grew up in Bebington. She went to Upton Hall School FCJ in Upton, Merseyside and also the Birkenhead High School in Birkenhead. In 2010 Carr entered into a civil partnership with longtime partner named Jo Church in what Carr called "A Wheelie Special Wedding". Carr and her husband danced to the Dirty Dancing theme as the local fire brigade held her, and her chair.
On 10 August 2017, Carr and her personal assistant were the victims of an attack by an armed man with scissors. The assailant was subsequently arrested and detained.
Carr has been on wheelchair since she was seven due to arthrogryposis multiplex congenita and frequently refers to her condition in her stand-up as "meus thronus kaputus". She is frank,outspoken about her life as a disabled person. She has been part of a number of comedy groups like Abnormally Funny People with Tanyalee Davis, Steve Day, Steve Best, Simon Minty, and Chris McCausland.
Carr co-hosted the Ouch! Podcast with Mat Fraser from 2006 to 2013. She in 2011 worked as a researcher for the BBC comedy panel show Have I Got News for You.
Carr was in her 30s when she took on her first professional acting role playing Mother Courage before heading to the Young Vic with another Bertolt Brecht play, The Exception and the Rule. In 2013, she joined the famous crime thriller series Silent Witness as regular character Clarissa Mullery.
Carr has been a disability rights campaigner in the UK for the past 20 years and has spoken at many rallies. In May 2008 she partnered with ADAPT in order to raise money for ADAPT and to protest against presidential candidate John McCain's refusal to support the right of people with disabilities to live in their own residences. This shows her commitment to the disability groups.
In 2011, Carr was part of a Newsnight debate on assisted suicide.
Facts and Trivia
In 2007 she was runner up in the Hackney Empire New Act of the Year competition.
She has voiced against the austerity drive in Britain which has crippled the funds to the disabled.
She has voiced against the Disability Living Allowance being changed to personal independence plan and thousands and thousands of people had been reportedly cured when in fact they were not.
She also feels disabled people need to be provided a means to transport to get education and work.
She also did a musical on the Assisted suicide to portray the plight of the disabled.
Initially when she was casted in Silent Witness there was a lot of talks in social media as to how would she manage to play the role. But as she showed her skills in acting everyone became convinced.
She has 3 adorable black cats namely Will Feral, Cat Fraser & Julie Catless Mews.
She once helped to find a missing cat on twitter. This shows her love for cats.
Loves cats.
Filmography
Tv series
Silent Witness(2013):She played the character- Clarissa Mullery / Clarissa in the Mystery Crime Drama Series , it has William Gaminara, Tom Ward, Emilia Fox in the main roles.
The One Show(2018):Liz appeared as Herself in the Series with the cast Matt Baker, Alex Jones, Christine Lampard .
Too Much TV(2016):She played Herself - Interviewed Guest in the TV Series with actors- Emma Bunton, Aled Jones, Sara Cox playing the lead characters.
Sunday Morning Live(2014):She played Herself in this TV Series produced by British Broadcasting Corporation (BBC) with Susanna Reid, James Hargreaves, Sian Williams in the lead cast.
Newsnight(2011):She portrayed Herself in the Series with stars- Kirsty Wark, Emily Maitlis, Jeremy Paxman playing important roles.
Britain's Great Gay Buildings(2017):She played the role of Herself in this Documentary directed by Matt Reid starring Simon Callow, Rikki Beadle Blair, Waheed Alli in the lead.
The Crime Thriller Club(2013):She portrayed Herself / Clarissa Mullery in the Documentary TV series documentary produced by Cactus Television with stars- Mark Billingham, Kate Mosse, Bradley Walsh playing important roles.
The Beaten(2011):She acted in the role of Liz in the Horror directed by Simon McKeown created by Simon McKeown , it has Liz Carr, Philip Harrison in the lead cast.
Have I Got News for You(2011):She portrayed the role- in the Comedy created by British Broadcasting Corporation (BBC), Hat Trick Productions , cast included Paul Merton, Angus Deayton, Ian Hislop .
Movies
Le Accelerator(2017):Liz was The Death Provider in this Crime movie directed by Thomas Eikrem featuring Erin Angel, Alexandre Archimbaud, Anders Arentoft in the cast.
Quotes
On Assisted Dying bill in UK- I fear we've so devalued certain groups of people – ill people, disabled people, older people – that I don't think it's in their best interests to enshrine in law the right of doctors to kill certain people.
I'm not sure when I started to feel really confident but I would say it began at University.
I think sometimes the biggest difficulty is knowing when to keep your mouth shut.
I'm really glad that I never had when I was starting now was a crystal ball okay because I think sometimes you are how am I going to make the right decision what's right for me what career should I choose, what partner and so on.
Liz Curr: Photos, Pictures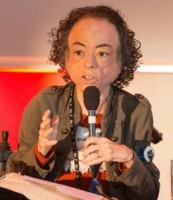 Liz Carr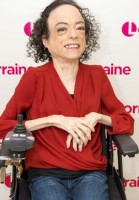 Liz Carr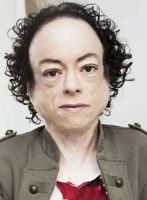 Liz Carr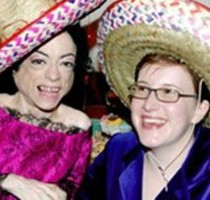 Liz Carr with husband