Biography
Neeraj Chopra is an Indian Athlete, an Indian record holding Javellin thrower and a junior javelin world record holder.
Neeraj Chopra was born on Wednesday, 24 December 1997 in Khandra, Panipat, Haryana, India (just a few kilometers away from New Delhi, the capital of India).
His father Sathish Kumar is a farmer, mother a homemaker. He has two younger sisters and three brothers.
Rise to Fame:
Neeraj won the 2016 IAAF World U20 Championships held in Bydgoszcz, Poland. Neeraj set a junior world record during the event, the world record brought him the popularity and fame among sports fans of India.
He is the only second Indian athlete after Anju Bobby George to win Gold medal at a World Championship.
Neeraj cleared the distance of 86.48M at the event setting the world record at the age of 18 years , 212 days.
He secured Indian national record in javelin just when he was a teenager at the 2016 South Asian games with the throw of 82.23M, a pretty impressive record for a teenager to smash a senior record.
Missing 2016 Olympics: Neeraj easily cleared the Olympics qualifications but he was bit late in time.
Being a very young athlete he has years of excellence ahead of him. Perhaps the support of Sports Authorities of India could make a world champion out of him.
Neeraj Chopra- Interesting Facts and Trivia
Neeraj was spotted by former javelin thrower Jaiveer Singh at a volleyball tournament in 2011, seeing his agility & strength at the age of 13 Jaiveer talked to him and convinced to take up career in Javelin throwing, he trained him initially.
In 2012 Neeraj won gold at the National Junior Championships(under 16) in Lucknow with the throw of 68.46m, he was just 14 then.
In 2013 he won silver at the National Youth Championship.
In 2014 he broke the National Youth Championship record with the throw of 76.50m.
On 31st December 2015 Neeraj threw an impressive 81.04m, a national junior record as well as the leading score that year in international U20 circuits.
National record holder: Neeraj became an Indian National record holder at the South Asian games (2016) with a throw of 82.2m. Previous record was 80.14m by Rajesh Kumar Bind. In 2018 he improved his distance to 88.06m
Neeraj became a world junior record holding javelin thrower in 2016 at the 2016 IAAF World U20 Championships with the throw of 86.48m. Previous record was 84.69m by Zigismunds Sirmais.
He is the third Indian to win a medal at world U20 tournaments after Seema Antil(2002) & Navjeet Kaur Dhillon(2014)
He won silver at the 2016 Asian Junior Championships held at Ho Chi Minh, Vietnam with a throw of 77.60m just behind Junya Sado of Japan who threw 77.97m for gold.
He was taller than most kids in his school, teachers would pick him to participate in all games, he grew up playing lot of sports.
In July 2017 he won a gold medal in the Asian Athletics Championship with a score of 85.23 meters.
He is the second Indian athlete after Vikas Gowda to participate at the Diamond League event
His coach Gary Calvert, an Australian javelin thrower had previously trained cricketer Mitchell Johnson in Javelin, Gary compares Neeraj with Mitchell.
Neeraj is a right hand thrower.
Neeraj weighed 77kg at the age of 13, his uncle was strict and put him in sports.
He is a beneficiary of the JSW Sports Excellence Program.
Indian Army offered him a post which he accepted. He was given the rank of Naib Subedar in 2016.
Neeraj underwent an elbow surgery in May 2019, he is expected to recover in time for 2020 Olympics.
Asian Games Gold: Neeraj won a Gold at the Asian games with a throw of 88.06m
Neeraj Chopra's progression
| | | | |
| --- | --- | --- | --- |
| Year | Distance | Place | Comments |
| 2012 | 68.46 | Lucknow | 700gm Javelin (Junior Level) |
| 2013 | 69.66 | Thiruvanathapuram | 700gm Javelin (Junior Level) |
| 2014 | 76.50 | Vijayawada | 700gm Javelin (Junior Level) |
| 2014 | 70.19 | Patiala | 800gm Javelin (Senior Level) |
| 2015 | 81.04 | Patiala | Senior Level |
| 2016 | 86.48 | Bydgoszcz (Poland) | |
| 2017 | 85.63 | Patiala | |
| 2018 | 88.06 | Jakarta | Asian Games 2018 |
Neeraj Chopra Quotes
I have to skip college most of the time as I train twice a day and commuting between college and my training base at Patiala takes about two to three hours.
I could never just turn my arm over and bowl. I was always a bhatta bowler.
It's just chance that I became a javelin thrower. If Panipat had runners I would have become a runner
I am accepting the Army's offer as I was desperately in need of a job to sustain my training. I am grateful to them for this
Neeraj Chopra: Photos, Pictures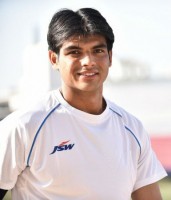 Neeraj Chopra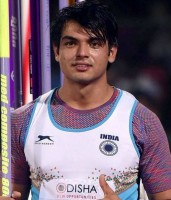 Neeraj Chopra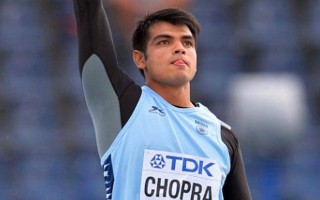 Neeraj Chopra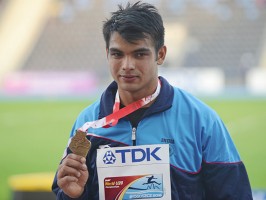 Neeraj Chopra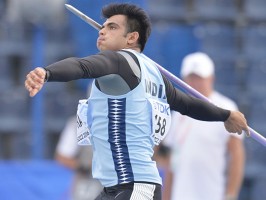 Neeraj Chopra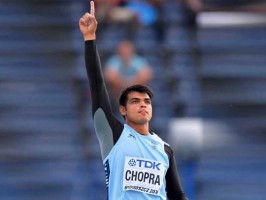 Neeraj Chopra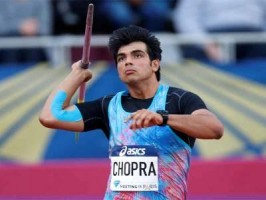 Neeraj Chopra running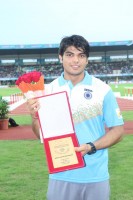 Neeraj Chopra with the record certificate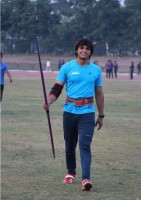 Young Neeraj Chopra at the national champioship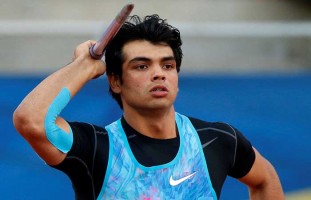 Neeraj Chopra in action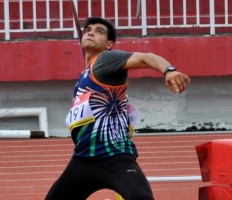 Neeraj Chopra throwing javelin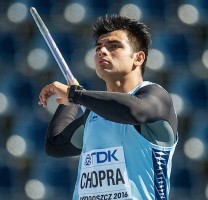 Neeraj Chopra throwing javelin