Biography
Ajay Kumar Saroj is an Indian athlete, a long distance runner who usually runs the distance of 1500m in competitions. He has been competing in both 1500m indoor and outdoor competitions.
Ajay Kumar Saroj- Best Performances
3:38:67, at the 2017 Asian Indoor & Martial Arts Games, Ashgabat, Turkmenistan
3:43.27, at the Indian grand prix, Delhi
3:44.04: at New Delhi in April 2016
3:45.85: at Bhubaneswar, July 2016 (Asian Athletics Championships)
3:46.92: at Nanjing, China, August 2014 (2nd Youth Olympic Games)
3:47.26: (Indoor) at Doha, Qatar February 2016
3:49.52: Bydgoszcz , Poland, July 2016 (IAAF World U20 Championships Bydgoszcz 2016)
Ajay Kumar Saroj Achievements
Gold medal at the 22nd Asian Athletics Championships (2017)
Gold medal at the 2017 Asian Indoor & Martial Arts Games, Ashgabat, Turkmenistan
Ajay Kumar Saroj- Interesting Facts & Trivia
Ajay Kumar Saroj was automatically qualified for the World Athletics championship(2017) after winning the Asian Athletics championships(2017), but the Indian authorities did not allow him to participate as his timings were not considered good enough for a world level tournament.
Saroj's family is entirely involved with athletics, He has two brothers and 3 sisters, his brothers and sisters are also training to be runners. He is the youngest of the 6 children.
He finished in the top 8 at the World Junior Championships.
He is a 2 time national level champion.
He became an all Asian Champion in 2017 by winning at the Bubhaneshwar 2017, Asian Athletics Championships.
He also runs 800m race occasionally.
Ajay wants to break the national record of 3:38.00 set by Bahadur Prasad in 1995, Ajay's personal best is 3:43.27, just 5 seconds behind the national record.
Saroj also has plans to compete in 5000m category, his has clocked 14:33.00 in the 500m discipline.
He initially liked Archery, and trained for couple of weeks in Jamshedpur, though he hasn't touched bow in years he watches the game closely and has met Indian top archer Deepika Kumari.
He discontinued studies after the 12th grade, he was supposed to study Engineering after the 12th grade, but he chose to train in long distance running full time. He was, self admittedly not good at the studies and athletics is his way to glory.
He used to carry water for his sister Shashi who is also a runner, it introduced the sport to him, he eventually picked it up.
He used to play sports like Kho-kho, Kabaddi when in school.
Saroj holds national records at the National level in under 17 and under 18 categories.
Ajay is supported by Gosports foundation, some of his estimated 35,000 Rs expenditures per month is supported by the foundation along with Ajay' brother Ajith.
Ajay works as a ticket checker at the Allahabad station to make up for his expenses.
He idolises Mo Farrah, a champion runner in long distance running and likes to meet him.
Ajay Kumar Saroj: Photos, Pictures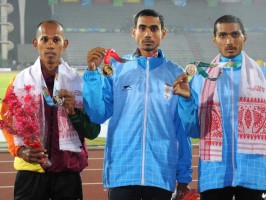 Ajay Kumar Saroj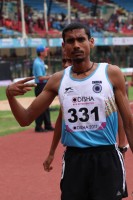 Ajay Kumar Saroj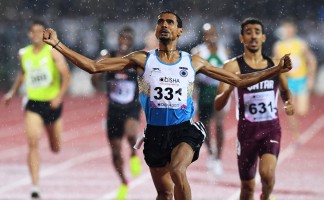 Ajay Kumar Saroj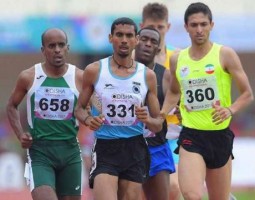 Ajay Kumar Saroj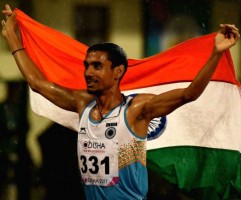 Ajay Kumar Saroj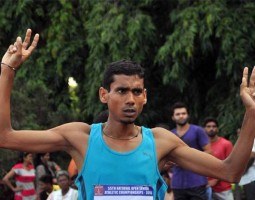 Ajay Kumar Saroj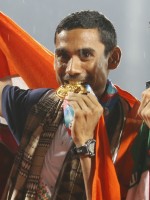 Ajay Kumar Saroj