Biography
Praggnanandhaa R (pronounced Pragg-na-nan-dhaa) is an Indian chess player and International Master. In 2016 he became the world's youngest International Master ever at the age of 10 years 10 months 19 days.
Praggnanandhaa R was born on 10th August 2005 in Chennai, Tamil Nadu to Ramesh Babu(father) & Nagalakshmi(mother). He lives in the suburb of Padi in Chennai, his father K Ramesh Babu is a Tamil Nadu State Corporation Bank employee, while mother is a housewife. His other sibling, sister- Vaishali Rameshbabu is a star in the Indian chess by her own merit. Vaishali is a 2 time Youth Chess Champion and a grandmaster
Previous record was held by Sergey Karjakin of Ukraine, he was 12 years 7 months old when he had attained the title of international master. He reduced the previous record by almost 2 years, quite a record considering previous records at maximum differ by 6/7 months. Great Magnus Carlsen was 13 years 4 months old when he became an international master.
His fans and chess experts expect him to become the youngest grandmaster as well.
Rameshbabu Praggnanandhaa- Interesting Facts & Trivia
Youngest Grandmaster: Praggnanandhaa became the 2nd youngest person to acheive the GrandMaster (GM) Title in 2018, Now he is the fourth youngest ever, just behind- Sergey Karjakin, Dommaraju Gukesh & Javokhir Sindarov . He acheived his 3rd GM norm at the Gredine Open in Urtijëi, where he defeated Luca Moroni. He was 12 years, 10 months and 13 days old at the time.
World Youth Chess Championship: In 2013 Praggnanandhaa won the World Youth Chess Championship for Under-8 boys title.
2600 Milestone: Youngest player ever to cross 2600 points, he attained that feat during the London Chess Classic FIDE open. He defeeated GM Jules Moussard to achieve the score of 2602.
Xtracon Chess Open: Praggnanandhaa won the Xtracon Chess Open held in Elsinore, Denmark with an aggregate of 8/5/10. He was unbeaten throughout and was ahead of other competitors.
In 2015 he won the Youth Chess Championship in under-10 category.
His elder sister Vaishali is also a chess player and is a two time youth chess champion.
He and his sister rarely play against each other, they are very competitive and their parents don't want them to fight.
His parents did noit want Praggna to become a chess player, Vaishali was already a player and the family couldn't afford the expenses of two.
Praggnanandhaa practices for 4-5 hours a day.
His mother takes him to various international tournaments as father would be busy with his work.
He usually celebrates his victory visiting his grandmother's house or visiting temples with parents.
Praggnanandhaa surprised everyone by defeating Axel Bachmann, a chess grandmaster in just 18 moves, and another GM Levon Babujian.
His father Rameshbabu became disabled with Polio in childhood, he is a graduate and works at Tamil Nadu state Corporation Bank.
He learned Chess at the age of 5
Coach: Praggnanandhaa is coached by RB Ramesh. R.B Ramesh is a former champion, he had won British Championship in 2002 & Commonwealth Championship in 2007. His chess school is called "Chess Gurukul". Ramesh's wife Aarthie Ramaswamy is a Grand Master as well. Ramesh and Aarthie are the first Grand master couple of India. Chithambaram Aravindh is another prodigy from the Gurukul
In August 2017 Praggnanandhaa crossed 2500 points and became the youngest player to do that.
Praggnanandha wants to score 3000 points, a feat in chess even the greats have not achieved so far.
Praggnanandha's role model Vishwanathan Anand in an interview was all praise for Praggnanadha
Sponsors: Praggnanandhaa is sponsored by Ramco(2019)
Praggna is a very rooted child, he visits his grandmother often and goes to temple to celebrate his wins.
Heroes of Chennai: He was nominated for the "Heroes of Chennai" award in the sports category
Kerala Floods Donation: Praggnanandhaa and his sister Vaishali donated 10000 INR each towards the flood relief fund
Vishwanathan Anand after observing Praggnanadhaa's game said- "What impresses me about Praggnanandhaa is that he's not just a strong player but mixes imaginative middle game play with patient endgame skills and is uncompromising in not settling for easy, quick draws"
Home food: Whenever he goes out to play in the international tournaments, his mother accompanies him, she cooks him South Indian home food for the lunch whereever they are.
Rameshbabu Praggnanandhaa- Timeline
December 2019: Praggnanandhaa became the youngest Grand Master ever to score 2600 points at the London Classic chess event at the age of 14 years and 3 months, he overtook his friend and fellow Indian Nihal Sarin who was the previous youngest to score 2600 points at the age of 14 year and 10 months.
October 2019: Praggnanandhaa won the World Youth Chess Championship held in Mumbai with a score of 9/11 in the under-18 category. He was just 14 at the time and had chosen to compete in the higher age category
August 2019: Finished 3rd at the Abu Dhabi Blitz
July 2019: Praggnanandhaa won the Xtracon Chess Open in Denmark ahead of higher ranked players like- Nils Grandelius, Gabriel Sargissian, Anton Korobov. He gained 28.5 rating points from the tournament.
May 2019: He played for the Cannes team at the French League
March 2019: Competited at the Prague Challengers 2019 where he beat the legendary Russian Grand master Alexei Shirov.
January 2019: Competed at the Tata Steel Challengers 2019
December 2018: He competed at the The Sunway Sitges International Chess championship, he scored 6.5/10 with 3 wins and 7 draws and remained undefeated. His sister Vaishali won the best woman player's prize.
November 2018: Competed at the Tata Steel Chess India 2018 blitz tournament where he played against the legendary Vishy Anand for the first time.
October 2018:Played at the Isle Of Man International where he defeated GM Pavel Eljanov who had the rating of 2703
2018: Defeated Grand Master Wesley Barbasa So (of USA, who has the career best rank of 2 and peak rating of 2822) at the Leon Masters in the first of 4 Rapid games, managed to Draw another game, lost the 4 games closely at 2.5-1.5.
June 2018: Became an official GrandMaster at the age of 12 years 10 months 13 days
April 2018: Achieved 2nd GM norm at the Heraklion Fischer Memorial tournament held in Greece
2017: Achieved 1st GM norm
2016: Became the youngest International Master in the history of the game
2015: Won the World Youth Chess Championship Under-10 title
2013: Won the World Youth Chess Championship Under-8 title
Rameshbabu Praggnanandhaa Quotes
Some of that confidence in me comes from my sister
Rameshbabu Praggnanandhaaa: Photos, Pictures

Praggnanandhaa R(younger) & R Vaishali childhood photo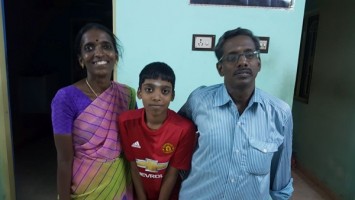 Praggnanandhaa R with parents, father Ramesh Babu, Mother NagaLakshmi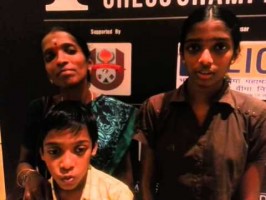 Praggnanandhaa with sister Vaishali and mother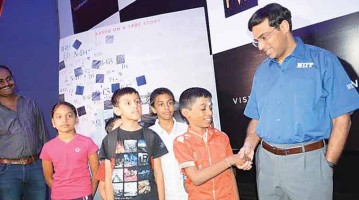 Praggnanandhaa with his role model grandmaster Vishwanathan anand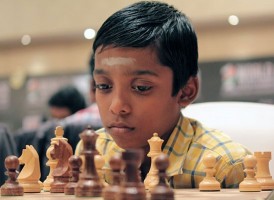 Praggnanandhaa R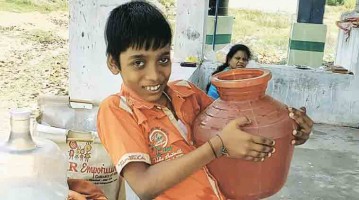 Praggnanandhaa R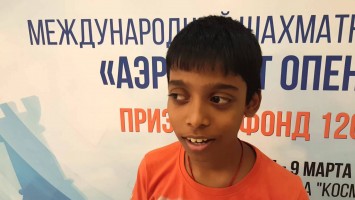 Praggnanandhaa R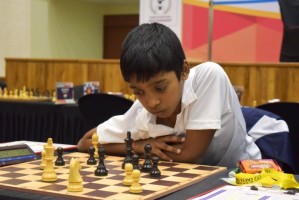 Praggnanandhaa R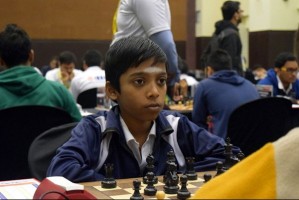 Praggnanandhaa R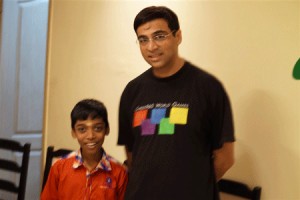 Praggnanandhaa R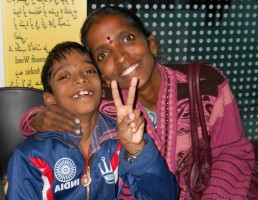 Rameshbabu Praggnanandhaa with Mother