Biography
Nafissatou is a Belgian athlete who competes in Heptathlon, long jump, high jump. Nafissatou became the Olympic champion in heptathlon in 2016. She also won gold medal at the 2017 IAAF World Athletics championships.
Nafissatou was born on 19th August 199 to a Senegalese father and a Belgian father. She was brought up by her mother, her parents are divorced and her father has returned to Senagal, she has a sister and brothers.
Nafissatou Thiam - Interesting Facts & Trivia
Nafissatou started participating in athletics at the age of seven.
She became a national champion for the first time in 2009 in her age group.
She has the individual best score of 7013 points in Heptathlon. She is the third in the alltime best list behind the legendary Jackie Joyner-Kersee & Nafi's favorite athlete Carolina Klüft.
Previous best score in women's heptathlon by a Belgian was 6298, Nafi broke it by a gigantic margin of 700+ points.
Thiam is one of the only 4 women to cross the 7000 points barrier in Heptathlon.
In 2013 Thiam became the first Belgian woman athlete to break a world record.
Thiam rose to fame after winning the Olympics Gold medal in 2016.
Thiam was the Belgian flag bearer at the Olympic closing ceremony, a great honor deserving a champion like her.
Nafissatou is the first Belgian athlete to win Gold medal at the World Athletics Championships.
Nafissatou is a National Level gold medal winner in High jump as well as Long jump in her country Belgium.
Practice: She usually runs in the morning as a part of her practice and practices other events after 3.30 in the evening.
Future plans: She wants to finish her degree in 4 years instead of 3, make best use of her age, take sports seriously for some time and then devote her time for master's degree.
She studied sceince in her high school.
2011: Nafi finished 4th an the World Youth Championships (Lille, France)with
2012: Nafi finished 14th at the World Junior Championships
2013: Nafi broke the junior indoor world record in pentathlon at Ghent with a total of 4558.
2013: Nafi won the gold medal at the European Junior Athletics Championships.
She has been training with RFCL club for some time now.
Nafi also used to train in basketball before taking athletics full time.
She likes Javelin throwing and High jump, while not a fan of 800m running
Usain Bolt gave her his number, she feels it is one of the best moments of her sporting career.
She had a knee injury during training.
She used to listen to Kelly Ross and Chris Brown during her training.
Before the events she takes biscuits & rice pudding.
Nafissatou Thiam- Records
Olympic champion
World champion
European Indoor champion
European Junior champion
Diamond League meeting winner
European Team Championships League winner
National champion
National Indoor champion
Nafissatou Thiam's - Performances by year
| | | | |
| --- | --- | --- | --- |
| Year | Points | Place | Comments |
| 2011 | 5366 | Lille, France | |
| 2012 | 5384 | Barcelona, Catalonia, Spain | World Junior Championships in Athletics |
| 2013 | 6298 | Rieti, Italy | European Junior Athletics Championships |
| 2014 | 6423 | Letzigrund, Zürich, Switzerland | European Athletics Championships |
| 2016 | 6810 | Rio de Janeiro, Brazil | Olympics |
| 2017 | 6784 | London | World Championships in Athletics |
Nafissatou Thiam: Photos, Pictures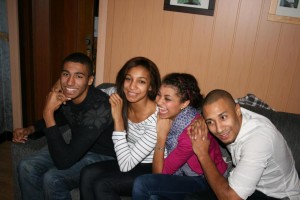 Nafissatou Thiam with family: sister & brothers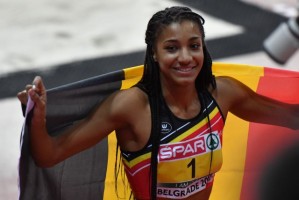 Nafissatou Thiam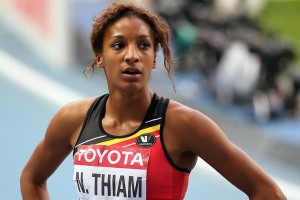 Nafissatou Thiam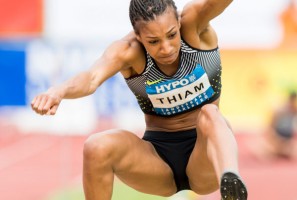 Nafissatou Thiam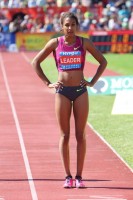 Nafissatou Thiam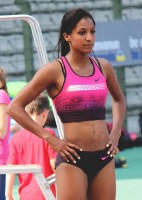 Nafissatou Thiam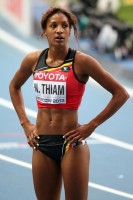 Nafissatou Thiam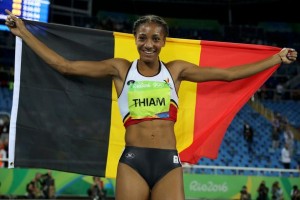 Nafissatou Thiam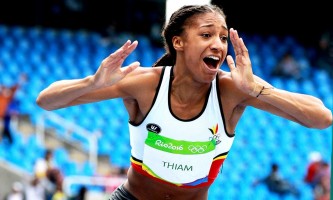 Nafissatou Thiam

Nafissatou Thiam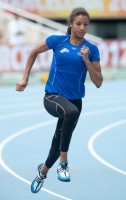 Nafissatou Thiam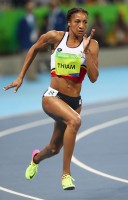 Nafissatou Thiam