Biography
Alex Lawther is a British actor. Alex is popular for playing the roles of- young Alan Turing in The Imitation Game (2014), Kenny in Black Mirror(2016), James in The End of the F***ing World (2017), Tibby Schlegel in Howards End (2017).
Alex Lawther was born on 4th May 1995 in Petersfield, Hampshire, England.
He has two siblings, both elders, Eldest brother named Cameron Lawther (born in 1990; an award winning film producer based in London), a sister named Ellie Lawther who works in public policy.
Alex worked with his brother Cameron for a short movie titled The Fear in 2010, it was Alex's debut in acting.
Alex Lawther: Education
High School: He went to High School at Churcher's College, an independent public school for Boys & Girls
College: Alex went to King's College London(KCL), a public research university located in London.
Alex Lawther: Facts & Trivia
Creative personality: Even as a child Alex was a creative kid, he would create new games, come up with new ideas to entertain himself and his friends. According to him, it was this creative mind that lead to him seeking a career in acting and story telling.
He wrote a drama for his school drama at the Churcher's College
Alex played the character- Ratty at school in the drama The Wind in the Willows.
The National Youth Theatre of Great Britain: Alex trained in created arts at the institution, he practiced acting there.
Dame Maggie Smith appreciated him for his talent saying "He has achieved at the young age what the rest have been trying in a long time
Alex is being compared to actor Ben Whishaw(popular for playing Jean-Baptiste in Perfume)
Kayaking: Alex is fond of adventure sports, in free time he is seen kayaking down Camden Lock in London
His primary interests include- Reading books, going to theater and watching Movies.
The National Youth Theatre: He became a member of the theatre in 2010
Accents he is proficient with: American (New York, Southern), Australian, English, Irish
He likes pets and has dogs.
Stage debut: Alexa made his stage debut in 2011 at the Minerva Theatre, Chichester.
Sexuality: There are speculations about him being gay because of the characters he has played in Departure, Freak Show, The Imitation Game. However there has not been any clarification from him. Speculations could just be speculations
Questions to Alex:

What is the secret of you success: I don't know, be more like Sally Hawkins I guess.
Who would play him in the movie of his life: Maggie Smith
If he was stranded on an Island Movie/ TV show he would take with him- Transparent (TV series)
What do you like to change about the industry- More diversity
Best advice ever been given- Stay hydrated (By his Mom)
Audition tip: Stay hydrated, but don't drink too much, otherwise you will have to go pee.
Who is the unsung hero on a set- The A.D
Alex Lawther: Quotes
It seemed a bit silly in the beginning to have an inspiration to become an actor from a family without background in acting.
[On acting] It was a dream I was a little bit embarrassed by.
My dream really is just to keep working in film and in theatre.
When I get a script, I kind of break the script down into its component parts to find out what happens. Then I put that all back together again to find out what my character is
I think I'm most happy when I'm learning something.
What interests me in work is something that is well written- mainstream or not.
[On new year] I like to come out this year knowing a lot more than the previous year
Alex Lawther: Awards
Young British Performer of the Year(2015): He won the award at the London Film Critics' Circle Awards for the movie The Imitation Game (2014)
Filmography
Alex Lawther: Fimography
Movies
Les Traducteurs(2018): Alex Lawther was in the Thriller directed by Régis Roinsard created by Artémis Productions, Les Productions du Trésor, Romain Compingt, Daniel Presley featuring Alex Lawther, Sidse Babett Knudsen, Olga Kurylenko in the cast.
Carnage: Swallowing the Past(2017): He acted as Joseph in the Comedy movie directed by Simon Amstell with the cast James Smith, James Bloor, Samantha Spiro
Old Boys(2017): He played the character of Amberson in the movie directed by Toby MacDonald , it has Nathen Solly, Giles Malcolm, Nicholas Agnew in the lead cast.
Ghost Stories(2017): Alex played Simon Rifkind in this Horror Drama directed by Jeremy Dyson, Andy Nyman , it features Alex Lawther, Martin Freeman, Andy Nyman in the cast.
Freak Show(2017): He portrayed the role- Billy Bloom in this Comedy Drama by Trudie Styler , Beth Rigazio, Patrick Clifton , it has AnnaSophia Robb, Abigail Breslin, Alex Lawther in the main roles.
Goodbye Christopher Robin(2017): Alex appeared as Christopher Robin in the Family Biographical Historical movie by Simon Curtis created by Frank Cottrell Boyce, Simon Vaughan with actors- Kelly Macdonald, Domhnall Gleeson, Margot Robbie playing the lead characters.
Departure(2015): He played the role- Elliot in the Romantic Family Drama movie by Andrew Steggall created by Andrew Steggall with Juliet Stevenson, Alex Lawther, Phénix Brossard in the lead.
A Brilliant Young Mind(2014): He acted as Isaac Cooper in the Drama movie directed by Morgan Matthews with the cast Asa Butterfield, Sally Hawkins, Rafe Spall
The Imitation Game(2014): He played the character- Young Alan Turing in this Biographical Historical Drama movie , it was directed by Morten Tyldum with stars- Benedict Cumberbatch, Matthew Goode, Keira Knightley in the main roles.
Benjamin Britten: Peace and Conflict(2013): He portrayed the role- Benjamin Britten in the Musical Drama movie directed by Tony Britten featuring Joseph Horovitz, Simon Kinder, John Hurt in the cast.
TV Series
The End of the F***ing World(2017): He played the character- James in the Drama Series , cast included Alex Lawther, Steve Oram, Jessica Barden
Howards End(2017): He played the role- Tibby Schlegel in the Romantic Drama, cast included Hayley Atwell, Matthew Macfadyen, Philippa Coulthard
Black Mirror(2016): He portrayed the character- Kenny in the Thriller Drama TV Series created by Charlie Brooker, Gran Babieka with Michaela Coel, Hannah John-Kamen, Daniel Lapaine in the lead cast.
Virtuoso(2015): He played in the Musical Drama directed by Alan Ball , it has Ben Daniels, Alex Lawther, Sabrina Bartlett in the lead cast.
Holby City(2014): He played the role- Fred Bamber in the Drama Series produced by BBC with the cast of Rosie Marcel, Hugh Quarshie, Tina Hobley
Stage shows:
South Downs(2011)
Fault Lines(2013)
The Glass Supper(2014)
Crushed Shells and Mud(2015)
The Jungle(2017)
Radio Shows
South Downs(2013)
How to Say Goodbye Properly(2014)
Rock Me Amadeus(2014)
Decline and Fall(2015)
Others
Narrated By(2016): He played Sam Sipowitz in the short Comedy Drama directed by Gur Benshemesh with the cast George MacKay, Cavin Cornwall .
Yussef Is Complicated(2015): He portrayed Rory in the Drama directed & created by Vaughn Stein, cast includes Jamie Ballard, Alex Lawther, Miranda Raison
The Fear(2010): He acted in the role of a Boy in the short Mystery Fantasy produced by Alex's brother Cameron, directed & created by Casper Logan, with Natalya Platonova, Michael Lawther, Alex Lawther in the lead cast.
Alex Lawther: Photos, Pictures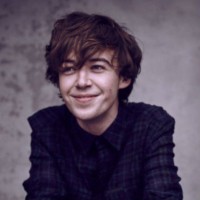 Alex Lawther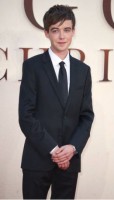 Alex Lawther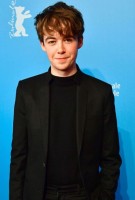 Alex Lawther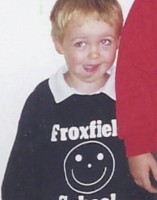 Alex Lawther childhood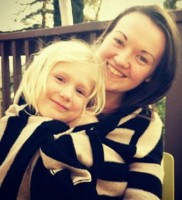 's sister Ellie Lawther with cousin Charlie