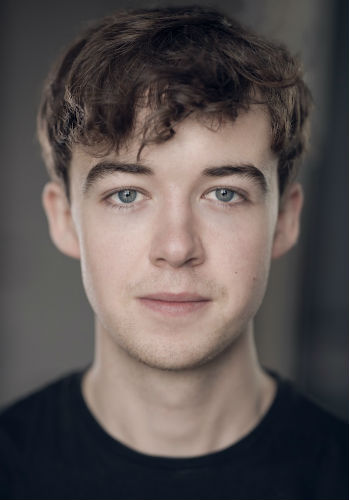 Alex Lawther
| | |
| --- | --- |
| Date Of Birth | May 4, 1995 |
| Age | 28 years 1 months 1 days |
| Day of Birth | Thursday |
| Place Of Birth | Petersfield, Hampshire, England |
| Zodiac Sign | Taurus |
| Professions | Actor , Model |
| Full Name | Alexander Jonathan Lawther |
Personal Information
Religion
Christianity (Non-religious)
Languages
English , French
Nationality

British

Ethnicities
British , Caucasian
Complexion
White
Trademark
British accent

Body Features & Measurements
Height

175 CM


5 Feet 9 Inches
Eye color
Blue Green
Hair color
light brown
Weight

65 KG


143 lbs

Shoe Size
8
Body Type
Slim
Hair type
Short
Family Information
Brother
Michael Cameron Lawther (Producer)
Sister

Ellie Lawther

Cousin
Charlie
Sister In-Law
Nicole Glass

Education Qualifications
Education (Graduation)
Bachelor of Arts in History (King's College London)
Education (High School)
Churcher's College
Alma Mater

King's College London

Career Information
Debut (Movie)
The Imitation Game (2014)
Years Active
2010-
Debut (TV)
Holby City
Debut(Short movie)
The Fear(2010)
Favorites, Hobbies, Likes/ Dislikes
Hobbies
Theater
movies
Dancing (He thinks he is a bad dancer)
Baking
Reading
Favorite Actress
Sally Hawkins
Favorite Food
Pizza
Favorite Color
Red
Favorite Movie
Matilda (1996)
Favorite Director
Xavier Dolan
Likes
Books
Favorite Brand
Apple (Iphone)
Social Networks, Web links
Facebook Profile
Alex Lawther Facebook Profile
Contact
Talent Agent
Nicki van Gelder (Conway van Gelder Grant)
More Information
Inspiration
Ben Whishaw
Net worth

$2 million
Biography
Alex Lawther is a British actor. Alex is popular for playing the roles of- young Alan Turing in The Imitation Game (2014), Kenny in Black Mirror(2016), James in The End of the F***ing World (2017), Tibby Schlegel in Howards End (2017).
Childhood - Family
Alex Lawther was born on 4th May 1995 in Petersfield, Hampshire, England. Both his parents are lawyers. Alex and siblings were raised in Petersfield, Hampshire, England.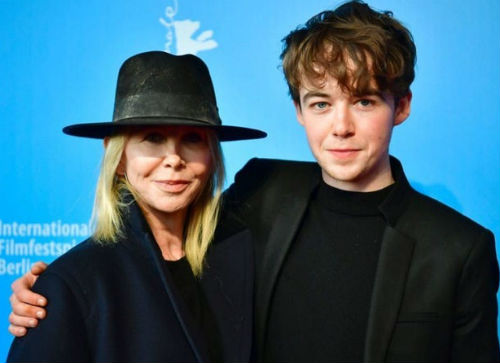 [ Alex Lawther with mother ]
He has two siblings, both older than him.
Brother
Eldest brother named Cameron Lawther (born in 1990; an award winning film producer based in London). Alex worked with his brother Cameron for a short movie titled "The Fear" in 2010, it was Alex's debut in acting. Cameron produced the Oscar shortlisted movie WALE (2019). Some of the movies he has worked in are- "World War Z", "X-Men: First Class", "Skyfall", "Gravity" among others. He is married to Nicole Glass (married in 2014)
Sister
Alex has a sister named Ellie Lawther. She has studied public policy for Master's degree at the University of Southern California. Ellie has studied neuroscience as well.[2]
Education
High School: He went to High School at Churcher's College, an independent public school for Boys & Girls. Alex played the character- "Ratty" in the drama school - "The Wind in the Willows".

School drama Club: Alex's school didn't have a drama club. Alex and friends created one themselves illegitimately, they sort of got into trouble because of that, but it was a fun experience for them all. The school found out about it when one of the parents called them to enquire about the supervision of the drama club.

College: Alex went to King's College London(KCL), a public research university located in London.
The National Youth Theatre of Great Britain: Alex got trained in creative arts at the institution, he practiced acting there.
Facts & Trivia
Creative personality: Even as a child, Alex was creative, he would create new games, come up with new ideas to entertain himself and his friends. According to him, it was this creative mind that lead to him seeking a career in acting and story telling.
School Drama: He wrote a play for his school drama when he was at the Churcher's College
Appreciation:

Dame Maggie Smith appreciated him for his talent, saying "He has achieved at the young age what the rest have been trying in a long time"
Alex is being compared to actor Ben Whishaw (popular for playing Jean-Baptiste in Perfume). Ben Whishaw is Alex's idol.

Kayaking: Alex is fond of adventure sports, in his free time he is seen kayaking down Camden Lock in London
His primary interests include- Reading books, going to theater and watching Movies.
The National Youth Theatre: He became a member of the theatre in 2010
Accentss he is proficient with: American (New York, Southern), Australian, English, Irish, Cockney, RP
Animal Lover: He likes pets and has dogs.
Lawther: His last name is Lawther, it is a funny coincidence that both his parents work in LAW, his older brother Cameron is a law graduate as well.
(Don't) Pardon his French: Alex speaks French, in the French thriller movie "Les Traducteurs (The Translators)" directed by Régis Roinsard he shows off his French language skills.
London's top 25 under-25: In 2013, the Evening Standard magazine listed him as one of the London's top 25 within the age of 25. [4]
Alex Lawther & Benedict Cumberbatch
Alex played young Alan Turing in the Award winning movie- "The Imitation Game". The two have been compared for their similar looks. Both of them are perfect match for introverted and shy characters. They both have brown hair, high cheekbones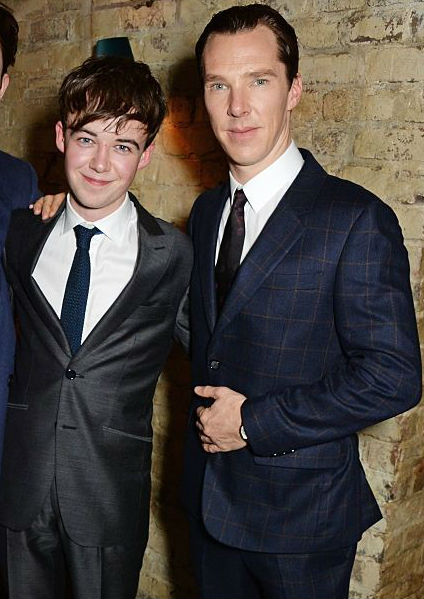 [ Alex Lawther & Benedict Cumberbatch ]
Alex Lawther & Jessica Barden
Alex & Jessica play lead roles- "James" & "Alyssa" respectively in the comedy series- "The End of the F***ing World (2017)". They have been spending time together as a part of the same cast and crew. Here is a quiz to see how well they know each other.
Questions & Answers
Is Alex Lawther Gay?

There are speculations about him being gay because of the characters he has played in- "Departure", "Freak Show", "The Imitation Game". However there has not been any clarification from him. Speculations could just be speculations

What is the secret of his success?

"I don't know, be more like Sally Hawkins I guess." he answered [7]

Who should play him in the movie of his life?

He picks- Maggie Smith [7]

If he was stranded on an Island, Movie/ TV show he would take with him?

Transparent (TV series) [7]

What does he like to change about the industry?

He wants to see "More diversity" [7]

Best advice he has ever been given?

Stay hydrated (By his Mom) [7]

What is his audition tip for the newbies?

Stay hydrated, but don't drink too much, otherwise you will have to go pee. [7]

Who is the unsung hero on a set according to him?
When did he realize he had made it as an actor?

When he started paying Taxes & rent

What is the best thing about being a young and employed actor in London according to him?

"You have enough disposable income to spend on a constant stream of books, theatre and cinema tickets" [3]

What does Alex do in between the shots on set?
What's the first thing he does after going home?

Take a long shower, stop himself from "post-morteming" everything that has wrong [8]

Who are the actors he enjoyed working with?

He loved working with- Juliet Stevenson & phénix brossard (Departure), Pauline Etienne

What is the Alex lawther instagram handle?

Alex doesn't have an instagram account. In fact there is very little social media presence of him
Career
Stage debut: Alexa made his stage debut in 2011 at the Minerva Theatre, Chichester.
Filmography
Movies List
| Year | Movie | Character | Comments |
| --- | --- | --- | --- |
| 2020 | The French Dispatch | | |
| 2019 | Les traducteurs | Alex Goodman | Main role |
| 2018 | Old Boys | Amberson | |
| 2017 | Ghost Stories | Simon Rifkind | |
| 2017 | Goodbye Christopher Robin | Christopher Robin (18 y/o) | |
| 2017 | Carnage | Joseph | |
| 2017 | Freak Show | Billy Bloom | |
| 2015 | Virtuoso | | TV Movie |
| 2015 | Departure | Elliot | |
| 2014 | A Brilliant Young Mind | Isaac Cooper | |
| 2014 | The Imitation Game | (young) Alan Turing | |
| 2013 | Benjamin Britten: Peace and Conflict | Benjamin Britten | |
TV Series List
| Year | TV Series | Character | Comments |
| --- | --- | --- | --- |
| 2017-2019 | The End of the F***ing World | James | 16 episodes; Main Role |
| 2017 | Howards End | Tibby Schlegel | Season 1 Episodes 1-4 |
| 2016 | Black Mirror | Kenny | "Shut Up and Dance" (Season 3 Episode 3) |
| 2014 | Holby City | Fred Bamber | "All Before Them" (Season 16 Episode 38) |
Short Movies
| Year | Movie | Character | Comments |
| --- | --- | --- | --- |
| 2019 | Miss Fortunate | Jack | |
| 2018 | Alex's Dream | Alex Morin | |
| 2016 | Narrated By | Sam Sipowitz | |
| 2015 | Yussef Is Complicated | Rory | |
| 2010 | The Fear | The Boy | |
Stage shows
| Year | Work | Character | Comments |
| --- | --- | --- | --- |
| 2017 | The Jungle | Sam | Direction-Stephen Daldry & Justin Martin |
| 2015 | Crushed Shells and Mud | Derek | Lead actor; directed by Russell Bolam |
| 2014 | The Glass Supper | Jamie | |
| 2013 | Fault Lines | Ryan | Directed by- Lisa Spirling; Writer: Ali Taylor |
| 2011 | South Downs | John Blakemore | |
Radio Shows
| Year | Work | Character | Comments |
| --- | --- | --- | --- |
| 2015 | Decline and Fall | Peter Beste-Chetwynde | BBC Radio 4 |
| 2014 | Rock Me Amadeus | Charlie | Lead actor; BBC Radio 4 |
| 2014 | How to Say Goodbye Properly | Toby | BBC Radio 4 |
| 2013 | South Downs | John Blakemore | |
Awards
| Year | Won? | Award | Project | Category | Comments |
| --- | --- | --- | --- | --- | --- |
| 2015 | WON | London Film Critics' Circle Awards | The Imitation Game | Young British Performer of the Year | |
| 2014 | Nomination | London Film Festival | The Imitation Game | Best British Newcomer | |
| 2013 | Nomination | "What's On Stage" Awards | South Downs | London Newcomer of the Year | |
Quotes
It seemed a bit silly in the beginning to have an inspiration to become an actor from a family without background in acting.
My dream really is just to keep working in film and in theatre.
[On acting] It was a dream I was a little bit embarrassed by.
I think I'm most happy when I'm learning something.
When I get a script, I kind of break the script down into its component parts to find out what happens. Then I put that all back together again to find out what my character is
[On new year] I like to come out this year knowing a lot more than the previous year
What interests me in work is something that is well written- mainstream or not.
[About facing fame] You sort of play a character. You play Alex the actor. It's quite nice that you get to wear a suit or tux, because it's a kind of costume [2]
I've always wanted to keep my foot in film as well as theatre, and be working in both worlds. It's wonderful that I'm able to do that at the moment. [5]
Sources