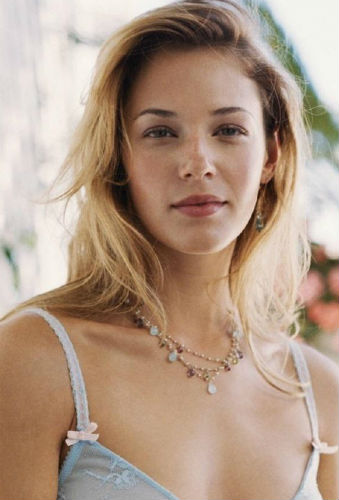 Amanda Righetti
Date Of Birth
April 4, 1983
Age
40 years 5 months 21 days
Day of Birth
Monday
Place Of Birth
Saint George, Utah, United States
Zodiac Sign
Aries
Professions

Producer

, Model , Actress
Nickname

Spaghetti Righetti

Full Name

Amanda Elizabeth Righetti

Other Name

Amanda Alan
Personal Information
Residence

Los Angeles, California, United States

Religion
Christianity (Roman Catholic)
Languages
English , Italian
Star Sign
Aries
Nationality
American
Ethnicities
Italian American , Caucasian
Complexion
White
Trademark
Tall Figure

Body Features & Measurements
Height

173 CM


5 Feet 8 Inches
Eye color
Amber
Hair color
light brown
Weight

58 KG


128 lbs

Shoe Size
10 (US)
Dress Size
6
Figure Measurements
36-28-36
Figure Type
Hourglass
Body Type
Athletic
Bra Size
36B
Family Information
Father

Alexander Dominic Righetti

Mother

Linda Carol Chisum

Son
Knox Addison Alan (born on January 10, 2013)
Grandfathers
Joseph A. Righetti (Paternal)
Carroll Edgar Chisum (Maternal)
Grandmothers
Betty Jane Bader (Maternal)
Rose F. De Profio (Paternal)

Love, Romance, Marriage
Husband
Jordan Alan (Director & Producer; married in 2006)
Career Information
Debut (Movie)
Love and Happiness(1995)
Years Active
1995-
Debut (TV)
CSI: Crime Scene Investigation
Salary
$75,000 (The Mentalist (2008)) , $250,000 (Friday the 13th (2009))
Favorites, Hobbies, Likes/ Dislikes
Hobbies
Horse Riding
Ballet
swimming
Boxing
Singing
Dancing
Reading
Favorite Sport
volleyball
Favorite TV shows
Curb Your Enthusiasm
Californication
30 Rock
Likes
Magic
Social Networks, Web links
Facebook Profile
Amanda Righetti Facebook Profile
Twitter Profile
Amanda Righetti Twitter Profile
Official Website
Amanda Righetti Official Website
Instagram Profile
Amanda Righetti Instagram Profile
Vimeo Profile
Amanda Righetti Vimeo Profile
Contact
Contact (Email)

info@jonessocialpr.com

Manager
Dave Fleming
Talent Agent
United Talent Agency
More Information
Friends
Alexa Davalos (She was Amanda's bridesmaid at her wedding)
Denise Fleming
Net worth

$3 Million

Instruments
Cello
Biography
Amanda Righetti is an American TV & movie actress, Model, producer. Amanda Righetti is known for her roles as - SHIELD Agent in Captain America: The First Avenger(2011), Whitney Miller in Friday the 13th (2009), Madeline in Colony, Grace Van Pelt in The Mentalist, Jenna Moretti in Reunion, Tessa Lewis in North Shore, Hailey Nichol in The O.C.
Her recent work is playing Kendall in Grandma Dearest.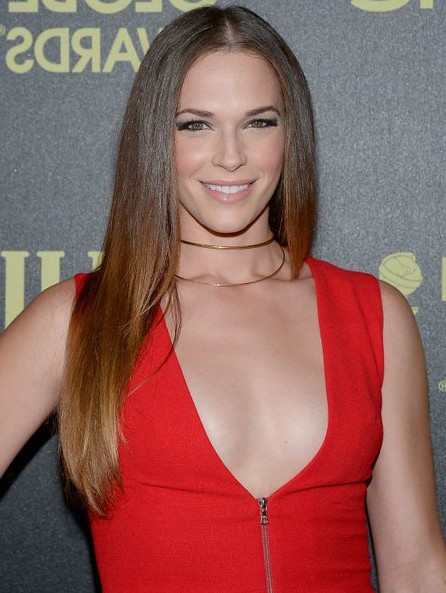 [Amanda Righetti]
Family
Parents
Amanda Elizabeth Righetti was born on 4th April 1983 in Saint George, Utah, the United States to Linda Carol Chisum(Mother) & Alexander Dominic Righetti(Father). She grew up in Nevada.
Siblings
Her parents have eight children, she is the youngest of them all. She has 6 sisters and a brother. One of her sisters is a dancer, another a blackjack dealer.
Education
She used to act in plays in school.
Marriage
Amanda Righetti & Jordan Alan
Amanda & Jordan's acquaintance goes back very long. The first projected they worked together on was Love and Happiness(1995), she was 12 at the time. He directed her in few more projects like- Kiss & Tell(1997), Missing Emotions(1997), Gentleman B.(2003), Pipeline(2007), Cats Dancing on Jupiter(2015).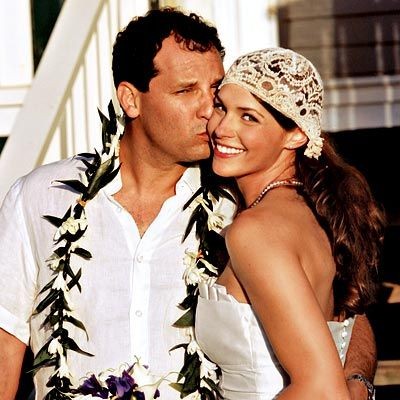 [Amanda Righetti & Jordan Alan wedding]
Amanda & Jordan got married on 29th April 2006 in Oahu, Honolulu, Hawaii. Alexa Davalos (actress, Amanda's co-star on Reunion) was her bridesmaid, the wedding was featured in 'InStyle' weddings.
They have an age difference of 16 years.
Children
Amanda got pregnant when she was 29 years old, it wasn't planned and was a surprise to the couple. Amanda and Jordan had their first child, a baby boy born on 10th January 2013, the son was named Knox Addison Alan.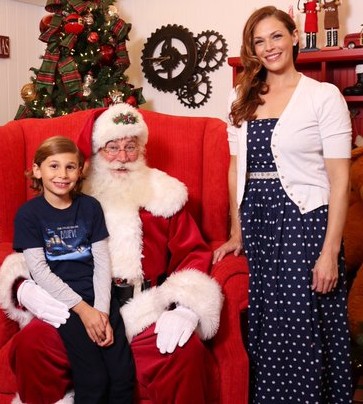 [Amanda Righetti Family celebrating Christmas]
Modeling
International Cover Model: She was spotted by the Cover model search team when she was 15.
Modeling career: She worked as a model starting at the age of 15 until her career in acting took off.
Magazine covers
She has appeared on the magazine covers of various magazines: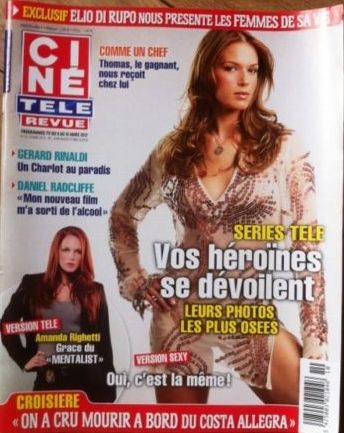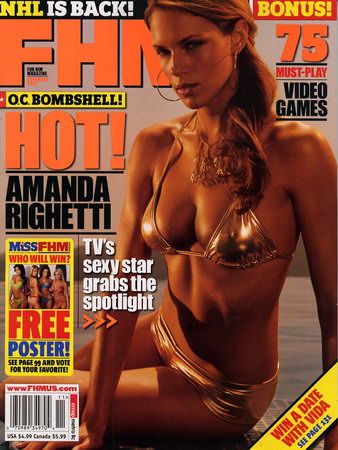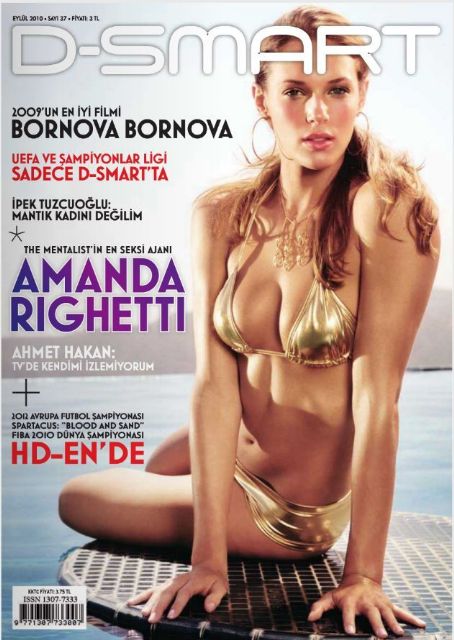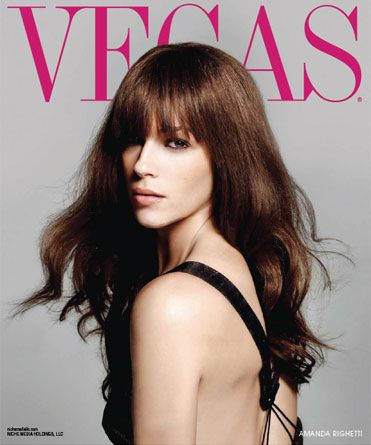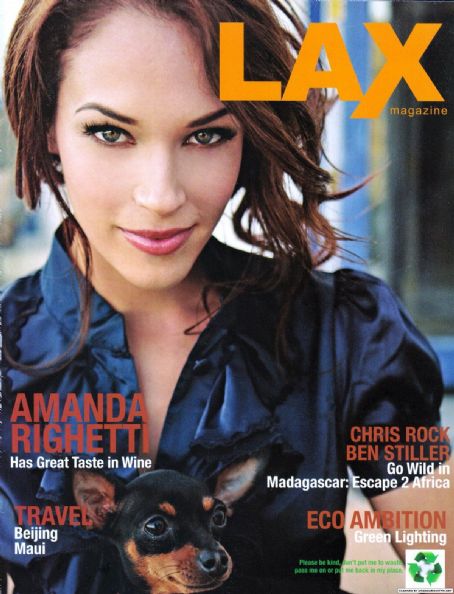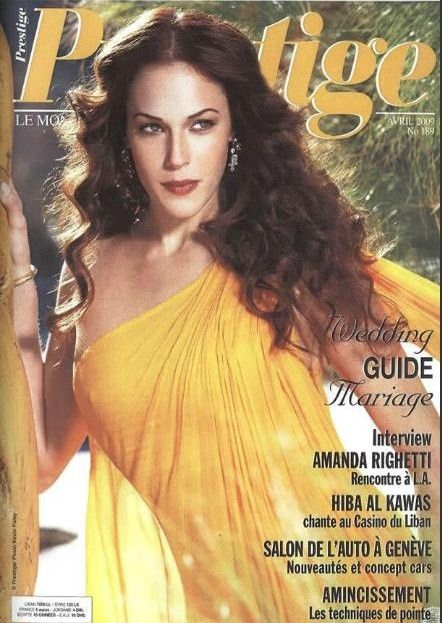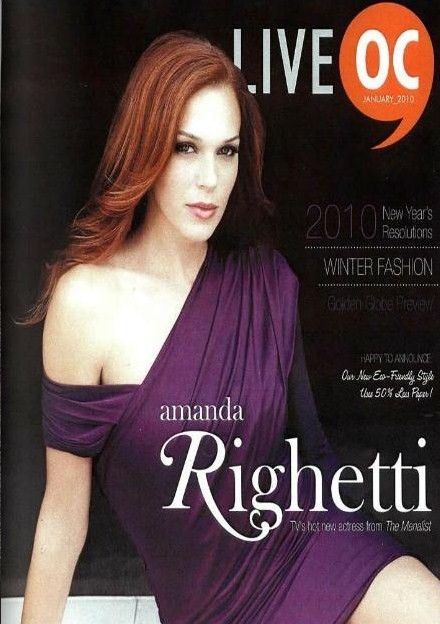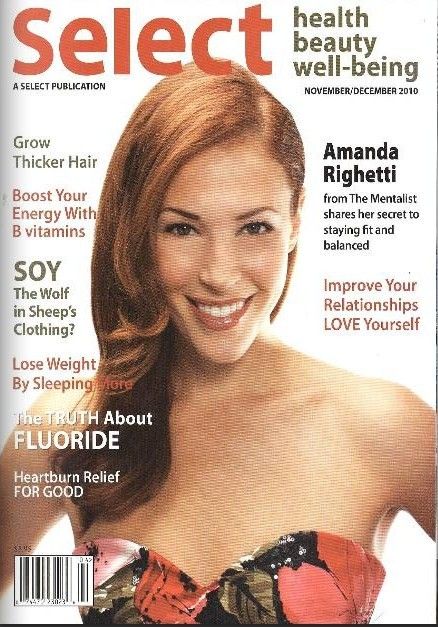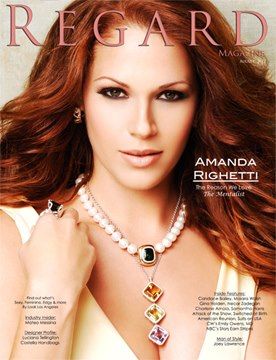 Select (US)- November 2010
Live (US) - January 2010
Prestige (US) -April 2009
Las Vegas Magazine (US) - February 10, 2009
LAX (US) - November 2008
Brides (JP) - May 2006
FHM (US) - November 2005
Celebrity Style (US)- January 2005
People (US) - December 2004
US Weekly (US) - June 2004
Facts & Trivia
Ancestry: She is of English(Mother), French(Mother), German(Mother), Italian(father) descent.
Dance student: She studied jazz and ballet as a young girl
The beginning: Her career in the entertainment industry began at the age of 4, she was a dancer at the age of 4.
Talent agency: Since 2011, she has been associated with United Talent Agency, a talent agency based in Beverly Hills, California
TV Shows: She has appeared on the TV shows of- Craig Ferguson, Ryan Seacrest, Craig Kilborn, and others.
FHM's 100 Sexiest Women: Amanda was among the top 100 sexiest women in FHM's list in 2005, 2006
FHM pin-up calendar: She appeared in the FHM calendar in 2005, she was September
Residence: She splits her time between Hollywood (when acting) and in Hawaii.
Commercials:

She has appeared in Cindy Crawford's anti-aging skincare system infomercial in 2012. It was hosted by Katrina Szish and Cindy Crawford.

Interesting Coincidence: There is a character with the exact name "Amanda Righetti" in the movie Deep Red (1975), the role was played by Giuliana Calandra.
Spaghetti Righetti: Her Reunion (2005) co-stars gave her that name, and still call her by that name. (Is it a play on her Italian roots, or her lanky and tall structure?)
Diet: Protein shakes are a regular part of her diet. Her glowing skin, sturdy structure owe a lot to her clean diet.
A child at heart: She likes playing with her son Knox's toys.
Partying: she partied a lot when she was young, she says she mellowed down by age 21 (which is very young by other standards).
Career
She moved to Los Angeles at the age of 18 from her hometown Saint George in Utah. She worked in an office as a helper when she first arrived in Los Angeles.
The Mentalist
Amanda played the character of CBI Special Agent Grace Van Pelt in the psychic crime drama 'The Mentalist'. Grace Van Pelt was a member of Teresa Lisbon's crime-fighting unit. In the sixth season, Grace Van Pelt co-heads a private security firm with her on-screen husband Wayne Rigsby (played by Owain Yeoman).
Her role in the TV series demanded that she know how to shoot (of course, she played a police officer). She learned to shoot the gun by undergoing training in shooting.
Pregnancy: She was pregnant in 2012-13 when they were still shooting for the 4th & 5th Season of the TV Series. They hid her pregnancy on TV with her role having reduced role and shooting her from selected angles. her character was largely limited to the desk job at the time. She left the series after the sixth season.
She appeared as a guest in the seventh and the concluding season, her character was present at Teresa & Jane's wedding in the final season.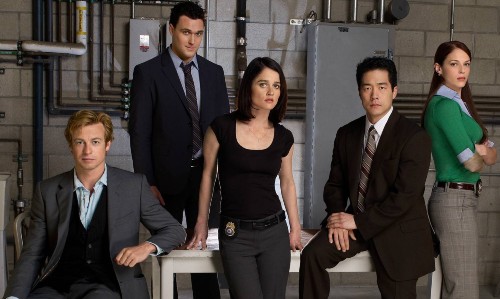 [Amanda Righetti with 'the Mentalist' crew]
Main roles in the series were played by Simon Baker(Patrick Jane), Robin Tunney(Teresa Lisbon), Tim Kang(Kimball Cho), Owain Yeoman (Wayne Rigsby), Rockmond Dunbar (Dennis Abbott)
Bliss Sinema
Amanda and her husband Jordan Alan co-own the movie/ television production company 'Bliss Sinema. 'Bliss Sinema' is located at ' Sunset Blvd, Los Angeles, California'.
Filmography
Movies List
| Year | Movie | Character | Comment |
| --- | --- | --- | --- |
| | Grandma Dearest | Kendall | |
| 2017 | Love at the Shore | Jenna Turner | TV Movie |
| 2015 | Cats Dancing on Jupiter | Josephine Smart | also as co-producer |
| 2012 | Shadow of Fear | Casey Cooper | TV Movie |
| 2011 | The Chateau Meroux | Jennifer | |
| 2011 | Captain America: The First Avenger | S.H.I.E.L.D. Agent | |
| 2011 | Wandering Eye | Maren Abbott | TV Movie |
| 2009 | Friday the 13th | Whitney Miller | Lead role |
| 2008 | Role Models | Isabel | |
| 2007 | Marlowe | Jessica Reede | TV Movie |
| 2007 | Pipeline | Jocelyn | also as producer |
| 2007 | Return to House on Haunted Hill | Ariel Wolfe | Direct to video |
| 2005 | Romy and Michele: In the Beginning | Friendly Girl | uncredited; TV Movie |
| 2003 | No Place Like Home | | TV Movie |
| 2003 | Gentleman B. | | as co-producer |
| 2002 | Angel Blade | Samantha Goodman | |
| 1997 | Kiss & Tell | Little One | |
| 1997 | Missing Emotions | | as co-producer |
| 1995 | Love and Happiness | Charlie's kid sister | |
TV series List
| Year | TV series | Character | Comment |
| --- | --- | --- | --- |
| 2016-2017 | Colony | Madeline | 23 episodes; Regular role |
| 2008-2015 | The Mentalist | Grace Van Pelt | 132 episodes; Main Role |
| 2014 | Chicago P.D. | Dr. Holly Whelan | "8:30 PM" |
| 2014 | Chicago Fire | Dr. Holly Whelan | "A Dark Day" |
| 2007 | K-Ville | A.J. Gossett | 3 episodes |
| 2006 | Enemies | Kelly Callaway | "Pilot" |
| 2005-2006 | Reunion | Jenna Moretti | 13 episodes; Main |
| 2006 | Entourage | Katrina | "Aquamom" |
| 2004-2005 | North Shore | Tessa Lewis | 20 episodes; Regular |
| 2003-2005 | The O.C. | Hailey Nichol | 12 episodes; Recurring |
| | Greg the Bunny | Debbie Fishman | Episode: "Surprise!" |
| 2001 | CSI: Crime Scene Investigation | Riding Teen | "You've Got Male" |
Short movies List
| Year | Short movies | Character | Comment |
| --- | --- | --- | --- |
| 2019 | Queer Fish in God's Waiting Room | Misty | also as producer |
| 2019 | Pastalight | Susanna Lenzi | |
| 2008 | Matter | Stranger | also as associate producer |
Video Games List
| Year | Video games | Character | Comment |
| --- | --- | --- | --- |
| 2006 | Scarface: The World Is Yours | Femme Fatale (voice) | |
Questions & Answers
If she could be any superhero what would she choose?

She likes to be the 'Wonder woman'. (She attended the audition of Wonder woman, unfortunately, couldn't land the role)

What is Amanda Righetti's salary?

Gentleman B. (2003): she made $40,000 per episode of the series
The Mentalist (2008): she made $75,000 per episode of the series
Friday the 13th (2009): she made $250,000 per episode of the series
Awards
| Year | Won? | Award | Project | Category | Comments |
| --- | --- | --- | --- | --- | --- |
| 2009 | WON | New York International Independent Film & Video Festival | Matter (2008) | Best Actress (Short Film) | |
Quotes
Motherhood has been amazing, spending some time with my son would be great.
The best part of Grace (Van pelt) was her vulnerability, she played tough, but there was a vulnerable naive side to her.
I have a newfound respect for the Police force after the Mentalist.
I don't think I'm as pretty as everybody thinks.
I had this boyfriend who cheated on me. I cheated back and then we broke up and then got back together.
Having a child was like another production of a grander scale.
For me part of the challenge was letting go, there are so many things you don't have control over as a mom, you just find your way as you go through.
Dancing is my first love, acting came later
I think I'm really blessed, the universe has been good to me.
There was that pretty-girl factor. People would ostracize me without knowing a thing about me.
One time an agent told me I would never work on TV if I didn't get a nose job. I laugh at it now.
Life is better when you're laughing
References