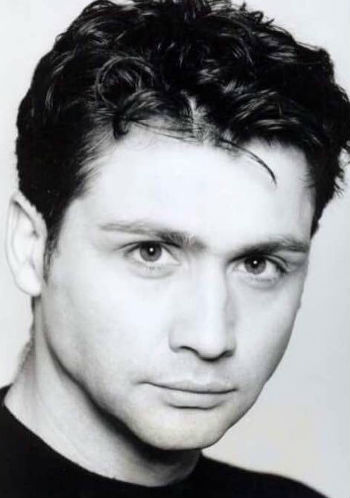 Simon Shelton
Date Of Birth
January 13, 1966
Age
52 years 0 months 4 days
Day of Birth
Thursday
Place Of Birth
Bethnal Green, London, England
Date Of Death
17 January 2018
Place Of Death
Ampthill, Bedfordshire, England
Zodiac Sign
Capricorn
Professions

Comedian

,

Dancer

, Actor ,

Choreographer

Other Name

Simon Barnes
Personal Information
Residence

Ampthill, Bedfordshire

Religion
Christianity
Language
English
Nationality

British

Ethnicity
Caucasian
Complexion
White

Body Features & Measurements
Height

170 CM


5 Feet 7 Inches
Eye color
Brown
Hair color
Black
Weight

65 KG


143 lbs

Body Type
Slim
Family Information
Sons

Henry Shelton


Finley Shelton (born to Samantha)
Wife
Emma Robbins (Singer)
Daughter

Lydia Shelton

Nieces
Emily Atack (Actress)
Molly Robbins
Brother In-Law
Ted Robbins
Sisters In-Law
Kate Robbins
Jane Robbins
Amy Robbins

Career Information
Years Active
1988-2018
Favorites, Hobbies, Likes/ Dislikes
Hobby
Ballet
More Information
Friend
Judith Tynan
Biography
Simon Shelton was an English actor, a trained ballet dancer, choreographer, comedian, producer, and director, he was known for the roles- The Dark Knight in Incredible Games(1994), voicing Tinky-Winky in Teletubbies (1998-2001).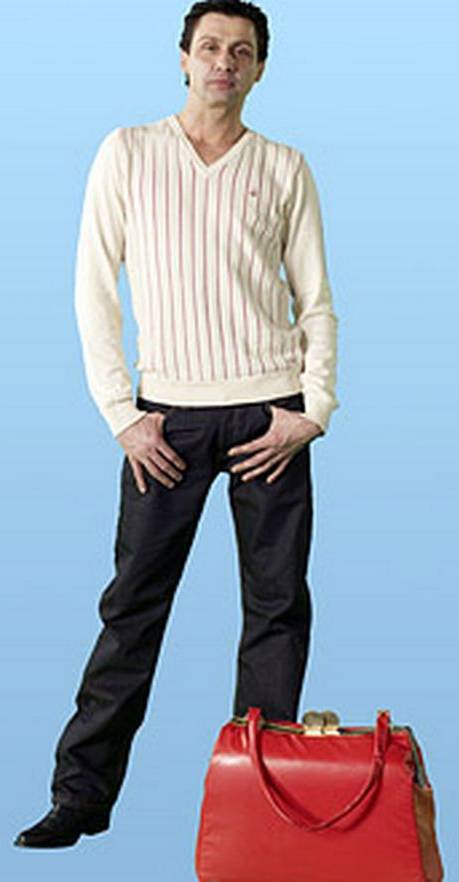 [Simon Shelton
Childhood
Simon Shelton Barnes was born on January 13th, 1966 in Bethnal Green, London, England.
Marriage- Wife
Simon Shelton & Emma Robbins
Simon Shelton was married to actress Emma Robbins.
Emma Robbins: is an actress who has voiced the character (and also has voiced the soundtrack) in the animation series "Lazy Lucy". In the short movie Sarina's song(2011) she appears as a party guest.
The couple had a daughter named Lydia Shelton.
Simon was related to Singer Paul McCartney is through Emma, he was Emma's second cousin
Simon had two sons in Henry Shelton and Finley Shelton through the ex-wife Samantha.
Through his wife Emma, he has in-laws Jane Robbins, Amy Robbins, Kate Robbins, and Ted Robbins. Emily Atack and Molly Robbins are his nieces.
Facts & Trivia
The costume he wore as Tinky-Winky was a giant 8 foot 6 inches.
Theater: Simon started attending theatre school at the age of 10, he returned from America and continued theatre work in the West End.
Ballet: He worked in an American Ballet Company at the age of 16
It is believed that he was addicted to socializing and partying, he had even moved away to remote locations to avoid being tempted back.
He lived in the Ampthill, Bedfordshire, he used to frequent "The Queen's Head", he was described as "lovely" (pub mate Lanie Bryer) and "legend" (by his pub mate Jonathan Duckett) man by those who knew him.
He had been considered a gay icon by few, though he wasn't a Gay man himself.
Simon had to face some controversy in the United States because of some evangelicals like Jerry Falwell, who claimed Tinky-Winky was intentionally made a gay character for carrying a red handbag. When Simon was asked about the issue, he said "The character is supposed to be a three-year-old so the question is really quite silly"
Filmography
Year
Movie/ Series
Character
Comment
2009
Peter Kay's Animated All-Star Band: The Official BBC Children in Need Medley
Tinky-Winky
short-video
2001
Dr. Terrible's House of Horrible
as dance double in the episode "Voodoo Feet of Death"
1998-2001
Teletubbies
Tinky-Winky
TV Series; 14 episodes
2000
Teletubbies: Christmas in the Snow
Tinky-Winky
Video
1994-1995
Incredible Games
Dark Knight

TV Series; 17 episodes

Season 1 Episode 1-13; Season 2 Episodes 1,3,4; "Celebrity Special" Episode

1993
Swing Kids

Featured Dancer

1991
Prisoner of Honor
Male Prostitute
TV Movie
1989
Cliff Richard: The Event
as choreographer
1988
Anna
Tänzer
Career
Peter Kay's Animated All-Star Band: The Official BBC Children in Need Medley
Simon voiced the character Tinky-Winky in the video, The video was directed by Tim Harper, it was written and created by Peter Kay.
Ken Barrie, Harley Bird, Matthew Bloxham, Carole Boyd, David Carling, Hayley Carmichael, Bernard Cribbins also voiced other characters.
Dr. Terrible's House of Horrible(2001)
Simon appears as a dance double in the comedy-fantasy series, a parody of British horror films starring Steve Coogan and Graham Duff.
Teletubbies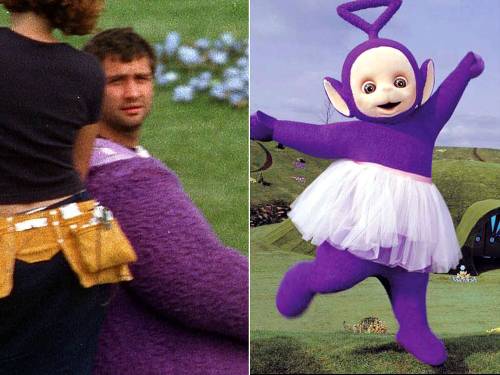 [Simon Shelton as Tinky-Winky]
He was known for playing Tinky-Winky in children's show Teletubbies (replacing Dave Thompson who was sacked because of his comments about Tinky-Winky's sexuality, Dave had replaced Mark Heenehan), and the video Teletubbies: Christmas in the Snow(2000). Simon kept his voice-acting career private, very few of the close ones knew it was him. When his daughter Lydia went to a new school she would say her father was a Tinky-Winky but generally everyone thought she was making it up.
Speaking of his surprise success with Teletubbies, Simon had said:
"I didn't know it would be as big as it was, but I did know as soon as I started working on it, that it had something special."
He described the appreciation he received,
"A bit like the Beatles or Take That of television... We used to receive a lot of fan mail from children and parents."
Andrew Davenport co-created the show. Jessica Smith, John Simmit, Nikky Smedley, Pui Fan Lee, Tim Whitnall, Eric Sykes had voiced the other major roles.
The show was aired in more than 120 countries, in 45+ languages with more than Billion viewership.
Incredible Games(1994-95)
In the mid-90s children show "Incredible Games". Simon played the role of "Dark Night". The game format had a team of three contestants within the age category 10-13. It was set up in a fictional skyscraper.
The contestants would play to complete each game, on completion of which they would advance to the next level. The contestants would start from the basement of the building and try to reach the penthouse.
Simon played the "Dark Night" who would be wandering in the dark corridor who would be waiting on the way to the lift, thus hurrying the contestants to close the lift doors as quickly as possible.
One of the games in the show was named 'The Dark Night'. Dark Night's aim is to stop the contestants.
Swing Kids(1993)
In the movie Swing Kids(1993) he appears as a featured dancer. Christian Bale, Robert Sean Leonard, Frank Whaley, Barbara Hershey appear in the lead roles. Thomas Carter directed the musical drama while Jonathan Marc Feldman wrote it.
Prisoner of Honor(1991)
In the Biographical drama on a French army captain's life, Simon plays one of the multiple male Prostitutes.
Richard Dreyfuss played the lead character. Oliver Reed, Peter Firth, Jeremy Kemp appeared in the lead, It was directed by Ken Russell and written by Ron Hutchinson.
Cliff Richard: The Event(1989)
Simon choreographed the TV special program of "Cliff Richard"
Anna(1988)
In the family drama Anna(1988) he plays the role of Tänzer. Silvia Seidel appeared as the lead role of Anna.
Patrick Bach, Jon Peterson, Günther Maria Halmer have appeared in the lead role. Frank Strecker directed the movie where Justus Pfaue wrote the novel and screenplay.
Death
Simon died of Hypothermia (a disorder where body temperature decreases suddenly) at the age of 52 on 17th January 2018 in Ampthill, Bedfordshire, England, just four days after his 52nd birthday. He collapsed in the street at around 7.30 am and never recovered. He had a high concentration of alcohol in his system, he had a history of alcohol dependency.
After Simon's death, his son Henry posted a message in memory of his father on his Facebook wall-> "He was the sweetest, kindest man I ever met, and I loved him more than anything... I always used to be embarrassed as a child that he was a dancer and an actor but now I couldn't be more proud."
Simon's daughter Lydia wrote-> "I love you so much, dad. Always have, always will. The most beautiful man in the world. Forever in my heart"
His niece Emil Atack wrote-> "My wonderful uncle Simon Barnes has been taken from us all so suddenly. The kindest and most talented man you could ever wish to meet. Loved by all who knew him, and will be forever. X"
Simon's Teletubby co-star John Simmit posted a tribute tweet to him-> "What a week! RIP Simon Shelton aka Tinky-Winky. Remembering the many good times. Rest easy."
Cremation: He was cremated at the Bedford Crematorium on 7th February. Friends and family wore white dress to the event to celebrate the happiness his life represented.
References