Biography
Anthony Gonzalez is an American actor & singer. He is known for his roles- Miguel in Coco(2017), Oscar in Icebox(2018), Polaroid in Criminal Minds: Beyond Borders. He has voiced characters in Coco(2017), Dante's Lunch(2017). He plays a singer in The Gospel Truth.
Anthony Gonzalez was born on 15th March 2005 in Los Angeles, California, United States.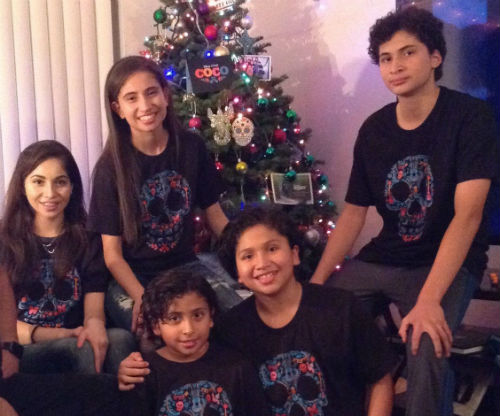 Image: Anthony Gonzalez with his brothers & sisters
Anthony Gonzalez: Facts & Trivia
Awards: Anthony Gonzalez has won Best Animated Voice award for voicing 'Miguel Rivera' in Coco(2017) at Washington D.C. Area Film Critics Association awards. He is nominated at the Annie Awards for the same movie.
Autiodion for Coco: Audition was a long process, he started auditioning for the role when he was 9, Anthony after an year from the initial audition went to Emeryville, California the headquarters of Pixar. They gave him a Christmas present Box along with the good news. Coco movie won the Best Animated motion picture at the Golden Globe Awards
He has a big family, has 4 siblings, 2 sisters and two brothers, He is the 4th child among five.
Ancestry: He is of Latino ethnicity, mostly Guatemalan, couple of his family members are from Mexico.
He was close to his grandfather who died when Anthony was just 6 years old.
Coco became the highest grossing Movie ever to hit he Mexican theaters.
La Placita Olvera: Anthony's sisters & an elder brother were singing, dancing and street performing at the place (which is in the Los Angeles), it was the inspiration behind Anthony's entry into music.
Mariachi music: He grew up performing the Mariachi music.
At home he is still a regular kid, his parents make him do the chores like everyone else, he has to clean the room, wash dishes in the kitchen and so on
He has been singing and acting since he was 4 years old.
Momager: His mother goes with him everywhere like a manager, Anthony calls her Momager.
Mariachi form of music requires adult voice, yet Anthony has always liked singing Mariachi across USA & Mexico.
Coco character Miguel has resemblance to Anthony
Poco-Loco is favorite song from the Coco movie.
He has participated in many talent contests & competitions in singing.
Anthony Gonzalez: Quotes
I didn't really need to get into character because I identify with him.
The Day of the Dead is a joyful celebration when you can connect with and remember your ancestors.
(about getting the role in Coco) I was so amazed, My heart stopped beating for a second, I couldn't believe I had accomplished it, I thanked God & everyone who helped me.
Family should always be united, they should always care for each other no matter what, love each other no matter what.
At first sisters & brother were singing, I saw they were having so much fan, I wanted to sing as well.
I just hope I keep singing and acting for the rest of my life, because that is what I enjoy doing.
Anyone can celebrate the Day of the dead, it is not just Mexican celebration, it just shows the celebration of love for our ancestors.
I always wanted to be home schooled, because it gives so much chance to be singing & dancing, this year I'm actually home schooled.
I hope Coco will inspire kids to learn more about their family and ancestors
(About being 13) Now I can watch PG-13 movies, but I'm not gonna lie I had been watching them since I was 12.
Last time I went to perform in down Disney, there was this little kid dressed as Miguel, It just made me feel so proud and happy.
(On watching Coco Movie) I have watched it 3 times, and have cried on the third time as well.
I really wanted to be Miguel, because we both love family, we both love Music.
The person who has always been there for me has to be my Mom.
I'm just so thankful for my parents because I wouldn't be here if it weren't for them
My spirit animal would be a monkey.
Do what you love, don't ever stop no matter what people say
(about message of Coc) What I hope people take from this movie is 'Be with your family, connect with them.
Photos/ Pictures