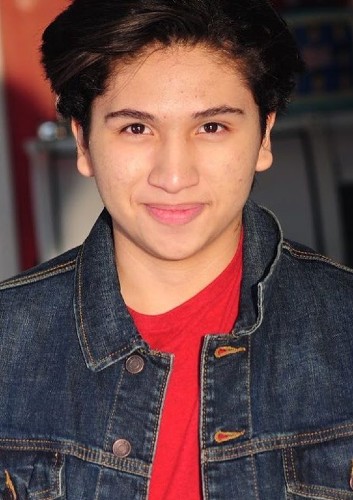 Anthony Gonzalez
Date Of Birth
September 23, 2004
Age
19 years 0 months 2 days
Day of Birth
Thursday
Place Of Birth
Los Angeles, California, United States
Zodiac Sign
Libra
Professions

Musician

, Actor , Singer ,

voice actor
Personal Information
Residence

Los Angeles, California, United States

Religion
Christianity
Languages
Spanish , English
Nationality
American
Ethnicities
Latino , Guatemalan American
Complexion
Fair
Trademarks
Smile , Cheerful attitude

Body Features & Measurements
Height

160 CM


5 Feet 3 Inches
Eye color
Brown
Hair color
Black
Weight

45 KG


99 lbs

Body Type
Average
Family Information
Mother

Lilian Gonzalez

Sister

Lilian Gonzalez

Career Information
Debut (Movie)
Coco(2017)
Years Active
2012-
Debut (TV)
The Bridge
Favorites, Hobbies, Likes/ Dislikes
Favorite Movie
Toy Story (Among Pixar movies)
Favorite Singers
Bruno Mars
Alejandro Fernandez
Shawn Mendes
Vicente Fernandez
Ed Sheeran
Favorite Song
Shape of You (Ed Sheeran)
Social Networks, Web links
Facebook Profile
Anthony Gonzalez Facebook Profile
Twitter Profile
Anthony Gonzalez Twitter Profile
Instagram Profile
Anthony Gonzalez Instagram Profile
More Information
Inspiration
Ernesto De La Cruz
Instruments
guitar
Biography
Anthony Gonzalez is an American actor & singer of Guatemalan ancestry. He is a Teen Choice Awards winner known for voicing the character Miguel in the children's animation movie Coco(2017)
Some of the popular roles Anthony has appeared in are Oscar in Icebox(2018), Simon Barros in The Last Ship (2018).
Some of his recent works are as Geco in "On the Line", Carlos in Phobias(2020), Santiago in Shameless(2019) among others.
Childhood- Family
Anthony Gonzalez was born on 23rd September 2004 in Los Angeles, California, the United States to Lilian Gonzalez(mother). His parents immigrated from a farm in Guatemala to Los Angeles.

[Anthony Gonzalez]
Mother- Lilian Gonzalez
Anthony's mother Lilian Gonzalez came to the United States in her late 1990s, she worked in the field of cosmetology, she would always take her kids to the competition. A lot of these times she had to lose her job because of her absence. Lilian has been very supportive of her children's musical career. Anthony would tell his mom 'You will be able to get lots of jobs, but I am going to be a kid only once'. [4]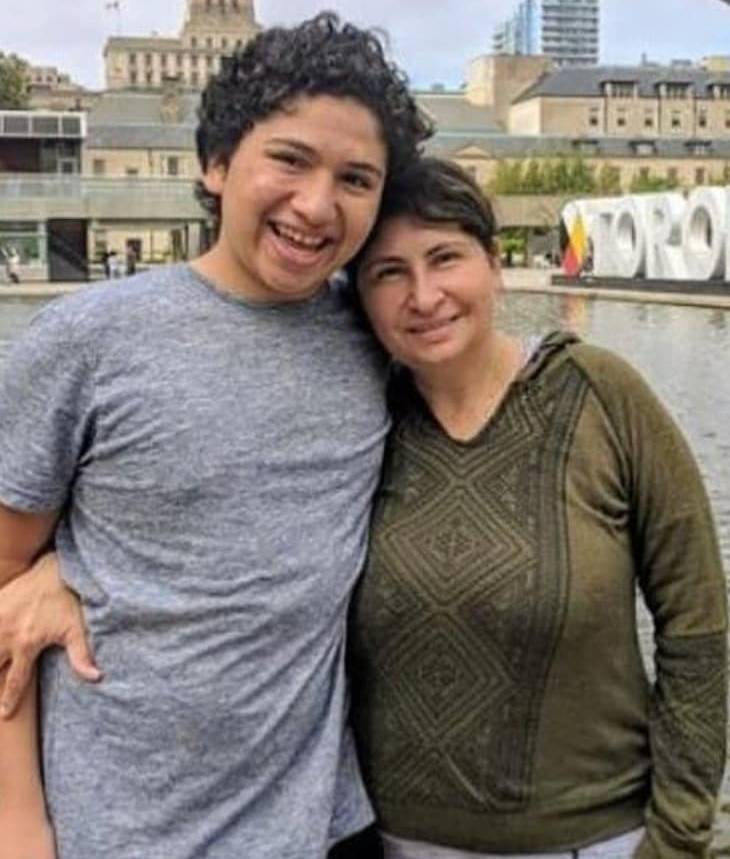 [Anthony Gonzalez with mother]
Siblings
Anthony is from a big family, he has 4 siblings, 2 sisters, and two brothers, He is the 4th among the five children his parents have.
His siblings are:
Lilian Gonzalez
Katherine Gonzalez
Albert Gonzalez
Alex Gonzalez
His sister Lily Gonzalez (Lilian Gonzalez) is an actress/ dancer/ choreographer. She is a graduate of the University of Santa Barbara. She is a trained dancer.
Katherine is in college as well.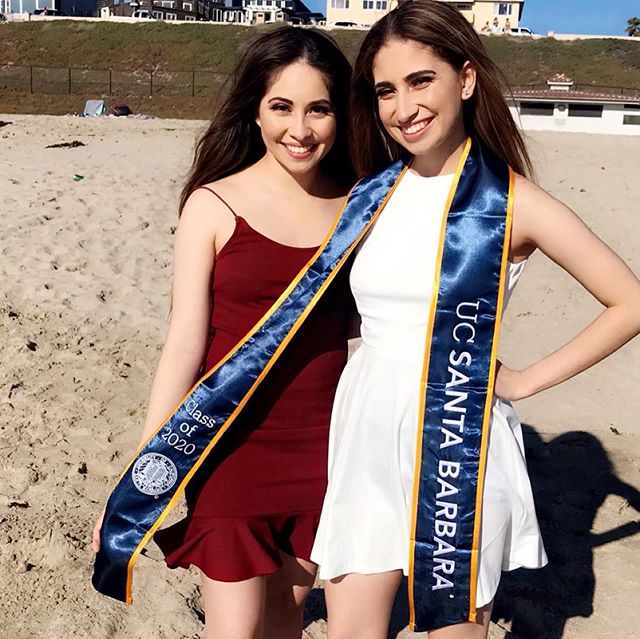 [Anthony Gonzalez sisters- Katherine and Lilian]
Brother Albert is in school, he is a soccer player.
Alex, the youngest of Gonzalez siblings, is also into music, he loves playing his piano. Alex looks pretty much like the young Anthony.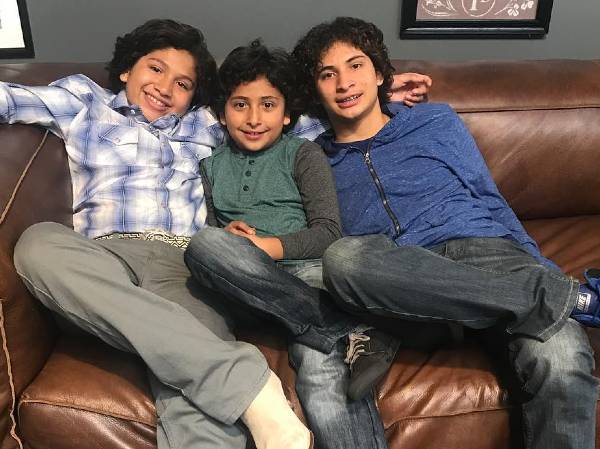 [Anthony Gonzalez and brothers]
Education
School: Anthony attends Colburn School, a performing arts school located in downtown Los Angeles. Anthony's two brothers also attended the same school.
Facts & Trivia
Ancestry: He is of Latino ethnicity, mostly Guatemalan, a couple of his family members are from Mexico. He also has small portions of Puerto Rican, German and Italian genes.
Grandfather: He was very close to his grandfather who died when Anthony was just 6 years old. Grandpa would tell him jokes and make him laugh.
La Placita Olvera: Anthony's sisters & an elder brother were singing, dancing, and street performing at 'La Placita Olvera' in Los Angeles, it was the inspiration behind Anthony's entry into music. Anthony was four years old when he started singing and dancing.
Mariachi music: He grew up performing Mariachi music as a child. He has a strong background in Mariachi.
Disciplined upbringing: At home, he is still a regular kid, his parents make him do the chores like everyone else, he has to clean the room, wash dishes in the kitchen, and so on.
Momager: His mother goes with him everywhere like a manager, Anthony calls her Momager.
Mariachi music requires an adult voice, yet Anthony has always liked singing Mariachi across the USA & Mexico.
He is a music aficionado, he has participated in many talent contests & singing competitions over the years.
He visited Disneyland to celebrate his 13th birthday. There was a Coco-themed plaza in the California Adventure park. [3]
Career
Sabado Gigante: Anthony has appeared on the Spanish variety show 'Sabado Gigante' [3]
Anthony regularly appears in the Univision telethon for sick Latin American children. [3]
Coco(2017)
In the 2017 3D animation movie Coco produced by the Pixar Animation Studious (released by Walt Disney), Anthony voiced the lead character of Miguel. It was directed by Lee Unkrich, with Gael García Bernal, Benjamin Bratt, Alanna Ubach, Renée Victor voicing the other main roles.
Audition: Coco's Audition was a long process, Anthony started auditioning for the role when he was 9 and finally got the role after two years, He was asked to come to Emeryville, California, the headquarters of Pixar after a year from the first audition. They gave him a Christmas present Box along with the good news.
Coco movie won the Best Animated motion picture at the Golden Globe Awards in 2018. It became the highest-grossing movie ever to hit the Mexican theatres.
Anthony's character Miguel has quite a resemblance to real-life Anthony. "Poco-Loco" is his favorite song from the movie. He was very surprised when he saw the movie for the first time, he had not seen the movie in chronological order while voicing. "Coco" inspired him to learn Guitar, it wasn't his strength till then.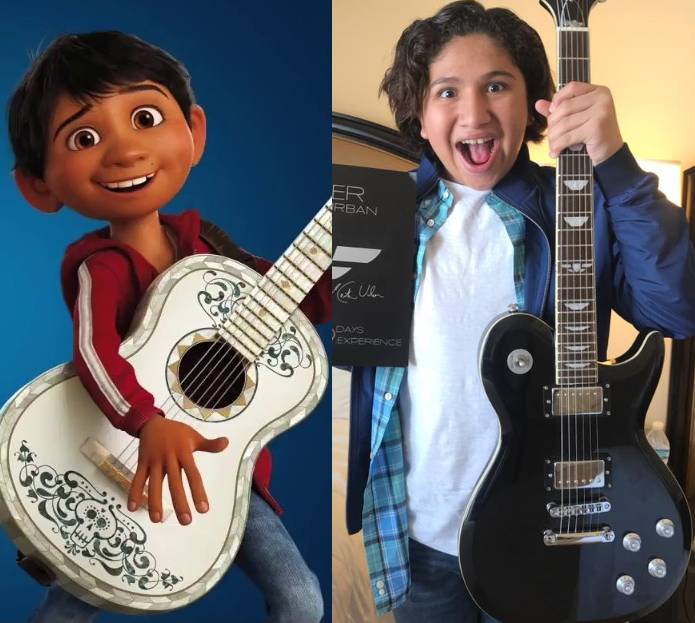 [Anthony Gonzalez in Coco(2017)]
Icebox (2018)
In the 2018 drama movie directed by Daniel Sawka, Anthony played the central character of Oscar, an immigrant child trapped in the American immigration system.
Anthony had also acted in the short movie version of the same movie created in 2016. Genesis Rodriguez played Perla, Sarah Minnich played Officer Marquez in the movie. Carrie Lazar, Johnny Ortiz, Rene Moran, Dylan Kenin also played important roles in the movie.
Soundtracks
Year
Song
Movie/ Series
Notes
2017
Remember Me
Coco
Un Poco Loco
Proud Corazón
The World Es Mi Familia
Filmography
Movies
| Year | Movie | Character | Notes |
| --- | --- | --- | --- |
| | The Gospel Truth | Solo Singer #11 | |
| | On the Line | Geco | |
| 2020 | Phobias | Carlos | |
| 2019 | Grand-Daddy Day Care | Jordan Collins | |
| 2018 | Icebox | Oscar | |
| 2017 | Coco | Miguel (voice) | |
TV Series
| Year | Series | Character | Notes |
| --- | --- | --- | --- |
| 2020 | American Dad! | Columbian Boy | Episode: "100 Years a Solid Fool" |
| 2019 | Shameless | Santiago | Episodes: "Los Diablos!", "BOOOOOOOOOOOONE!", "The Apple Doesn't Fall Far From the Alibi" |
| 2018 | The Last Ship | Simon Barros | 4 Episodes; "Commitment", "AirDrop", "Tropic of Cancer", "Casus Belli"; Season 5 Episodes 1,4,6,10 |
| 2017 | Criminal Minds: Beyond Borders | Polaroid | Episode: "The Devil's Breath" |
| 2014 | The Bridge | | Episode: "Lamia" |
| 2013 | El Factor X | Finalist | |
Short movies
| Year | Short movie | Character | Notes |
| --- | --- | --- | --- |
| 2017 | Dante's Lunch | Miguel Rivera (voice) | |
| 2016 | Icebox | Oscar | |
| 2015 | Imagination of Young | Bruno | |
| 2013 | Como mi Hermano | Cody (voice) | |
Awards
Year
Won?
Award
Project
Category
Notes
2019
Win
Latino Spirit Award
2019
Win
Imagen Foundation Awards
Icebox(2018)
Best Young Actor - Television
2018
Annie Awards
Coco (2017)
Outstanding Achievement for Voice Acting in an Animated Film
BTVA People's Choice Voice Acting Award
Breakthrough Voice Actor of the Year
Best Male Lead Vocal Performance in a Feature Film
Best Vocal Ensemble in a Feature Film
Shared with the rest of the cast
BTVA Feature Film Voice Acting Award
Best Vocal Ensemble in a Feature Film
Golden Angel Award
Best New Actor
Chinese American Film Festival
Nomination
OFTA Film Awards
Best Voice-Over Performance
Win
Teen Choice Awards
Choice Movie Actor: Fantasy
2017
Win
WAFCA Awards
Best Voice Performance
[2]
Quotes
I didn't really need to get into character because I identify with him.
The Day of the Dead is a joyful celebration when you can connect with and remember your ancestors.
(about getting the role in Coco) I was so amazed, My heart stopped beating for a second, I couldn't believe I had accomplished it, I thanked God & everyone who helped me.
The family should always be united, they should always care for each other no matter what, love each other no matter what.
At first sisters & brother were singing, I saw they were having so much fun, I wanted to sing as well.
I just hope I keep singing and acting for the rest of my life because that is what I enjoy doing.
Anyone can celebrate the Day of the dead, it is not just a Mexican celebration, it just shows the celebration of love for our ancestors.
I always wanted to be homeschooled, because it gives so much chance to be singing & dancing, this year I'm actually homeschooled.
I hope Coco will inspire kids to learn more about their family and ancestors
(About being 13) Now I can watch PG-13 movies, but I'm not gonna lie I had been watching them since I was 12.
Last time I went to perform in down Disney, there was this little kid dressed as Miguel, It just made me feel so proud and happy.
(On watching Coco Movie) I have watched it 3 times, and have cried for the third time as well.
I really wanted to be Miguel, because we both love family, we both love Music.
The person who has always been there for me has to be my Mom.
I'm just so thankful for my parents because I wouldn't be here if it weren't for them
My spirit animal would be a monkey.
Do what you love, don't ever stop no matter what people say
(about the message of Coco) What I hope people take from this movie is 'Be with your family, connect with them.'
References