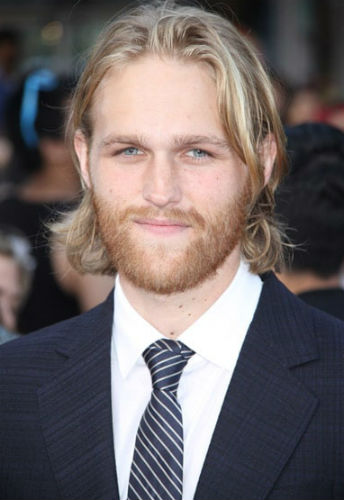 Wyatt Russell
Date Of Birth
July 10, 1986
Age
36 years 10 months 26 days
Day of Birth
Thursday
Place Of Birth
Los Angeles, California, United States
Zodiac Sign
Cancer
Professions
Singer , Actor ,

Ice Hockey Player

Full Name

Wyatt Hawn Russell
Personal Information
Residence

Los Angeles, California, United States

Religion
Christianity
Language
English
Star Sign
Cancer
Nationality
American
Ethnicities
Jewish , Caucasian
Complexion
White
Trademark
Blonde Hair

Body Features & Measurements
Height

188 CM


6 Feet 2 Inches
Eye color
Blue
Hair color
Blonde
Weight

80 KG


176 lbs

Body Type
Athletic
Hair type
Long
Family Information
Father
Kurt Russell (Actor)
Mother
Goldie Hawn (Actress)
Wife
Sanne Hamers (Stylist)
Cousins
Phronsie Franco (Son of Jill Russell)
Matt Franco (Son of Jill Russell; baseball player)
Brocker Way
David Birznieks
Maclain Way
Michael Birznieks
Chapman Way
Uncle
Edward Rutledge Hawn Jr. (Maternal)
Grandfathers
Bing Russell (Paternal; Actor; 1926-2003)
Edward Rutledge Hawn (Maternal)
Nephews
Bingham Hawn Bellamy (Son of Kate Hudson)
Ryder Russell Robinson (Son of Kate Hudson)
Brother In-Law
Chris Robinson (Ex husband of Kate Hudson)
Grandmothers
Louise Julia Russell (Paternal; Dancer;)
Laura Steinhoff (Maternal; 1913-1993)
Aunts
Patti Hawn (Maternal)
Jill Russell (Paternal)
Jody Russell (Paternal)
Jamie Russell (Paternal)
Relatives
Matthew Bellamy (Ex-partner of Kate Hudson)
Season Hubley (previous wife of Kurt Russell)
Great Grandfather
Warren Oliver Russell (Paternal Paternal)
Half Brothers
Boston Russell (Paternal)
Oliver Hudson (Maternal)
Half Sister
Kate Hudson (Maternal)
Great-grandmother
Ruth Stewart Vogel (Paternal Paternal)

Education Qualifications
Education (Graduation)
Philosophy Major
Alma Mater
University of Alabama (Huntsville)
Love, Romance, Marriage
Girlfriend
Meredith Hagner
Career Information
Debut (Movie)
Escape from L.A.(1996)
Years Active
1996-
Debut (TV)
Law & Order: LA
Favorites, Hobbies, Likes/ Dislikes
Hobby
Skating
Favorite Movie
Boy (one of all-time top 5)
Favorite Sports
Baseball (played for a short time) , Ice Hockey (he played it)
Contact
Talent Agents
Rick Macita
Creative Artists Agency
More Information
Friend
Ryan Burke
Net worth

$4 Million
Biography
Wyatt Russell is an American actor and a retired professional ice Hockey player. Wyatt is popular for his roles- Ford in Overlord(2018), Willoughby in Everybody Wants Some(2016), Zook in 22 Jump Street(2014), Freddy in Cold in July(2014), Paul in The Walking Dead webisodes.
His recent performances include- Sean Dudley in Lodge 49, Jeb Stuart in The Good Lord Bird, David in The Woman in the Window, John Walker in The Falcon and the Winter Soldier.
Family
Wyatt Russell was born on 10th July 1986 in Los Angeles, California, United States to Goldie Hawn(Mother)- an actress & Kurt Russell(Father)- an actor & producer. He was delivered via Caesarean section.
Parents
Wyatt's parents moved to Vancouver, Canada when he was 16 years old, to be part of their son's sports career, where he played Ice Hockey for WHL's Prince George. His family had moved to a $4 million mansion in Vancouver. He had arrived in his parents' private jet to the training camp.
Mother- Goldie Hawn
Goldie Jeanne Hawn was born in 1945 in Washington, D.C. to Laura Steinhoff (a dance school owner) & Edward Rutledge Hawn (a musician). Her sister Patti Hawn is a publicist.
She is a very popular actress and producer. She is most known for roles such as- Joanna/ Annie in Overboard(1987), Elise Elliot Atchison in The First Wives Club(1996), Judy Benjamin in Private Benjamin(1980), Helen Sharp in Death Becomes Her (1992) and others.
Goldie was married to Gus Trikonis (1969-1982) & Bill Hudson (1976-1982). She has two children with Bill Hudson (Oliver & Kate Hudson). She had Wyatt with her partner Kurt Russell.
Father- Kurt Russell
Kurt Vogel Russell was born in 1951 in Springfield, Massachusetts to actor Bing Russell and his wife Louise Julia Russell (a dancer). He has three sisters in Jill Russell, Jamie Russell, and Jody Russell.
Kurt played baseball in his High school. Wyatt gets his sports genes from his father & grandfather. Kurt is a Golden Globe award-nominated actor. He is most known for his roles- John Ruth in The Hateful Eight (2015), Snake Plissken in Escape from L.A. (1996), David Grant in Executive Decision (1996) among others.
Kurt has two children in Wyatt Russell (with Goldie Hawn) & Boston Russell (with Season Hubley). He is the stepfather of Goldie Hawn's two children from her previous marriage- Oliver Hudson & Kate Hudson.
He has worked with his father Kurt Russell in the movies- Escape from L.A. (1996) and Soldier (1998)
Speaking about his father, Wyatt has said:
I would consider my dad a pretty patient guy, but there was no tolerance for spoiled behavior.
Siblings
He has 2 half-siblings from his mother's previous marriage to Bill Hudson- Oliver Hudson (an actor born in 1976) and Kate Hudson (an Actress born in 1979). Wyatt grew up with Kate & Oliver in the same household.
From his Father's previous relationship he has a brother in Boston Russell, born to actress Season Hubley.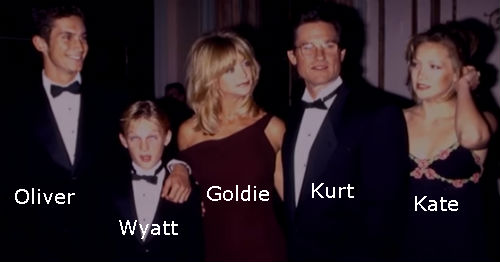 Image: Wyatt Russell family
Oliver Hudson
Oliver Rutledge Hudson was born in 1976 in Los Angeles, California to Goldie Hawn & Bill Hudson. He has a younger sister in Kate Hudson. Emily Hudson and Zachary Hudson are his half-siblings from his father's side. From his mother's side, he has a half-sibling in Wyatt Russell.
Oliver is an actor, he is known for playing- Kyle in Walk of Shame(2014), Kyle Autry in Black Christmas (2006), Ziegler in Going Greek (2001) among others.
Oliver is married to actress Erinn Bartlett. The couple has three children- Wilder Brooks (born 2007), Bodhi Hawn (born 2010), Rio Laura (born 2013)
Wyatt considers his brother Oliver to be the most influential person in his acting career. He is a poker enthusiast and competed at the World Series of Poker in 2005.
Kate Hudson
Kate Garry Hudson was born in 1979 to Goldie Hawn & Bill Hudson in Los Angeles, California.
Kate is a popular actress, she is known for playing roles such as Penny Lane in Almost Famous (2000), Andie in How to Lose a Guy in 10 Days(2003), Liv in Bride Wars(2009), Tess in Fool's Gold (2008) among others.
Boston Russell
Boston Russell is Wyatt's paternal half brother. He was born in 1980 to actress Season Hubley & actor Kurt Russell.
Boston is a scholar of Buddhism & Hinduism.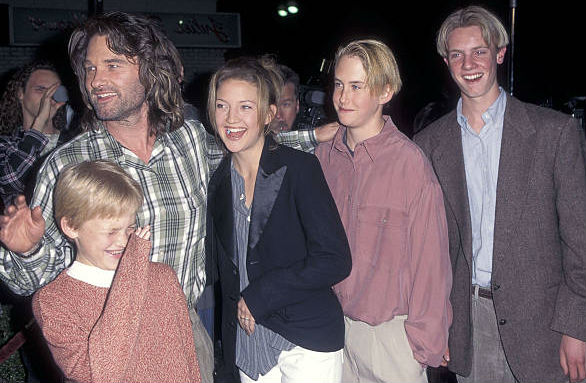 [Wyatt Russel, Kurt Russell, Kate Hudson, Boston Russell, Oliver Hudson]
Grandfather
His paternal grandfather Bing Russell was an American actor as well as a minor-league baseball club owner cum coach. He was born to Ruth Stewart & Oliver Russell in 1926. He married Louise Julia Crone in 1946 and had four children with her, including Wyatt's father Kurt Russell.
He died in 2003 from cancer-related complications. He was a graduate of Dartmouth College with a business degree. "Sporting News" has named him the minor league manager of the year in 1974.
Education
University of Alabama: He is a Philosophy major from the 'University of Alabama'.
Marriage
Wyatt Russell & Meredith Hagner
Wyatt started dating actress Meredith Hagner in 2016, they had met on the sets of "Folk Hero & Funny Guy". The two moved into the 1930s Spanish home they bought together in April 2018 in Sherman Oaks, California. The two married on September 2, 2019 in Aspen, Colorado.
Meredith is known for playing Portia Davenport in Search Party (2016-2017), Katelyn Stuben in Hits (2014), Heather in Horse Girl(2020), Misty in Palm Springs(2020) among others.
Meredith was born on May 31, 1987, in Chapel Hill, North Carolina. She is a graduate of Performing Arts from Boston Conservatory. She is a songwriter as well as a musician, she plays both piano and guitar. She has appeared in advertisements for 3M, Acuvue, JCPenney, Levi's and others.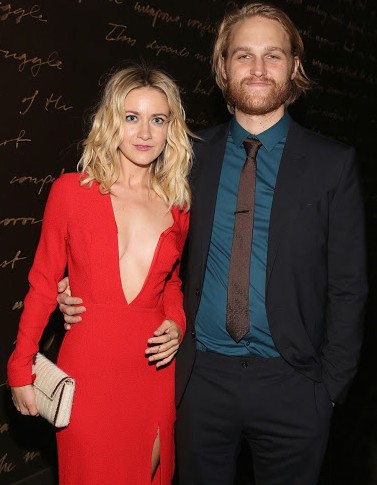 [ Wyatt Russell & Meredith Hagner ]
Wyatt Russell & Sanne Hamers
Wyatt met Sanne Hamers while playing Ice Hockey in the Netherlands (for Groningen Grizzlies), Sanne is a stylist by profession, the couple started dating in 2010, after a couple of years of dating they got married on 14th March 2012.
Divorce: The couple separated on 2nd March 2015 and divorced amicably on 24th October 2017.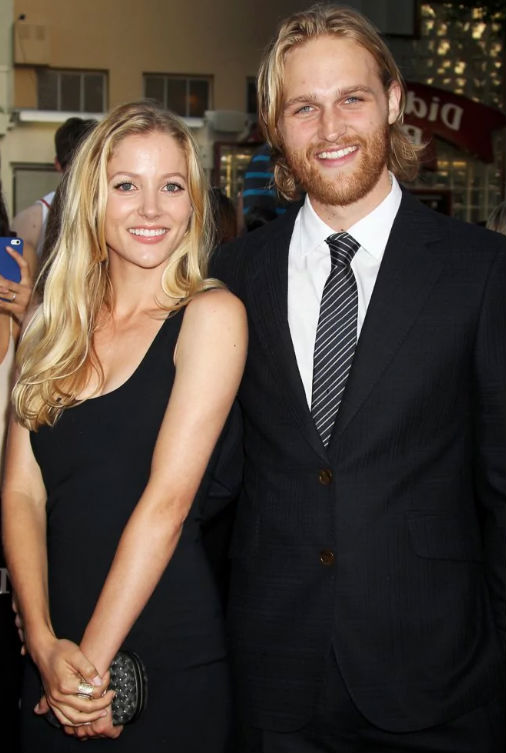 Image: Wyatt Russell with ex-wife Sanne Hamers
Career
Ice Hockey Player
Baseball family: Russell's grandfather was a baseball coach, his father Kurt was a baseball player, his cousin Matt Franco was a baseball player who played for Cubs, Wyatt too was a baseball player in his youth, he was coached by his father in the early years, but later moved to Hockey.
Russell played Ice Hockey as a goaltender for various amateur pro Hockey teams. Some of the top teams he has been part of are:
Brampton Capitals (Ontario, Canada)
Chicago Steel (Chicago, United States)
Coquitlam Express (Coquitlam, British Columbia, Canada)
Groningen Grizzlies (Groningen, Netherlands)
Richmond Sockeyes (Richmond, British Columbia, Canada)
West Kelowna Warriors (West Kelowna, British Columbia, Canada) (previously Langley Hornets)
He has played for the Huntsville Chargers (Huntsville, Alabama) at the NCAA hockey. After a year at Huntsville, he moved to Germany. He has played in the Dutch elite league and the German 3rd league as well. [2]
Injuries: He broke his hip at the age of 24 playing Ice Hockey, Wyatt's injury forced him to retire from the game early. (he had been having groin pulls as a high schooler, it was later diagnosed as hip dysplasia). He has had injuries playing Ice Hockey, he was once so badly injured that he couldn't write his name for months properly. He had injuries on back, hips, and spine.
Wyatt's stats are as below:
Season
Team
League

GP

A

PIM
Min
GA
GAA
W
L
SVs
SV%
2009-2010
Groningen Grizzlies

Netherlands

Hockey League

19
2
2006-2007
Brampton Capitals
Ontario Provincial Junior A Hockey League
26
2
2
2005-2006
Chicago Steel
United States Hockey League
2
0
0
144
14
7.32
0
2
55
0.797
2005-2006
Brampton Capitals
Ontario Provincial Junior A Hockey League
16
0
2
2004-2005
Coquitlam Express
British Columbia Hockey League
19
0
0
865
58
4.02
6
9
422
0.879
2003-2004
Langley Hornets
British Columbia Hockey League
2
0
0
50
8
9.68
0
1
32
0.8
GP= Games Played; A=Assists; PIM=Penalties in Minutes; Min=Minutes on the field; GA=Goals against
GAA=Goals Against Average; W=Wins; L=Loss; SVs= Saves; SV%=Saves percent
Films
Embarrassing Movie Debut: Wyatt was 12 when he made his debut as a child artist, he had a scene where he was crying and running naked.
Entry into acting: John Stalberg, Wyatt's friend was directing the movie High School (2010) and he needed an actor urgently for a role, Wyatt was playing for the Alabama Hockey Team, to help his friend out he lied to his team (cited family problems) and went to shoot the movie.
Kurt Russell, speaking of his son Wyatt's acting talent, said this:
Dirty little secret in our family for a long time was that the best actor in the family was a Hockey player.
Filmography
Movies List
| Year | Movie | Character | Comment |
| --- | --- | --- | --- |
| | The Woman in the Window | David | |
| 2018 | Overlord | Ford | lead role along with Jovan Adepo |
| 2018 | Blaze | Glyn | |
| 2017 | Shimmer Lake | Ed Burton | |
| 2017 | Goon: Last of the Enforcers | Anders Cain | |
| 2017 | Table 19 | Teddy | |
| 2017 | Ingrid Goes West | Ezra O'Keefe | |
| 2016 | Folk Hero & Funny Guy | Jason | premiered at the Tribeca Film Festival called |
| 2016 | Everybody Wants Some!! | Willoughby | |
| 2014 | 22 Jump Street | Zook | |
| 2014 | At the Devil's Door | Sam | |
| 2014 | Cold in July | Freddy | |
| 2013 | Love and Honor | Topher | |
| 2013 | We Are What We Are | Deputy Anders | |
| 2012 | This Is 40 | Hockey Player | |
| 2011 | Cowboys & Aliens | Little Mickey | |
| 2010 | High School | Stoned Teenager | |
| 1998 | Soldier | Todd | (age 11) |
| 1996 | Escape from L.A. | Orphan Boy | uncredited |
TV Series List
| Year | TV series | Character | Comment |
| --- | --- | --- | --- |
| 2020 | The Falcon and the Winter Soldier | John Walker | 6 Episodes; Main role |
| 2020 | The Good Lord Bird | Jeb Stuart | 7 episodes; Regular |
| 2019 | Lodge 49 | Sean Dudley | 20 episodes; Lead role |
| 2016 | Black Mirror | Cooper Redfield | Episode: Playtest (Season 3 Episode 2) |
| 2013 | The Walking Dead: Webisodes | Paul | 3 Episodes; "The Oath: Bond", "The Oath: Alone", "The Oath: Choice" |
| 2013 | Arrested Development | Oakwood | Episode: Colony Collapse (Season 4 Episode 7) |
| 2010 | Law & Order: LA | Sam Loomis | "Hollywood" (Season 1 Episode 1) |
Short moves list
| Year | Short movie | Character | Comment |
| --- | --- | --- | --- |
| 2015 | Prisoner | Will | |
| 2006 | The Last Supper | Doubting Thomas | |
Soundtracks
| Year | Song | Project | Comment |
| --- | --- | --- | --- |
| 2016 | Cherokee ChaChow | Everybody Wants Some!! | |
| 2013 | Burning Tree | Love and Honor | both as performer and writer |
| 2013 | Together | Love and Honor | both as performer and writer |
Facts & Trivia
Ancestry: Russell is of English, German, Hungarian, Irish, Scottish descent. His maternal grandfather Edward Rutledge Hawn was a Presbyterian of German and English descent. Grandmother Laura Steinhoff a Jew from Hungary.
Surnames: Wyatt Russell has kept both the surnames of his mother(Goldie Hawn) & father (Kurt Russell). His full name is Wyatt Hawn Russell.
The secret behind the name: He believes he is named 'Wyatt' after a highway in Houston.
Dennis the Menace: He was scared after watching 'Dennis the Menace' as a kid.
Oldest memory: Wyatt's father Russel took him to a hockey rink in Toronto when he was just three or four years old. Wyat still remembers that day, it is one of his earliest childhood memories. He remembers feeling "This is it. This is what I'm supposed to do" when he saw the Hockey game.
Social media: He isn't active on social media like Instagram or Twitter yet, he likes his privacy.
Backup plan: He is a philosophy major, he wanted to become a teacher if sports or acting didn't work out as expected.
He has never used the line 'Do you know who my father is' to get out of trouble, 'If I ever did that, my parents would legally disinherit me' says Wyatt.
Wyatt has a lot of resemblance to both his parents, his face looks like dad Kurt, hair- golden like Mom Goldie.
Awards
| Year | Won? | Award | Project | Category | Comments |
| --- | --- | --- | --- | --- | --- |
| 2016 | wON | Maui Film Festival | | Rising Star award | |
| 2014 | Nomination | Teen Choice Awards | 22 Jump Street | Choice Movie: Breakout Star | |
News & Updates
On 4th August 2018, "New York Post" published an article on him on page 50, it was titled- "PUCK STOPS HERE: Ex-amateur hockey player Russell's first starring role", it was written by Lauren Sarner.
Quotes
Acting wasn't my calling, (recalling now he is an actor) It better be my calling.
My Dad's a very evolved person, we are all very down to earth people.
Being with people who love making movies, is that they climb inside the world and you feel safe with them, I don't think you can make wrong moves as an actor with them.
(When asked how he felt receiving Rising star award at the Maui Film Festival) Undeserved, and never quite know how to accept but to say thank you very very much to people who thought I deserved it.
(When asked about surfing) It is so embarrassing, everyone asks me, I feel like I have to go surfing just one time to tell everyone 'yes I did it'.
I have played athletes in a lot of movies, I guess my understanding of playing gets me cast into movies.
My life advice to young people- 'Admit yourself when you don't know something'
My family is awesome, everybody is the best person they can be, it is pretty cool to be from my family.
The Russell side of my family is a clan with some serious genetics.
The last thing I wanted to do was act, because it was the path of least resistance.
In college sports, 1% of them actually made it into professional sports.
I don't like to try and curate my life, I don't find it conducive for happiness.
My parents are actors and never brought work home. I didn't even know what they did until I was about 10 years old
You got to put your everything into everything you do, it makes a difference to somebody out there.
I enjoyed the school environment, I enjoyed teaching.
Anybody that lives in America and has parents with a moderate amount of wealth can be spoiled.
On Hockey
My dream as a young kid was to play Hockey in the NHL
The best thing that ever happened to me was breaking my hip. Hockey wasn't in the cards.
There is a lot of similarity between Hockey and Films, you work without knowing what the final outcome will be and at the end looking at the final product you will feel happy you gave your all in.
Hockey was like a blue-collar Canadian working man sport, I was like a circus act.
Any Hockey player who has played sports for more than 15 years can remove their teeth (meaning they have fake teeth)
References