Biography
Luke Hemsworth is an Australian TV & Movie actor. He is the older brother of popular actors- Chris Hemsworth, Liam Hemsworth. He is popular for playing- Ashley Stubbs in Westworld(2016), Gregory Campbell in Bikie Wars: Brothers in Arms, Nathan Tyson in Neighbours, Shannon Gazal in Last Man Standing.
Luke Hemsworth was born on 5th November 1980 in Melbourne, Victoria, Australia to Craig Hemsworth(Father)- a social services counselor & Leonie Hemsworth(Mother)- an English teacher. He grew up in Phillip Island, Australia.
Hemsworth Brothers:
Luke Hemsworth (born in 1980)
Chris Hemsworth (born in 1983)
Liam Hemsworth (born in 1990)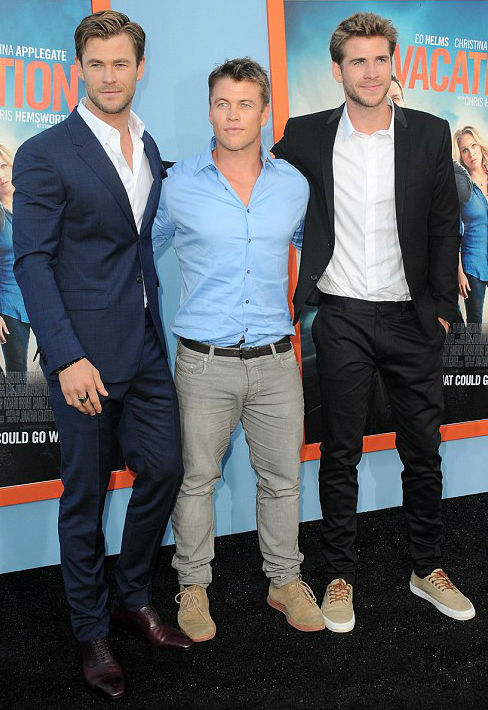 Image: Hemsworth Brothers- Luke, Chris, Liam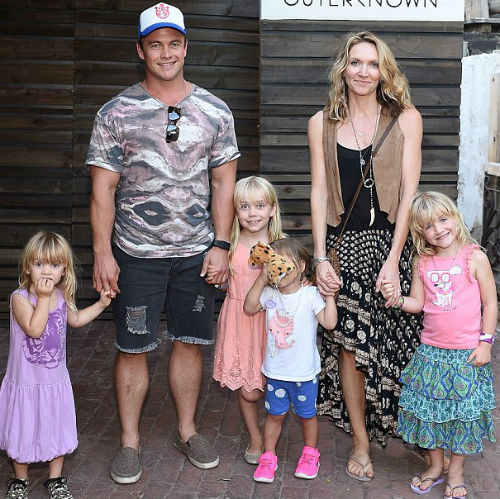 Image: Luke Hemsworth Family: Wife, Daughters & Son
Luke Hemsworth: Facts & Trivia
National Institute of Dramatic Art: Luke attended the prestigious institution for training in acting, alumni of the institute include- Cate Blanchett, Toni Collette, Mel Gibson, Sam Worthington among others.
Luke was the first among the brothers to get into acting.
Love for acting: Luke thinks the brothers developed love for imagination because of their disciplinarian mother who would carry the TV off into closet for months if they ever did mischief. It forced them to be creative to be entertained.
Brothers were brought up pretty rough, the boys were physically strong and threw punches at each other to settle things, would use air rifles to mess with each other. Luke & Chris would wrap Liam in protective clothes and shoot him with air rifles.
Luke has been a personal trainer to his brothers.
Chris & Liam did not get along as kids, they would fight for everything, Their parents would leave Liam with Luke at the grandparents while Chris would be away with his uncle.
Luke moved to Los Angeles in 2013 when he was chosen to be Chris's personal trainer for Thor.
He is very supportive of his brothers, he accompanies them to their film premiers.
First Job: His first job was pumping gas at a gas station (AJs Autos), he was 14 at the time and had learnt changing tyres and other auto stuff.
Ancestry: Luke is of Dutch, English, German, Irish, Scottish descent.
Flooring business: Luke was working in the flooring & timber business before acting, both his brothers worked with him before their acting career took off.
He is the oldest of Hemsworth brothers, but he is the shortest of them all, he had a brick fall on him when he was a kid, he suspects (jokingly) that it might have stunted his height. The brick left a lump on his head, he calls it Eduardo.
He has a super muscular ripped body.
He likes wildlife.
He loves dressing up for costume party
Ice Bucket Challenge: Chris, Liam and Luke all took the challenge in 2014.
Apart from Surfing he is pretty good at swimming too, he used to win school swimming carnival competitions.
Screen Actors Guild Award: He was nominated along with the cast of Westworld in the category 'Outstanding Performance by an Ensemble in a Drama Series'.
He has a massive head, he is a more than moderate 177cm tall, but his head and ripped body make him look short, also his brothers are giants, thus comparatively makes him look short.
His parents are involved with Australian Childhood Foundation.
He played Australian rules football when young.
He has been critical of American president Donald Trump.
He loves pets, has a dogs named Wally & Miko, parrot named Polly, and another pet Thumper.
His first car was a Alpha Romeo.
He used to draw a lot as a kid, his elder daughter Holly & the next one Ella do sketches a lot as well.
Luke helped his brother Chris with handling the baby.
Luke Hemsworth: Quotes
[About his brothers] They are quite tall (Big too), but they are actually very soft, I beat them, on every chance I get, they cry a lot, I take great joy in making them cry.
Watching Chris achieve all that success crystallized in my mind that it was what I wanted to do. And that I couldn't stay sanding floors for the rest of my life. [He is in flooring business]
[About balancing acting in a complex movie] You focus on work at hand, trying to be present at the moment and leaving the rest to others. That works for me.
I don't understand why someone would want to take a photo of us (brothers) getting out of a car or on the beach. I think that's really weird.
I've seen sharks in the ocean, it hasn't made me get out of the ocean
[About Miley Cyrus] She loves our kids, and our kids absolutely love her. She won our hearts. She is mature above her age. She's very much like Liam, they actually are a perfect match in a lot of ways.
I was born in Melbourne but I feel like a gypsy.
Chris is a freak, he doesn't have to work out at all. Us mortals have to work out a little bit harder than Chris does (to keep the body in shape)
I'm the 'short, dumb' Hemsworth brother
He has appeared on the shows- Jimmy Kimmel Live, Made in Hollywood, Entertainment Tonight, Saturday Night Live
Luke Hemsworth: Photos, Pictures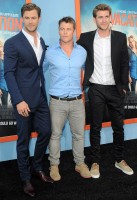 Hemsworth Brothers- Luke, Chris, Liam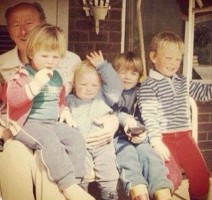 Luke Hemsworth childhood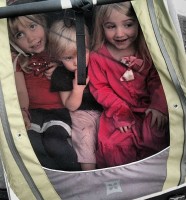 Luke Hemsworth's daughters- Holly, Ella, Harper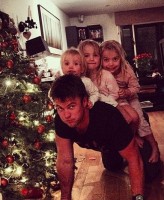 Luke Hemsworth's daughters- Holly, Ella, Harper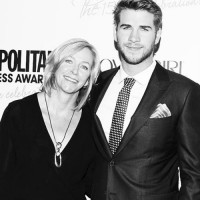 Hemsworth Mom Leonie Hemsworth with Liam Hemsworth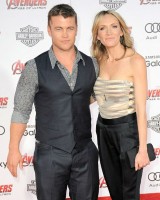 Luke Hemsworth & wife Samantha Hemsworth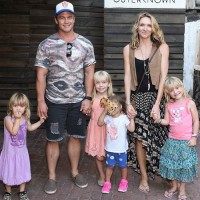 Luke Hemsworth Family: Wife, Daughters & Son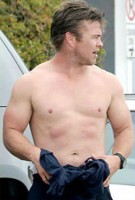 Topless Luke Hemsworth showing off his ripped body