Biography
Rory was a painter before becoming an actor. He was born on 24 April 1969 in Glasgow, Lanarkshire, Scotland. He was trained into acting by Robert Parsifal in The Actor's Workshop, Glasgow in 1988. He has worked previously as a bridge painter, landscape gardener and carpenter.
He appeared in a commercial for Scott's Porage Oats, dressed with a vest and kilt. His first major foray into acting was that he played a disabled personal trainer in the 2002 television comedy drama The Book Group. For this performance he won the Scottish BAFTA for the best television performance of 2002.
After that Rory has not seen back and has ventured into the glamour industry in various roles. He has played television roles as Detective Inspector Stuart Brown in State of Play, Peter the Great in Peter in Paradise. He has portrayed a priest in the award-winning British comedy drama series Shameless.
His Hollywood debut was in the 2004 film Alexander. In 2007, he played as Michael "Lurch" Armstrong in Hot Fuzz. In 2008, he portrayed Moby in The Crew and Atilla the Hun in the BBC docudrama Heroes and Villains.
McCann breathes life into the character Sandor "The Hound" Clegane in the HBO series Game of Thrones. He portrays a merciless knight on the outside but the hound is actually soft on the inside. The character is well liked by Game of Thrones fans for his crass language and expert portrayal.
He also stars in BBC TV Series written by Jimmy McGovern called Banished. The series is set in Australia in the 18th century. Rory plays a blacksmith named Marston.
Sally-Gay McCann is McCann's younger sister. She works on costumes for film and television and she worked alongside her brother on Alexander and Game of Thrones. McCann is an avid supporter of the Scottish Green Party. He also has appeared in its 2007 Scottish Parliament general election broadcast.
Rory was a frontman of a band called Thundersoup. He is known as a lone wolf for living a solitary, transient lifestyle. He often lives on his boat or in places without modern facilities.
Facts and Trivia
He was fired from his first movie Willow in 1988 because he laughed during the shooting.
In 1990, Rory got several fractures in a near-fatal rock climbing accident in Yorkshire.
He did all the training for his fights by himself for Game of Thrones.
Rory met The Mountain (Hafþór Júlíus Björnsson)in Iceland and felt that he was a really big man.
He feels that he is quite old for gymnastic competitions.
He feels the relationship between the hound and Arya Stark is like that of Scooby Doo and Scrabby Doo.
He saw the descent which was a violent movie and he couldn't defacate properly for 3 days.
He has a band that plays Trekkie while crossing the Atlantic.
He has also appeared in Breakfast cereal commercial.
Doesn't own a TV.
Rehearsed for 3weeks in Ireland in a small tent with sprung floors for a fight against Brienne(Gwendoline Christie) in Game of Thrones.
He used to rub the soot from a kettle on to his bumfluff to make it look more like he had a beard.
Rory McCann: Photos, Pictures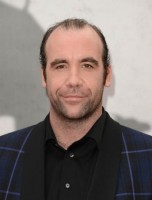 Rory McCann

Rory McCann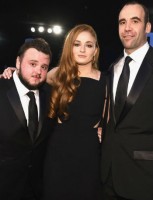 Rory McCann with co stars