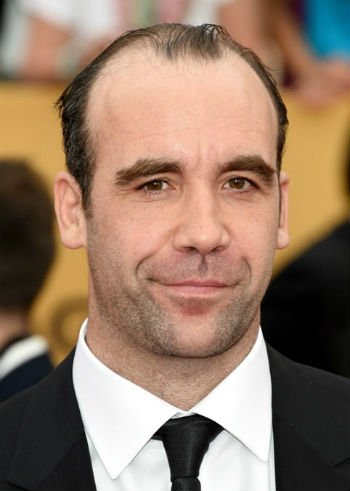 Rory McCann
| | |
| --- | --- |
| Date Of Birth | April 24, 1969 |
| Age | 54 years 7 months 7 days |
| Day of Birth | Thursday |
| Place Of Birth | Glasgow, Lanarkshire, Scotland |
| Zodiac Sign | Taurus |
| Professions | Actor , Painter (previously) |
| Other Name | Rory MacCann |
Personal Information
Language
English
Nationality

Scottish

Ethnicity
White
Complexion
White
Trademarks
Very Tall , deep voice
Sun Sign
Taurus
Body Features & Measurements
Height

198 CM


6 Feet 6 Inches
Eye color
Dark Brown
Hair color
light brown
Weight

95 KG


209 lbs

Body Type
Large
Family Information
Sister

Sally Gay McCann

Career Information
Debut (Movie)
Willow (1988) (as an extra)
Years Active
1999
Debut (TV series)
Randall & Hopkirk (Deceased)
Debut (TV Movie)
Coming Soon
More Information
Net worth

$2 million

Instruments
guitar
Piano
Mandolin
Banjo
Biography
Rory McCann is a Scottish BAFTA Award-winning actor. Rory is most known for playing 'The Hound' in the HBO adventure drama "Game of Thrones (2011-2019)"
Some of his popular roles include Jurgen the Brutal in Jumanji: The Next Level (2019), Michael Armstrong in Hot Fuzz (2007), John Ross in Slow West (2015), Kenny McLeod in The Book Group(2002-2003) among others.
He has recently appeared in the adventure comedy Jumanji: The Next Level(2019) as Jurgen the Brutal.
Childhood - Family
He was born on 24 April 1969 in Glasgow, Lanarkshire, Scotland.
Speaking of his mother, Rory has said:
"She's my one true believer, my No 1 fan"
His father has passed away
Sister- Sally-Gay McCann
Sally-Gay McCann is McCann's younger sister, she was born in 1972. She works on costumes for film and television and she worked alongside her brother on 'Alexander' and 'Game of Thrones'. The two have been speaking a secret language since childhood. The two would speak their secret language on the sets and nobody would understand.
He has a distant cousin named Jaquie McCann.
Education
Scottish School of Forestry: He studied at the school of forestry located near Inverness.
The Actor's Workshop: He was trained into acting by writer Robert Parsifal in The Actor's Workshop, Glasgow in 1988.
Dating/ Girlfriend
Rory McCann isn't married, doesn't have children. He has had girlfriends in the past.
Speaking of dating actresses, he said:
In the business I meet some beautiful women, but to be honest, 80 per cent of them are raving lunatics and are to be avoided. It's just insecurity; actors are generally quite insecure. I wouldn't date, or I've never had a fling with an actress, and I'd quite like to keep it that way.
On being single, he has said:
I'm single because I move about so much that I can't really get attached.
Facts and Trivia
Painter Rory was a painter before becoming an actor. He has worked previously as a bridge painter (namely, The Forth Road Bridge in east-central Scotland), landscape gardener, and carpenter.
Bullying at school: He was bullied at school for being small and skinny.
Versatile Musician: Rory is versatile in his musical skills, He can play

Banjo
Guitar
Harmonica
Mandolin
Piano
Ukulele

Adventure and Sports: Rory is into sports, he is into lots of adventures/ sports like:

Boxing
Horseriding
Rappelling
Rock Climbing
Rugby
Sailing
Snow Boarding
Squash
Swimming
Water-skiing

Carpenter: In 2006 he lived in Iceland after losing his apartment and lived in a tent for about a year while working as a carpenter.
Boating: He wants to fix his boat and ride around the world in it
He is said to make his own Sloe Gin [2]
Political inclination: McCann is an avid supporter of the Scottish Green Party. He also has appeared in its 2007 Scottish Parliament general election broadcast.
He describes himself as an "outdoor person." and "not that social" [2]
He admittedly has a fierce temper. [2]
Commercial:

He appeared in a commercial for Scott's Porage Oats, dressed with a vest and kilt and little else. The ad was very popular, whenever people recognized him on the road, they would ask him to lift his kilt.
He has also appeared in the Breakfast cereal commercial.

Thundersoup: Rory was a frontman of a band called Thundersoup with Carol Smilie. He plays instruments- banjo, guitar, mandolin, and piano. The band was famous for using capes and fire extinguishers.
Lone wolf: He is known as a lone wolf for living a solitary, transient lifestyle. He often lives on his boat or in places without modern facilities.
Fired for laughing: He was fired from his first movie Willow in 1988 because he laughed during the shooting.
Atheltic: He is quite athletic, but he feels that he is quite old for gymnastic competitions.
Not much into horror movies: He saw 'The descent'(2005) which was a violent movie and he couldn't defecate properly for 3 days. He calls himself "a big scaredy-cat" when it comes to horror movies, he covers his eyes and sings "la la la la" on seeing horror scenes.
Variety of Jobs: McCann has worked in multiple jobs over the years, he has worked as a lumberjack, a bouncer in the pub, a band singer, a tree surgeon
TV? what's that? He doesn't own a TV.
A prankster, likes making practical jokes: On the sets of Game of Thrones, he would tie up swords of others with fishing line. He would use remote farting machine to prank his colleagues
Residence: He lives between homes in London and Glencoe, Scotland. He wishes to have his own castle in Scotland someday.
Climbing Accident
In 1990, Rory got several fractures in a dangerous rock climbing accident in Yorkshire. Rory had an accident at the Yorkshire cliff, he fell from a 70 feet rock. He had broken his two ankles, wrist, arms, and a fractured skull. However, he rode himself in a car to the hospital.
Career
Rory was twenty-nine when he started acting.
His Hollywood debut was in the 2004 film 'Alexander'. In 2007, he played as Michael "Lurch" Armstrong in Hot Fuzz. In 2008, he portrayed Moby in The Crew and Atilla the Hun in the BBC docudrama Heroes and Villains.
"The Book Group"
His first major foray into acting was that he played a disabled personal trainer in the 2002 television comedy-drama The Book Group. For this performance, he won the Scottish BAFTA for the best television performance of 2002.
For his as Kenny McLeod, Rory interviewed several disabled people, he spent an entire day in a wheelchair with the disabled people to learn from experience.
After that Rory has not seen back and has ventured into the glamour industry in various roles. He has played television roles as Detective Inspector Stuart Brown in 'State of Play', Peter the Great in 'Peter in Paradise'. He has portrayed a priest in the award-winning British comedy-drama series 'Shameless'.
"Game of Thrones"
McCann breathes life into the character The Hound (Sandor Clegane) in the HBO series Game of Thrones. He portrays a merciless knight on the outside but the hound is actually soft on the inside. The character is well-liked by Game of Thrones fans for his crass language and expert portrayal.
He did all the training for his fights by himself for Game of Thrones. Rory met The Mountain (Hafþór Júlíus Björnsson) in Iceland during the shooting of Game of Thrones and felt that he was a really big man.
He feels the relationship between the Hound and Arya Stark is like that of Scooby-Doo and Scrappy-Doo. He rehearsed for 3 weeks in Ireland in a small tent with sprung floors for a fight against Brienne (Gwendoline Christie) in Game of Thrones.
He used to rub the soot from a kettle on to his bumfluff to make it look more like he had a beard.
Rory is one of the very few GoT actors to have read George RR Martin's "Song of Ice and Fire" books, when the two met, Rory asked George to sign the copy for him, the copy was torn and smelled of cigarettes as Rory had read the book while camping, "What the ***** have you done to my book?" joked the author.
Banished: He also stars in BBC TV Series written by Jimmy McGovern called Banished. The series is set in Australia in the 18th century. Rory plays a blacksmith named Marston.
Filmography
Movies
| Year | Movie | Character | Notes |
| --- | --- | --- | --- |
| 2019 | Jumanji: The Next Level | Jurgen the Brutal | |
| 2017 | xXx: Return of Xander Cage | Tennyson Torch | |
| 2015 | Slow West | John Ross | |
| 2011 | Season of the Witch | Soldier Commander | |
| 2010 | Clash of the Titans | Belo | |
| 2009 | Solomon Kane | McNess | |
| 2008 | The Crew | Moby | |
| 2007 | Hot Fuzz | Michael Armstrong | |
| 2006 | Sixty Six | Policeman | |
| 2005 | Beowulf & Grendel | Breca | |
| 2004 | Alexander | Crateros | |
| 2003 | Peter in Paradise | Peter the Great | TV Movie |
| 2003 | Young Adam | Sam | |
| 2003 | The Devil's Tattoo | Eric | |
| 2000 | Pasty Faces | Goon | |
| 1999 | Coming Soon | Fergus | TV Movie |
| 1999 | Ratcatcher | Gordon | |
| 1988 | Willow | | as an extra |
| | Casting | | Indie film |
| | Jack and Jill | | Indie film |
TV Series
| Year | TV series | Character | Notes |
| --- | --- | --- | --- |
| 2011-2019 | Game of Thrones | Sandor Clegane (The Hound) | 38 episodes |
| 2015 | Banished | Marston | 4 episodes (Season 1 episodes 1-4) |
| 2011 | The Jury | Derek Hatch | 5 episodes (season 2 episodes 1-5) |
| 2008 | Heroes and Villains | Attila the Hun | Episode: "Attila the Hun"; TV documentary series |
| 2006 | Shameless | Father Critchon | 2 episodes (season 3 episodes 1-2) |
| 2003 | Rockface | Adam | 6 episodes (season 2 episodes 2-7) |
| 2003 | State of Play | Stuart Brown | season 1 episode 1 |
| 2002-2003 | The Book Group | Kenny McLeod | 12 episodes |
| 2002 | London's Burning | Keith | season 14 episode 7 |
| 2000 | Monarch of the Glen | Roger | season 1 episode 6 |
| 2000 | Randall & Hopkirk (Deceased) | Bouncer | episode: "Mental Apparition Disorder" |
Short
| Year | short movie | Character | Notes |
| --- | --- | --- | --- |
| 2005 | Days of Darkness | 'Big John' Penney | |
Awards
Year
Won?
Award
Project
Category
Notes
2020
Winner
CinEuphoria Awards
Game of Thrones (2011)
Merit - Honorary Award
Shared with cast and crew
Nomination
Screen Actors Guild Awards
Outstanding Performance by an Ensemble in a Drama Series
shared with the cast
2019
Winner
IGN People's Choice Award
Best TV Ensemble
2018
Nomination
Gold Derby TV Award
Ensemble of the Year
2018
Screen Actors Guild Awards
Outstanding Performance by an Ensemble in a Drama Series
2015
2014
2012
2002
Winner
BAFTA Scotland Award
The Book Group (2002)
Best Television Performance
Quotes
I'm a man's man. I go out climbing and live outdoors.

I don't have a mortgage, I don't have a wife and I don't have kids, so I'm quite happy bumbling along.
I spend all my energy on the job that's coming up, and I found that's the way that works for me. The more energy you have on set, the better you'll be; it's all about being alive in that moment and listening.
If I had a long-term partner, I don't think I'd be an actor. It'd be too much of a strain; you have to work too hard to balance that life with a family and a mortgage and all that stuff - it would be too much.
References