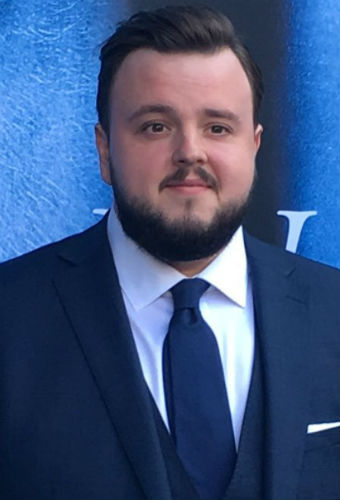 John Bradley
| | |
| --- | --- |
| Date Of Birth | September 15, 1988 |
| Age | 35 years 0 months 10 days |
| Day of Birth | Thursday |
| Place Of Birth | Wythenshawe, Manchester, England |
| Zodiac Sign | Virgo |
Personal Information
Star Sign
Virgo
Body Features & Measurements
Height

173 CM


5 Feet 8 Inches
Eye color
light brown
Hair color
Black
Weight

108 KG


238 lbs

Figure Type
Triangle
Body Type
Large
Education Qualifications
Education(School)
St Paul's Roman Catholic High School
Education(College)
Loreto College (Law and Theatre studies)
Alma Mater
Manchester school of Theatre (Manchester metropolitan university)
Love, Romance, Marriage
Girlfriend
Rebecca April May (Entertainment writer)
Favorites, Hobbies, Likes/ Dislikes
Hobby
Playing drums
Favorite Sport
Football
Likes
Life of Brian
Oliver (The musical)
Favorite Character
Alan Partridge (played by Steve Coogan)
Favorite Sports Team
Manchester United
Social Networks, Web links
Facebook Profile
John Bradley Facebook Profile
Twitter Profile
John Bradley Twitter Profile
Instagram Profile
John Bradley Instagram Profile
More Information
Net worth

$1.5 million
Biography
John Bradley is best known for his role in Game of Thrones as Samwell Tarly son of Randall Tarly. Initially his role didn't seem as though it mattered. Later as the show progressed his character played a major role in the process of preventing a major zombie like apocalypse in Game of Thrones.
He has also played Scooter in Patient Zero(2018), Collin Calloway in Marry Me(2020)
Childhood - Family
John Bradley West was born on 15th September 1988 in Wythenshawe, Manchester, England. He grew up in Wythenshawe, South Manchester.
John has an older sister who is 13 years older than him. It wasn't a usual brother/sister relationship for John. He felt she was more like an aunt with that age difference. He has great respect for his older sister. [4]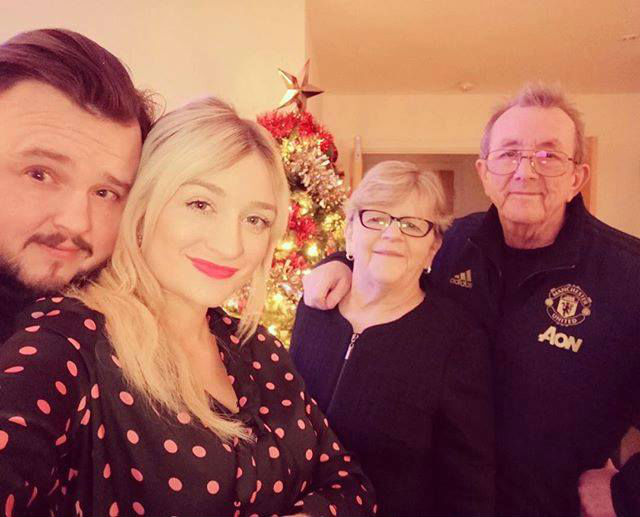 [ John Bradley with parents & Girlfriend [New Year 2019] ]
Education
High School: He studied at the 'St Paul's Roman Catholic High School' in his formative years. His high school alumni web page proudly displayed John as one of their alumni.
College: He attended the Loreto College- a Roman Catholic 6th form college in Hulme, Manchester for his college education, he studied Drama and theater studies. He graduated from the college in 2007. He is one of the featured alumni of Loreto College.
Manchester school of Theatre: He studied acting at the drama school affiliated to 'Manchester metropolitan university'. He graduated in the year 2010 with a Bachelor of Arts (B.A) in acting. He has acted in Shakespeare's dramas at the drama school. [4]
Girlfriend - Dating
John Bradley & Rebecca May
John Bradley met entertainment writer Rebecca April May (aka Bex April May) when she interviewed him about his role in 'Game of Thrones', friendly conversations turned into dates and eventually a romantic relationship. She is the daughter of writer/ editor Steve May & his wife Gillian May. (Her parents have a great sense of humor in giving her the middle name April, while her last name is May, wonder what stopped them from naming her March instead of Rebecca)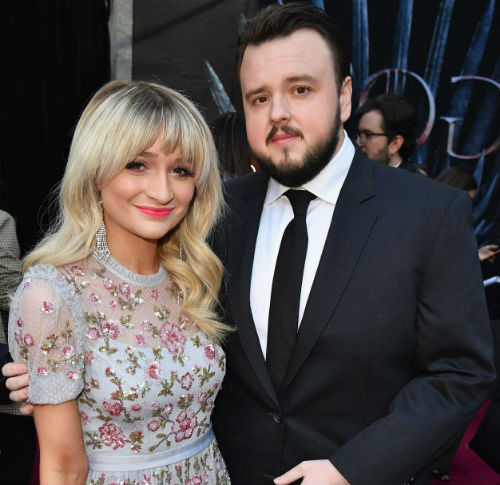 [ John Bradley & Rebecca May at the GoT premiere]
Rebecca is writer, interviewer and broadcaster for various outlets including AskMen, MTV Movies, Games Radar. she has also worked as a Gaming Editor. She graduated from Bournemouth University with a degree in Multimedia journalism.
They are believed to be dating since 2017. They toured Greece together in 2018. They were recently spotted at the SAG awards in January 2020.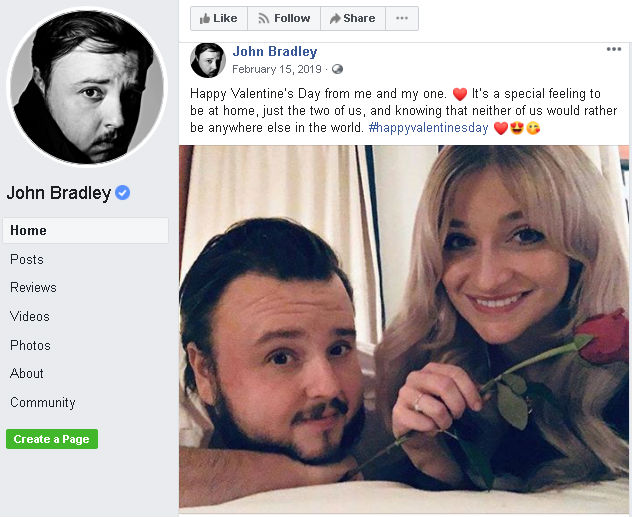 [ John Bradley's Valentine's day wish- 2019 ]
Facts and Trivia
The beginning: John was a creative kid to begin with, his interest acting and making up games started very early, he used to act in the home itself, wearing his mom's coat and his dad's work boots. (His dad loves to bring this up often to John's embarrassment)
Football: He is an avid football fan, he is a supporter of the Manchester United, he felt sad when Wayne Rooney went back to Everton football club. He was invited to watch the Manchester United team train by the management of the football club after coming to know that he is religious follower of the club.
Paul Pogba & John Bradley west: He is a fan of French footballer Paul Pogba. When the footballer met John he was all over John; shaking his hand, hugging him and so on. Apparently Paul is a huge of the Game of Thrones character Sam Tarly. they have mutual admiration for each other. According to John, Paul is the most avid fan of Game of Thrones from the entire football club.
Political inclination: He supported UK Labour party in the December 2019 elections and tweeted a rose with the UK labor party handle [7]
He has been consistently attending Comic cons which he feels it reminds him of his pride.
Stand up Comedian: John has tried stand up comedy in the past, his experience with the stand up comedy comes handy in acting, especially with the comic roles. [2]
Musician: He is an accomplished drummer. He hasn't been constantly playing because of his wrist injury, he is a pretty good drummer, check it for yourself[2]

[ John Bradley- the drummer ]

Bradley-West: In his personal life he goes by Bradley-West, for his professional life he goes by just Bradley. He was worried his the 'West' side of his family might feel bad about it and put the 'West' back into his professional name, but removed it again after a while [5]
Spice Girls: He did not have boys for friends until age 12, while boys used to swap football pictures, he was swapping 'spice girls' pics with his girl friends. Geri Halliwell is his favorite spice girl, also an inspiration. At the age of 8 he decided he wanted to get famous so that he could meet Geri Halliwell.
Godfather: John is the godfather of his friend Tom Smith's son Joshua Joseph Smith. [6]
[ John Bradley, funny Wiki what video ]
Career
John had been acting in the college plays and musicals, he had been studying drama and theater for quite a few years at both 'Loreto college' and 'Machester School of Theatre', also had a little experience in stand up comedy before landing the big acting gig on Game of Thrones.
Game of Thrones
Audition: John got his first acting audition in 2010, just after 3 months of the completion of his theater studies, it was through the college placement process that he heard of the audition. His very first audition was for the role of Samwell Tarly in 'Game of Thrones', he succeeded in landing a huge role in the very first attempt itself. "I just wanted to make a good impression on my agent, I wasn't even thinking about getting the job" said the John who was surprised himself at getting the role in the very first attempt.
Role of Samwell Tarly looked limited in scope at the beginning, a hapless character, timid even, considering everyone else was slashing swords and shooting arrows, a witty comic whom part of the audience instantly liked.
As the series developed, John's role as Sam Tarly gained popularity, his courage despite being unskilled in warfare was commended, especially after he killed the white walker and found out how to kill a white walker.
His real skills in scholarship made him one of the pivotal character, It was Sam Tarly that helped unearth the ancient knowledge which ultimately helped the humans survive the 'winter' of walking dead men (and dragon).
Writer's personal favorite: Writer George Raymond Richard Martin (GRMM) has said in an interview that if ever he was playing any role in the series it would be 'Samwell Tarly'. the writer apparently felt personally connected to the character of Samwell Tarly.
Friendship with Kit Harington: While on the sets of Game of Thrones, actor Kit Harington (who played Jon Snow) & John bonded very ewll, their characters were friends at the Night's Watch. They would hang out at John's Belfast hotel room and binge watch interviews and other programs sipping Champagne. John attended Kit's wedding to their co-star Rose Leslie.
Filthiest scene: Filthiest scene in the series according to him is the scene whee he scrubs the Citadel's toilets. He apparently had to miss attending the Emmys, he was busy scrubbing the Citadel's toilets.
In an interview to People(magazine), John revealed that his character Sam Tarly in Game of Thrones helped him overcome his insecurities about his weight. "they were looking for exactly me" said the actor, and that was very liberating.
"Game of Thrones took up my entire 20s, which is a formative time for anybody, but to spend it with amazing people doing this amazing show was just a dream" says John when GoT comes into discussion. [3]
Roger
John played Roy in the comedy short movie Roger , a story about two friends Stephen (played by Seann Walsh) and Roy. Roy has replaced his friend with a ventriloquist doll named Roger after he did not come back from Mongolia for six months. the comedy was written and directed by Brendan Cleaves.
The short film has won 6 awards and 9 nominations across film festivals. John has received 4 nominations and one win as 'Best actor' at the "Independent Days- Zues awards" for his role as Roy
Filmography
Movies List
| Year | Movie | Character | Comment |
| --- | --- | --- | --- |
| 2020 | Marry Me | Collin Calloway | |
| 2018 | Patient Zero | Scooter | |
| 2017 | American Satan | Ricky Rollins | |
| 2016 | The Last Dragonslayer | Gordon | TV Movie |
| 2016 | Grimsby | Fan in Pub | |
| 2015 | Traders | Vernon Stynes | |
| 2015 | Man Up | Andrew | uncredited |
| 2012 | Anna Karenina | Austrian Prince | uncredited |
TV series List
| Year | Series | Character | Comment |
| --- | --- | --- | --- |
| 2019 | Robot Chicken | Gordon Ramsay (Voice) | "Boogie Bardstown in: No Need, I Have Coupons" (Season 10 Episode 6) |
| 2011-2019 | Game of Thrones | Samwell Tarly | 48 episodes; Main Role |
| 2012 | Merlin | Tyr Seward | "Arthur's Bane: Part One", "A Lesson in Vengeance"(Season 5 Episode 1,7) |
| 2012 | Shameless | Wesley | (Season 10 Episodes 1,2) |
| 2011 | Borgia | Giovanni de Medici | French Drama; 5 Episodes; Season 1 Episodes- 1-4,8 |
Short Movies List
| Year | Short Movie | Character | Comment |
| --- | --- | --- | --- |
| 2016 | Roger | Roy | |
Stage/ Theater
| Year | Play | Character | Comment |
| --- | --- | --- | --- |
| 2015 | Closely Observed Trains | Miloš Hrma | A play produced by 'BBC Radio Salford' |
Soundtrack
Year
Song
TV Series
Comment
2013
The Song of the Seven

Game of Thrones

Episode: The Climb (Season 3 Episode 6)

As Performer
Video Games
World of Warcraft: Battle for Azeroth: He voiced the character of 'Apprentice Marten Webb' in the 2018 video game
Awards
| Year | Won? | Award | Project | Category | Comments |
| --- | --- | --- | --- | --- | --- |
| 2020 | WON | CinEuphoria Awards | Game of Thrones | Merit - Honorary Award | shared with the cast and crew |
| 2020 | WON | Screen Actors Guild Awards | Game of Thrones | Outstanding Performance by an Ensemble | shared with the entire cast |
| 2018 | Nomination | Gold Derby Awards | Game of Thrones | Ensemble of the Year | |
| 2018 | WON | Independent Days- Zues awards | Roger | Best Actor | |
| 2018 | Nomination | London Short Series Fest | Roger | Best Actor | |
| 2018 | Nomination | Screen Actors Guild Awards | Game of Thrones | Outstanding Performance by an Ensemble | |
| 2017 | WON | Northeast Film Festival award | American Satan | Best Ensemble Cast | shared with the cast |
| 2017 | Nomination | Southampton International Film Festival prize | Roger | Leading Actor in a Short film | |
| 2017 | Nomination | Tampa Bay Underground Film Festival | Roger | Best Leading Actor | |
| 2016 | Nomination | Screen Actors Guild Awards | Game of Thrones | Outstanding Performance by an Ensemble | |
| 2015 | Nomination | Screen Actors Guild Awards | Game of Thrones | Outstanding Performance by an Ensemble | |
| 2014 | Nomination | Screen Actors Guild Awards | Game of Thrones | Outstanding Performance by an Ensemble | |
Quotes
Manchester is the place I've always called home and always will.
If you're tired of stalling your car near a load of builders while listening to 'Shy Guy' with the windows down, you're tired of life.
I think the characters in the comedies are better, and the stories in the tragedies are better.
There's nothing worse in real life like talking to somebody and realizing they are not listening. And to act with that is even more unnerving.
The best kind of hero is a hero without ego. And Sam (his character in Game of Thrones) is a hero without ego.
If nothing (chance to act) comes along for a while, don't worry. Because out there, there's a character that only you can play. You can play it better than anybody else. You'll get it if you persevere.
Public figures should accept the fact that they are public figures. And if you are a public figure, and you transgress, somebody is going to flag you for it.
It's quite easy to get into movies. Staying in movies is hard. [4]
Sources