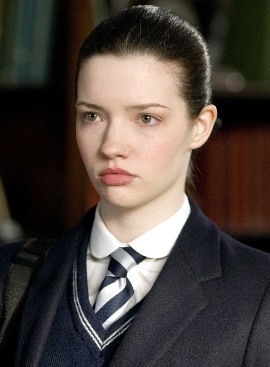 Talulah Riley
| | |
| --- | --- |
| Date Of Birth | September 25, 1985 |
| Age | 37 years 8 months 4 days |
| Day of Birth | Wednesday |
| Place Of Birth | Hertfordshire, England, UK |
| Zodiac Sign | Libra |
| Birth Name | Talulah Jane Riley-Milburn |
Personal Information
Language
English
Ethnicity
White
Complexion
White
Sun Sign
Libra
Body Features & Measurements
Height

173 CM


5 Feet 8 Inches
Eye color
Hazel
Hair color
Dark Brown
Weight

57 KG


126 lbs

Shoe Size
85
Dress Size
6 (US)
Figure Measurements
35-24-34
Bra Size
32C
Family Information
Father

Doug Milburn

Mother

Una Riley

Father In-Law
Errol Musk (Ex)
Mother In-Law
Maye Musk (Ex)
Sisters In-Law
Kimbal Musk (Ex)
Tosca Musk (Ex)
Body Build
Average
Education Qualifications
Education(School)
Berkhamsted Collegiate School (Hertfordshire) , Haberdashers' Aske's School for Girls (Elstree, Hertfordshire)
Education(College)
Cheltenham Ladies College (Gloucestershire)
Love, Romance, Marriage
Ex Husband
Elon Musk
Career Information
Debut (Movie)
Pride and Prejudice
Debut(Theater)
The Philadelphia Story (Old Vic in 2005)
Favorites, Hobbies, Likes/ Dislikes
Hobby
Novel writing
Favorite Destination
Sea
Likes
Richard Curtis (Screenwriter)
Social Networks, Web links
Twitter Profile
Talulah Riley Twitter Profile
Instagram Profile
Talulah Riley Instagram Profile
Contact
Managers
Independent Talent Group Ltd.
Brillstein Entertainment Partners
More Information
Friend
Raiyah
Author of
Acts of Love
Biography
Talulah Riley is an English actress, writer, and director. She is known for playing Mary Bennet in Pride & Prejudice(2005), Angela in Westworld(2016-2018), Blonde in Inception(2010), and Marianne in The Boat That Rocked (2009) among others.
Her recent projects include- Father Christmas Is Back(2021) where she played Vicky Christmas, and "Pistol" where she played Vivienne Westwood.
She has also been the focus of the paparazzi for her connection to multi-Billionaire Elon Musk. She has married and divorced Elon Musk twice.
Talulah Jane Riley-Milburn was born on 26th September 1985 in Hertford, Hertfordshire, England to Una Riley (mother) and Doug Milburn(father). Talulah is the only child of her parents. She grew up in Hemel Hempstead in Hertfordshire.
Family
Her mother Una Riley has founded a security systems company and a public relations company.
Her father Doug Milburn used to be the head of the National Crime Squad (NCA), a British police organization dealing with national and international major crimes. Since 2004, Doug has been involved in writing stories for the crime mystery TV Series. He has written stories in- two episodes (The Hardest Word: Part 1 & part 2) of the "Waking the Dead" [3], four episodes ("Cargo: Part 1 & 2, Choices: Part 1 & 2") of "Silent Witness", three episodes("End of the Affair", "Back from the Dead", "Going Under") of "The Bill" among others.
Doug and Talulah co-wrote the story for her comedy movie Scottish Mussel(2015), Talulah directed and acted in it as well. Doug shared the "Writers' Guild of Great Britain Award"(2008) with the writing staff of the crime series "The Bill" for his writing contribution.
Education
Haberdashers' Aske's School for Girls: She has studied at 'Habs', a girls-only school located at Aldenham Road Elstree, Hertfordshire.
Berkhamsted School: She has studied at Berkhamsted School, a public school located in Berkhamsted, Hertfordshire
Cheltenham Ladies' College: She attended Cheltenham Ladies' College, an independent school in Cheltenham, Gloucestershire.
Open University: Talulah took a graduation course in Natural sciences at the Open University, while acting in London.
On her education, she has said "I was a real daydreamer at school, gazing out of the window and losing myself in imaginary worlds." [4]
Relationships
Elon Musk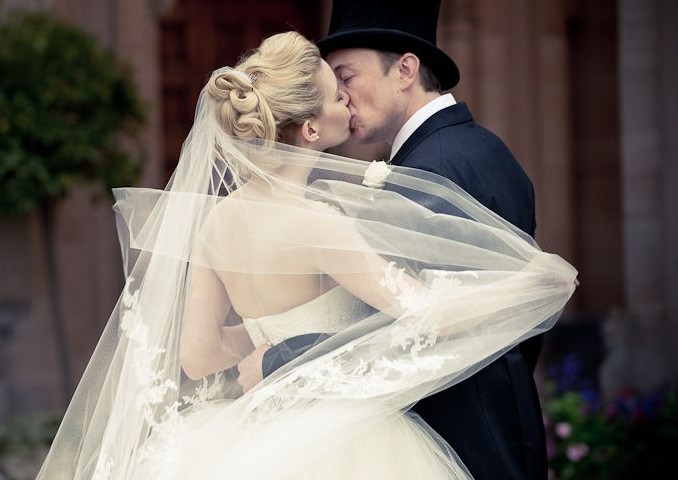 [Talulah Riley- Elon Musk wedding]
Riley began dating billionaire entrepreneur Elon Musk in 2008 and in 2010 they got married at the Dornoch Cathedral in Scotland. She and Musk lived together with his five children from his first marriage to Justine Musk.
In January 2012, their relationship went sour and in March 2012, Musk sought a divorce and they were eventually divorced in 2012.
The couple got together eventually and remarried again in July 2013. Elon Musk filed for divorce the second time in December 2014. However, he withdrew it later. The couple eventually started lived separately, after living separately for six months, she filed for divorce on 21 March 2016 in the Los Angeles Superior Court. The court finalized the divorce by October 2016.
Career
Talulah's early acting roles involve playing Young Angela in an episode of Poirot(2003), playing Megan Hunter in Marple(2006)
Pride and Prejudice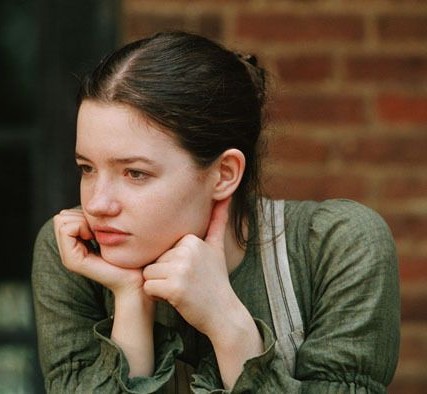 [Talulah Riley in Pride and Prejudice]
Talulah's acting career in films started with a bang with the 2005 version of Pride and Prejudice. Talulah played Mary Bennet, one of the Bennet daughters.
In 2008, she played the role of Lady Elenor Rigsby in Phoo Action. But, the episode was canceled before broadcast. Talulah has worked with Leonardo DiCaprio in the 2010 film Inception.
Scottish Mussel (2015)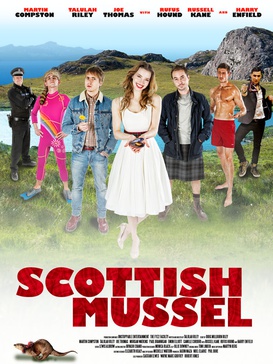 [The cast of Scottish Mussel (2015)]
Talulah's father Doug suggested a story whose original theme was about a city gangster, Talulah and Doug developed a story together from 2009 to 2015, and it eventually became a romantic comedy.
They tried to hire a director to direct the movie based on the story. She eventually ended up directing the movie herself. It took her four years to make the film. She produced it herself. The film premiered in Edinburgh.
The story revolves around the character Beth (played by Talulah herself), a conservationist who is protecting the freshwater pearl mussel from poachers who kill it for the pearl inside them.
The movie has a decent rating of 5.4/10 on IMDB. Martin Compston played Ritchie, Talulah Riley herself appeared as Beth, Morgan Watkins as Ethan, Joe Thomas as Danny, and Paul Brannigan as Fraser.
Writing
Acts of Love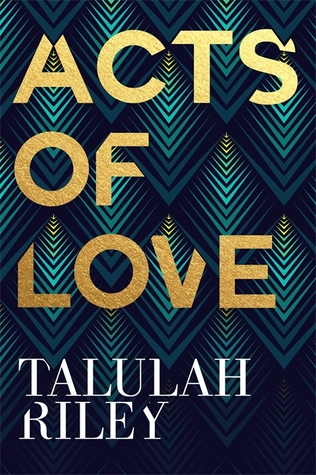 [Acts of Love- Talulah Riley]
Her first novel Acts of love came out in September 2016. Speaking of the book, she has said " It's about a woman called Bernadette who is a journalist and has made her career out of profiling successful men and then divulging their secrets and she lures them into a false sense of security. But at some point, she meets Bradley Blake who she is sent to interview and he challenges all of the assumptions that she's had about the male gender."
The Quickening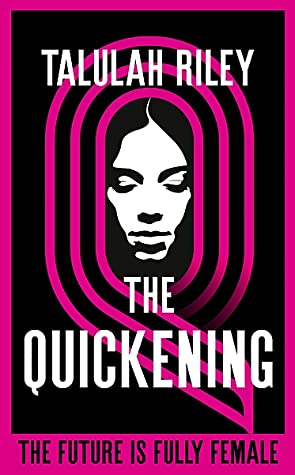 [The Quickening- Talulah Riley]
In November 2019, Talulah published her second book through Hodder & Stoughton - Hachette Book Group.
The story is set in the near future in Britain, during times of deep political unrest. The core of the book is about gender, power, and betrayal.
Filmography
Movies
| Year | Movie | Character | Notes |
| --- | --- | --- | --- |
| 2021 | Father Christmas Is Back | Vicky Christmas | |
| 2020 | Bloodshot | Gina Garrison | |
| 2018 | The Last Witness | Jeanette Mitchell | |
| 2016 | Submerged | Jessie | |
| 2015 | The Bad Education Movie | Phoebe | |
| 2015 | Scottish Mussel | Beth | As Actor, Co-writer & Director |
| 2015 | Mojave | Jemima | |
| 2013 | Thor: The Dark World | Nurse | |
| 2013 | In a World... | Pippa | |
| 2012 | The Liability | The Girl | |
| 2012 | The Knot | Alexandra | |
| 2012 | White Frog | Ms. Lee | |
| 2011 | The Dilemma | Concept Car Spokesmodel | |
| 2010 | Love & Distrust | Jane | Video; Segment 1 - The Summer House |
| 2010 | Inception | Blonde | |
| 2009 | St Trinian's 2: The Legend of Fritton's Gold | Annabelle Fritton | |
| 2009 | The Summer House | Jane | Short movie |
| 2009 | The Boat That Rocked | Marianne | |
| 2008 | Phoo Action | Lady Elenor Rigsby | |
| 2007 | St. Trinian's | Annabelle Fritton | |
| 2007 | Friends Forever | Grace | Short movie |
| 2005 | Pride & Prejudice | Mary Bennet | |
TV Series
| Year | Series | Character | Notes |
| --- | --- | --- | --- |
| 2022- | Pistol | Vivienne Westwood | |
| 2016-2018 | Westworld | Angela | 12 Episodes; Season 1 & 2 |
| 2008 | Doctor Who | Miss Evangelista | 2 Episodes: "Forest of the Dead", "Silence in the Library" |
| 2007 | Nearly Famous | Lila Reed | 6 Episodes |
| 2006 | Marple | Megan Hunter | Episode: "The Moving Finger" |
| 2003 | Poirot | Young Angela | "Five Little Pigs" |
Stage
| Year | Play | Character | Notes |
| --- | --- | --- | --- |
| 2005 | The Philadelphia Story | Old Vic | |
| 2006 | Summer and Smoke | | Writer: Tennessee Williams |
Facts and Trivia
She loves boats.
She Liked Story Books as a child. [3]
She rode horses as a kid, she loved her ponies. She liked that it made her fearless [4].
For a certain period of time it was illegal in England to broadcast a kind of music which Riley was working on.
She is quite aware of the impact of the beef industry and its impact on the environment. She makes it her prerogative to spread awareness on the same.
Voiced against US move to withdraw from Paris climate summit. She is very ecofriendly.
She is against the centralization of wealth as a result of capitalism.
She was on a jury at the Edinburgh Film Festival.
She feels that the lower beings in the ecosystem get ignored because they can't be petted but are instead very vital to the ecosystem.
Talulah supports equal rights for women, but can't tolerate the way Emma Watson's HeForShe appears to seek to destroy differences between the sexes.
She Likes Yoga [4]
She is close friends with Tamsin Egerton. They had lived as roommates before.
She was featured on the March 2010 cover of Esquire.
In 2011, the British Academy of Film and Television Arts named Riley a "Brit to Watch".
Awards
| Year | Award | Won? | Project | Notes | Category |
| --- | --- | --- | --- | --- | --- |
| 2020 | Rome International Movie Awards (October Award) | Won | The Last Witness (2018) | | Best Supporting Actress |
| 2020 | Rome International Movie Awards (October Award) | Won | The Last Witness (2018) | | Best Acting Ensemble |
| 2019 | Garden State Film Festival (Festival Award) | Won | The Last Witness (2018) | | Best Supporting Actress - Feature Film |
| 2019 | New York City International Film Festival, US (Festival Award) | Won | The Last Witness (2018) | | Best Actress |
| 2017 | Screen Actors Guild Awards | Nomination | Westworld (2016) | | Outstanding Performance by an Ensemble in a Drama Series |
| 2015 | Edinburgh International Film Festival | Nomination | Scottish Mussel (2015) | | Audience Award |
| 2012 | Irina Palm d'Or | Nomination | The Knot (2012), Revenge of the Electric Car (2011) | | Worst British Supporting Actress |
| 2011 | Central Ohio Film Critics Association (COFCA Award) | Nomination | Inception (2010) | | Best Ensemble |
| 2010 | Phoenix Film Critics Society Awards | Nomination | Inception (2010) | | Best Ensemble Acting |
| 2010 | Washington DC Area Film Critics Association Awards | Nomination | Inception (2010) | | Best Acting Ensemble |
Quotes
Like communism, neoliberalism is the God that failed.
Two-thirds of the world's seeds & pesticides are in the hands of three firms!? Insane.
She liked the quote - As I walk through the valley of the Shadow of Death, I remind myself that you can't always trust Google Maps.
Riley's novel writing tips

Protect your writing time fiercely
Find your inspiration
Don't be afraid of writing
Get feedback on your writing
Just finish whatever you're doing
I'm very green in all aspects of my life but I particularly wanted to the thing that was so appealing to me about this(Scottish Mussel, her movie) story is that the plight of the freshwater mussels is true.

[On her loss of interest in Philosophy] Initially, I studied philosophy, because it claimed to give you answers to the meaning of existence, but it didn't: It was basically a semantics game.

[On her fascination with sci-fi] I got into physics through pop science and quantum science and ended up being such a quantum groupie.
[On Men] Men are visual creatures.
[On Acting] Acting is an odd lifestyle. You make deep bonds quickly and, though you move on, you go around on a loop and see people again.
[On her acting] I'm not some sort of tormented soul looking for an identity in the roles I take. I became an actress because I just love dressing up and playing.
The things I wanted to do from a very early age - ie. get married and have children
Sources
Talulah Riley on Wikipedia
Talulah Riley on IMDB
Doug Milburn on IMDB