Biography
Orlando Brown is an American TV & Movie actor, Rapper, Singer, Voice artist. He is popular for playing roles - Kevin Tiger in Major Payne (1995), Eddie Thomas in 'That's So Raven, Chris in Safe Harbor, Sticky Webb in The Proud Family, Cornelius Fillmore in Fillmore!, Max in Two of a Kind, 3J in Family Matters, Damey in Waynehead.
Orlando Brown was born on 4th December 1987 in Los Angeles, California, United States. He grew up in Perris, California with his grandmother.
Orlando Brown: Trivia & Facts
Singing career: He has worked on song with other artists like- Akon, Pimp C, Raven Symone, Rayven Justice, Sean Kingston, T-Pain, TravStar.
Arrest & Prison Time: Brown was arrested in California on 29th February 2016 for drug possession & other reasons like- domestic battery, misdemeanor, obstruction of justice.
Controversy: He was again arrested in 2018 January for dispute with his girlfriend and her mother, he was also charged with possession of contraband, resistance to arrest.
Orlando has appeared on the TV Commercial for Honeycomb.
Beginning of career: Orlandao's family was very supportive of him, his interest in acting started very early when he was in High School. He joined acting classes as a kid, he performed in plays and musicals as a kid in High school.
Childhood dream: He wanted to be either an Engineer or an actor, his love for acting was bigger than his interest in engineering
Young Artist Award: He won the award in 2003 for his role in That's so Raven
Sex Tape: There was a sex tape of Orlando in 2017, it was rumored to be released by him, some believe he was probably under the influence of substance.
Controversy: He got media slack for calling Trey Songz Gay and saying that he would have sex with him, he later deleted the video.
Burger King ad: Orlando was in the Burger king commercial when he was just 5 years old.
American Humane Association: Orlando became the national ambassador of the organization in 2011. It is a charity organization which focuses on ending animal abuse
Young Star Entertainment company: Orlando Brown's own production company
Orlando Brown reality TV show: He is working on his own reality TV show
He considers his grandma to be the biggest inspiration, she used to host a show called 'Jesus Talks with Judy'
He considers Jamie Foxx as his godfather in the industry.
Orlando Brown: Quotes
Music, acting, and animals are at the top of the list of things I love in this world.
Being a child actor has been a really great experience for me, I was able to go to a lot of places and do different things that a lot of kids growing up in the hood just didn't get the opportunity to do
I wake up every morning and think: I'm just excited about life.
If I wasn't an entertainer, I would definitely be a lawyer. I love to help people, I love to fix things & I love to talk.
Never be afraid to do something new.
To be blessed in the position that I am now is truly humbling
There is nothing that is too hard to do when it comes down to doing what feels natural and comes naturally
Be who you are and say what you feel because those who mind don't matter and those who matter don't mind.
A thousand disappointments in the past cannot equal the power of one positive action right now. Go ahead & go for it.
Dreamers are working out plans in their mind.. even when they are off!
I'm just ordinary like everyone else I was just a child star
Before you ask someone why they hate you, ask yourself why you even care because they're obviously not worth it.
Songs:
That's So Raven(2003)
Circle of Life(2004)
Little By Little(2006)
Will It Go Round in Circles(2006)
A Dream is a Wish Your Heart Makes(2006)
Super Cali(2006)
F**k My Fame(2016)
Soundtracks
That's So Raven(2003)
Disneymania 2(2004)
Radio Disney Jingle Jams(2004)
DisneyRemixMania(2005)
That's So Raven Too!(2006)
Disneymania 4(2006)
Princess DisneyMania(2008)
Albums
Trade It All(2006)
F**k My Fame(2016)
Filmography
Orlando Brown: Career
Movies
Bloody Hands(2018): Orlando was Detective Brown , it was directed by Jaden Hwang created by George McGrath, starring Orlando Brown, Glen Eaton, Angel Qinan in the lead.
Smoke Filled Lungs(2016): He acted as Michael in the Thriller Drama movie directed by Asif Akbar, Jason Cabell starring Orlando Brown, Jason Cabell, Frankie Faison in the lead.
American Bad Boy(2015): Orlando played Charles in the Drama movie by Obba Babatundé , cast included Ciarra Carter, Katt Williams, Obba Babatundé
Straight Outta Compton(2015): He portrayed the role- Block Dude in the Biographical Drama movie , it was directed by F Gary Gray , it stars Corey Hawkins, Jason Mitchell, O'Shea Jackson Jr. in the cast.
Christmas in Compton(2012): He acted as Tyrone in the Comedy movie by David Raynr produced by Robert Fedor, Suzanne Broderick starring Sheryl Lee Ralph, Omar Gooding, Keith David in the lead.
We the Party(2012): He played the role- Hype DJ in the Comedy movie directed by Mario Van Peebles starring Snoop Dogg, Michael Jai White, Mario Van Peebles in the lead.
Wendy Wu: Homecoming Warrior(2006): He performed in the soundtrack 'Will it Go 'Round in Circles?'
The Proud Family Movie(2005): He voiced the character of Sticky Webb in this Adventure directed by Bruce W. Smith with Tommy Davidson, Kyla Pratt, Paula Jai Parker in the lead cast.
Suits on the Loose(2005): Orlando played Cody in the Comedy directed & created by Rodney Henson, it stars Ty Hodges, Allison Lange, Brandon Beemer in the cast.
Eddie's Million Dollar Cook-Off(2003): He acted as Francisco in this Family Sports Comedy directed by Paul Hoen with the cast Taylor Ball, Reiley McClendon, Orlando Brown
Maniac Magee(2003): Orlando played Mars Bar in the Adventure by Bob Clark created by Michael Nolin, Jerry Spinelli with actors- Michael Angarano, Melissa Bickerton, Orlando Brown in the lead cast.
Max Keeble's Big Move(2001): He acted in the role of Dobbs in the Family Crime Comedy movie directed by Tim Hill with the cast of Jamie Kennedy, Alex Linz, Larry Miller
The '70s(2000): He acted in the role of Jo-Jo in this Drama , it was directed by Peter Werner with Vinessa Shaw, Brad Rowe, Guy Torry in the lead cast.
Senseless(1998): He acted as Brandon Witherspoon in the Romantic Comedy movie directed by Penelope Spheeris with stars- Marlon Wayans, Brad Dourif, David Spade playing important roles.
A Walton Easter(1997): Orlando Brown portrayed the character of in the Drama directed by Bill Corcoran starring Richard Thomas, Michael Learned, Ralph Waite in the lead.
Major Payne(1995): He acted in the role of Kevin Dunne in the Adventure Family Comedy directed by Nick Castle with the cast Damon Wayans, Michael Ironside, Scott Bigelow
Family Values(1995): He portrayed the role- Chuckie in the directed by Gerry Cohen starring Susan Ruttan, Christian Hoff, David Lipper in the lead.
TV Series
The End.(2011): He played the character of The Boomshadow in the Comedy Series starring Bryan Mayer, Orlando Brown, Justinh Avery in the lead.
WordGirl(2007): He portrayed the character- Tommy in the Adventure TV Series with Dannah Feinglass Phirman, Maria Bamford, Ryan Raddatz in the lead cast.
Phil of the Future(2005): He played Andy Baxley in the Family Comedy TV Series , starring Craig Anton, Amy Bruckner, Raviv Ullman in the lead.
One on One(2004): Orlando was DeWayne in the Comedy TV Series with stars- Kyla Pratt, Robert Ri'chard, Flex Alexander playing important roles.
That's So Raven : He acted in the role of Eddie Thomas in the Fantasy Comedy with the cast Raven-Symoné, Orlando Brown, Anneliese van der Pol. He has also performe in the soundtracks
Clifford's Puppy Days(2003): Orlando was Evan Thomas Taylor in this Family Comedy Series created by Norman Bridwell starring Masiela Lusha, Lara Jill Miller, Henry Winkler in the lead.
Thirteen(2003): He wrote lyrics and performed in the soundtracks 'Pay Attention to Me', 'Die to Entertain'
Fillmore!(2002): Orlando was Cornelius Fillmore in this Comedy TV Series , the series was created by Scott Gimple, it features Orlando Brown, Don LaFontaine, Tara Strong in the cast.
The Proud Family(2001): He portrayed the character- Sticky Webb in the Family Comedy TV Series , cast included Jo Marie Payton, Kyla Pratt, Tommy Davidson
Lizzie McGuire(2001): He played Travis Elliot in this Comedy Drama TV Series starring Robert Carradine, Hilary Duff, Adam Lamberg in the lead.
Safe Harbor(1999): He portrayed the role of Chris in the Drama Series , it stars Jeremy Lelliott, Rue McClanahan, Gregory Harrison in the cast.
Nash Bridges(1999): He played the role of Z-Dog in the Crime Drama Series , with actors- Don Johnson, Jodi Lyn O'Keefe, Cheech Marin in the lead cast.
Two of a Kind(1998): He acted as Max in the Comedy Series produced by Howard Adler, Robert Griffard, Robert Boyett starring Mary-Kate Olsen, Christopher Sieber, Ashley Olsen in the lead
413 Hope St.(1998): He played the character- in the Drama Series with Shari Headley, Kelly Coffield Park, Jesse L. Martin in the lead.
The Pretender(1997): Orlando appeared as Bruno in this Mystery Drama Series created by Craig Van Sickle, Steven Long Mitchell, with stars- Andrea Parker, Michael T. Weiss, Patrick Bauchau in the lead.
Waynehead(1997): He played the role of Damey Wayne in the Comedy , with actors- Orlando Brown, Jamil Walker Smith, Shawn Wayans playing main roles.
Malcolm & Eddie(1997): He acted as Cairo Jensen in the Comedy Series with the cast Karen Malina White, Eddie Griffin, Malcolm-Jamal Warner
The Wayans Bros.(1997): He played the role- Charlie in this Comedy Series , cast includes Shawn Wayans, John Witherspoon, Marlon Wayans
Sister, Sister(1997): He portrayed the role of Clayton in this Comedy Drama Series , it stars Tamera Mowry Housley, Tia Mowry Hardrict, Jackée Harry in the cast.
Moesha(1996): He played the role- James in the Comedy Drama TV Series , it stars William Allen Young, Brandy Norwood, Marcus Paulk in the cast.
The Jamie Foxx Show(1996): He portrayed the role of Nelson in this Comedy Series produced by Bentley Kyle Evans, Jamie Foxx, it has Garcelle Beauvais, Jamie Foxx, Garrett Morris playing in the lead.
The Parent 'Hood(1996): He portrayed the character- George Washington Carver in the Comedy TV Series starring Suzzanne Douglas, Reagan Gomez-Preston, Robert Townsend in the lead.
In the House(1996): He played Steven in this Comedy Series , cast included LL Cool J, Alfonso Ribeiro, Maia Campbell .
Family Matters(1996): He portrayed the role- 3J in the Family Comedy Drama Series , cast includes Kellie Shanygne Williams, Jaleel White, Reginald VelJohnson
Coach(1995): He played the role of Kid in the Comedy TV Series , it was produced by Barry Kemp, starring Craig T. Nelson, Jerry Van Dyke, Shelley Fabares in the main roles.
He has a son with former girlfriend Omene Alexandria.
Others
Where Have All the Fathers Gone(2015): a documentary
Jay Hustle: Like Aye(2009): He played the character- Orlando Brown in this Musical directed by created by , cast includes Orlando Brown, Jay Hustle
Disney Channel Stars: A Dream Is a Wish Your Heart Makes(2005): He portrayed the character- Orlando Brown in the directed by created by with the cast Orlando Brown, Amy Bruckner, Aly Michalka
The Tangerine Bear: Home in Time for Christmas!(2000): He voiced the character of Bear in the video
Perfect Game(2000): He portrayed the role- Marcel Williams in the Family Comedy Video directed by Dan Guntzelman with stars- Cameron Finley, Edward Asner, Patrick Duffy in the lead.
Orlando Brown: Photos, Pictures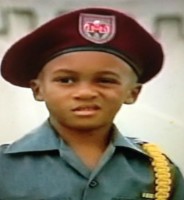 Orlando Brown childhood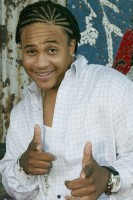 Orlando Brown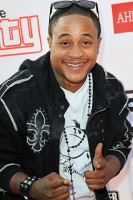 Orlando Brown