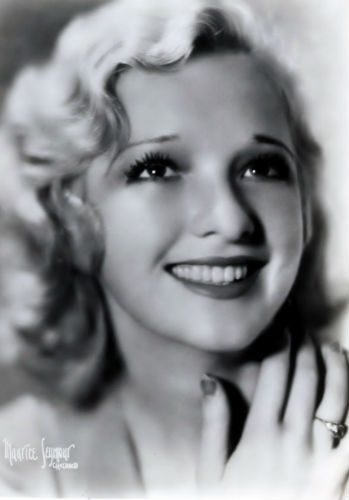 Dixie Lee
| | |
| --- | --- |
| Date Of Birth | November 4, 1911 |
| Age | 40 years 11 months 28 days |
| Day of Birth | Saturday |
| Place Of Birth | Harriman, Tennessee, United States |
| Date Of Death | 1 November 1952 |
| Place Of Death | Los Angeles, California, United States |
| Zodiac Sign | Scorpio |
| Professions | Singer , Actress |
| Birth Name | Wilma Winifred Wyatt |
| Full Name | Dixie Lee Crosby |
| Other Name | Dixie Carroll |
Personal Information
Religion
Christianity (Roman Catholic)
Language
English
Star Sign
Scorpio
Nationality
American
Ethnicity
Caucasian
Complexion
White

Body Features & Measurements
Height

163 CM


5 Feet 4 Inches
Eye color
Black
Hair color
Blonde
Weight

50 KG


110 lbs

Figure Type
Hourglass
Body Type
Slim
Family Information
Father

Evan Wyatt

Mother

Nora Scarborough

Sons

Dennis Crosby


Gary Crosby (Actor & Singer)


Lindsay Crosby


Phillip Crosby (Actor & Singer)
Grandsons
Dennis Michael Crosby Jr. (Son of Dennis Crosby)
Patrick Anthony Crosby (Son of Dennis Crosby)
Gregory Crosby (Son of Dennis Crosby)
Brothers In-Law
Larry Crosby
Bob Crosby
Edward Crosby
Granddaughters
Kelly Lee Crosby (Daughter of Dennis Crosby)
Catherine Denise Crosby (Daughter of Dennis Crosby)
Denise Crosby (Daughter of Dennis Crosby)
Erin Colleen Crosby (Daughter of Dennis Crosby)
Daughter In-Law
Pat Sheehan
Sisters In-Law
Mary Rose Crosby
Catherine Crosby

Love, Romance, Marriage
Husband
Bing Crosby (married in 1930)
Career Information
Years Active
1929-1952
More Information
Net worth

$6 Million
Biography
Dixie Lee was an American Actress, Dancer & Singer. Dixie Lee was the wife of popular singer Bing Crosby.
Dixie Lee was born on 4th November 1911 in Harriman, Tennessee, United States to Evan Wyatt(Father) & Nora Scarborough(Mother).
Dixie Lee died on 1st November 1952 in Los Angeles, California, United States from Ovarian cancer. Her remains are kept at the Holy Cross Cemetery in Culver City, California.
Dixie Lee & Bing Crosby Marriage: Dixie met fellow singer and actor Bing Crosby when she was 18 years old, they married on 19th September 1930 at the Blessed Sacrament Church, Hollywood.
Separation: The couple separated after six months of their marriage, Dixie stated two different personalities could not live together, they had decided to remain just friends. However within the next couple of weeks their stand had softened, Dixie confided in her friends that she wasn't angry at Bing as much as she was missing him. Bing flew in within hours after getting to know about this and the couple reunited.
The couple were troubled by alcohol in 1940s, they contemplated divorce for a while but gave up on it.
The couple had fours sons-
Gary Crosby (born in 1933)
Dennis Crosby (born in 1934)
Phillip Crosby (born in 1934)
Lindsay Crosby (born in 1938)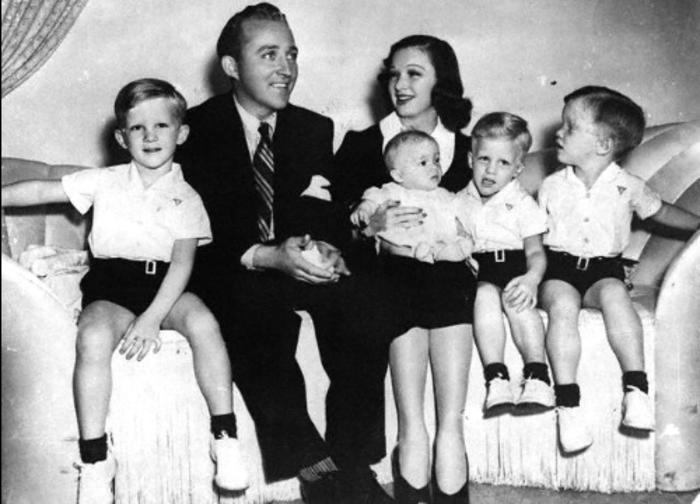 Image: Dixie Lee, Husband Bing Crosby & Sons (Gary, Dennis, Philip, Lindsay)
Dixie Lee: Facts & Trivia
Dixie Carroll: She entered a singing contest in Chicago in 1928 with the name Dixie Carroll.
College Inn: After winning the contest Dixie was offered a job at the roadhouse as a singer
Good News: A travelling musical company Dixie started her career as a singer
Name Change: She changed her name to Dixie Lee for the sake of the movie so that her name won't be confused with actresses like Nancy Carroll & Sue Carol
She was a superstar before she crossed her teenage, she was at the time of marriage was popular than Bing Crosby who became a very popular singer.
Shell Chateau: She worked briefly in a musical radio program aired on NBC
Smash-Up, the Story of a Woman: A 1947 Hollywood drama was partly inspired by the life of Dixie Lee, Susan Hayward played the lead role of a nightclub singer.
Bing Crosby - A Pocketful of Dreams: In the biography of Bing Cosby by Gary Giddins, Dixie is portrayed as a shy, private & sensible person. Their alcohol addiction was blamed with the fights between the couple.
Abdominal surgery: She had undergone a surgery just a few days before her death by cancer.
Depression & Alcohol: She was suffering from long time depression, she had sought company of alcohol which is said to have lead to family clashes.
Dixie Lee: Career
Songs:
You've Got Me Doing Things: A song she had recorded in 1935, it was used in the movie 'Love in Bloom'
My Heart Is an Open Book: Her second recording
Until the Real Thing Comes Along
When a Lady Meets a Gentleman Down South
A Fine Romance
The Way You Look Tonight