Biography
Dixie Lee was an American Actress, Dancer & Singer. Dixie Lee was the wife of popular singer Bing Crosby.
Dixie Lee was born on 4th November 1911 in Harriman, Tennessee, United States to Evan Wyatt(Father) & Nora Scarborough(Mother).
Dixie Lee died on 1st November 1952 in Los Angeles, California, United States from Ovarian cancer. Her remains are kept at the Holy Cross Cemetery in Culver City, California.
Dixie Lee & Bing Crosby Marriage: Dixie met fellow singer and actor Bing Crosby when she was 18 years old, they married on 19th September 1930 at the Blessed Sacrament Church, Hollywood.
Separation: The couple separated after six months of their marriage, Dixie stated two different personalities could not live together, they had decided to remain just friends. However within the next couple of weeks their stand had softened, Dixie confided in her friends that she wasn't angry at Bing as much as she was missing him. Bing flew in within hours after getting to know about this and the couple reunited.
The couple were troubled by alcohol in 1940s, they contemplated divorce for a while but gave up on it.
The couple had fours sons-
Gary Crosby (born in 1933)
Dennis Crosby (born in 1934)
Phillip Crosby (born in 1934)
Lindsay Crosby (born in 1938)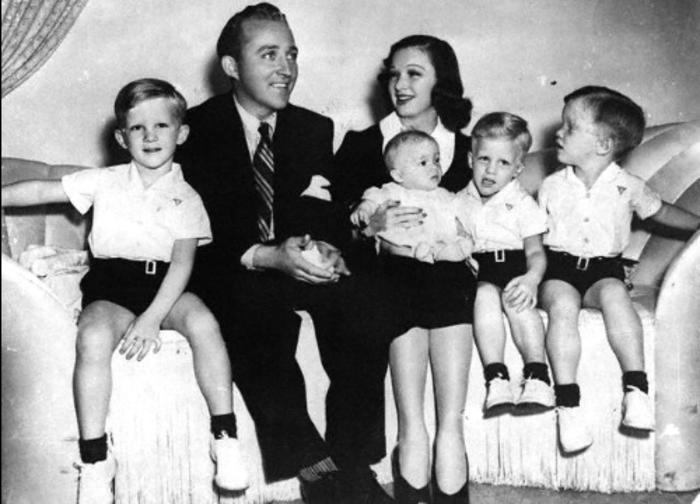 Image: Dixie Lee, Husband Bing Crosby & Sons (Gary, Dennis, Philip, Lindsay)
Dixie Lee: Facts & Trivia
Dixie Carroll: She entered a singing contest in Chicago in 1928 with the name Dixie Carroll.
College Inn: After winning the contest Dixie was offered a job at the roadhouse as a singer
Good News: A travelling musical company Dixie started her career as a singer
Name Change: She changed her name to Dixie Lee for the sake of the movie so that her name won't be confused with actresses like Nancy Carroll & Sue Carol
She was a superstar before she crossed her teenage, she was at the time of marriage was popular than Bing Crosby who became a very popular singer.
Shell Chateau: She worked briefly in a musical radio program aired on NBC
Smash-Up, the Story of a Woman: A 1947 Hollywood drama was partly inspired by the life of Dixie Lee, Susan Hayward played the lead role of a nightclub singer.
Bing Crosby - A Pocketful of Dreams: In the biography of Bing Cosby by Gary Giddins, Dixie is portrayed as a shy, private & sensible person. Their alcohol addiction was blamed with the fights between the couple.
Abdominal surgery: She had undergone a surgery just a few days before her death by cancer.
Depression & Alcohol: She was suffering from long time depression, she had sought company of alcohol which is said to have lead to family clashes.
Dixie Lee: Career
Songs:
You've Got Me Doing Things: A song she had recorded in 1935, it was used in the movie 'Love in Bloom'
My Heart Is an Open Book: Her second recording
Until the Real Thing Comes Along
When a Lady Meets a Gentleman Down South
A Fine Romance
The Way You Look Tonight
Filmography:
Screen Snapshots: Hollywood's Happy Homes(1949)
Screen Snapshots Series 15, No. 3(1935)
Redheads on Parade(1935): Dixie appeared as Ginger Blair in the movie directed by Norman McLeod created by Don Hartman, Rian James starring Jack Haley, John Boles, Dixie Lee in the main roles.
Love in Bloom(1935): Dixie Lee portrayed the character of Violet Downey in the movie directed by Elliott Nugent with actors- Gracie Allen, George Burns, Joe Morrison in the lead cast.
Manhattan Love Song(1934): She portrayed Geraldine Stewart in this Comedy Drama directed by Leonard Fields, cast includes Dixie Lee, Robert Armstrong, Nydia Westman. She also performed in the song 'A Little Shack on Fifth Avenue'.
Darn Tootin(1931): She played a Singer in this Musical Comedy directed by Roy Mack created by Warner Bros. with Lucille Page, Rudy Wiedoeft, Dixie Lee in the lead cast. She performed in the song 'I Apologize'.
Night Life in Reno(1931): Dixie played Dorothy Pierce in this Romantic Drama movie by Raymond Cannon starring Dorothy Christy, Jameson Thomas, Virginia Valli in the lead.
Quick Millions(1931): She acted in the role of Stone's Secretary in this Crime Drama movie directed by Rowland Brown , it has Sally Eilers, Spencer Tracy, Marguerite Churchill in the lead cast.
No Limit(1931): She played Dotty Potter in this Musical movie directed by Frank Tuttle with Norman Foster, Stuart Erwin, Clara Bow in the lead cast.
Mr. Lemon of Orange(1931): She portrayed the role- Hat Check Girl in the Crime Comedy movie directed by John Blystone with actors- El Brendel, Fifi D'Orsay, William Collier Sr. playing the lead characters.
Let's Go Places(1930): She portrayed Dixie in this Romantic Comedy movie by Frank Strayer produced by Andrew Bennison, Billy Wells featuring Sharon Lynn, Joseph Wagstaff, Lola Lane in the cast.
Harmony at Home(1930): She played the role of Rita Joyce in the Comedy movie directed by Hamilton MacFadden with Marguerite Churchill, Rex Bell, Charlotte Henry in the lead cast.
Cheer Up and Smile(1930): She played Margie in the movie directed by Sidney Lanfield starring Arthur Lake, Dixie Lee, Olga Baclanova in the lead.
The Big Party(1930): Dixie Lee was Kitty Collins in the Musical Comedy movie directed by John Blystone , cast included Dixie Lee, Walter Catlett, Sue Carol
Happy Days(1929): She performed as a Dancer in the Musical movie directed by Benjamin Stoloff starring Richard Keene, Marjorie White, Charles E. Evans in the lead.
Why Leave Home?(1929): She played the character of Billie in this Comedy movie directed by Raymond Cannon , it stars Nick Stuart, Dixie Lee, Sue Carol in the cast.
Fox Movietone Follies of 1929(1929): She acted as Lead Dancer in this Musical directed by David Butler with Lola Lane, John Breeden, DeWitt Jennings in the lead cast.
Dad's Girl(1920)
Knights Out(1929): She acted in the Comedy directed by Norman Taurog starring Clifford Dempsey, Bobby Clark, Paul McCullough in the main roles.
Dixie Lee: Photos, Pictures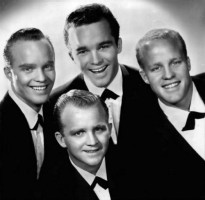 Crosby Brothers- Gary, Dennis, Lindsay, Philip