Biography
Milana Vayntrub is an Uzbek American actress & comedian. She is known for the roles- Sloane Sandburg in This Is Us, Natalie in Love(2016), Tara in Silicon Valley, Ellie in Dallas & Robo, Jill in That Moment When, Tina Shukshin in Other Space, Milana in College Humor videos, Anna in The Clandestine.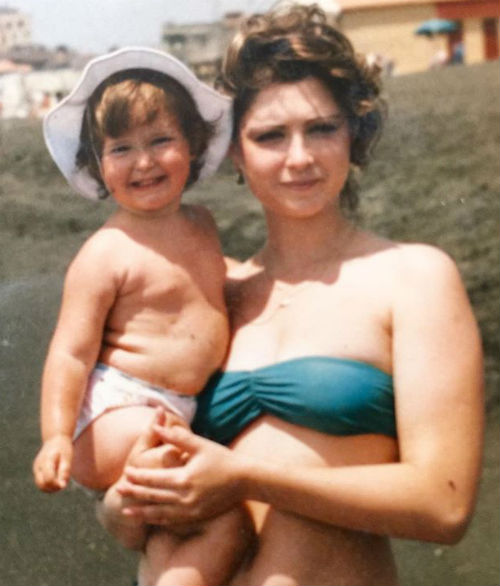 Image: Milana with her Mom in childhood
Milana Vayntrub was born on 8th March 1987 in Tashkent, Uzbekistan, Russia.
Milana Vayntrub in AT & T commercials: She has appeared in various AT & T commercials over the years as store manager Lily Adams. Various versions of the commercial she has appeared in are:
I Don't Compromise (2014)
Closer... Yup, Yup, Yup, Yup, Yup (2014)
Slam Dunk (2014)
There's No Catch (2014)
Food Court (2014)
Sleeping Baby (2014)
Video: Milana Vayntrub & family coming to United States when she was 2 years old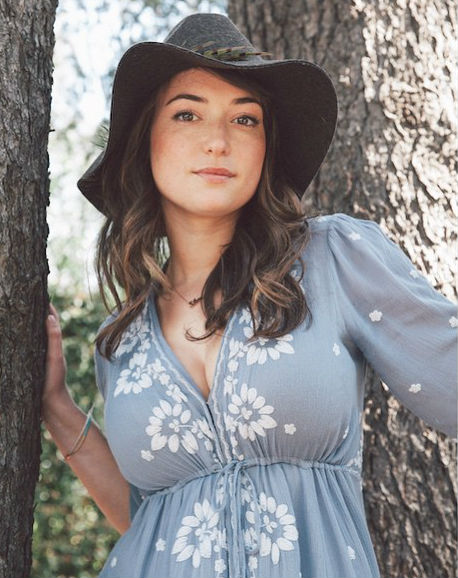 Image: Milana Vayntrub
Milana Vayntrub: Facts & Trivia
She is originally from Uzbekistan, her family moved from Soviet union to United State when she
She became popular after playing Lily Adams in an AT & T commercial
Syrian Refugee Crisis: Milana was on vacation in Greece with her father, she saw the suffering of the immigrants and decided to help them, she made a mini documentary on the refugee crisis.
She is of Jewish background, in the 1990s her family came to the United States following religious persecution in the Soviet Union.
#CantDoNothing: She started the campaign with the hashtag on social media to inspire people to help the incoming refugees.
She helped the refugees herself personally, she helped them move to safe locations, she helped change diapers of babies.
Pronunciation: Her name is pronounced VINE-trub.
She was doing commercials by the age 5, she was doing Barbie commercials.
She has been critical of Donald Trump
She likes Donuts, her Dad used to work at a Donut shop, he would bring donuts home for kids
She was in a beauty pageant competition when she was 5 years old, she had won the competition, since they called her name last, she thought she had last and crying while carrying the giant award.
She took improv classes in comedy
She worked as a waitress making smoothies before her career as comedian took off
She attended Women's march in 2017 & 2018.
She is involved with organizations working for betterment of children with Autism
She has a pet dog named Paisley
She likes Music concerts & Travelling, she spends most of her money on travelling.
She is allergic to cats
She works with animal rescue organizations.
She likes to explore creative side, she wants to write and directs couple of projects in the next 10 years.
Upright Citizens Brigade: She got trained with the improv comedy group from Chicago
Youtube channel: She started a comedy youtube channel with the friend Stevie Nelson
Her father lives in Moscow now
She likes the idea of reincarnation & likes to explore further
She is a curvy woman
Milana Vayntrub: Quotes
Refugees are just people, there are lot of things we can do to help them
Sometimes we feel litle helpless not being able to help people suffering so far away, refugee crisis is something we can help with.
If we begin to call all sexual assault what it is, we will have to voluntarily admit more pain into our lives
I have really got the best of both the worlds.
I think I'm a very dark person (sexually speaking)
This (Harvey)Weinstein shit(sexual misconduct) should have surfaced sooner but good people stayed quiet. Where in your life are you trying to appease a** holes out of fear?
My refugee experience was very different than a lot of people coming to this country now
I think I always thought I was better than most people.
You can just call me Milana. Or Beyoncee.
My favorite thing to do when I'm in a bad mood is ask my boyfriend if he's okay and what's wrong with us.
I think I'm gonna be a really good mother, I love kids, I love animals.
I think Vegas is gross
I just never want to be sober.
I really don't like alcohol, it is not fun for me anymore.
I'd rather spend my money on experience on things, or in buying gifts
I like being a little bit of Gypsy
Being happy is way more important to me than being successful
I have never been in a parking lot and not looked over my shoulder.
If my plane crashes I want to be awake to see it.
Dying is a guaranteed thing every being is going to go throw it.
Filmography
Milana Vayntrub: Filmography
TV Series
Dallas & Robo(2018): She portrayed the character- Ellie in the Comedy TV Series with stars- Stephen Root, Kat Dennings, John Cena playing important roles.
Marvel Rising: Secret Warriors(2018): She voiced the character Doreen Green in the Comedy Series created by Marvel Entertainment with Dee Bradley Baker, Dove Cameron, Chloe Bennet in the lead.
Marvel's New Warriors(2018): She played the character- Doreen Green in the Fantasy Comedy with actors- Nathan Barnatt, Chloe Coleman, Kate Comer in the lead cast.
That Moment When(2017): Milana played Jill in the Comedy TV Series , it has Hannah Parikh, Michael Minto, Milana Vayntrub in the lead cast.
Threads(2017): Milana played in the Thriller Series with stars- Milana Vayntrub, Madeleine Byrne, Jonathan Daniel Brown in the main roles.
Drive Share(2017): She played the character of Passenger in this Comedy TV Series , cast includes Rob Huebel, Heather Anne Campbell, Alex Berg
This Is Us(2016): She played the character of Sloane Sandburg in the Drama Series starring Milo Ventimiglia, Sterling Brown, Mandy Moore in the lead.
Lonely and Horny(2016): She played the character- Elana in this Comedy Series starring Jake Hurwitz, David Futernick, Amir Blumenfeld in the main roles.
Love(2016): Milana appeared as Natalie in the Romantic Drama TV Series produced by Lesley Arfin, Judd Apatow, starring Gillian Jacobs, Paul Rust, Claudia O'Doherty in the main roles.
Other Space(2015): She acted in the role of Tina Shukshin in this Adventure Comedy TV Series created by Paul Feig, starring Trace Beaulieu, Neil Casey, Eugene Cordero in the main roles. It was produced for Yahoo Screen.
Silicon Valley(2014): She acted as Tara in this Comedy Series with stars- Thomas Middleditch, Josh Brener, T.J. Miller in the main roles.
House of Lies(2014): She played Christy in the Comedy Series created by Matthew Carnahan, starring Don Cheadle, Kristen Bell, Ben Schwartz in the lead.
Californication(2014): She played a Bad Actress in the Comedy Drama TV Series with actors- Evan Handler, Natascha McElhone, David Duchovny in the lead cast.
Above Average Presents(2013): She played The Girlfriend in this Comedy Series with stars- Cathryn Mudon, Dan Chamberlain, Michael Antonucci in the lead.
Klaus(2013): She played the role- Girlie Girl's Friend in the Comedy Series , it features Gregory Hoyt, Brian Girard, Stevie Nelson in the cast.
The Clandestine(2013): She portrayed Anna in the Comedy Series starring Bennett Warden, John Render, Michael Lavery in the lead.
Key and Peele(2013): She acted as Vampire in this Series with actors- Jordan Peele, Keegan-Michael Key, Ron Artest in the lead cast.
Zach Stone Is Gonna Be Famous(2013): She played Felcia in the Comedy Series with the cast Thomas F Wilson, Bo Burnham, Kari Coleman
Food Network Star(2013): She portrayed a Video Caller in the Series starring Bob Tuschman, Bobby Flay, Giada De Laurentiis in the lead.
CollegeHumor Originals(2013): She played Milana in this Comedy created by Andy Parker
Jake and Amir(2013): Milana was Julia in this Comedy with the cast of Ben Schwartz, Jake Hurwitz, Amir Blumenfeld
Roommates Enemies(2012): She played the character of Denise in this Series with actors- Nicholas Piatnik, Peter Ambrosio, Whitney Ullom in the lead cast.
Daddy Knows Best(2012): She acted as Nancy in the Comedy Series , cast includes Stephen Rannazzisi, Charlie Dick, Jade Catta-Preta
The League(2012): She acted as Cute Girl in Bar in this Sports Comedy Series with stars- Mark Duplass, Jonathan Lajoie, Nick Kroll in the lead.
The Legend of Neil(2010): Milana Vayntrub worked as a production assistant in the Series
The Division(2004): Milana played Katerina Ominsky in the Mystery Crime Drama TV Series produced by Deborah Joy LeVine , it has Lisa Vidal, Nancy McKeon, Bonnie Bedelia in the main roles.
Lizzie McGuire(2001): She playeda a Dancer in the Family Comedy Drama TV Series featuring Robert Carradine, Hilary Duff, Adam Lamberg in the cast.
Days of Our Lives(1997): She played the role of- Kristen in the Romantic Drama TV Series created by Ted Corday, Irna Phillips, Allan Chase, it features John Aniston, Bryan Dattilo, Josh Taylor in the cast.
ER(1995): She acted as Tatiana in the Romantic Drama Series created by Michael Crichton, it stars Julianna Margulies, George Clooney, Anthony Edwards in the cast.
Movies
All Nighter(2017): Milana was Terri Sadler in the Comedy Drama directed by Gavin Wiesen featuring Analeigh Tipton, J.K. Simmons, Emile Hirsch in the cast.
The Mad Ones(2017): She portrayed a minor role in the Comedy Drama directed by Aniruddh Pandit with the cast of Lavrenti Lopes, Anthony Gioe, Dana DeLorenzo
Ghostbusters(2016): She played the role of Subway Rat Woman in the Fantasy movie directed by Paul Feig featuring Kristen Wiig, Melissa McCarthy, Kate McKinnon in the cast.
This Is Why You're Single(2014): She played the role of New Maria in this Comedy directed by Charles Papert , cast includes Ahmed Best, Jamar Brown-King, Avital Ash
Assassins Run(2013): She acted as a Nanny in this Crime Thriller movie directed by Robert Crombie, Sofya Skya with Cole Hauser, Sofya Skya, Christian Slater in the lead cast.
Junk(2012): She portrayed the role of Natasha in the Comedy movie , it was directed by Kevin Hamedani with Kevin Hamedani, Ramon Isao, Cooper Hopkins in the lead cast.
L!fe Happens(2011): Milana Vayntrub was Tanya in the Comedy movie by Kat Coiro , it was produced by Krysten Ritter, Kat Coiro, featuring Rachel Bilson, Krysten Ritter, Kate Bosworth in the cast.
Immigrants (2008): She voiced Anya in this Comedy movie directed by Gabor Csupo. She vocied the English version character
Other Works
Can't Do Nothing VR: Refugees in Jordan(2016): She produced and directed the short movie
Tight Spot(2016): Milana appeared as Danielle in the Comedy directed by Matt Kazman created by Carmen Angelica , it stars Carmen Angelica, Suzi Barrett, Paul Briganti in the cast.
Normal Doors(2015): She portrayed the character- Rory in the Romantic Comedy directed by James Sweeney starring Justin Mark, Emily Bett Rickards, Milana Vayntrub in the lead.
Let's Do It(2015): a Comedy directed by Todd Sklar starring George Basil, Kerry Barker, Stephanie Allynne in the main roles.
Wrestling Isn't Wrestling(2015): Milana played The Ultimate Warrior in the Comedy Documentary directed by Max Landis created by Max Landis , cast includes Anna Akana, David Arquette, Cat Alte
CosmoNots(2013): Milana played Annie in the Comedy directed by Mark Jwayad created by Jason Cooper, Dani Michaels , cast includes Anne Gregory, Meghan Lewis, Nicole Shabtai
Bitchy Resting Face(2013): She portrayed Bitch on the Swing in the Comedy directed by Behn Fannin with Ryan Hitchcock, Ross Crain, Aaron Hammond in the lead.
I Dunno(2012): She acted in the role of Janice in this Comedy directed by Matthew Pollock created by Noël Wells with actors- Milana Vayntrub, Noël Wells playing main roles.
Feather Weights(2012): She portrayed the role- Milana V - in the Sports Comedy Short Video directed by Collin Friesen
Give Up the Ghost(2012): She played the character- Margot in the Drama directed by Jeff Hersh created by Jeff Hersh featuring Banks Boutté, David Raimo, Rory Coyle in the cast.
Let's Talk About Something More Interesting(2011): She played the role of Milana in this Comedy Video she directed with Amir Blumenfeld, Beck Bennett, Burnie Burns in the lead.
6 Women(2010): She portrayed Natalie Stone in the Comedy Drama directed by Arani Sen created by Arani Sen featuring Robert Evans, Aimee Deshayes, Ali Costello in the cast.
Life's Better with Baseball(2008): She portrayed Alyssa in the Short Video directed by Adam Rudder
Men Are from Mars, Women Are from Earth(2007): Milana Vayntrub was Sue in the Comedy Short Video directed by Joe Caldwell
Teenage Tide: She appeared in the music video directed by Christopher Ewing for the musical band 'Letting Up Despite Great Faults'
Stage:
Good Breeding: She appeared as Aphrodite in the play Written & directed by Robert O'Hara
La Ninita: She wrote, directed and acted as La Ninita in the play
Second Sites: Tales of Alternate Routes- Milana acted as a Librarian in the play directed by Nadine George-Graves
Milana Vayntrub: Photos, Pictures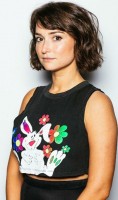 Milana Vayntrub

Milana Vayntrub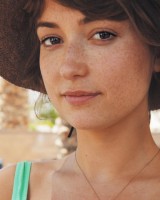 Milana Vayntrub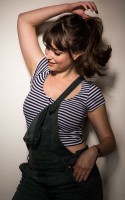 Milana Vayntrub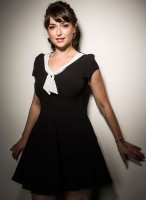 Milana Vayntrub

Milana Vayntrub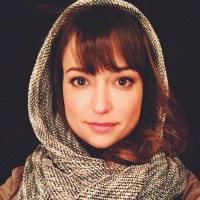 Milana Vayntrub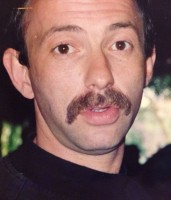 Milana Vayntrub

Milana Vayntrub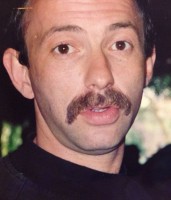 Milana Vayntrub's Father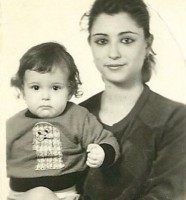 Milana Vayntrub with her Mom, childhood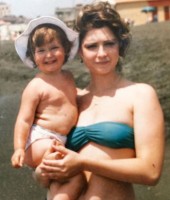 Milana Vayntrub with her Mom, childhood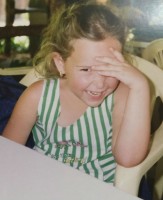 Milana Vayntrub childhood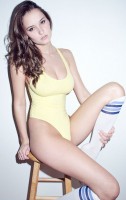 Milana Vayntrub in Bikini