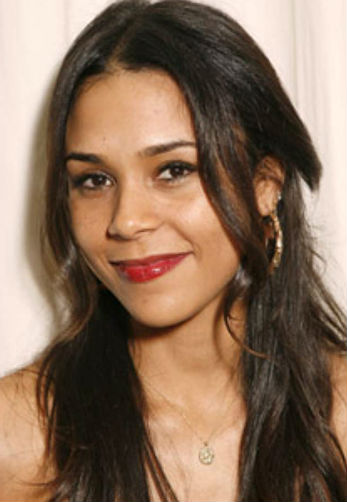 Kidada Jones
Date Of Birth
March 22, 1974
Age
48 years 10 months 17 days
Day of Birth
Friday
Place Of Birth
Los Angeles, California, United States
Zodiac Sign
Aries
Nicknames

Kida

,

Dada

,

Pie

,

Prada

Full Name

Kidada Ann Jones

Other Names

Kidada Nash

,

Kidada Jones-Nash
Personal Information
Religion
Judaism (Her mother's)
Nationality
American
Ethnicity
Multiracial
Body Features & Measurements
Height

170 CM


5 Feet 7 Inches
Weight

60 KG


132 lbs

Figure Measurements
33-25-35
Family Information
Father

Quincy Jones

Mother

Peggy Lipton

Uncle
Robert Lipton (Maternal)
Sibling
Rashida Jones (Younger sister)
Half Brother
Quincy Jones III (Paternal)
Half Sister
Kenya Kinski-Jones (paternal)
Career Information
Debut (Movie)
The faculty (1998)
More Information
Net worth

$3 Million

BFF
Aaliyah
Biography
Kidada is an American actress, model & fashion designer. Jones is wildly popular for her work as a designer for The Walt Disney Company, where she has released a line of clothing known as Kidada for Disney Couture.
Childhood - Family
Kidada Ann Jones was born on 22nd March 1974 in Los Angeles, California, United States to composer Quincy Jones & actress Peggy Lipton as their first born. She grew up in Bel-Air, Los Angeles, California with her younger sister Rashida Jones.
Parents
Quincy Jones- Father
Quincy Jones is one of the most successful composers and arrangers in the music history. He was born in 1933 in Chicago, Illinois. He has received 7 Oscar nominations for his music compositions. He has about 50 wins and 30 Nominations at other award functions.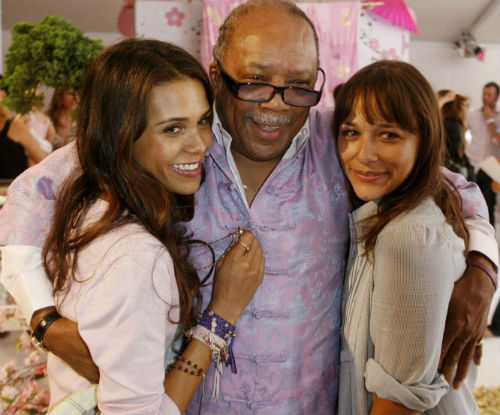 [ Kidada Jones with father Quincy Jones & Sister Rashida ]
Peggy Lipton- Mother
Kidada's mother Peggy Upton was an icon of the late hippie era. She was popular for playing Norma Jennings in Twin Peaks (1990-1991), Julie Barnes in Mod Squad(1968-1973), Ellen March in The Postman (1997) among other roles. Peggy Upton died on March 11th 2019. She was 73 at the time of her death.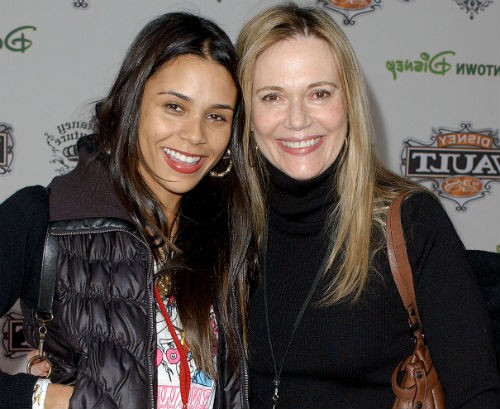 [ Kidada Jones with mother Peggy Lipton ]
Actor Robert Lipton is Kidada's maternal uncle through her mother Peggy.
Siblings
Sister
Rashida Jones is the young sister of Kidada, Rashida was born in 1976 and is couple of years younger than Kidada. Rashida is a popular Hollywood actress, writer and producer. She is known for playing Ann Perkins in "Parks and Recreation", Celeste in Celeste & Jesse Forever(2012), Marylin Delpy in The Social Network (2010), in the titular role of Angie Tribeca in Comedy crime series- Angie Tribeca.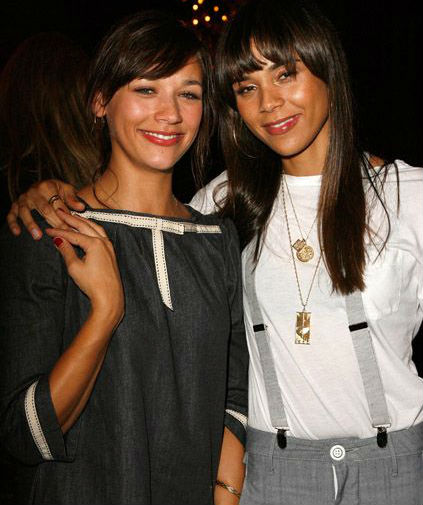 [ Kidada Jones with sister Rashida Jones ]
Rashida is a graduate from the Harvard university, she was formerly engaged to actor Tobey Maguire (Spirderman), she has son named Isaiah Jones Koenig born on 22nd August 2018 in Los Angeles, father of her child is her boyfriend Ezra Koenig.
Half-Siblings
Kidada has many half-siblings through her father. 4 half sisters and a half-brother
She is the half sister of:
Jolie Jones: A Jazz vocalist also known as "Jolie Jones Levine". She is the daughter of Quincy Jones & his high school sweetheart Jeri Caldwell. She is oldest of Jones siblings.
Quincy Jones III: (born in 1968) Quincy is the son of Quincy Jones & his second wife Ulla Andersson. He is the only son of Quincy Jones, he is a music composer, producer and occasionally performer as well. He grew up in Sweden. He uses the moniker QDIII.
Martina Jones : Is the daughter of Quincy Jones & his second wife Ulla Andersson. She is a Swedish American model & has appeared in the March 1994 issue of Playboy. She is trained in dance. She has lived with her mother Ulla in Sweden and with her father in the United States.
Kenya Kinski-Jones: Kenya is the Daughter of composer Quincy Jones and actress Nastassja Kinski. from her mother's side she has Aljosha Nakszynski Spano & Sonja Kinski for half-siblings
Rachel Jones: is the daughter of Quincy Jones and Carol Reynolds
Education
Kidada confesses that she never felt good about school. She started schooling at the gae of 2, "it was probably to oearly" thinks Kidada. She wasn't a "straight A" student at school. She was bad at spelling & maths, she felt that her teachers were not entirely supportive. She had been held back twice and expelled by 8 schools before she reached her high school. As a young girl she craved to better understand the world and navigate in it smoothly.
But when it came to fashion and arts, her innate passion for the subjects made her stand out apart from others.
High School: She attended 'Fairfax High School' in Hollywood, California
Fashion Institute for Design and Merchandising: Kidada attended Los Angeles 'Fashion Institute for Design and Merchandising' aka FIDM- a private college in California founded by Tonian Hohberg in 1969 which offers majors in fashion, beauty, interior design, graphic design and entertainment. She discontinued the course at the age 19 to work with designer Tommy Hilfiger.
Boyfriend- Marriage
Kidada Jones & Jeffrey Nash
Kidada was married to actor/ writer Jeffrey Nash from February 2003 to 2006, they have remained friends even after the divorce.
Keisha Whitaker is the sister of Keisha Whitaker, and thus an ex-sister in-law of Kidada Jones.
Kidada Jones & LL Cool J
Kidada had a relationship with rapper and actor LL Cool J from 1992 to 1994. He broke up with her because of her spiritual beliefs which he mentions in his book "I Make My Own Rules". He apparently didn't find her going to Ashrams and consulting gurus as cool enough for him.
Kidada Jones & Tupac Shakur
She had a relationship with actor/ rapper Tupac Shakur after her break up with LL cool J. Kidada and Tupac had been living together for 4 months before his unfortunate death [3]. Tupac Shakur & Kidada Jones were engaged to be married. She was waiting for Tupac in their Las Vegas hotel room when she heard of the shooting and hospitalization of Tupac Shakur. He was incidentally gunned down when he was on his way to meet her.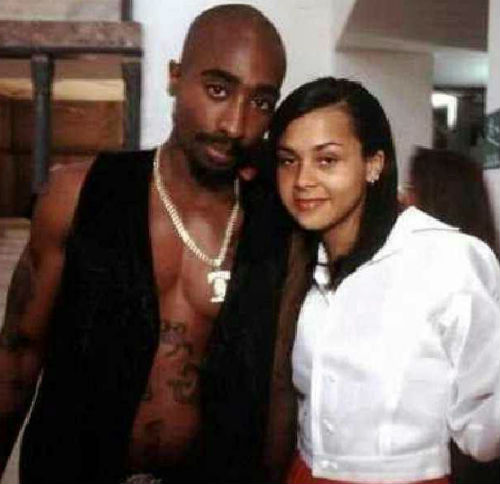 [ Kidada Jones with Tupac Shakur ]
Their relationship unfortunately ended when Tupac died of bullet injuries on 13th September 1996. She was by his bed side when he breathed his last breath after battling the injuries for 6 days.
Kidada has a tattoo of Tupac shakur on her upper left arm. She describes the incident as "The most horrible thing that ever happened to me". Remembering Tupac fondly she has said "Tupac was the love of my life"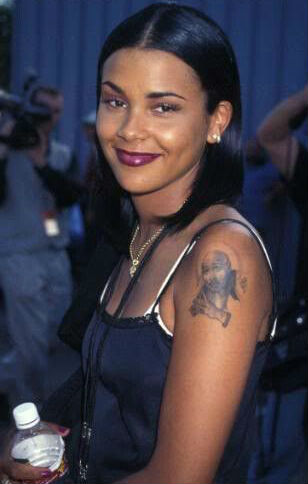 [ Kidada Jones' Tupac Shakur Tattoo ]
Facts and Trivia
Ethnicity: Kidada is of mixed ethnicity

Kidada is of African-American ancestry from her father's side. Her African roots are traced to Tikar community in Cameroon. [4]
Her mother is a Ashkenazi Jew (Russian and Latvian descent). She has smaller amounts of English, Scottish, Welsh ancestry as well. Kidada's maternal grandmother is from Dublin, Ireland and is of Eastern European Jewish descent. [4]

A Celebrity childhood: Because of her parents' profession, she was around popular people all the time as kid. Her house was often visited by super stars like- Michael Jackson & Abdul Kareem Jabbar.
Michael Jackson: She styled the musical sensation, the king of dance- Michael Jackson for his Vibe magazine cover in 1995.
Clothing line for Snoop Dogg: She Designed a clothing line for Snoop Dogg for 3 years/
She has appeared as a model in various fashion magazines, some of the well known ones are:

Elle
Harper's Bazaar
Vogue

Magazine cover:

JUMP (US): she has appeare don the cover page of the 'JUMP' magazine in January 1999

"Are you white? or are you black?"

Kidada and her sister Rashida, the biracial children of celebrity parents would often get asked whether they were Black or if they were white. Kidada and Rashida would answer differently at different times.

Kidult: Kidada refers to herself as Kidult (Kid+Adult). Her sister actress Rashida says "Kidada manages to make the need to keep your childhood imagination alive cool" about her sister's nature. Kidada has her home filled with Disney collectibles, "Hello Kitty", "My Little Pony", Strawberry Shortcake and other articles. "When I have kids, I won't be able to differentiate my shopping sprees from theirs" she jokes about her taste in young children's articles.
She loves practical jokes.
Friendships: She is a close friend of

Usher Raymond
Aaliyah (Late R&B singer/ actress)

Stranger (2019): She is referenced by name in the Vampire Weekend song, Stranger (2019), it is written and performed by her sister's partner Ezra Koenig.
Tinker Bell Tattoo
Kidada has tattoo of Tinker Bell from the Disney film Peter Pan on her left calf. Kidada's Tinker bell wears Adidas flip-flops and has other artwork designed by Kidada herself.
""I love Tinker Bell because she is feisty, she has swag, she is going to do what she wants to do" said Kidada on why she chose Tinker bell.
All Eyez on Me (2017)
The biographical film "All Eyez on Me" based on the real life of rapper/ actor/ activist Tupac Shakur covers the time Kidada spent with Tupac shakur. Kidada was Tupac's girlfriend at the time of his death. Actress Annie Ilonzeh played the character of Kidada Jones.
Demetrius Shipp Jr. played the lead role of Tupac Shakur, it was directed by Benny Boom. Danai Gurira, Kat Graham played the important roles.
Spirituality
Kidada is a very spiritual person, she in fact inherited it from her parents. She is very passionate about exploring the inner self of the being. Being connected to the center and looking at the world from the center of the being.
School of Awake
Kidada wrote a book titled- "School of Awake" in 2017, The book covers topics on discovery of one's true authentic power that resides within each of us, and the universal truth that we are all connected in a higher plane of consciousness. Her wish through the book is to awaken a new generation of young girls towards the understanding of inner power & the discovery of the inner world.
Kidada appeared on Oprah Winfrey's "Super Soul Sunday" in 2018 to promote her book.
"It was something that really needed, wanted and demanded to come out of time and created circumstances in my life so that I had absolutely no choice but to sit and write this book" said Kidada in the Oprah shows promo. [2]
"When I was about 9 years old, I knew that I'd write a book that was gonna be helpful for young girls. I think there are lots of different ways to define success." Said Kidada.
One a spring afternoon, young girls were invited to experience the idea of "School of Awake". Kidada offered the young girls crafts, affirmations, ideas about self and with the project of writing themselves a lover letter to help introspect and appreciate themselves.
"I have fulfilled something that was really something that I wanted to do since I was a little girl. You just don't have to be a 'straight A' student to be a great being in the world. Being a great being in the world really comes from things that come from the inside and learning about who you are as person and loving who you are" said Kidada.
Classroom of the heart
Kidada dreams that one day she could create a school where students learn processing what they feel on the inside, an important aspect of life which is not taught in any school anywhere. She teaches young girls the importance of staying true to one's inner self. She calls that idea as "Heart star"
"(As a young girl) I used to dream about what would it be like if there was a school that I can go to, that was like a life school." said Kidada on the Oprah show. [2] She would do video tapes of herself pretending to be the teacher & write little curriculums out during childhood.
Career
Kidada the designer
Kidada's first work as a designer was ironing an old image of 'Alice in Wonderland' on a T-shirt that was worn by her friend Nicole Richie, Nicole wore the shirt to a coachella festival which got attention of many, Kidada received a lot of calls that night.
Tommy Hilfiger
Kidada discontined her studies at the 'Fashion Institute for Design and Merchandising' in 1993 to work with the popular fashion designer Tommy Hilfiger. She had been a model for Tommy Hilfiger from 1998. she has appeared in a commercial for Tommy Hilfiger in 1999.
Tommy Hilfiger launched a successful campaign with her in the lead along with a few friends of hers (Aaliyah, Kate Hudson, Nicole Richie, Oliver Hudson, Tamia). She worked as a muse for Tommy Hilfiger for eight years.
Kidada for Disney Couture
Kidada has been working with 'The Walt Disney Company' since 2005, she has been releasing designer line clothing & jewelry designed for adults and sold at boutiques. W Magazine called Kidada's role in the company as "a conduit to hip tastemakers the brand might otherwise miss."
Jim Calhoun, the vice president of Disney's North American department of "consumer products" spoke highly of Kidada when he said "Kidada is not just one of those people that points out what's cool. She has a real hand in making things cool." Kidada is involved with various Walt Disney projects as well.
In 2005 she reinvented Tinker Bell with her team, she created T-shirts for Japanese label 'Hysteric Glamour'
Filmography
| Year | Movie/ Series | Character | Comment |
| --- | --- | --- | --- |
| | The Revengers | | executive producer of the TV Series |
| 2018 | Quincy | | Documentary on her father |
| 2015 | Murder Rap: Inside the Biggie and Tupac Murders | | Documentary |
| 2004 | Proud | Gordon's sister | Movie |
| 2002 | Empire | Sasha | Movie |
| 2002 | Biggie and Tupac | | Documentary |
| 2000 | Intern | Aloha | Movie |
| 1999 | Thicker Than Water | Brandy | Movie |
| 1999 | Black & White | Jesse | Movie |
| 1998 | The Faculty | Venus | she played girlfriend of Usher Raymond ; scenes were edited out in the final cut |
| 1990 | Listen Up: The Lives of Quincy Jones | | Documentary on her father |
Music Videos
Part II - On the Run: She has appeared on Jay-Z's music video in 2014, the video also featured star singer Beyonce.
Quotes
I came from a very warm family, very close family, very loving, very supportive. I did grow up in a spiritual household. I think both of my parents have really strong foundations. [2]
Spirituality had always been a really big part of my life since I was about 8 or 9 years old. [2]
I think this generation is much more confident and capable than we give them credit for. I think they just need a little bit of a reminder and a little bit of a guidance, just remember to visit that space more often.
The heart star is- it's our soul's GPS, it's our intuition, it's the little voice that we ignore sometimes. I like to call it home base and like the baseball diamond because it's where we should all start off and where we should all finish our day is with our heart star. It's our best friend.
I think breathing is so deeply connected to staying centered because I think that's the gate from the world that we live in on the outside to the world that exists inside of us on the inside.
Writing a love letter to yourself is really about looking in the mirror and talking to yourself and appreciating all the incredible things about you.
Sources