Biography
Personal life
White was born Vanna Marie Rosich, in Conway, South Carolin as the daughter of Joan Marie and Miguel Angel Rosich. Her parents were divorced when she was an infant, and White grew up to take the name of her stepfather, Herbert Stackley White Jr., a former real estate broker.
White dated Chippendales starrer John Gibson in the 1980s and they eventually got engaged. In 1986, Gibson was killed in a plane crash. White tied knots with restaurant owner George Santo Pietro in December 1990. White first became pregnant in September 1992 and actually it was the answer to a puzzle in Wheel of Fortune show. Through this Vanna let the entire world know that she was pregnant. She miscarried shortly after however. She later bore a son, Nicholas, born in 1994 and a daughter Giovanna (Gigi), born in 1997 from her marriage to Santo Pietro. The couple divorced in November 2002 sadly.
From 2004 to 2006, she was engaged to businessman Michael Kaye but the two never married.
Law suits
In 1993, White sued the Samsung Electronics corporation on account of its humorous ad featuring a robot turning letters on a game show where she alleged a violation of her personality rights.
Initially the lower court ruled in Samsung's favor. United States Court of Appeals for the Ninth Circuit reversed the hearing. The Ninth Circuit denied a rehearing; Judge Kozinski issued a dissent and The U.S. Supreme Court denied certiorari. White was compensated with $403,000 in damages.
Facts and Trivia
Comic musician "Weird Al" Yankovic penned an original song, "Stuck in a Closet with Vanna White" featured on his hit album Even Worse.
In 1987, disc jockey David Kolin, credited as Dr. Dave, released a 12-inch single of a parody called "Vanna, Pick Me a Letter" to the song "The Letter" by The Box Tops.
White is a crochet and knitting enthusiast.
She has a line of yarns called 'Vanna's Choice' through Lion Brand Yarns.
She's worn over six thousand gowns for 34 years. She has never worn the same one twice on the show(Wheel of Fortune).
Designers sent the clothes to the studio about 50 gowns and White and team would try them on and pick the top 12 because they do 6 shows a day two days in a row and that's 12 shows in two days for Wheel of Fortune.
She was at a taping of a Merv Griffin Show and Janet Gretzky introduced her to Merv's.
She attended the audition to Merv Griffin Show among 200 other girls and she was the last one. She got the part.
When she had moved to Hollywood she was too embarrassed to ask her dad for money for rent so she did some lingerie shots for money.
She was 25 when she started shooting for Wheel of Fortune.
Got the role in Wheel of Fortune after the main host Susan Stafford quit it.
Before she hit the small screen Vanna White was a beauty pageant contestant who competed in the 1978 Miss Georgia pageant although her original career path was in modeling and professional acting. She was also no stranger to game shows having appeared on an episode of The Price is Right in 1980.
She doesn't get to keep the costumes she wears on Wheel of Fortune.
Craziest fan experience: Someone came up to her to ask her to sign a yardstick.
Proudest accomplishment: Getting a star on the Hollywood Walk of Fame.
Funniest moment: It was a Christmas show and a package a Christmas gift got caught on her dress and she was carrying it back and forth and she didn't even know she was carrying it attached to her dress.
Craziest wheel of fortune guest: White says that in one show a girl won and she literally picked Pat up and carried him around jumping up and down.
Lunch with one person from history: Benjamin Franklin or Einstein
Several skin care product companies falsely made public that she endorsed their brand.
Quotes
I want to travel all over the world I want to go everywhere see everything.
I deliberately don't wear green on St. Patrick's Day so I CAN get pinched. Just kidding! Truthfully, I just forget to.
Vanna White: Photos, Pictures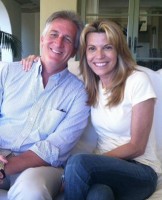 Vanna White with brother Chip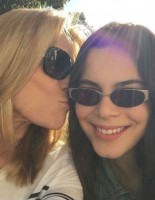 Vanna White with daughter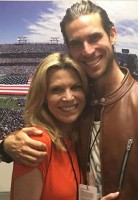 Vanna White with son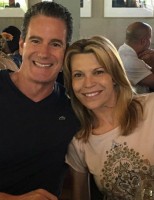 Vanna White with her love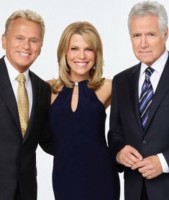 Vanna White with Pat, Alex