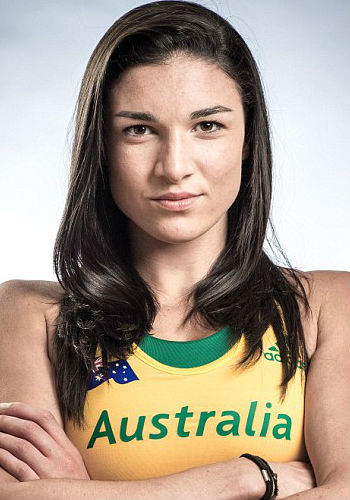 Michelle Jenneke
Date Of Birth
June 23, 1993
Age
29 years 11 months 13 days
Day of Birth
Wednesday
Place Of Birth
Kenthurst, New South Wales, Australia
Zodiac Sign
Cancer
Professions

Javelin throw

,

Hurdler

, Model ,

Running

,

sports

,

Athletics

Nicknames

Shelly

,

Dancing Hurdler

,

Jelly beans
Personal Information
Residence

New South Wales, Australia

Religion
Christianity
Language
English
Star Sign
Cancer
Nationality

Australian

Ethnicity
Caucasian
Complexion
White

Body Features & Measurements
Height

172 CM


5 Feet 8 Inches
Eye color
Brown
Hair color
Dark Brown
Weight

59 KG


130 lbs

Shoe Size
9
Dress Size
6
Figure Measurements
35-26-35
Figure Type
Rectangle
Body Type
Athletic
Bra Size
34B

Education Qualifications
Education (Graduation)
Mechatronics (Sydney University; MEchatronics deals with robotics, it is a combination of Electronics and Mechanic)
Education(School)
The Hills Grammar School
Alma Mater

Sydney University

Career Information
Years Active
2010-
Favorites, Hobbies, Likes/ Dislikes
Hobbies
Futsal
Handball
Climbing Trees
Soccer
Quad biking
Favorite Foods
Nutella (Sandwich)
Peanut butter (Sandwich)
Favorite Sports
Futsal (Australian rules) , Handball , Soccer
Favorite Song
We found love (Ariana Grande)
Favorite Car
Mclaren
Social Networks, Web links
Facebook Profile
Michelle Jenneke Facebook Profile
Twitter Profile
Michelle Jenneke Twitter Profile
Official Website
Michelle Jenneke Official Website
Instagram Profile
Michelle Jenneke Instagram Profile
Snapchat
mjenneke93
Contact
Web Contact
Web Contact
More Information
Net worth

$3 Million

Coach
Mick Zisti
Biography
Michelle Jenneke is an Australian sprinter and model. Michelle became an internal sensation back in 2012 for her sexy warm-up dance at Barcelona in 2012.
Michelle Jenneke was born on 23rd June 1993 in Kenthurst, New South Wales, Australia.
Video: Forever Alone meets Michelle Jenneke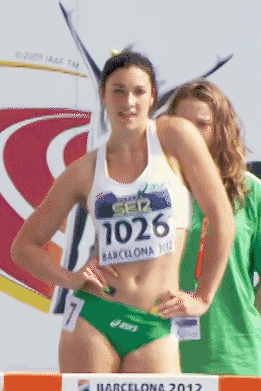 GIF: Famous Warm-up dance at Barcelona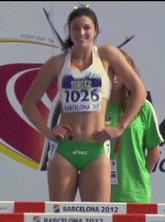 GIF: Michelle Jenneke's Sexy warm-up routine 2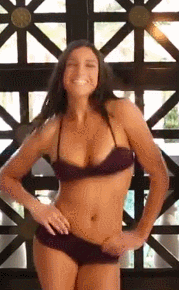 Animation: Michelle Jenneke's hot Warm-up dance in Bikini
Michelle Jenneke: Career
2010 Summer Youth Olympics: She won the silver medal at the event held in Singapore in 100 m hurdles and was placed 4th in Medley Relay.
2010 Oceania Youth Championships: she is the winner of 2010 Sydney 100m hurdles, 1x100m relay Golds, she was placed 3rd in 100m sprint.
2012 Junior 100m hurdles finals: She participated at the 2012 world Junior Championships 100m hurdles held at Barcelona, she was placed 5th in the list.
2014 Commonwealth Games: She represented Australia in 2014 Common wealth games, she finished 5th with the time of 13.36 seconds. She was the youngest among all the finalists.
2015 Summer Universiade: She won the bronze medal in the university 100m hurdles race held at Gwangju, South Korea.
2015 World Championships: she finished 18th overall in the Championships.
2015 World Indoor Championships: She finished 10th at the competition held at Portland, United States.
2016 Australian Championships : She won the national 100 m hurdles race.
2016 Rio Olympics: She participated at the competition and was placed 6th in the heats with the timings of 13.26 seconds and did not advance.
Michelle Jenneke: Interesting Facts
Michelle Jenneke trained at the Sydney University Athletics Club. She previously trained at the Cherrybrook Athletics Club.
She can throw Boomerangs, her aunt taught her when Michelle was a kid.
Warm-up Dance routine: She became internet sensation in 2012 for her dance routine, she changes her dance routine according to the mood. She first started dance warm up in 2009, she aced that race and found warm-ups relaxing and helpful.
Vegemite: She used to hate it as a kid, she likes it now.
Personal Best: She ran the 100m hurdles race under 12.28 seconds in 2015 at Brisbane, this remains her best till date.
She wears Cosby Sweaters and is their brand ambassador.
She was volunteering in Tanzania as a youth.
She wears one green and another gold socks while running. It symbolizes Australia.
She has been challenged by boys on racing track for her phone number.
Afraid of :Volcanoes and Earthquakes.
She has been training since the age of 10, Mick Zisti has been her coach since then.
She is the second fastest Australian sprinter ever in 100m hurdles.
TV shows: She has appeared on the American TV show- The Tonight Show
Sports Illustrated Swimsuit issue: After her video went viral Sports Illustrated contacted her for a swimsuit issue, it was her first photoshoot and she loved it.
AskMen.com's 99 Most Desirable Women: Michelle ranked 10th in the list by Askmen.
Stretch with Michelle Jenneke: A mobile App (Strappt App) featuring Michelle on stretching exercises
Top Gear Sydney Festival: Michelle participated in the racing event where she rode a Nissan GT-R
As a Philanthropist she has worked on many projects:

She worked in Tanzanian orphanage school as a volunteer.
Westpac Life Saving Rescue Helicopter Service- She worked as their ambassador in 2013.
She is associated with- Hills Charity.
Daniel Berry Campaign
White Ribbon Campaign
She has been New South Wales Cancer Council's ambassador for their inaugural campaign.
She promotes OcSober, a campaign to decrease addiction to alcohol and drugs.

As per her parents she has been running and jumping around since she was a toddler.
Footy Show: she has appeared on Channel 9 TV's show
Puma has sponsored her.
Biggest misconception about her: That she doesn't take athletics seriously.
She has been participating in Javelin, Shotput, High jump for her University along with her favorite categories of hurdles and sprint.
Coca Cola commercial: she has appeared in the Cola commercial.
She shot a funny video (Farmer Wants a Wife) for Channel 9 where she ran, jumped, threw, dived, boxed in wedding dress.
There have been speculations about breast implants by some of the fans on social media, any enhancement seen in the commercial videos has been credited to Push-up & sports bra by the specialists.
Michelle Jenneke: Quotes
It was really funny (when she first heard of her dance video going viral)
I absolutely hate packing, if I can pay someone to pack my stuff, I'll do that.
I definitely want the guy I date to beat me on 100m sprint.
I always liked hurdling, I would set up hurdles in the house and jump.
I fall a lot in practice, but not at events.
Every time I do dance during warm-up I mentally sync with a song, otherwise it would be weird.