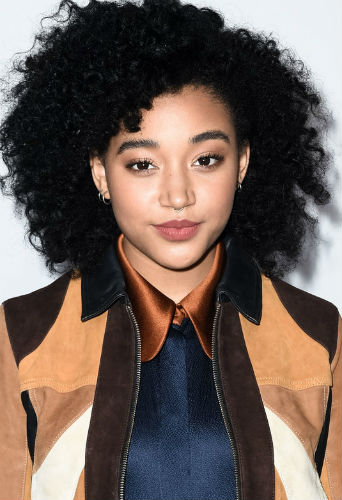 Amandla Stenberg
| | |
| --- | --- |
| Date Of Birth | October 23, 1998 |
| Age | 24 years 5 months 8 days |
| Day of Birth | Friday |
| Place Of Birth | Los Angeles, California, United States |
| Zodiac Sign | Scorpio |
| Professions | Actress , Writer , Singer |
Personal Information
Religion
Judaism (She considers herself spiritual)
Languages
English , Spanish
Star Sign
Scorpio
Nationalities

Danish

,

South African

, American
Ethnicity
Multiracial
Complexion
Brown

Body Features & Measurements
Height

160 CM


5 Feet 3 Inches
Eye color
Dark Brown
Hair color
Dark Brown
Weight

56 KG


123 lbs

Shoe Size
7
Dress Size
8
Figure Measurements
33-26-34
Figure Type
Hourglass
Body Type
Athletic
Hair type
curly hair
Bra Size
32A
Family Information
Father
Tom Stenberg (Danish citizen)
Mother
Karen Brailsford (writer, spiritual counselor; of African American descent)
Sisters

Angela Myree


Elise Stenberg (Paternal half)
Grandfathers
Charlie Benjamin Brailsford (Maternal)
Tage Stenberg (Paternal)
Grandmothers
Ena Stenberg (Paternal; singer & radio host)
Leola White (Maternal)

Education Qualifications
Alma Mater

New York University

Love, Romance, Marriage
Boyfriend
Jaden Smith (2014-15)
Girlfriend
King Princess (Ex, 2018)
Career Information
Debut (Movie)
Colombiana(2011) (as child artist, child version of the lead actress)
Debut (Song)
Let My Baby Stay
Years Active
2011–
Debut (TV)
A Taste of Romance
Favorites, Hobbies, Likes/ Dislikes
Hobbies
Reading
Meditation
Knitting
Sketching
photography
Favorite Actress
Meryl Streep
Favorite Foods
Japanese candy
Pizza
Favorite Color
Blue
Favorite Movie
The Shining (1980)
Favorite Singers
Rihanna
Beyonce
Favorite Musicians
Fleetwood Mac
the Turtles
Jimi Hendrix
Favorite Sport
basketball
Favorite Books
A Tree Grows in Brooklyn
Mortal Instruments (Series)
Favorite Perfume
Marc Jacobs Daisie
Favorite TV show
The Simpsons
Social Networks, Web links
Facebook Profile
Amandla Stenberg Facebook Profile
Twitter Profile
Amandla Stenberg Twitter Profile
Instagram Profile
Amandla Stenberg Instagram Profile
YouTube Channel
Amandla Stenberg YouTube Channel
Vimeo Profile
Amandla Stenberg Vimeo Profile
Tumblr Site
Amandla Stenberg Tumblr Site
Snapchat
aldnama
Contact
Contact(Phone)
310 651 0201 (Publicist)
Manager
Jeff Schnabolk (The Society)
Talent Agents
Allison Stroot
Brian Nossokoff
Publicist
Brett Ruttenberg
More Information
Friend
Jackie Emerson
Inspiration
Solange Knowles (Style)
Net worth

$1 Million

Instruments
Violin
Drums
guitar (Her dad taught her that)
Biography
Amandla Stenberg is an American TV & Movie actress. She is popular for playing Rue in post apocalyptic science fiction 'The Hunger Games'. She played the lead role of Madeline Whittier in romantic drama- 'Everything, Everything'.
Amandla Stenberg (pronunciation Uh-mand-La; Stenberg is a Swedish name) was born on 23rd October 1998 in Los Angeles, California, United States to Tom Stenberg(father- a Danish citizen) & Karen Brailsford(mother- of African American descent)- a writer and spiritual counselor by profession.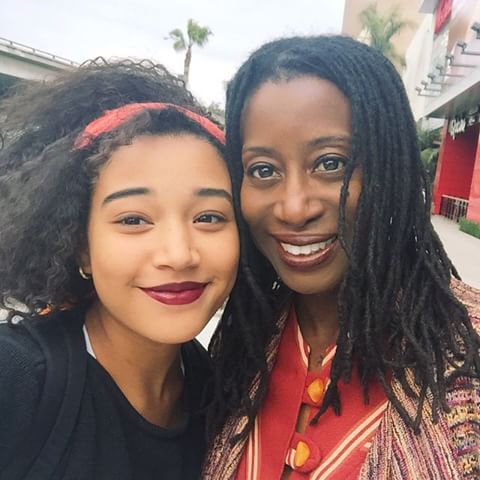 Image: Amandla Stenberg with mother Karen Brailsford
She has two paternal elder sisters-
Elise Stenberg (a psychology graduate from University of California, Santa Barbara) (check her pic below)
Angela Myree (check her pic below)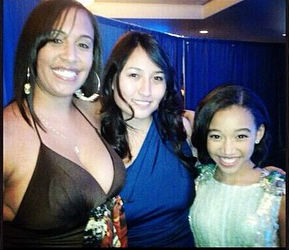 Image: Amandla Stenberg with sisters- Elise Stenberg & Angela Myree
Marriage & Romances
Amandla Stenberg & King Princess
Amandla dated Singer, songwriter King Princess (Mikaela Mullaney Straus) in 2018. It all started in the early 2018 and they were separated by the end of 2018.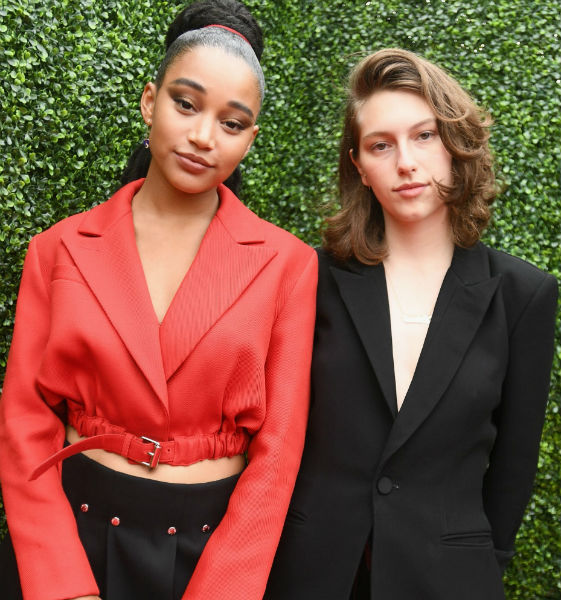 Image: Amandla Stenberg with Ex-partner King Princess
Career
Let My Baby Stay: She released her single in Mac DeMarco's song.
Beginning of her career: Amandla started modeling for Disney at the age of 4.
Commercials: She has appeared in commercials with brands/ products like- Boeing, Build the Dream, GMC SUV, Kmart, Marshalls Law, McDonald's, Sutter Health, Walmart.
Voiceover: She has voice characters in- Falling Skies, Texas Killing Fields.
Amandla Stenberg Filmography
The Eddy(TV series)- as Julie
Drunk History (2019) (TV Series)- Elizabeth Eckford
Where Hands Touch(2018)- Leyna
The Hate U Give(2018)- Starr Carter
The Darkest Minds(2018)- Ruby Daly
Neo Yokio(2017) (TV series)- Helenist
Everything, Everything(2017)- Maddy Whittier
As You Are(2016)- Sarah
Heads Up America(2015) (short)
Mr. Robinson(2015)- Halle Foster
Rio 2(2014)- Bia
Sleepy Hollow(2013-3014) (TV Series)- Macey Irving
Mercy (2013) (Short)- Sarah
The Hunger Games(2012)- Rue
A Taste of Romance(2012) (TV Movie)- Taylor
Colombiana(2011)- Cat 10
Amandla Stenberg Music videos
Some of the commercials she has appeared in, brands she has promoted are:
Awards
BET Awards for YoungStar Award: Amandla's music video Lemonade(2016) won the award in 2016
Teen Choice Award for Choice Chemistry: Her performance in The Hunger Games(2012) as Rue earned her the award which she shared with Jennifer Lawrence)
Interesting Facts
Meaning of her name: Her first name means 'strength' in the South African languages IsiXhosa, Zulu. It wa sinspired by Miles Davis' 1989 album-Amandla. Amandla Awethu(Power to the People) a slogan shouted at South Africa anti-apartheid rallies.
Ethnicity: She is of multi-ethnic background. She is of Danish, African American, Greenlandic Inuit ancestral background.
Singing: Amandla performed singing & violin at Los Angeles in 2013.
Dazed magazine: The British magazine named her an incendiary voice of her generation' in their 2015 cover.
Times' List: she featured in the most influential teens list of 2015 and 2016.
Cultural appropriation: She criticized model & tv presenter Kylie Jenner for using the hairstyle that culturally appropriated others' culture.
Don't Cash Crop My Cornrows: A video Song by Amandla Stenberg about white people culturally appropriating cornrows historically identified with black people.
Niobe: She is Life- A comic book co-written by Amandla Stenberg with the comic writer Sebastian Jones in 2015, they have released the second book of the trilogy by the name- Niobe: She is Death in 2007.
Intersectional feminist: She considers herself a Intersectional feminist.
Feminist of the Year: She was awarded Feminist of the Year award by- Ms. Foundation for Women in 2015.
Sexuality: she is a bisexual, she considers herself non-binary (which doesn't exclude transgenders), also sometimes as pansexual. She identified herself as gay in 2018 (Wonderland magazine interview)
You Are Here: A relaxation, spiritual video narrated, created by Amandla for Teen Vogue.
NoKidHungry: She participates in the movement which is aimed towards feeding the poor children in the United States. She is also the Youth Ambassador for No Kid Hungry.
She paid tributes to the victims of Birmingham church bombing.
She owns a Violin owned previously by her grandfather-Tage. Her grandmother Ena is from Greenland.
Ubuntu Education Fund: She supports the organization.
From cradle to career: She supports the organization which is aimed at nurturing the children of South Africa.
The Goodyear Blimp: She went on a airship tour of Goodyear blimps.
Breakout Kid Actor: Entertainment Weekly named her the Number 1 breakout kid actor.
She comes from a very musical family, she started playing music when she was in elementary school.
Black Girls Rock presented her Young, Gifted + Black award.
Most Beautiful: People Magazine listed in the World's most beautiful list in 2017.
30 Under 30 in Hollywood: Forbes listed her in their list of 30 under 30 stars of Hollywood.
Awards: She is either the recipient/ nominee of- NAACP Image Award, BET Awards YoungStars Award, Teen Choice Award, Black Reel Awards among others.
She has attended events like- TeenNick Halo Awards, The BAFTA Britannia Awards, Nickelodeon Kids' Choice Awards,
She has appeared on TV in- KTLA Morning News, Extra, E! News, The Wendy Williams Show.
She was prom date of Jaden Smith.
She was a very active kid, she liked climbing trees as a kid.
Audio book: She voiced the book- Bird by Crystal Chan in 2014
She has acted in dramas such as- Love and Communication, Fiddler on the Roof, Urinetown, Twelfth Night, Alice in Wonderland, Hairspray, Grease
Accents- she can do Spanish, British and Southern accents
Some of the charities she is involved with are- Share Our Strength , National Memorial , MLK Memorial Foundation.
She was on the cover page of Elle September 2016 UK issue
She has 2 older paternal half-siblings.
Smartphone: In July 2017, in an interview given to 'Bust' Amandla stated that she has stopped using smartphone because of its effects on human mental health
Meditation video: She wrote and directed a meditation video for her second Teen Vogue appearance
Next Generation Leader honoree: Time magazine featured her on their cover page for 2018
Academy of Motion Picture Arts & Sciences: She has been a member of the Academy since 2018.
She follows Rihanna's beauty tips on Rihanna's youtube beauty channel
She loves doing makeup. Especially on herself
She loves cats and has a cute grey cat.
She featured on the cover page of ESSENCE in January 2019
Amandla "sponsored": She is a witty, funny person. She changed her instagram handle to "amandlasponsored" to joke how brands are using social media these days for promotion.
SuperSoul : She recorded a Session for Oprah
Quotes
I definitely feel more confident as I'm growing up knowing more of myself.
I realize that putting up a facade is more detrimental to who I am authentically myself.
Bisexual implies a dichotomy that doesn't take into account transgender people. So maybe pansexual is more accurate for me.
Oftentimes when we play black women, we have to play either the pain or the comedy, Just now are we starting to have three-dimensional, nuanced black characters.
What if America loved Black people as much as black culture?
Black women need better representation In Hollywood.
My mom reminds me that all things are possible.
When I'm myself, most authentically myself, free of self-hatred, free of self-judgment, then I'm also my most revolutionary.
I love all kinds of art. I mean, I love sketching and acting and music.
One of my favorite ways to express myself is through my clothes
I hope I always make work that is reflective of what I believe in, If art isn't personal, then it doesn't speak to me
I'm not tied to the idea that everything I say has to be given so much weight. But I hope that it makes people feel less alone.
When social media first started popping up, it was really exciting because for the first time, we weren't dependent on white institutions to afford us platforms of representation, A few years later, you see the effects in Hollywood, in the diversity that's finally being portrayed onscreen
I'm still figuring out what box I would like to be defined by, But hopefully, I'll never be defined by any box
I accidentally became an activist, and that's still not necessarily a word that I self-label. I protest for sure, but I'm not out there on the front lines
Sources