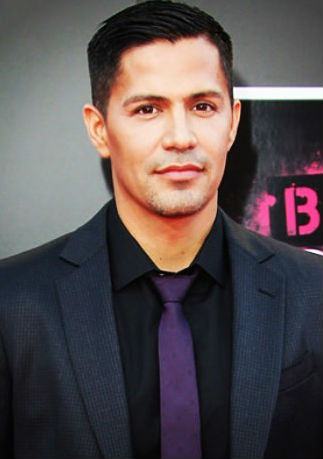 Jay Hernandez
| | |
| --- | --- |
| Date Of Birth | February 20, 1978 |
| Age | 45 years 7 months 5 days |
| Day of Birth | Monday |
| Place Of Birth | Montebello, California, United States |
| Zodiac Sign | Pisces |
| Professions | Actor , Model |
| Nickname | Jay |
| Full Name | Javier Manuel Hernandez Jr. |
Personal Information
Residence

Los Angeles, California, United States

Religion
Christianity
Languages
Spanish , English
Star Sign
Pisces
Nationality
American
Ethnicities
Latino , Mexican , Caucasian
Complexion
Fair

Body Features & Measurements
Height

174 CM


5 Feet 9 Inches
Eye color
Black
Hair color
Black
Weight

65 KG


143 lbs

Tattoo
Armband (Right Arm)
Body Type
Athletic
Chest size
40
Waist Size
33
Biceps Size
14
Family Information
Father
Javier Hernandez Sr. (Mechanic)
Mother
Isis Maldonado (Accountant, secretary)
Wife
Daniella Deutscher (Actress)
Brothers
Michael Hernandez (Older)
Gabriel Hernandez (Older)
Sister
Amelia Hernandez (Younger)
Brother In-Law
Johan Deutscher

Education Qualifications
Education
Don Bosco Technical Institute (Rosemead, California)
Education (High School)
Schurr High School (Montebello)
Alma Mater

Don Bosco Technical Institute

Career Information
Debut (Movies)
Living the Life(2000)
Crazy/Beautiful(2001) (as lead actor)
Years Active
1999
Debut (TV)
Hang Time
Favorites, Hobbies, Likes/ Dislikes
Favorite Car
Ferrari
Favorite Drink
Whiskey
Favorite sports person
Conor McGregor (MMA fighter)
Social Networks, Web links
Twitter Profile
Jay Hernandez Twitter Profile
Instagram Profile
Jay Hernandez Instagram Profile
Contact
Manager
Howard Tyner
More Information
Friend
Som Telleck
Net worth

$5 Million

Celebrity Crush
Alyssa Milano
Biography
Jay Hernandez is an American TV & movie actor. Jay is known for playing Thomas Magnum in Magnum P.I., Carlos Green in Six Degrees(2006-7), Chato Santana in Suicide Squad (2016), Jessie Harkness in Bad Moms(2016) & A Bad Moms Christmas(2017), Carlos Nuñez in Crazy/Beautiful(2001) among others
Javier Manuel Hernandez Jr. was born on 20th February, 1978 in Montebello, California, United States to Isis Maldonado(mother)- an accountant & Javier Hernandez Sr.(father)- a mechanic.
His parents are 3rd generation Mexican immigrants, he has three siblings:
Michael Hernandez (Older)
Gabriel Hernandez (Older)
Amelia Hernandez (younger sister)
Jay Hernandez Romance & Marriage
Jay Hernandez & Daniella Deutscher
Jay met Daniella when he was 14 year old, she was 17 year old at that time. Jay & Daniella acted together in the teen sitcom "Hang Time", she played the main role of Julie Connor, where he appeared 4th season onwards in the role of Antonio Lopez. The couple married in 2006.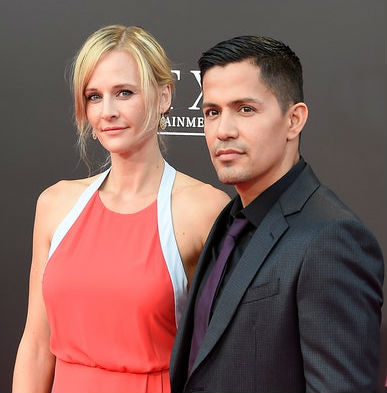 Image: Jay Hernandez with wife Daniella Deutscher
Jay Hernandez Education
Don Bosco Technical Institute: He studied technology at the Don Bosco Technical Institute. Actor Frank Miranda also studied in the same institution.
Schurr High School: for his senior year he moved to public high school in- Montebello Unified School District
Jay Hernandez Interesting Facts
Eyebrow sacrifice: For his role as El Diablo in Suicide Squad Jay Hernandez had to Sacrifice his Eyebrows.
Recognition: Jay was approached by a talent agent when he was in an elevator.
Commercials: He has appeared in commercials such as Gap (Down on Khaki Street).
Jay Played for stars team at MTV's Rock and Jock (2002).
Appreciation for his acting in Hostel: An young guy came to him and High-fived him, when asked what was that for, he said "(hostel was so scary) that he got make out with his girlfriend for the first time because she was scared watching it."
His first modeling act was only aired in Japan.
He had never played baseball until he was cast as a baseball player in The Rookie(2001).
For his role as Port officer in the movie World Trade Center (2006), Jay spent his time with the real officers researching the job in depth.
He has both cops & gangsters in his extended family, that has opened him to an experience he needed to be in the acting.
He loves pets and has a pet dog named Donner.
Surfboard: He doesn't know surfing, but has a surfboard in his living room.
Contemplation of quitting acting: His earlier struggles & not getting the right roles in Hollywood made him think of quitting acting, but timely successes kept him in acting. He was thinking of moving on to writing and producing.
Rapid Fire [1] :

Go to Karaoke song: [some] Rob Base [song]
TV show he binge watched in 2018: Bojack Horseman
Celebrity Crush [while growing up]: Alyssa Milano
First Car: Red MAzda RX-7 (gifted by his brother who joined military)
TV show that should be rebooted: Airwolf

Tattoo: He has

"Arm band" on his right arm
Honoring co-stars on Suicide Squad
"78" a tattoo on left arm, his birth year.
(Tattoos he had on him for Magnum P.I were temporary and were removed)

Car: He has a Ferrari Car
Comparison to George Clooney: People have been comparing him to George Clooney for his accent, voice & Rhythm.
Has referred to Donald Trump as 'Incompetent man child' in his tweets [7]
Jay Hernandez Career
When Jay Hernandez had just finished his high school and was living with his parents on their 10th floor house, he was approached by Talent manager Howard Tyner to become an actor, Jay was 18 at that time. Howard impressed by the youngster got him to join an acting school. From there on Jay's career started in Hollywood. Jay became a sensation after Crazy/ Beautiful, Howard Tyner who had been a great influence on him sadly passed away just about that time.
Producer: Jay has ventured into producing with- You're Not Alone(2020), Beneath Us(2019).
Jay Hernandex Movies List
Toy Story 4(2019)- Bonnie's dad(voice)
Bright(2017)- Rodriguez
A Bad Moms Christmas(2017)- Jessie
Double Dutchess: Seeing Double(2017)-Jimmy Rojas
Suicide Squad(2016)- Diablo
Bad Moms(2016)- Jessie Harkness
The Night Is Young(2015)- Dean
Max(2015)- Sergeant Reyes
Trooper (2013) (TV Movie)- Carlos Coto
LOL(2012)- James
Gimme Shelter (2010) (TV Movie)- Paul O'Brian
Takers(2010)- Eddie Hatcher
Body Politic (2009) (TV Movie)- Ben
Nothing Like the Holidays(2008)- Ozzy
Quarantine(2008)- Jake
Lakeview Terrace (2008)- Javier Villareal
American Son(2008)- Junior Morales
Hostel: Part II(2007)- Paxton
Live!(2007)- Pablo
Grindhouse(2007)- Bobby
Ripper(2006)- Brad Sanders
World Trade Center(2006)- Dominick Pezzulo
Hostel(2005)- Paxton
Nomad: The Warrior(2005)- Erali
Friday Night Lights(2004)- Brian Chavez
Ladder 49(2004)- Keith Perez
Torque(2004)- Dalton
The Rookie(2002)- Joaquin Campos
Joy Ride(2001)- Marine
Crazy/Beautiful(2001)- Carlos Nuñez
Living the Life(2000)- Kikicho
Jay Hernandex TV Series List
Hawaii Five-0 (2020)- Thomas Magnum
Magnum P.I.(2018-2020)- Thomas Magnum
BoJack Horseman (2019)- Jay Hernandez
Scandal (2017)- Curtis Pryce
The Expanse (2015-2016)- Dimitri Havelock
Gang Related (2014)- Daniel Acosta
Ghost Ghirls (2013)- Agent Sanchez
Nashville (2013)- Dante Rivas
Last Resort (2012)- Paul Wells
Six Degrees(2006-07)- Carlos Green
American Family (2002)- Cisco Gonzalez
Hang Time(1998-2000)- Antonio Lopez
One World(2000)- Octavio
Undressed (1999)- Eddie
USA High(1999)- Jose
Others
Fergie: Save It Till Morning (2017) (short)- Jimmy Rojas
The Great Gatsby in Five Minutes (2011) (Short)- Jay Gatsby
Karas: The Revelation (2007) (Video)- Nue
Thanksgiving (2007) (Short)- Bobby
Carlito's Way: Rise to Power (2005) (Video)- Carlito Brigante
Karas: The Prophecy (2005) (Video)- Nue (voice)
Jay Hernandez Awards
2006: Choice Scream award- Teen Choice Awards: Nomination for the movie Hostel
2006: "Dude You Don't Wanna Mess With"- Fangoria Chainsaw Awards Nomination for Hostel
2002: Outstanding Actor in a Motion Picture- ALMA Awards- Nomination for his role in Crazy/Beautiful
Awards: Awards & Nominations: Jay has been nominated for awards such as teen Choice Awards, ALMA Awards, Fangoria Chainsaw Awards, for movies such as- Hostel, Crazy/Beautiful.
Jay Hernandez News & Updates
Pearl Harbor-Hickam joint base visit: He visited the base in October 2019, he shot a scene in front of the USS Arizona memorial
Was at the Comicon in July 2018 for his Magnum P.I in the EW Brave warriors panel
Jay Hernandez Quotes
We lay these expectations on women, you know we have lot of societal expectations on women, women do have lot of things on their plate; they have to raise kids, raise family, there is a price to pay.
I literally had men come up to me and High five, they had their girlfriends making out with them for the first time because you know they were scared to watch the movie (Hostel) and had to sit very tight to not be afraid.
When I first started acting it was strange
It was cool to play a lead character that is the first Latin/ Hispanic character being a Latino myself.
Cops are criticized a lot these days, they of course do many wrong things, but there is lot of good stuff they do that goes unnoticed.
(His Twitter bio on himself) Misanthropist who loves people and is on an endless search for validation through social media.
The Trump family represents the worst of what America has to offer (Comment on a Trump family posing with the hunted animal)
Pharma companies need to be held accountable for profiteering off Americans like street corner hustlers.
Hollywood is not a meritocracy, you have to constantly earn your keep [1]
I want to do things that special and unique, what I feel as worthy of my effort [1]
Life takes crazy turns, sometimes you just got to ride the train [1]
I'm a horrible singer, I don't do karaoke [much] [1]
We lay these expectations on women, women do have a lot on their plates- they got to raise kids, they are gonna raise the family, work outside, being mom is difficult enough, cook food, all these societal expectations that men don't have. sometimes you just need to cut loose [2]
When I first started, there was nothing. There were no Latin roles, and that's the only thing that they'll see you as unless you can convince them otherwise. [3]
We go about our lives wanting things we think we want, struggling to attain what we've been taught to attain. The journey is what it is but soon enough we find that time has accelerated at an unacceptable pace. No one is afraid of the end, the timing is what's troubling. The timing is what complicates things. We know this. Most likely when it's too late. The things gifted to us in youth, our health, our families, the beginning of our journey. That is the true source of wealth. The precious ticks & toks of time. [4]
A lot of us use "patriotism" to falsely claim superiority in the American sociological strata, a way to differentiate between "us" and "them." The reality is we are all Americans and regardless of where you stand ideologically the ones who serve deserve respect for the commitment to duty [5]
If you don't vote you can't complain. [7]
[On Donald Trump] Our leaders speak to who we are and what we aspire to, Trump is a manifestation of the decline of this democratic experiment and the moral bankruptcy of our people and institutions. [8]
Sources
References