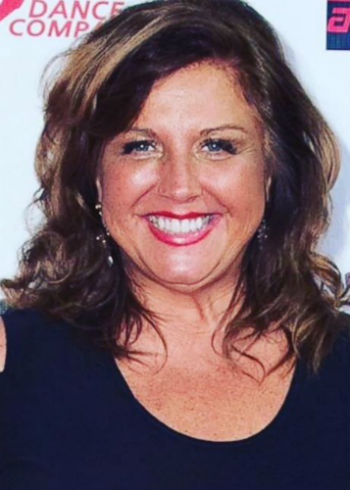 Abby Lee Miller
Date Of Birth
September 21, 1966
Age
56 years 8 months 15 days
Day of Birth
Wednesday
Place Of Birth
Pittsburgh, Pennsylvania, United States
Zodiac Sign
Virgo
Professions

Choreographer

,

Television personality

Nicknames

Abby

, Abby whale (in school)
Full Name

Abigale Lee Miller

Other Name

Abby Miller
Personal Information
Residence

Los Angeles, California, United States

Religion
Christianity (Roman Catholic)
Language
English
Star Sign
Virgo
Nationality
American
Ethnicity
Caucasian
Complexion
White

Body Features & Measurements
Height

173 CM


5 Feet 8 Inches
Eye color
Green
Hair color
Dark Brown
Weight

84 KG


185 lbs

Shoe Size
8
Dress Size
17
Figure Measurements
42-36-40
Figure Type
Oval
Body Type
Large
Bra Size
36
38D
Waist Size
36
Family Information
Father

George L. Miller

Mother

Maryen Lorrain Miller

Grandfathers
George R Miller (Paternal)
Terrence McKay (Maternal)
Grandmothers
Marion MacDonald (Maternal)
Ida May (Paternal)
Relative
Maddie Pietrusinski (Godchild)

Education Qualifications
Education (High School)
Penn Hills High School
Education(School)
Charm School
Love, Romance, Marriage
Boyfriend
Michael Padula (rumored; he turned out to be gay)
Career Information
Years Active
1996-
Favorites, Hobbies, Likes/ Dislikes
Hobbies
skiing
Singing
Favorite Country
Switzerland
Social Networks, Web links
Facebook Profile
Abby Lee Miller Facebook Profile
Twitter Profile
Abby Lee Miller Twitter Profile
Official Website
Abby Lee Miller Official Website
Instagram Profile
Abby Lee Miller Instagram Profile
YouTube Channel
Abby Lee Miller YouTube Channel
Contact
Contact (Email)

info@abbyleedancecompany.com

Address

7123 Saltsburg Road Pittsburgh, PA 15235 412.795.6234

More Information
Net worth

$2 million

Instruments
Clarinet
Biography
Abigale Lee Miller is an American Choreographer, Director.
Abby Lee Miller was born on 21st September 1966 in Pittsburgh, Pennsylvania, United States to Maryen Lorrain Miller(mother)- a dance instructor and George Miller(father). She was born into a Catholic family.
She grew up at Penn Hills, Pennsylvania. She studied dancing at her mother's Studio- Maryen Lorrain Dance Studio, which she renamed 'Reign Dance Productions' when she inherited it from her mother.
Bankruptcy Fraud & imprisonment
Abby owed $400k in taxes to the government, she had filed for bankruptcy in December 2010. She was found to be having undisclosed bank accounts where she had up to $750k from her reality tv shows and other deals. Some of the cash was also found tucked in bags.
She pleaded guilty in June 2016, She was sentenced in May 2017 and was sentenced for an year and a day time in prison in June 2017. She served her time at Victorville Federal Correctional Institution, Victorville, California, her inmate number is 35991-068.
She could have been fined up to $250k and sentenced for 5 years, she made a deal with IRS and the prison time was reduced to an year.
Trivia & Facts
Dance companies: She founded and owns Reign Dance Productions & Abby Lee Dance Company (also known as ALDC LA, started in 2015). She owned the company at the age of 14.
Dance Moms: She was in the reality tv series aired on Lifetime. Abby Lee Miller was the trainer of the children on the show. She worked there until the second half of season 7 when she went to prison.
Dance Masters of America: She was a certified dance master. She received a 25 years pin from them for being associated for 25 years.
Dance Masters of Pennsylvania: She had been a certified dance master since 1986, her membership was terminated in 2012 owing to her involvement in the reality show Dance Moms, which the authorities noted as misrepresentation of dancing and detrimental to the dancing and thus cancelled her membership.
Some of the programs like- Abby's Ultimate Dance Competition, Dance Moms: Miami, and Dance Moms: Abby's Studio Rescue, Little Dancers were spun off the original 'Dane Moms' series
Dancing with the Stars: She was a guest judge of the program on the episode of the show aired on May 5, 2014. Ricky Martin, Redfoo, Donny Osmond have been guest judges at the event previously.
Everything I Learned about Life, I Learned in Dance Class: She wrote an autobiographical book based on her life, dancing and encounters with others.
5 million dollar lawsuit: A lawsuit was filed against her for the assault, the complaint claimed she encouraged violence among the participants for the sake of gaining more viewers. The judge made a judgment in favor of Abby Miller.
Childhood activities: She was in ski club, Girl Scouts, singing at school, and took clarinet lessons.
1000s of her students have become professional dancers, a lot of them have moved to broadway.
Wins as a tutor: She has taught dance to 53 State winners & 24 National Winners.
She acts as an advisor to the Dancer Magazine.
She is an advisor to numerous public schools.
She had been the President of Dance Masters of Pennsylvania previously.
Her students have participated and won award nationally and internationally, some of her students have participated in countries like- participated internationally in countries like- Japan, Italy, Grace.
Abby offers classes online for fees.
Abby's academy also works as Talent agency.
She has trained about 3000-4000 students till date.
One of the dance moms on the show 'dance moms' slapped abby Lee Miller, however the charges were dropped later.
She taught classes for the Australian dance students as well.
Her dad was fatally injured and was on life support for a long time, she made the decision to take him off life support which she remembers as the most painful of her life.
Weight Loss: She underwent weight loss therapy and reduced considerable weight. She took medicines for weight loss.
Birthday behind the bars: she celebrated her birthday in the prison by offering inmates BBQ tofu with beverages
Through the prison pen pal system she has been writing to a pen pal and it is believed they have become very close.
It is believed that Abby Lee Miller was Strip Searched In Prison.
She has directed some of the short movies- Pretty in Pink, Kendall K: Wear Em Out, Mack Z: It's a Girl Party, Summer Love Song
She has acted in videos/ movies- Sharknado 5: Global Swarming, Todrick Hall: Freaks Like Me, Mack Z: It's a Girl Party, Drop Dead Diva.
She has appeared as herself on Entertainment Tonight, Access Hollywood, The Insider, Wendy: The Wendy Williams Show, Steve Harvey show among numerous others.
Musical theater is her favorite kind of dance form.
She is often portrayed as a bad tempered person on TV, her close friends claim it was just an act, she is nicer in person.
She does not have any children of her own, she is a grand mother to her friends' children and considers her students as her children.
She is not married and doesn't have a husband.
Quotes
A teacher's reputation is based on the success of her students
You should have seen me 20 years ago, when I was really mean
(About her fraud) I am not a criminal mastermind, I listened to the wrong people.
I love children and have dedicated my life to making other people's children successful
Some people are beyond ungrateful
Sometimes you have to look away and smile
Those who think Happiness is Sunshine have never Danced in the Reign