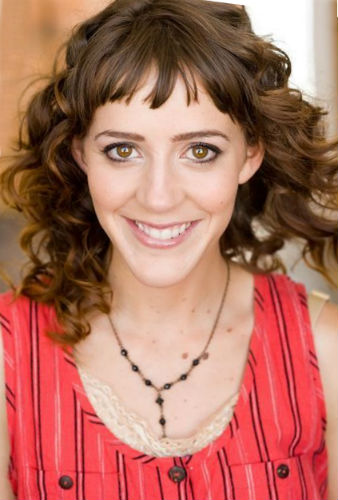 Abby Miller
| | |
| --- | --- |
| Place Of Birth | Clay Center, Nebraska, United States |
| Zodiac Sign | |
| Professions | Actress , Singer |
| Nickname | Abby |
| Full Name | Abigail Miller |
Personal Information
Residence

Los Angeles, California, United States

Religion
Christianity
Language
English
Nationality
American
Ethnicity
Caucasian
Complexion
White

Body Features & Measurements
Height

168 CM


5 Feet 6 Inches
Eye color
Brown
Hair color
Brown
Weight

52 KG


115 lbs

Figure Type
Hourglass
Body Type
Athletic
Hair type
Long
Family Information
Sister In-Law
Trisha

Education Qualifications
Education (Graduation)
University of Nebraska-Lincoln
Alma Mater

University of Nebraska-Lincoln

Love, Romance, Marriage
Boyfriend
Chris
Career Information
Debut (Movie)
The Girl(2006)
Years Active
2005-
Debut (TV)
Gilmore Girls(2005)
Favorites, Hobbies, Likes/ Dislikes
Hobbies
Roller Skating
Ice skating
surfing
Bowling
Running
Softball
volleyball
Wrestling
Baseball
Soccer
Archery
Yoga
Mountain Biking
Travelling
Cycling
swimming
Boxing
Cooking
Writing
Ice Hockey
basketball
Snowboarding
Favorite Food
Fish (over Poultry)
Favorite Sports
Baseball , Football , Ice Hockey , basketball
Favorite Directors
Woody Allen
Mike Mills
Coen Brothers
Quentin Tarantino
Wes Anderson
Favorite Drinks
Whiskey
Wine
Favorite TV shows
Getting On
The Sinner
Fleabag
Favorite Beverage
Coffee
Favorite Restaurants
Mustard Seed (Los Feliz)
Frank's Diner (valley)
Social Networks, Web links
Facebook Profile
Abby Miller Facebook Profile
Twitter Profile
Abby Miller Twitter Profile
Official Website
Abby Miller Official Website
Instagram Profile
Abby Miller Instagram Profile
YouTube Channel
Abby Miller YouTube Channel
Blog
Abby Miller Blog
Contact
Contacts (Email)

abby@abbymiller.me


info@LexiconPublicRelations.com (Publicist)
Contacts(Phone)
(323) 939-1188 (Talent Agent- Amsel , Elsenstadt & Frazier)
(310) 289-9157 (McGowan Management)
Talent Agents
McGowan Management
Amsel , Elsenstadt & Frazier
Publicist
Steve Rohr (Lexicon Public Relations)
More Information
Friends
Summer
Alexandra Kyle
Jen Trani (collaborator)
Celebrity Crush
Jenny Lewis
Instruments
Harmonica
guitar
Trumpet
Biography
Abby Miller is an American TV & movie actress, writer, producer. Abby is most known for playing Ellen May in FX series Justified (2011-2015).
Some of the popular roles she has appeared in are Caitlin Sullivan in The Sinner (2017), Dorothy in Mad Men (2010), Emily Greenstreet in The Magicians (2016-2018), Mary Brunner in "Aquarius" among others.
She has recently appeared in Crime mystery series "Home Before Dark" as Bridget Jensen.
Childhood- Family
Abigail Miller was born in Clay Center, Nebraska, United States. Clay Center is a small town with 800 people and no stoplight.
Her father was a professor in the college of education.
Education
Graduation: She is a graduate from the University of Nebraska-Lincoln
Study in London: Abby studied theater arts in London before coming back to USA to seek a career in acting. She was also trained in Improv.
Abby moved to Los Angeles in 2003 after her graduation from UNL. She had previously planned to go to New York but convinced otherwise by a friend she met at a workshop.
Trivia & Facts
She would get jittery preparing for auditions, to calm herself she started writing poems, on the advice of a friend she found guitarist Jen Trani and they started jamming together.
Standup comedy: She tried humor when she was in London at the Kings head.
Running: She has run at Marathons.
Cycling: she is cycling enthusiast, she has done mountain biking.
Dancing: She is into Hip hop, Swing and tap dancing.
Accents: She is good at using British, Irish, American (Midwest, New York, Southern), Scottish accents.
She is sometimes compared with Brittney Murphy for facial resemblance.
Commercials: She has appeared in numerous commercials including the

State Farm Insurance
Cars.com
AT&T TV
Dunkin' Donuts
Firestone
Sleep Number, Bai.

If she was not an actor or musician she would have liked to be a writer.
Activism
She opposed the Muslim Ban (ban on immigration from certain countries) proposed by the Trump Government.
Pet Lover
Animal Lover: She spends her free time raising awareness about better treatment of animals.
She loves pets, she has a dog at home named Pirate and a cat. She helps rescue and adopt animals like dogs, cats, rabbits. She sometimes collaborates with Beagle Freedom Project.
Jen & Abby
Abby Miller along with her friend Jen Trani formed a folk-pop musical band in April 2005 and has toured the United States. It is based in Hotel Café, Los Angeles. Jen Trani is a guitarist.
She had previously appeared in musicals and had always liked singing at Karaoke. But hadn't tried her hand at the music before this.
Abby had put an ad for a guitarist, Jen Tran was the only one who answered it, the two met and started writing songs within the first two days of the meeting, the two played their first song in the first month itself, at a coffee shop in Studio City.
The band released their first CD "Cannot Rearrange" in December 2008. Actor Ryan Gosling was one of the guests at the releasing event.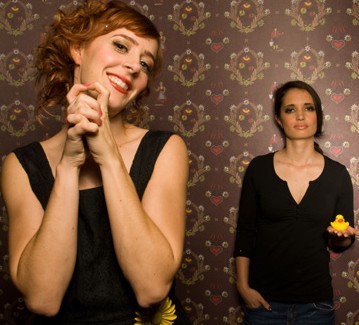 [Jen Trani and Abby Miller]
Questions and answers
What would be the name for her alter ego?
Who is she most star-struck about?
What does she prefer? Poultry or fish?
Career
Justified(2011-2015)
In the FX western crime series Developed by Graham Yost on Elmore Leonard's short stories, Abby has appeared Ellen May, a not so bright prostitute who works at Audrey's in seasons 2,3,4,6.
Abby appears in about 16 episodes of the series.
Timothy Olyphant (as Raylan Givens), Nick Searcy (as Art Mullen), Joelle Carter (Ava Crowder), Jacob Pitts (Tim Gutterson) appear in the main roles.
Caper (2014-)
In the comedy series "Caper" created by Amy Berg and Mike Sizemore, Abby played the lead role "Penny Blue". Beth Riesgraf appears as Alexia, Hartley Sawyer as Dagr, Harry Shum Jr. as Luke, Yuri Lowenthal as Blake Anders.
The plot is about four crime-fighting superheroes who are forced to live in a rented apartment together so that they can save rent, they are struggling in life without steady pay, they are called deadbeats everyone. Unlike the millionaire Playboys who just dress up and pose to be crime fighters, these are actually crime fighters who are now forced to do a victimless heist in order to support their livelihood.
The superheroes in their attempt to make easy money, discover that it is not that easy to actually be a villain.
The series won Best Ensemble Cast award at the HollyWeb Festival, Best Writing in a Comedy award at the IAWTV Awards, Best Action-Adventure Series award at the Vancouver Web Fest among other nominations and wins.
The Sinner(2017)
In the anthology crime series "The Sinner" based on Petra Hammesfahr's "The Sinner", Abby plays the role of a police sergeant Caitlin Sullivan.
She appears in 8 episodes of the series (season 1).
Home Before Dark
Abby has appeared as in the main role of Bridget Jensen in the crime mystery drama "Home Before Dark" created by Dana Fox and Dara Resnik for Apple TV+.
The story revolves around the uncovering of an unsolved case in a small lakeside town by a young girl visiting from the city.
Jim Sturgess plays Matthew Lisko, Brooklynn Prince plays his daughter and the lead character, Hilde Lisko. Louis Herthum (as Frank Briggs Sr.), Kiefer O'Reilly (as Richie Fife), Michael Weston (as Frank Briggs Jr.) also appear in main roles.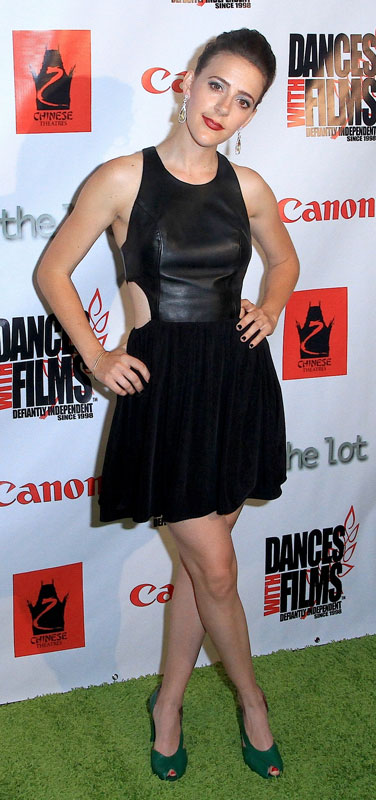 [Abby Miller]
Filmography
Movies
| Year | Movie | Character | Notes |
| --- | --- | --- | --- |
| 2018 | Vicarious | Carol | TV Movie |
| 2017 | The Fuzz | Jo Flo | |
| 2014 | Swelter | Peaches | |
| 2013 | Untitled Bounty Hunter Project | Halle | TV Movie |
| 2013 | Speak Now | Ella | |
| 2013 | It's Not You, It's Me | Tracy | |
| 2013 | Feeding Mr. Baldwin | Katie | |
| 2012 | Congratulations | Bridget Gardener | Also the writer and producer |
| 2012 | Fuzz Track City | Jo | |
| 2010 | One Too Many Mornings | Henry | |
| 2006 | The Girl | Jasmine | |
TV Series
| Year | TV Series | Character | Notes |
| --- | --- | --- | --- |
| 2020 | Home Before Dark | Bridget Jensen | 10 episodes |
| 2018 | Imposters | Charlotte | Episodes: "The World Needs Heroes. Over.", "Phase Two Sucks" |
| 2018 | Station 19 | Lynn | Episode: "Shock to the System" |
| 2016-2018 | The Magicians | Emily Greenstreet | 3 episodes |
| 2017 | The Sinner | Caitlin Sullivan | 8 episodes |
| 2017 | Snowfall | Kindly Basehead | Episode: "Cracking" |
| 2015-2016 | Aquarius | Mary Brunner | 6 episodes |
| 2016 | The Real O'Neals | Ms. Hanson | Episode: "The Real Wedding" |
| 2016 | The Catch | Gwen Ericsson | Episodes: "The Princess and the I.P." |
| 2016 | Law & Order: Special Victims Unit | Libby Parker | Episode: "Forty-One Witnesses" |
| 2015 | Proof | Jane Doe | Episode: "Memento Vivere" |
| 2015 | Aquarius: The Summer of Love | Mary | 4 episodes |
| 2015 | Grey's Anatomy | Kate Shaw | Episode: "One Flight Down" |
| 2011-2015 | Justified | Ellen May | 16 episodes |
| 2014 | Caper | Penny Blue | 9 episodes |
| 2013 | Film Pigs | Assistant | Episode: "The One Year Anniversary Spectacular, Part One" |
| 2012 | The Booth at the End | Theresa | 5 Episodes |
| 2011 | Private Practice | Simone Parker | Episode: "Heaven Can Wait" |
| 2010 | Mad Men | Dorothy | Episode: "The Rejected" |
| 2009 | In the Motherhood | Abby | Episode: "Vacation" |
| 2008 | Cavemen | Pendleton Sister | Episode: "Andy, the Stand-Up" |
| 2006-2007 | The Nine | Jenine | Episodes: "Confessions", "Heroes Welcome", "Pilot" |
| 2007 | Veronica Mars | Female Caller | Episode: "Debasement Tapes" |
| 2005 | Gilmore Girls | Girl | Episode: "Women of Questionable Morals" |
Short movies
| Year | Short movie | Character | Notes |
| --- | --- | --- | --- |
| 2019 | Anxiety's Wilma | Therapist | |
| 2019 | The Jump | Colleen | |
| 2017 | Teddy Bears Picnic | Marie | |
| 2015 | Certifiable | Lottie Phinlay | Also the writer |
| 2015 | Love & a Lug Wrench | Allison | |
| 2014 | The Crop | Waitress | |
| 2014 | Exposure | Candice | |
| 2012 | Voodoo the Right Thing | Tara | |
| 2011 | Be Still My Dear | Co-worker | Also in the musical department |
| 2008 | The Break Up | | as writer and producer |
| 2007 | The Rose and Red Balloon | | |
| 2007 | The Big Production | Ivy | |
| 2007 | Magnus, Inc. | Yeni Abramowitzelberg | |
Theatre
Year
Play
Character
Notes
Nebraskoblivion
Hamlet
The shape of things
Hurlyburly
Robert Zucco
Miracle Worker
The Sound of Music
Location: community center, Clay Center, Nebraska
The Wizard of Oz

Location: community center, Clay Center, Nebraska

She auditioned for the role when she was 12 years old
Quotes
I grew up on Clue and Flash Dance
Life is too short people. Live it all to the fullest.
The new voice of the google map app sounds like she is from Fargo. Am I crazy or do you hear it too?
Make good art, make good art, just keep making good art.
Dogs are the jam
My right armpit always smells worse than my left.
I spent my entire childhood in a tiny town I had always known I wanted to be in a city
I loved my time in Clay Center and I loved my time in Lincoln, But I always wanted to be in a big city.[2]
I've always been a performer since I was a kid [2]
Community is so important, but I think getting away from it is such a good thing to do [4]
References