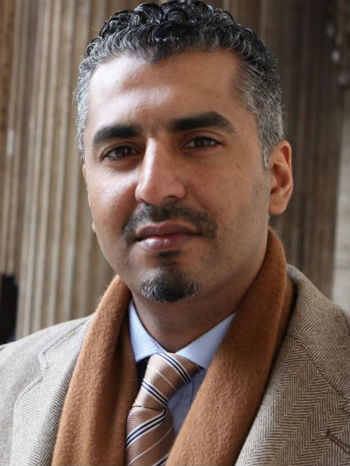 Maajid Nawaz [Deleted]
Date Of Birth
November 2, 1977
Age
42 years 8 months 3 days
Day of Birth
Wednesday
Place Of Birth
Essex, England
Zodiac Sign
Scorpio
Professions

Radio Hosting

, Writer ,

Activist

Full Name

Maajid Usman Nawaz

Name (Urdu)
ماجد نواز
Personal Information
Languages
Arabic , English , Urdu
Nationality

British

Ethnicity
Pakistani
Complexion
Brown
Sexual Orientation
Straight
Body Features & Measurements
Eye color
Black
Hair color
Black
Family Information
Father

Mo

Mother

Abi

Wives
Rabia Ahmed (m. 1999–2008)
Rachel Maggart (m. 2014)
Brother
Kaashif Nawaz (elder)
Education Qualifications
Education (Graduation)
B.A, Law and Arabic (2007)
Education (High School)
Westcliff High School for Boys, Westcliff-on-Sea
Alma Mater

London School of Economics




University of London

Education (Post-Graduation)
M.Sc., Political Theory (2008)
Social Networks, Web links
Facebook Profile
Maajid Nawaz [Deleted] Facebook Profile
Twitter Profile
Maajid Nawaz [Deleted] Twitter Profile
Official Website
Maajid Nawaz [Deleted] Official Website
Biography
Maajid Nawaz is a Muslim reformer, British activist and politician. He contested from Hampstead & Kilburn (London) constituency & Lost it in the 2015 General Elections.
Childhood
Maajid was born on November 2, 1977 in Essex, England to a Pakistani couple. Maajid's father Mo, was an electrical engineer who worked previously in the Pakistani Army, Maajid's mother Abi was born in Pakistan and brought up in England. Maajid has an elder brother and an younger sister.
Maajid writes books, columns raising awareness about radical Islam & differentiating it from Islam. Maajid believes awareness can reduce anti Muslim bigotry as well as young Muslim kids falling into wrong company and getting radicalized.
Marriage
During his college years Maajid married Rabia Ahmed a biology student who was also involved with Islamic activism. Maajid was 21 years old at the time of marriage, during this time he landed in jail in Egypt. They have a son named Ammar. Owing to their ideological shift In 2008 Rabia and Maajid divorced. He became serious with Liberalism and secularism related activism which drove them separate.
Second marriage: In 2014 Maajid married Rachel Maggart, an American artist who owns an art gallery in London. They had a son named Jibreal in February 2017.
Quilliam Foundation: Maajid Nawaz founded Quilliam foundation (named after Abdullah Quilliam, a British convert to Islam who founded Britain's first Mosque) along with Rashad Zaman Ali and Ed Husain, a think tank focused towards countering radical Islamism and Anti-Muslim bigotry.
He participates in debates, discussions related to Liberalism & Islamism.
Facts & Trivia
Nawaz was a member of the radical Islamist group Hizb-ut-Tahrir for a while.
Nawaz was arrested and put in a jail in Egypt from 2001 to 2006 for his association with the terrorist group.
In 2001, Maajid was adopted by the Amnesty International as a prisoner of conscience, his perspective changed during the interactions with them while in jail. In 2007 he decided to fight radical Islamism and establish secular Islam.
Maajid writes weekly columns for The Daily Beast
Maajid hosts a show on LBC radio on weekend from 12–3 pm
Maajid is against selective profiling of Muslims, he is opposed to targeted killings and drone strikes.
Nawaz opposes Terrorism Act 2000, an act he feels is unjust, under which he was detained once.
Maajid considers Malala Yousafzai as a positive symbol of Islam and a better alternative for young Muslims, a symbol of freedom and women's rights.
Maajid criticized illeberal views of politicians who campaigned for banning of Islamophobia in 2015. He feels any criticism should not be suppressed.
He criticized jailing of Saudi blogger Raif Badawi.
Animal Farm, a novel by George Orwell made positive impact on his life, it helped change his radical views.
Maajid has co-founded Khudi, an organization in Pakistan to fight terrorism.
In 2014 Maajiz received death threats from radicals for tweeting "Jesus and Mo" cartoon depicting prophet Muhammed. He tweeted it in support of people who were ousted from TV studio for wearing the "Jesus & Mo" cartoon T-shirt
Books by Maajid Nawaz:
Radical (an autobiographical work) (2012)
On Blasphemy
Islam and the Future of Tolerance (2015) (co-authored with Sam Harris, rationalist & neurologist)
Quotes
Islam is a religion; Islamism is the desire to impose any version of that religion on society. It's the politicisation of my own religion.
What is Jihadism? The use of force to spread Islamism
It's not Islamophobic to scrutinise Islam just as it's not Christianophobic to scrutinise Christianity
All prophets and reformers blasphemed against the existing orders of their time, and that heresy is the only guarantee of progress.