Biography
Alexander Calvert is a Canadian born TV & movie actor. Alexander Calvert was born on 15th July 1990 in Canada.
Alexander Calvert is known for his roles Hunter Gibbs on The Returned, Lonnie Machin in Arrow, Jack in Supernatural.
Alexander Calvert & Jenna Berman: Alexander is married to South African model and actress Jenna Berman. The couple had been dating for quite a while.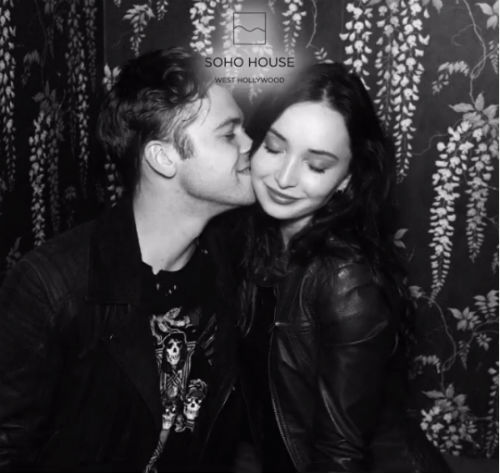 Image: Alexander Calvert with wife Jenna Berman
Alexander Calvert: Career
Movies
Eggplant Emoji(2018): He portrayed the role of Chad in the Comedy directed by Jake Szymanski created by Matt Mider, Kevin Burrows with Netflix Studios with actors- Sadie Calvano, Alexander Calvert, Christian Convery in the lead cast.
The Edge of Seventeen(2016): He played the role of Nick Mossman in the Drama movie directed by Kelly Fremon Craig with actors- Hailee Steinfeld, Blake Jenner, Haley Lu Richardson playing the lead characters
Lost After Dark(2015): He portrayed Johnnie in this Horror directed by Ian Kessner starring Mark Wiebe, Sarah Fisher, Jesse Camacho in the main roles.
The Blackburn Asylum(2015): Alexander played Luke in the Horror directed by Lauro Chartrand starring Sarah Lind, Emilie Ullerup, Zack Peladeau in the main roles.
If I Had Wings(2013): Alexander Calvert was Vince Bernard in this Family Sports Drama by Allan Harmon created by Michael Markus, Tim Stubinski with actors- Jaren Brandt Bartlett, Craig Bierko, Richard Harmon in the lead cast.
Virtual Lies(2012): He played Tyler Sanderson in the Mystery TV Drama directed by George Erschbamer with the cast Ali Liebert, Christina Cox, Marc Menard.
Devil's Diary(2007): Alexander played a Teenage Boy in the Mystery Horror Drama by Farhad Mann , with stars- Deanna Casaluce, Alexz Johnson, Miriam McDonald in the lead.
To Be Fat Like Me(2007): He acted as Robbie in the Drama directed by Douglas Barr with the cast Kaley Cuoco, Melissa Halstrom, Michael Phenicie
Kickin' It Old Skool(2007): He acted as Young Justin in the Comedy movie by Harvey Glazer created by Trace Slobotkin, Josh Siegal, it stars Jamie Kennedy, Maria Menounos, Miguel A. Núñez Jr. in the cast.
TV Series
Supernatural(2017): He played the role of Jack in this Fantasy Series created by Eric Kripke , it has Jensen Ackles, Jim Beaver, Jared Padalecki in the lead cast.
Scream: The TV Series(2016): He acted in the role of Alex Whitten in this Crime Drama Series by Jill Blotevogel, Dan Dworkin with Willa Fitzgerald, Bex Taylor-Klaus, John Karna in the lead.
Unser Traum von Kanada(2016): He acted in the role of Josh in this Drama created by Bavaria Fiction with Katja Weitzenböck, Robert Seeliger, Sonja Gerhardt in the lead.
The Returned(2015): Alexander played Hunter Gibbs in the Fantasy Drama Series , cast includes Kevin Alejandro, India Ennenga, Agnes Bruckner .
Arrow(2015): He portrayed Lonnie Machin in this TV Series with stars- David Ramsey, Stephen Amell, Katie Cassidy in the lead.
Motive(2014): He portrayed James Dent in the Mystery Crime Drama TV Series created by Daniel Cerone with the cast Louis Ferreira, Brendan Penny, Kristin Lehman .
Bates Motel(2013): He acted as Ra'uf in this Horror Drama Series starring Freddie Highmore, Max Thieriot, Vera Farmiga in the lead.
Human Target(2010): He portrayed Sean in this Crime TV Series with stars- Chi McBride, Mark Valley, Jackie Earle Haley in the lead.
The Troop(2010): He acted as Evan in the Adventure Comedy TV Series , cast includes Gage Golightly, John Marshall Jones, Nicholas Purcell .
Psych(2006): He played Jiri in this Mystery Crime Series created by Steve Franks , it has James Roday, Timothy Omundson, Dulé Hill playing in the lead.
The Dead Zone(2005): Alexander played Greg Stillson - 12 Years Old in the Mystery Series starring Nicole de Boer, Anthony Michael Hall, Chris Bruno in the lead.
Other works
Let It Down(2013): He played the role- in this Musical Short Video directed by David Tenniswood created by Scopitone Films with the cast of Cate Sproule, Elysia Rotaru, Rustin Gresiuk
Homesick(2013): Alexander played Greg in the short Drama directed & created by Cody Bown with- Syd Lazzara, Andrew MacFarlane, Erika Walter playing important roles.
Flicka: Country Pride(2012): Alexander Calvert was Jesse in the Family Video directed by Michael Damian, cast included Clint Black, Lisa Hartman, Kacey Rohl
Lost Boys: The Tribe(2008): He portrayed Grom in the Comedy Thriller Video directed by P.J. Pesce created by James Jeremias, Jan Fischer featuring Autumn Reeser, Angus Sutherland, Tad Hilgenbrink in the cast.
Alexander Calvert: Facts & Trivia
Alexander has appeared in numerous commercials- Best Buy, General Mills, Kohl's, Mattel, Road Runner.
He has been critical of Donald Trump's presidency.
He attends supernatural conventions (he is in the cast of the movie)
Alexander is a photographer by hobby.
For one of the scenes in Supernatural Alex ate about 15 chocolate bars. "I nearly died during that scene" jokes Alexander.
He is a self admitted Feminist.
He supports LGBT pride movement
He used to practice hot Yoga.
He has a pet cat named Lord Tyrion, his cat has his own instagram page.
His fellow co-stars Jared & Jensen's are said to have had many pranks on Alexander.
Alexander Calvert: Quotes
These iPhone glitch updates are killing me.
I Wanna be a cowboy
one thing at a time
I'm Too dumb for New York, Too ugly for Los Angeles.
I'm the type of guy to buy a girl flowers but not hesitate to piss in the alley
The less I know the better
It's insanity that the best political discourse in media is happening on Comedy Central.
(Tweet to Donald Trump) you are an ignorant, hate spewing, racist piece of s**t
Tell your guy friends you love them. It's important.
only in showbiz so I can be real life friends with Shia Labeouf
(About acting career) Sometimes it is hard, sometimes it is excellent
Alexander Calvert: Photos, Pictures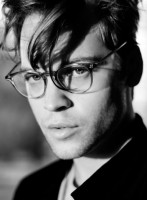 Alexander Calvert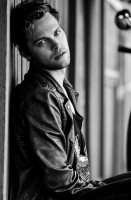 Alexander Calvert

Alexander Calvert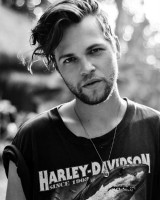 Alexander Calvert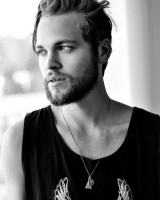 Alexander Calvert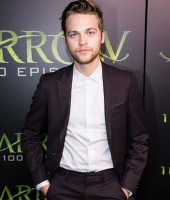 Alexander Calvert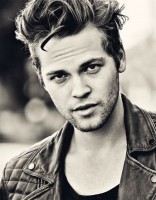 Alexander Calvert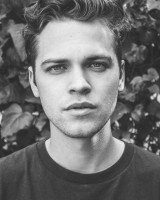 Alexander Calvert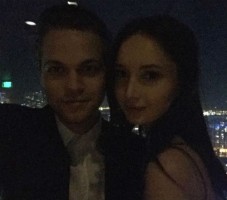 Alexander Calvert with wife Jenna Berman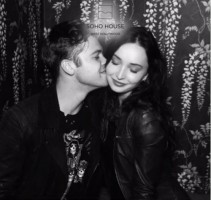 Alexander Calvert with wife Jenna Berman