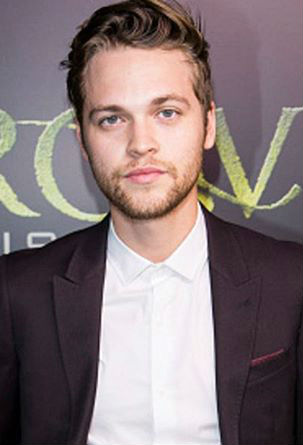 Alexander Calvert
| | |
| --- | --- |
| Date Of Birth | July 15, 1990 |
| Age | 33 years 2 months 10 days |
| Day of Birth | Sunday |
| Place Of Birth | Vancouver, British Columbia, Canada |
| Zodiac Sign | Cancer |
| Profession | Actor |
Personal Information
Residence

New York City, New York, United States

Religion
Christianity
Language
English
Nationality

Canadian

Ethnicity
Caucasian
Complexion
White

Body Features & Measurements
Height

178 CM


5 Feet 10 Inches
Eye color
Blue
Hair color
Brown
Weight

75 KG


165 lbs

Body Type
Average
Family Information
Wife
Jenna Berman (South African actress, model)
Sister
Rachel Calvert (Younger)

Education Qualifications
Education
Actor
Career Information
Debut (Movie)
Kickin' It Old Skool(2007)
Years Active
2005-
Debut (TV)
The Dead Zone
Favorites, Hobbies, Likes/ Dislikes
Hobbies
Yoga
photography
Favorite Characters
Tommy DeVito (Goodfellas)
Terminator
Social Networks, Web links
Facebook Profile
Alexander Calvert Facebook Profile
Twitter Profile
Alexander Calvert Twitter Profile
Instagram Profile
Alexander Calvert Instagram Profile
More Information
Inspiration
Bill Belichick
Role Model
Allen Iverson
Net worth

$2 million
Biography
Alexander Calvert is a Canadian born TV & movie actor. Alexander Calvert was born on 15th July 1990 in Vancouver , British Columbia, Canada.
Alexander Calvert is known for his roles Hunter Gibbs on The Returned, Lonnie Machin in Arrow, Jack in Supernatural.
Alexander has a younger sister in Rachel Calvert
Education
Alexander Calvert has studied Musical theatre & hip-hop dancing until 2005. After that he grew interest in acting.
Marriage
Alexander Calvert & Jenna Berman: Alexander is married to South African model and actress Jenna Berman. The couple had been dating for quite a while.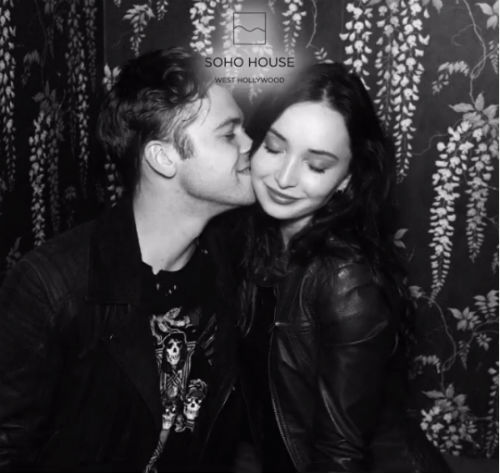 Image: Alexander Calvert with wife Jenna Berman
Facts & Trivia
Alexander has appeared in numerous commercials- Best Buy, General Mills, Kohl's, Mattel, Road Runner.
Working in Restaurant: He used to work in a restaurant cleaning dishes & washing up after drunk people
He has been critical of Donald Trump's presidency.
He attends supernatural conventions (he is in the cast of the movie)
Alexander is a photographer by hobby.
For one of the scenes in Supernatural Alex ate about 15 chocolate bars. "I nearly died during that scene" jokes Alexander.
He is a self admitted Feminist.
He supports LGBT pride movement
He used to practice hot Yoga.
He has a pet cat named Lord Tyrion, his cat has his own instagram page & quite famous too. Alexander & his wife manage the page for Lord Tyrion
His fellow co-stars Jared & Jensen's are said to have had many pranks on Alexander.
Tattoos:

Right Arm: On his right shoulder blade and upper right arm he has tattooed "1/1"
Back: On the back , behind the right shoulder blade he has a bird
Leg: On his shin he has a scorpion tattoo
Left Arm: Has a tattoo of on the left arm, underside

Charity: He participated in the football game organized to promote "BCCH Foundation", a children's hospital.
His favorite movie of 2019: Destroyer
Career
Alexander Calvert Movies List
Blackout (Short)- Matt
Good Boys(2019)- Daniel
The Package (2018)- Chad
The Edge of Seventeen(2016)- Nick Mossman
The Blackburn Asylum(2015)- Luke
Lost After Dark (2015)- Johnnie
If I had wings (2013)- Vince Bernard
Homesick(2013)- Greg
Virtual Lies(2012)- Tyler Sanderson
Flicka: Country pride (2012)- Jesse
Lost Boys: The Tribe (2008)- Grom
Kickin' it Old School(2007)- Young Justin
To Be Fat like Me(2007)- (tv movie) Robbie
Devil's Diary(2007)
Alexander Calvert TV Series List
Supernatural(2017-) Jack
Scream(2016)- Alex Whitman
Unser Traum von Kanada(2016)- Josh
Arrow(2015-16)- Lonnie Machin
The Returned(2015)- Hunter Gibbs
Motive(2014)- James Dent
Bates Motel(2013)- Ra'uf
Human Target(2010)- Sean
The Troop(2010)- Evan
Psych(2006)- Jiri Prochazka
The Dead Zone(2005)- Greg Stillson
Quotes
These iPhone glitch updates are killing me.
I Wanna be a cowboy
one thing at a time
I'm Too dumb for New York, Too ugly for Los Angeles.
I'm the type of guy to buy a girl flowers but not hesitate to piss in the alley
The less I know the better
It's insanity that the best political discourse in media is happening on Comedy Central.
(Tweet to Donald Trump) you are an ignorant, hate spewing, racist piece of s**t
Tell your guy friends you love them. It's important.
only in showbiz so I can be real life friends with Shia Labeouf
(About acting career) Sometimes it is hard, sometimes it is excellent
I don't trust technology, right off the bat
I think it's important for people to have an identity in terms of core values.. people are clinging to notions of themselves: their past selves or what they're supposed to be - which is maybe taking away from possibilities or keeping them stuck in old patterns.
Being able to create something intimate and special that is only there for that moment is the most exciting part and what drives me.
To be frank, the work is easy; life is hard.
With social media, we are all kind of directing our own image and I don't think everyone is honest about it - and that's fine
In any kind of art, the truth of us is ultimately what makes the connection and has people buy it or love it or relate to it
I have always thought that playing the 'hero' guy was more difficult than playing the serial killer.
This job is very all-consuming, and I guess that is what I like about it too: that it takes so much of myself.
Sources