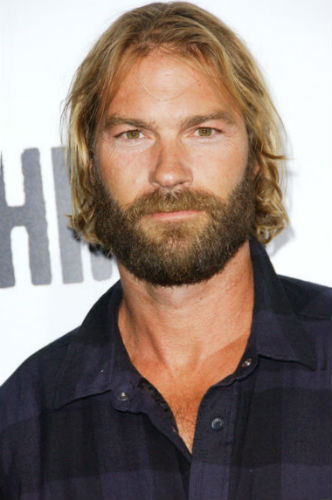 Andrew Wilson
Date Of Birth
August 22, 1964
Age
59 years 1 months 3 days
Day of Birth
Saturday
Place Of Birth
Dallas, Texas, United State
Zodiac Sign
Leo
Professions
Actor ,

Director

Full Name

Andrew Cunningham Wilson
Personal Information
Residence

California, United States

Religion
Christianity
Language
English
Star Sign
Leo
Nationality
American
Ethnicity
Caucasian
Complexion
White
Trademark
Teeth

Body Features & Measurements
Height

185 CM


6 Feet 1 Inches
Eye color
Brown
Hair color
Blonde
Weight

81 KG


179 lbs

Body Type
Average
Family Information
Father
Robert Andrew Wilson (born 1941- death 2017)
Mother
Laura Cunningham Wilson (Photographer; born 1939)
Son
Joseph Obiamiwe Wilson (born 2003)
Wife
Nnogo Obiamiwe (Ex)
Brothers
Owen Wilson (born November 18, 1968)
Luke Wilson (born September 21, 1971)
Grandfather
Edward J. Cunningham (Maternal)
Nephews
Finn Lindqvist Wilson (Father- Owen Wilson; Mother-Caroline Lindqvist)
Robert Ford Wilson (Father- Owen Wilson; Mother-Jade Duell)
Grandmother
Rosemary White Cunningham (Maternal)

Education Qualifications
Education(School)
St. Mark's School of Dallas, Texas
Career Information
Years Active
1989-
Favorites, Hobbies, Likes/ Dislikes
Hobbies
Horse Riding
Shooting
More Information
Net worth

$4 Million
Biography
Andrew Wilson is a movie actor, director & producer. He is the eldest of the Wilson brothers- Luke Wilson & Owen Wilson.
He is known for playing Razor in Whip It (2009), Ned Coleman in The Big Bounce(2004), Beef Supreme in Idiocracy (2006), Future Man in Bottle Rocket (1996), Tex Hayward in The Royal Tenenbaums (2001) among others.
His latest projects include playing Hotel Desk Clerk in Father Figures(2017), Hopper in Time Trap(1017) among others.
Childhood- Family
Andrew Cunningham Wilson was born in Dallas, Texas on 22nd August 1964 to Laura Cunningham Wilson(Mother) an award-winning Photographer by profession & Robert Andrew Wilson(Father) a TV/ movie director.
Mother- Laura Cunningham Wilson
His mother Laura has worked for many prestigious magazines and papers like- GQ, Sunday Times, The New York Times, The New Yorker, Vanity Fair, Vogue, Wallpaper, Washington Post among others.
She was born on 13th October in 1939 in Massachusetts, United States to Rosemary Cunningham and Edward Cunningham. She married Robert Wilson in 1963 and has three children with him.
She is an art graduate from Connecticut College and has lectured on photography in various colleges. She has written five books about photography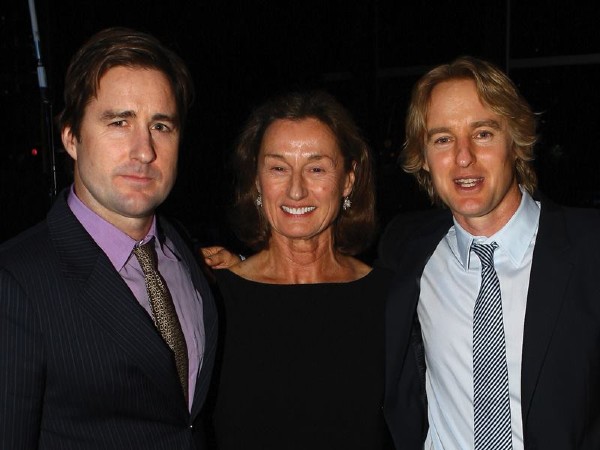 [Andrew Wilson's mother Laura Wilson with sons- Luke & Owen Wilson]
Father- Robert A. Wilson
Robert Andrew Wilson was a TV/ movie producer and director. Robert has worked as an Ad executive and has worked as an executive at PBS. He brought the British TV series Monty Python's Flying Circus (1969) to American TV when he was a manager at the KERA (a PBS station) in Dallas, Texas.
Robert Wilson was born in 1941 in Massachusetts into an Irish Catholic family. Robert died of Alzheimer's disease on 5th May 2017.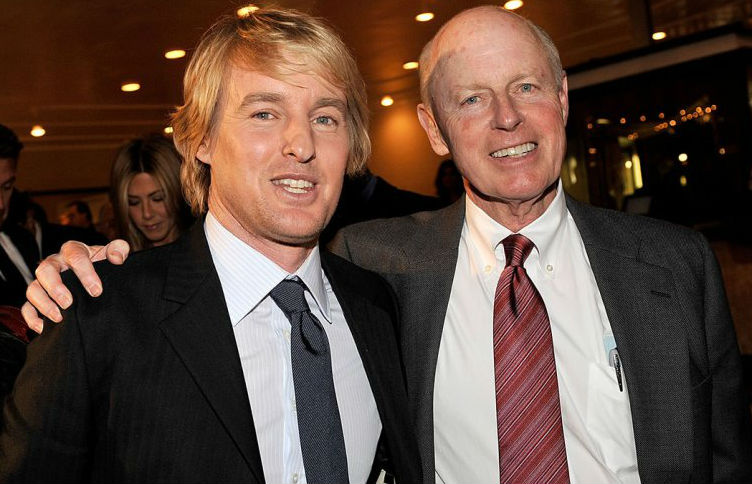 [Andrew Wilson's father Robert Wilson with Owen Wilson]
Wilson Brothers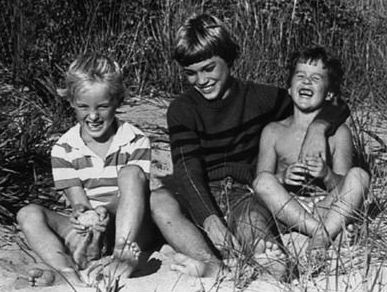 Image: Andrew Wilson Childhood: Brothers Luke Wilson(Right) & Owen Wilson(Left)
Wilson brothers-
Andrew Wilson (born in 1966)
Owen Wilson (born in 1968)
Luke Wilson (born in 1971)
are a very tight-knit group. The siblings appear in each other's projects often. The Bottle Rocket(1996), Wendell Baker Story(2005), Satellite Beach(2014) are among the projects that the siblings have done in collaboration.
Owen Wilson
Owen Wilson is an Oscar-nominated actor, writer, and producer. He was born on 18th November 1968 in Dallas, Texas.
Some of his popular roles include- Eli Cash in The Royal Tenenbaums (2001), John Beckwith in Wedding Crashers (2005), Dignan in Bottle Rocket (1996), Ken Hutchinson in Starsky & Hutch (2004), Owen in Lost in London(2017), Night at the Museum (series) among others.
He has a son named Robert Ford Wilson born in 2011 with his then-girlfriend Jade Duell. Had son Finn Lindqvist Wilson born in 2014 with his personal trainer Caroline Lindqvist. He has a daughter named Lyla Aranya Wilson born to Varunie Vongsvirates in 2018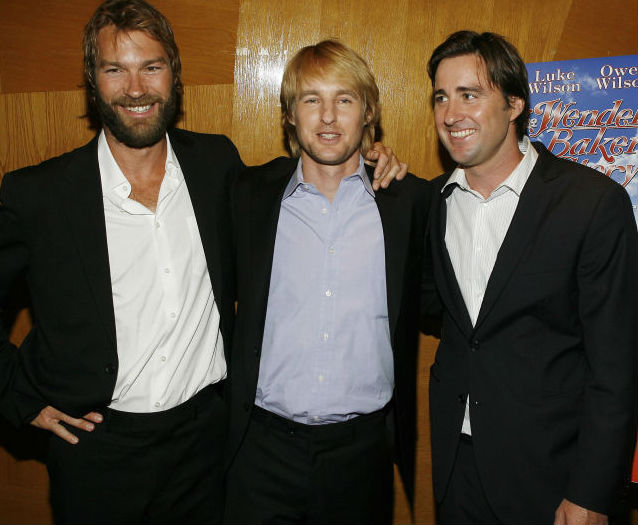 Image: Andrew Wilson with Brothers: Brothers Luke Wilson(Right) & Owen Wilson(Middle)
Luke Wilson
Luke Wilson is the youngest of the Wilson brothers. Luke was born on 21st September 1971 in Dallas, Texas.
Luke is known for playing- Mitch in Old School (2003), Richie Tenenbaum in The Royal Tenenbaums(2001), Anthony Adams in Bottle Rocket (1996), Joe Bauers in Idiocracy (2006) among others.
Luke was a track athlete at school and voted class president at high school.
Education
St. Mark's School: Andre and his brothers studied at the 'Saint Mark's school', an all-boys school located in Dallas, Texas. Alumni of the school include actors like Tommy Lee Jones, Stephen Dignan, and others.
Marriage- Wife- Son
Andrew Wilson & Nnogo Obiamiwe
Andrew married Nnogo Obiamiwe (of African American background) in 2003, the two have a son named Joseph Obiamiwe Wilson AKA Joey born in 2003.
Andrew and Nnogo have been divorced, Andrew lives in California.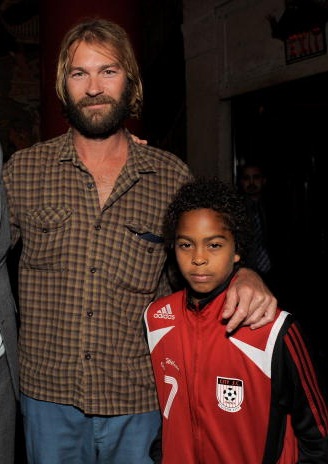 Image: Andrew Wilson with Son Joseph Obiamiwe Wilson
He is believed to have other children with different women from his past relationships, not much is known publicly about them.
Career
Andrew made his debut as an actor through "Das letzte U-Boot" (1993) (The Last U-Boat), a German TV movie. A couple of years later he acted in the feature film House of Pain(1995) which marked his big-screen debut.
Bottle Rocket
In 1993, Owen Wilson and Wes Anderson wrote a short comedy movie. While Wes Anderson directed it, Owen Wilson (played Dignan), along with his brother Luke Wilson (played Anthony) acted in the lead roles. Andrew was an associate producer of the short movie.
It was about two Dysfunctional friends (played by Luke and Owen) planning and executing a robbery with a friend. While also playing some pinball and racing in between.
After the positive reception of the short movie, it was made into a feature film in 1996.
Wes Anderson and Owen Wilson wrote the story again, Wes Anderson directed it while Luke and Own played the lead roles just like in the short film. Andrew worked appeared as "Future Man" in the movie and worked as an associate producer of the movie as well.
Ned Dowd (as Dr. Nichols), Shea Fowler(Grace), Haley Miller(Bernice), Robert Musgrave(Bob Mapplethorpe), Brian Tenenbaum(Clay Murchison), Jenni Tooley(Stacy Sinclair), Darryl Cox(Bookstore Manager) appeared in prominent roles.
[Andrew Wilson as Future Man]
The Wendell Baker Story
In 2005, Andrew co-directed the romantic comedy 'The Wendell Baker Story', The story was about a kind-hearted ex-con Wendell Baker (played by Luke Wilson) who helps the elder residents of the retirement hotel in fighting corruption, while the older residents help him win his girl back.
Luke Wilson wrote, directed, and played the lead character in the movie. The third Wilson brother Owen made an appearance as Neil King, Eva Mendes (as Doreen), Jacob Vargas (Reyes Morales), Harry Dean Stanton (Skip Summers), Kris Kristofferson (L.R. Nasher), Seymour Cassel (Boyd Fullbright) appeared in the main cast.
Satellite Beach
Satellite Beach is a comic short movie co-directed by Luke Wilson and Andrew Wilson. The story revolves around Warren Flowers, a space shuttle manager who is on the mission to move a space shuttle from Los Angeles to California through the streets.
Luke Wilson wrote, produced, directed and appeared in the lead role (Warren Flowers) of the short movie.
Filmography
| Year | Movie | Character | Notes |
| --- | --- | --- | --- |
| 2017 | Father Figures | Hotel Desk Clerk | |
| 2017 | Time Trap | Hopper | |
| 2016 | Black Road | Clyde (voice) | |
| 2014 | Satellite Beach | | as co-director; short movie |
| 2014 | Druid Peak | Everett | |
| 2011 | The Big Year | Mike Shin | |
| 2011 | The Great Gatsby in Five Minutes | Tom Buchanan | short movie |
| 2011 | Hall Pass | Larry Bohac | |
| 2010 | How Do You Know | Matty's Teammate | |
| 2010 | High School | Hippie Dude | |
| 2009 | Calvin Marshall | Ernie | |
| 2009 | Whip It | Razor | |
| 2006 | Idiocracy | Beef Supreme | |
| 2006 | Church Ball | Dennis Buckstead | |
| 2005 | The Wendell Baker Story | | as director |
| 2005 | Fever Pitch | Grant Wade | |
| 2004 | The Big Bounce | Ned Coleman | |
| 2003 | Charlie's Angels: Full Throttle | Cop | |
| 2002 | Serving Sara | Mr. Andrews | |
| 2002 | Showtime | Locker Room Cop | |
| 2001 | The Royal Tenenbaums | Tex Hayward | |
| 2001 | Zoolander | Hansel's Corner Guy | |
| 2000 | Charlie's Angels | Corwin's Driver | |
| 2000 | Bad Seed | Police Officer | |
| 1999 | Chicks | Eddie | TV Movie |
| 1999 | Never Been Kissed | School Guard | |
| 1998 | Rushmore | Coach Beck | |
| 1997 | Better Than Ever | Thug | |
| 1996 | Bottle Rocket | Future Man | also as associate producer |
| 1993 | Bottle Rocket | | short movie; as associate producer |
| 1995 | House of Pain | | |
| 1993 | The Last U-Boat | Grant | TV Movie |
Interesting Facts
Ancestry: His family is of Irish ancestry. Both his parents were Irish Americans from Massachusetts, they had moved to Dallas, Texas because of Robert's (father) work.
Andrew & Owen were into horse riding as kids, Owen once accidentally shot a pellet into Andrew's hand, the pallet is said to be there even now.
Wilson brothers are very close and are often seen enjoying the holidays together. He is also cast in some of his brothers' movies.
Shark Attack: Andrew was attacked by a shark on the beaches of Hawaii in 2010, luckily he escaped without any major injury. He was bitten in the leg.
Andrew is believed to have a large left testicle.
Middle name: All three Wilson brothers have their mother's maiden name as their middle name.
Awards
Year
Won?
Award
Project
Category
Notes
2014
Winner
Festival Prize
Satellite Beach (2014)
Best Drama Short Film
High Desert International Film Festival
2014
Winner
Jury Award
Kickass Original Short Film
LA Indie Film Fest
2014
Winner
Grand Jury Prize
Best Fiction Short
Red Rock Film Festival
2014
Winner
River Bend Film Festival, US
Best Short Comedy
River Bend Film Festival, US
2014
Winner
Bruce Corwin Award
Best Live Action Short Film
Santa Barbara International Film Festival
2005
Winner
Oldenburg Film Festival
German Independence Honorary Award
References