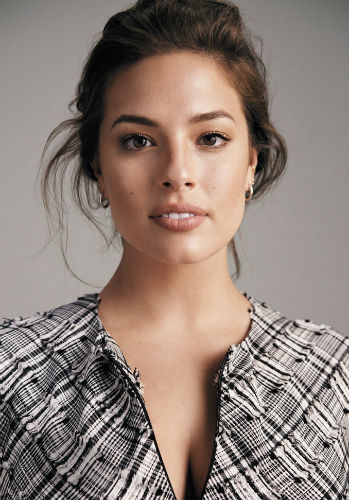 Ashley Graham
Date Of Birth
October 30, 1987
Age
35 years 3 months 9 days
Day of Birth
Friday
Place Of Birth
Lincoln, Nebraska, United States
Zodiac Sign
Scorpio
Professions

Activist

,

Designer

, Model
Full Name

Ashley Ann Graham
Personal Information
Religion
Christianity
Language
English
Star Sign
Scorpio
Nationality
American
Ethnicity
Caucasian
Complexion
White
Trademarks
Confidence , Big Boned figure , Giggle

Body Features & Measurements
Height

177 CM


5 Feet 10 Inches
Eye color
Brown
Hair color
Brown
Weight

91 KG


201 lbs

Shoe Size
10
Dress Size
16
Figure Measurements
38D-29-45
Figure Type
Hourglass
Body Type
Large
Family Information
Mother

Linda Graham

Sister

Abigail Graham

Grandfather
John A. Friesen (maternal)
Grandmother
LeOra Siebert (maternal)

Education Qualifications
Education (High School)
Lincoln Southwest High School (2002-2005)
Education (Middle School)
Scott Middle School (1999 - 2002)
Love, Romance, Marriage
Husband
Justin Ervin (born 1985; married 2010-)
Career Information
Years Active
2000-
Favorites, Hobbies, Likes/ Dislikes
Favorite Food
French fries
Favorite Sport
Tennis
Favorite Song
Love You Forever (Fred Hammond)
Favorite Sports Team
Minnesota Vikings
Social Networks, Web links
Facebook Profile
Ashley Graham Facebook Profile
Twitter Profile
Ashley Graham Twitter Profile
Official Website
Ashley Graham Official Website
Instagram Profile
Ashley Graham Instagram Profile
Tumblr Site
Ashley Graham Tumblr Site
Contact
Web Contact
Web Contact
Talent Agent
IMG Models (Agency)
More Information
Trainer
Christopher Kadima
Biography
Ashley Graham is an American Model, Designer and body positive activist. She has appeared on numerous magazines like Cosmopolitan, SELF, Maxim, Sports illustrated, Vogue, Elle, Bust, Glamour, YM magazine among others.
Childhood, Family & Personal Life
Ashley Graham was born on 30th October 1987 in Lincoln, Nebraska to Linda Graham(Mother) & her husband. She is the eldest of three daughters to her parents. One of her sisters is named Abigail.
Education:
Middle School: Scott Middle School (1999-2002)
High School: Lincoln Southwest High School (2002-2005)
Ashley Graham Marriage to Justin Ervin: Justin Ervin (a cinematographer & award winning director, he owns Element Films Inc, ) & Ashley met each other during a humanitarian event at the Church in 2009, they dated for a while before tying the knot. While dating they went to rollerblading, biking together. They did karaoke together and liked walking in the evening together.
They got married in 2010. She says they abstained from having sex until their marriage, because of her previous extreme indulgences she wanted this particular relationship to be special.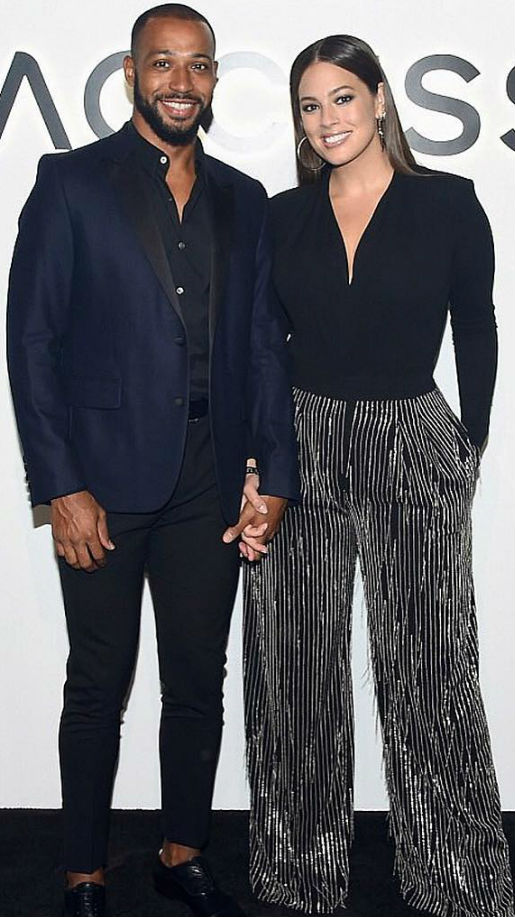 Image: Ashley Graham with husband Justin Ervin
In an interview, Ashley revealed that her old grandmother wasn't happy about her marrying out of her race. However Justin being a smooth talker won her over after few meetings.
Career
In 2000 Ashley was accidentally discovered while shopping in the mall at Omaha, Nebraska by the talent agents of I & I agency. In 2001 Ashley signed contracts with Wilhelmina Models & worked with them for some time. She worked with Ford Models from 2003.
Lane Bryant TV Ad: Ashley Graham appeared nude in a sexy lingerie ad by Lane Bryant, it was an ad appreciative of all body types, especially focusing on the plus size body models. Ashley and other full figure models appeared on the TV. The ad surprisingly faced controversies. Ashley compared the ad with Victoria's Secret commercials which are perhaps more racy but never get any slack. Perhaps it is a size-ist thing.
Diet
Her favorite green juice has: apple, ginger, kale, lemon, spinach.
Diet Breakfast: yogurt + granola + honey.
Regular lunch: carbs, meat, vegetables
Avoids: fried food, Ice creams
Interesting Facts
She has attended the shows- 'Entertainment Tonight', 'Tonight Show with Jay Leno' (it dealt with her Lane Bryant Ad)
She was still in High School when she started her career as a model.
She has been interviewed by CBS News, NPR.
She has Modeled & appeared on Commercials for- Addition Elle, Bloomingdale's, Denim, Elomi lingerie, Evans, Hanes, Levi, Liz Claiborne Macy's, Nordstrom, Marina Rinaldi, swimsuitsforall, Target.
In 2012 she was named Full Figured Fashion Week's Model of the Year.
Ashley Graham designed a lingerie line for the Canadian clothing store chain - Addition Elle in 2013.
Swimsuitsforall made a campaign #CurvesInBikinis to raise the awareness that every type of body is beautiful. Ashley Graham was hired by swimsuitsforall for the campaign.
Ashley Graham became the 1st plus-size model to be published on the cover of 'Sports Illustrated'
Graham was a judge at the reality show 'America's Next Top Model'
Graham was a backstage host for the competitions Miss USA 2016, Miss USA 2017
Jezebel listed her as one of the Top 5 plus size models alongside Alyona Osmanova, Leah Kelley, Sabina Karlsson, Marquita Pring.
Ashley was of size 12 at the age of 12.
I was always beyond confident because my mom and dad never put me down for my size, I come from a big-boned family.
She was listed in the prestigious- Forbes Top 30 Under 30 list.
Ashley Graham lingerie collection: Ashley launched her own line of lingeries in 2015. She designs them for Addition Elle, swimsuitsforall.
TED Talk: Ashley has given a talk on body diversity to a full hall audience.
In November 2016 in the show "Good Morning America" as a part of the series 'Body Proud' doctors conducted medical tests on Ashley & Abeda Davis 2 of the popular plus-size models, the tests concluded both to be very healthy. It goes on to break the myth that full figure bodies are unhealthy
She is into sports like Boxing & practices fitness exercises like Barre, Bootcamp, CrossFit, Rollerblading, Weight-lifting. She usually works out in the morning.
She got called 'Cow' on her instagram account for her size, but such mean comments never disturbed her as she felt comfortable with herself.
Ashley and her trainer have created a fitness program called 'Curvy Fit Club' for the plus size women.
She is lactose intolerant, she takes sorbet instead of ice creams.
She was named 'Woman of the Year' by Glamour(2016)
There is a Barbie doll modeled after Ashley
She was listed in People Magazine's '25 Most Intriguing People of the Year. for the year2016.
She featured in the 'Most Influence People in the World' by TIME magazine for 2017.
Ashley Graham's book: 'A NEW MODEL: What Confidence, Beauty & Power Really Look Like' is a book published by Ashley in 2017, it was published through 'Dey Street Books'
She can drink a bottle of water in one take.
She laughs obnoxiously as per her own confession.
She can apply lipstick without a mirror.
Ashley is White by race, but has looks similar to Eva Mendez who is a Latino.
She is the first plus-size model to be hired by Jennifer Lopez for her line of clothing
Her husband has a pet name for her- Butt.
She was molested at the age of 10 by a relative f age 18, and had went through domestic abuse.
Substance abuse: She was addicted to cocaine and was also into alcohol when she was 19.
Ashley had been making in excess of $100,000 per year since she was 17. But she lost a lot of it in her youth from irresponsible spending.
She was bullied in school, she was called named like 'thunder thighs', 'cottage cheese thighs'
She appeared in a video for DNCE singer Joe Jonas.
Her mother had not seen a black person in real life until she was 18 years old.
She is of German & English ancestry.
She had a broken relationship with her father. He was critical of Ashley and had nicknamed her 'Duh', shaming her for her size and calling her dumb.
Her first boyfriend dumped her for being fat and not willing to have sex with.
She considers Kim Kardashian her Icon and inspiration.
Quotes
Stand up for curves, confidence is sexy.
Let's face it, America is getting bigger, and women want to see themselves instead of the image of what society says they should be.
I really feel like I am a lingerie girl
The healthier you are, the more comfortable you'll be in your own skin. And that's all that matters.
When people see a big person, they equate them with unhealthy, But I think I am the definition of health, even though I am quite curvy.
If you think everyone is staring at you, just think, 'It must be because I look awesome.'
Working out helps with depression, sleeping, it helps with confidence.
There is so much more to being happy in life than being concerned about your weight and the way you look
I workout, I do my best to eat well. I love the skin I'm in. And I'm not ashamed of a few lumps, bumps or cellulite and you shouldn't be either
I'm fully aware that I'm being praised for something a lot of women of color have been put down for, simply because I'm white.
I lost my virginity to a guy I barely knew because he gave me compliments