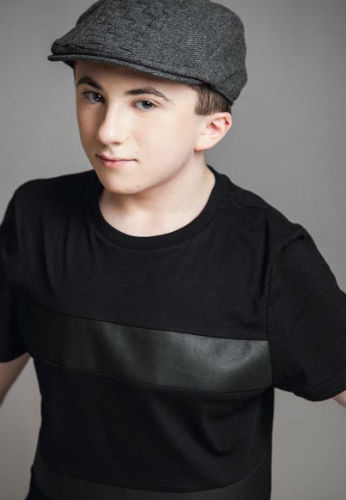 Atticus Shaffer
Date Of Birth
June 19, 1998
Age
25 years 3 months 6 days
Day of Birth
Friday
Place Of Birth
Santa Clarita, California, United States
Zodiac Sign
Gemini
Professions

Voice Artist

, Actor
Full Name

Atticus William Shaffer
Personal Information
Residence

Acton, California

Religion
Christianity
Language
English
Star Sign
Gemini
Nationality
American
Ethnicity
Caucasian
Complexion
White

Body Features & Measurements
Height

142 CM


4 Feet 8 Inches
Eye color
Dark Brown
Hair color
Brown
Body Type
Slim
Hair type
Straight
Family Information
Father

Ron Shaffer

Mother

Debbie Shaffer

Career Information
Debut (Movie)
Leaving Barstow(2008)
Years Active
2007-
Debut (TV)
The Class(2007)
Favorites, Hobbies, Likes/ Dislikes
Hobby
Golf
Favorite Color
Black
Favorite Books
Diary of a Wimpy Kid
Star Wars Series
Favorite TV shows
Storage Wars (2010)
Star Wars
American Pickers (2010)
Pawn Stars (2009)
Likes
comic books
movies
video games
Cotton Candy- Cold Stone
Social Networks, Web links
Facebook Profile
Atticus Shaffer Facebook Profile
Twitter Profile
Atticus Shaffer Twitter Profile
More Information
Net worth

$4 Million
Biography
Atticus Shaffer is an American TV, Movie and voice actor known for his role as Brick Heck in The Middle(2009–2018), voice of Albert Glass in Fish Hooks(2010–2014). He made his TV debut in 2007 with a minor role in The Class(2007).
Childhood, Personal Life, Family
Atticus Shaffer was born on June 19, 1998 to Ron Shaffer(Father) & Debbie Shaffer(Mother) in Santa Clarita, California, United States.
Atticus Shaffer has a bone related disease osteogenesis imperfecta(brittle bone disease) because of which his bones are fragile. This condition has caused in him a reduced stature with a younger physical appearance. He inherited the disease from his mother.
Career
Atticus Shaffer made his TV debut with The Class(2007) where he played the role of Jonah in the Episode 'The Class Rides a Bull'.
In 2008, he made his Movie debut through Leaving Barstow, in which he appeared as a boy on bus.
He has played the role of Morrey Rydell on the radio show Adventures in Odyssey, a Evangelical Christian comedy drama aimed at the kids.
Some of the popular TV shows Atticus has appeared or lent his voice are: The Middle(2009-2018) where he played Brick Heck, Fish Hooks(2010–2014) where he gave voice to the character of Albert Glass, Steven Universe(2013-) where he was the voice of Peedee Fryman. The Lion Guard(2016-) an animated series where Atticus gave voice to character Ono, the Cattle egret. Home: Adventures with Tip & Oh(2016–) Another animated series where he gave voice to The character of Fox.
Some of the movies he has appeared in are Leaving Barstow(2008), Hancock(2008), An American Carol(2008), The Unborn(2009), Opposite Day(2009).
Atticus has lent his voice to the characters in movies such as: Subject: I Love You(2009), Frankenweenie(2012), Super Buddies(2013), The Lion Guard: Return of the Roar(2015), Monkey Up(2016), The Lion Guard: The Rise of Scar(2017)
Interesting Facts
Atticus Shaffer is an avid reader.
He is named after the popular character of Atticus Finch from To Kill a Mockingbird (1962)
He lives with his parents in Los Angeles.
He often uses body doubles for any risky scenes that can cause harm to his bones.
Atticus was home schooled since the young age.
He liked games Yu-Gi-Oh & Lego in his childhood.
His role in 'The Middle' as Brick Heck is somewhat similar to his real life.
He has become popular for his voice roles later in his career.
His voice for the character Edgar in Frankenweenie(2012) has earned him popularity
Atticus has appeared in numerous TV shows as a guest, some of the popular ones are

Jimmy Kimmel Live!
The Bonnie Hunt Show
Entertainment Tonight
Lopez Tonight
The Tonight Show With Jay Leno
Good Morning America
Live with Kelly and Michael
The Queen Latifah Show

Atticus has won an award at the Media Access Awards.
He has been nominated for the awards Young Artist Awards(2010), Annie Awards(2013) for his roles in The Middle & Frankenweenie.
He often plays the Mini-Golf for fun.
He has a pet cat named Miss Puff.
He has appeared or lent voice for many commericial including AIG.
He was a boy scout and participated in Camping trips and earned badges.
He is of Italian, Polish, German, Swiss, French, English descent.
He was offered $12,000 per episode of the TV series The Middle (2009) as salary.
His favorite pizza toppings are- pineapple, pepperoni, pepperoncini peppers.
He likes attending Comic-Cons.
He is a huge fan of zombie video games like Dying Light, Walking Dead.
He likes video games like- Call of Duty, Battlefield, Skyrim, LOTR.
He has both Xbox & Play station, likes them both equally.
He wants to become a director/ writer in future, he wishes to go to college to take a course related to that.
He loves pets and wishes people adopt more animals.
Quotes
Count all the hours lost which are not accompanied by some worthy deed.
I am a huge nerd and a homesteader who enjoys the simple things in life.
Free pizza will always make me happy.
Always be wise with money kids. Always have a safety net.
My mom has taught me to love to learn and I am forever grateful for that.
Wisdom and education means a great deal to me and I find joy in being able to learn new and interesting things every chance I get.