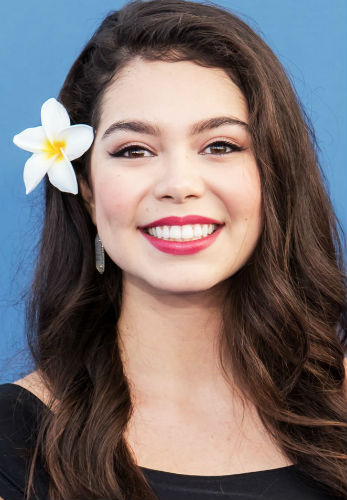 Auli'i Cravalho
Date Of Birth
November 22, 2000
Age
22 years 2 months 17 days
Day of Birth
Wednesday
Place Of Birth
Kohala, Hawaii, United States
Zodiac Sign
Sagittarius
Professions
Singer , Actress ,

Voice actress

Nicknames

Li'i

,

Moana

,

Sunshine
Personal Information
Religion
Christianity
Language
English
Star Sign
Sagittarius
Nationality
American
Ethnicities
Polynesian , Multiracial
Complexion
Brown
Trademarks
Wide Smile , Dimple

Body Features & Measurements
Height

160 CM


5 Feet 3 Inches
Eye color
Dark Brown
Hair color
Black
Weight

50 KG


110 lbs

Shoe Size
2
Dress Size
6 (US)
Figure Measurements
32-23-33
Body Type
Average
Bra Size
32B
Family Information
Father

Dwayne Cravalho

Mother
Cathleen Puanani Cravalho (Actress)

Education Qualifications
Education (High School)
Kamehameha School, Kapālama
Career Information
Debut (Movie)
Moana(2016) (Voice)
Years Active
2016-
Debut (TV)
Rise
Debut(Short movie)
Auli'i Cravalho: Live Your Story
Debut (TV Movie)
The Little Mermaid Live!
Favorites, Hobbies, Likes/ Dislikes
Hobbies
swimming
surfing
Reading
Drawing
Painting
Favorite Actresses
Merly Streep
Audrey Hepburn
Favorite Foods
Cereals
Pasta
Favorite Singers
Nat King Cole
Hozier\
Matt Corby
Favorite Sports
Canoeing , Water Polo
Favorite Books
The Book Thief
Gregor the Overlander
Favorite Drink
Jamba Juice
Favorite Character
Mulan (Disney princess)
Social Networks, Web links
Facebook Profile
Auli'i Cravalho Facebook Profile
Twitter Profile
Auli'i Cravalho Twitter Profile
Instagram Profile
Auli'i Cravalho Instagram Profile
Contact
Contact (Email)
mbrennan@cesdtalent.com (Manager)
Talent Agent
CSED Talent Agency (Melissa Berge-Brennan)
More Information
Net worth

$2 million
Biography
Auliʻi Cravalho (pronounced ow-LEE-ee krə-VAL-yoh) is an American TV & movie actress, singer, and voice actress. Auli'i has lent her voice to the titular character in the animated adventure movie Moana(2016)
Auli'i has appeared in "Rise" as Lilette Suarez, The Little Mermaid Live! (2019) as Ariel, Acting for a Cause(2020) as Lady Catherine (and other characters).
She has recently appeared in the TV drama series "The Power" as Jos Cleary-Lopez and the movie "Sorta Like a Rock Star"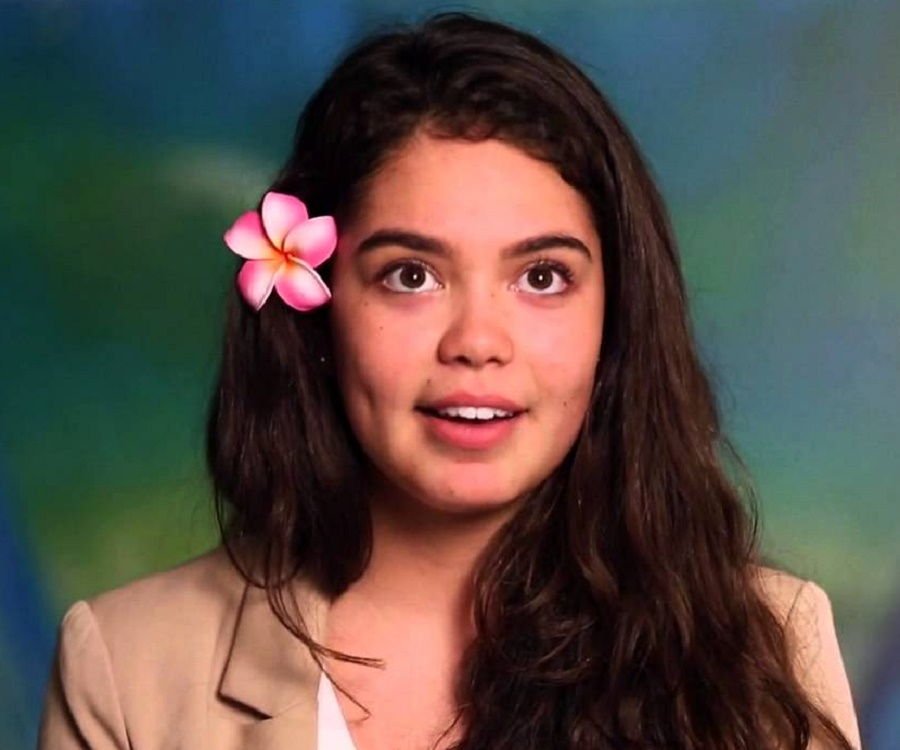 [Cute Auli'i Cravalho
Childhood
Chloe Auliʻi Cravalho was born on 22nd November 2000 in Kohala, Hawaii, the United States to Cathleen Puanani Cravalho (mother) and Dwayne Cravalho (father). She mostly grew up in Mililani, Hawaii.
Her name means dainty, exquisite, and perfect in Hawaiian.
Mother- Cathleen Puanani Cravalho
Auli'i's mother Cathleen Puanani is of Native Hawaiian descent. Her maiden name is Puanani Freitas. She works as an Administrative Assistant.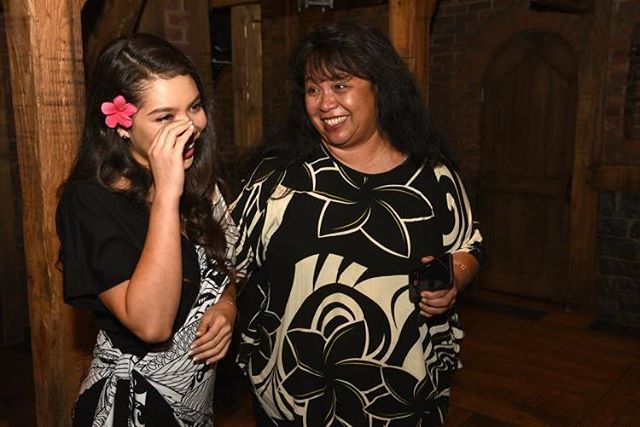 [Auli'i Cravalho with her mother Cathleen Puanani Cravalho]
In an interview with Harpers Bazaar [2], Auli'i said this about her mother
"The person who loves me unconditionally and inspires me every day to do my best is my mom."
Father- Dwayne Cravalho
Auli'i's father Mr. Dwayne Cravalho is of mixed Puerto Rican, Portuguese, Chinese, and Irish descent.
Education
High school: Auli'i studied at the Kamehameha School in Kapālama, Hawaii. Auli'i was living with her mother Cathleen in Mililani, Hawaii when she got the role of Moana in Moana(2016), she was a part of the school glee club where she used to sing soprano.
English & Biology are her favorite subjects in school. She wants to either take Law or something with Biology after her High school.
She would study and work on her homework while traveling in cars, planes and during her free time in the hotels and sets.
Interesting Facts & Trivia
Ancestry: Auli'i Cravalho is of multiracial background, she is of Hawaiian, Puerto Rican, Chinese, Irish, Portuguese descent.
She has been dancing Huls since the age of Five.
She is the youngest ever actress to give her voice to a Disney princess character. Auli'i was just 14 when she lent her voice for the role.
She is the first Polynesian to play a Disney Princess character.
She doesn't like shopping, she is not crazy for Cars, she prefers that her Mom takes her where she needs to go.
True Hawaiian: She likes surfing, swimming, plays water polo, and paddling the canoe.
Auli'i appeared on the Ellen DeGeneres Show along with the 'Tiny Singer' Claire Ryann and sang songs from Moana.
When she goes to Los Angeles she wants to see the Hollywood sign and visit Disney Land.
She has a female pet Cat named Chin Chin. Chin-Chin has double chin (thus the name)
Love for Hawaii: She likes Hawaii for the people and the spirit of Hawaii they show.
Best Original Song: Auli'i's song "How Far I'll Go" from Moana has received nominations at both the Academy Awards and the Golden Globes
A Funny incident: Someone once asked Auli'i if there is Internet/ Wi-Fi in Hawaii. She didn't expect people to be that ignorant about Hawaii, the 50th American state.
Bisexuality- coming out
Auli'i made a public comment on her bisexuality on social media (Twitter/ Tiktok) in April 2020.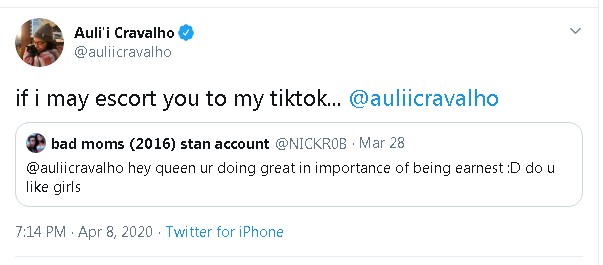 [Auli'i Cravalho coming out as bisexual]
A fan asked her "Do you like girls" on twitter, Auli'i gave the fan a link to her TikTok page where she lip-synced the part of Eminem's song "Those Kinda Nights" where the lyrics clearly talk of bisexuality.
Seriously though, jokes aside, how you doin'? You straight?
She said, "No, I'm bi"
She said, "Are you drunk?", I said, "No, I'm high"
I'm checkin' out the chick, she said, "So am I"
Philanthropy
ActingForACause: Auli'i along with Justice smith performed play reading for the cause of helping corona impacted students in March 2020
Activism
George Floyd Protests: She supported the May-June 2020 'Black Lives Matter' protests of the United States that were organized against the police brutality against Black people.
Questions and answers
What is Auli'i's favorite Disney princess character?

Mulan is her favorite Disney princess character. (she likes that Mulan honored her family, broke the norms and sang)

What is her advice to Teen boys and girls?

"go on that journey to find yourself... it's completely normal and completely necessary... taking that time to find yourself is incredibly important" [2]

Who is her inspiration?

Her mother Puanani Cravalho [2]

How long has she been singing?

"straight out of the womb" jokes Auli'i, she credits her mother for not giving her a pacifier and letting her scream as a baby and develop good lungs for singing. [2]

Who are her favorite singers?

Hozier (Andrew John Hozier-Byrne), Matt Corby (Australian singer and songwriter), Nat King Cole. [2]

What is her dream role?

A role having self-discovery as the theme or having a strong kick-*ss character
Career
Moana(2016)
Auli'i's debut into the entertainment industry happened through the Disney animated movie Moana(2016)
Audition: Auliʻi loved the idea of (voice) acting in a movie. but was initially discouraged after seeing hundreds of great audition submissions already on youtube. She thought her chances were very slim and didn't bother to submit.
However, she and friends made a fun mash-up of all the songs they loved with beatboxing and harmonies for a charity event. But as the luck would have it, an Oahu talent agent (Rachel Sutton, also the casting director for Moana) saw her at the charity competition and recommended that she audition for the role of Moana. [2]
They asked her to sing whatever she wanted, she chose to sing "I See the Light" from the movie "Tangled" and a few Hawaiian songs. She shared that she loved Hulu dancing and water sports, basically, that she was well connected with her roots. [2]
[Auli'i audition for Moana]
Selection: (Rachel Sutton working for) The Walt Disney later revealed that Auli'i's was the last audition for the role, She was a freshman at her high school (Kamehameha School) at the time. She was selected for the role of Moana because of her fearlessness, playfulness, wit, Polynesian background and her singing talent.
She met 'The Rock', her fellow voice artist only after the production work was finished. He gave her a valuable suggestion- "Be yourself"
In November 2017, she voiced the character of Moana in the first-ever Disney movie dubbed in the Hawaiian language. The movie was released in June 2018.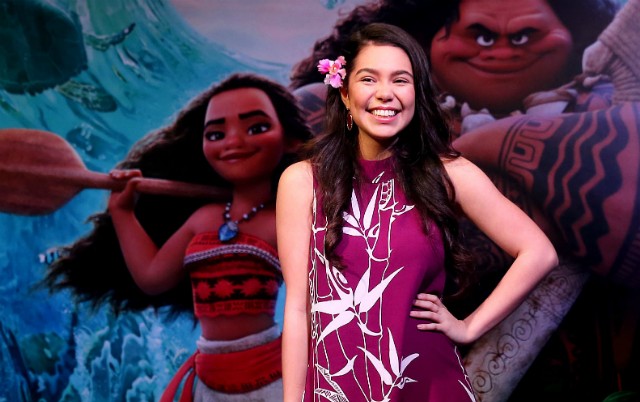 [Auli'i Cravalho with Moana poster]
Rise(2018)
Auli'i made her TV debut with the NBS drama "Rise". Her selection was finalized for the role in February 2017, NBC confirmed the show in May 2017. The first season of the series started in March of 2018, the show was canceled after the end of the first season in May 2018 due to low TRP ratings.
Auliʻi played the role of Lilette Suarez, a high school student who has a troubled relationship with her mother Vanessa Suarez(played by Shirley Rumierk). She is a part of the drama club at her school and acts in the role of Wendla in a play.
"Rise" was a musical drama series created by Jason Katims. Josh Radnor(as Lou Mazzuchelli), Marley Shelton(as Gail Mazzuchelli), Damon J. Gillespie(as Robbie Thorne), Joe Tippett(Sam Strickland), Ted Sutherland(Simon Saunders), Amy Forsyth(Gwen Strickland) appeared in the main roles.
The Little Mermaid Live! (2019)
Auliʻi appeared as Ariel in the ABC live-action concert rendition of the musical fantasy drama "The Little Mermaid". Auli'i played the lead role while Shaggy (as Sebastian), Graham Phillips(as Prince Eric), Amber Riley, John Stamos(Chef Louis), Queen Latifah(Ursula) appeared in the main roles.
John Musker and Ron Clements had co-written and directed the original movie. Hamish Hamilton directed the TV movie while Brian Strickland contributed to writing.
Soundtracks
She has performed in movies, TV series, TV shows as well as award events.
Year
Song
Project
Notes
2020
How Far I'll Go
The Disney Family Singalong
TV Special
2019
Part of Your World
The Little Mermaid Live!
TV Movie
Under the Sea
Poor Unfortunate Souls
If Only
How Far I'll Go
America's Got Talent (episode: Auditions 6)
TV Series
2018
The Tonight Show Starring Jimmy Fallon
TV show
2017
The Oscars
Award event
2016
How Far I'll Go
Moana
Movie
I Am Moana (Song Of The Ancestors)
Know Who You Are
[How Far I'll Go - Moana(2016) - Auli'i Cravalho]
Filmography
Movies List
| Year | Movie | Character | Notes |
| --- | --- | --- | --- |
| | Sorta Like a Rock Star | | Lead role |
| 2019 | The Little Mermaid Live! | Ariel | TV Movie |
| 2018 | Ralph Breaks the Internet | Moana (voice) | |
| 2016 | Moana | Moana (voice) | Voice actress; won many awards and nominations |
TV/ Web series List
| Year | Series | Character | Notes |
| --- | --- | --- | --- |
| | The Power | Jos Cleary-Lopez | 10 episodes; Lead role |
| 2020 | Acting for a Cause | Lady Catherine (and other characters) | Episodes: "Pride and Prejudice", "Hamlet", "The Importance of Being Earnest" |
| 2019 | Elena of Avalor | Veronica (voice) | Episode: "The Last Laugh" |
| 2019 | Weird City | Rayna Perez | Episode: "Go to College" |
| 2018 | Rise | Lilette Suarez | 10 episodes |
Stage
Year
Play
Character
Notes
2018
Have a Nice Day
Teen daughter

Off-Broadway

Venue: Minetta Lane Theater;
Short Movies
| Year | short movie | Character | Notes |
| --- | --- | --- | --- |
| 2018 | Auli'i Cravalho: Live Your Story | | |
| 2017 | Gone Fishing | Moana (voice) | |
Video Games
| Year | Game | Character | Notes |
| --- | --- | --- | --- |
| 2019 | Disney Magic Kingdoms | Moana (voice) | Mobile App game |
Awards
Year
Won?
Award
Project
Category
Notes
2017
WON
EDA Female Focus Awards
Moana
Best Animated Female
Alliance of Women Film Journalists; shared with Ginnifer Goodwin for Zootopia
Annie Awards
Outstanding Achievement in Voice Acting in an Animated Film
shared with Jason Bateman for Zootopia
BTVA People's Choice Voice Acting Award
Breakthrough Voice Actress of the Year
Best Female Lead Vocal Performance in a Feature Film
Best Vocal Ensemble in a Feature Film
Nomination
Blimp Awards
Favorite Frenemies
shared with Dwayne Johnson
MTV Movie + TV Award
Best Musical Moment
for the song "How Far I'll Go"
Teen Choice Award
Choice Movie Actress: Fantasy
WAFCA Award
Best Voice Performance

Young Artist Award

Best Performance in a Voice-Over Role -Teen Actress
[Auli'i Cravalho]
Quotes
From baby time to now, I wanted to be a Disney princess and then I wanted to be a singer or an actress.
I'm happy where I'm at, where I've been, and with everything I've gone through.
I know being happy will only take me further in life, and I'd love to share this passion I have with others.
I credit my singing to my mom because she didn't give me a binky when I was a baby. I cried and screamed for the first six months - my mom would say four years of my life - and I developed wonderful lungs.
My mom keeps me grounded and all that. She makes me do chores.
I hope that all of you are inspired to maybe not journey across the ocean like Moana does, but to journey to find yourself.
I'm not a perfect person. And my mom lets me know it
[on her first tryst with acting] I wasn't used to that whole 'lights, camera, action' thing- I thought it was only for Beyoncé [2]
News & Updates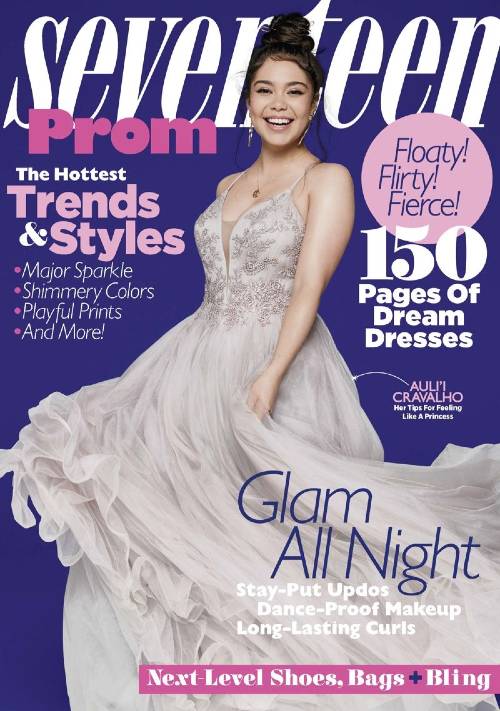 [Auli'i Cravalho on the Seventeen magazine cover]
2018: She was covered in the Parade magazine article titled "Four Questions For Auli'i Cravalho" (page 2, March 11) by Walter Scott
2017: Appeared on the cover page of Modern Luxury Hawaii magazine in March/April of 2020
2016: USA Today covered her in the November 22nd edition (Volume 35, Issue 49, page 1D,2D) the articles spanning two pages were written by Bryan Alexander. She was also featured on the cover page of the magazine.
She has appeared on the cover page of the Seventeen magazine (Prom special)
References