Biography
Freddie Highmore is a British actor, He is known for playing Peter Davies in Finding Neverland(2004), Charlie Bucket in Charlie and the Chocolate Factory(2005), Norman Bates in Bates Motel, George Zinavoy in The Art of Getting By(2011). Jared/ Simon Grace in The Spiderwick Chronicles (2008).
Freddie Highmore was born on 14th February 1992 in Camden Town, London, England to Sue Latimer(Mother)- a talent agent & Edward Highmore(Father)- an actor. They have a younger brother named Bertie Highmore. He grew up in Highgate, North London
Freddie Highmore: Education
Schooling: Freddie attended schools in Hampstead Garden Suburb, Hampstead. He attended Highgate School. He has attended LSE Summer School as well as Brookland Junior and Infant School.
College: Freddie went to Emmanuel College affiliated to Cambridge University. He graduated with first class in both his majors Spanish & Arabic.
Freddie Highmore: Facts & Trivia
His mother Sue Latimer is a popular talent agent in London, she has high profile actors like- Daniel Radcliffe & Imelda Staunton as clients. Daniel's father Alan Radcliffe was classmate of Sue Latimer.
Freddie's mother Sue is his agent.
Freddie Highmore started his acting career at the age of 7 with small roles on TV.
Acting with family: His brother Bertie played his brother in the movie Women Talking Dirty, His father Edward played his father in the TV movie Jack and the Beanstalk: The Real Story (2001).
Writing & Directing: Freddie ventured into the fields of writing with the episodes 'Unfaithful' (Season 4 episode 8), 'Inseparable'(season 5 episode 7) of Bates Motel. He directed the episode 'The Body'(Season 5 Episode 8)
As producer: Dreddie has become an executive producer with the pilot of the show Long Distance
Dedicated child actor: Marc Forster, the director of Finding Neverland (2004) scheduled Freddie's toughest scene in the film on the very second day so that it could inspire other actors
He was selected to play a role in December Boys (2007) but he skipped it to attend this unwell grandmother
Got into an encounter once with a bear in Vancouver. It turned out to be a prank on him by a fiend dressed as bear.
Gulf Bank intern: He worked in Kuwait in 2012 as an intern
During his course at the Emmanuel College he made a fake documentary on himself
He went to Madrid through his Spanish course, he worked in a law firm there, he did translations between Spanish and English
He had read the book before Charlie and Chocolate Factory but had not seen the original movie of 1971.
Freddie was friends with Daniel Radcliffe even when they were kids and not into acting yet, their parents were friends.
His frequent costar Johnny Depp on him- "He's very grown up, His brain works well beyond his years. He's really a sharp guy and a sweet, pure soul."
Favorite pizza topping: Pineapple/ Ham/ Margherita/ Cheese/ Tomato
For his role in August Rush he learnt Guitar for 6 months before the movie shooting start.
Ancestry: He is of English & Scottish descent.
Norman Bates: He was bored of playing similar roles and wanted to experiment with something different thus decided to play Norman Bates- the Psycho. Vera Farmiga who plays the main role of mother Norma Bates suggested to cast Freddie for the role after seeing his performance in The Art of Getting By.
Freddie was born 7 months after Anthony Perkins (the actor who played Norman Bates in Psycho(1960) died
He has stayed away from Twitter, Instagram & Facebook for the sake of privacy.
After his role in Bates Motel his mother is said to have forbid him from calling her Mother.
Freddie Highmore: Quotes
I am a bit more mature than some kids my age because I've spent more time with adults on sets.
Kids like going to a movie and being really scared
I have always liked languages.
When you're eighteen, you can't act the kid any more(On the transition after child actor)
Americans compliment me on losing the accent as if the American accent is the real accent.
Two frequent questions people ask me- "Do you chocolates? Do you like Johnyy Depp?".
You've got to be lucky enough for people to be asking after you.
(About people recognizing him in England and fan frenzy) It is always raining in London & everyone is hiding under umbrellas, everyone is looking down, trying to avoid the next puddle, they won't see you unless you stand at the top and shout.
For August Rush music is like Religion, he follows it dedicatedly.
Staying in London and avoiding social media has kept me grounded
Maybe I should just get some secret account on twitter and keep up to date with everything.
Freddie Highmore: Awards
2004: Freddie won Critics' Choice Movie Award for Best Young Performer for his role in Finding Neverland(2004).
2004: He was nominated for the Best Performance by a Younger Actor award at the Saturn Awards for his role in Finding Neverland(2004).
2004: Utah Film Critics Association Awards Nomination- Finding Neverland
2004: Las Vegas Film Critics' Society Awards- Finding Neverland
2004: He was nominated for the Best Male Actor in a Supporting Role at the Screen Actors Guild Awards for his role in Finding Neverland(2004).
2004: Phoenix Film Critics Society Awards won- 4 Finding Neverland
2005: Young Artist Awards won- Finding Neverland
2005: He won the Best young performer of the year again for his role in Charlie and the Chocolate Factory(2005).
2005: Phoenix Film Critics Society Awards won- Charlie and the Chocolate Factory
2005: Won the best newcomer at the Empire Awards for Finding Neverland
2005: He was nominated at the Satellite Awards as Outstanding New Talent for the role in moive Charlie and the Chocolate Factory(2005).
2005: Satellite Awards won- Finding Neverland
2005: MTV Movie & TV Awards nomination- Finding Neverland
2005: London Film Critics' Circle Awards nomination- Finding Neverland
2006: Young Artist Awards Nomination- Charlie and the Chocolate Factory
2006: Saturn Awards Nomination- Charlie and the Chocolate Factory
2007: An award for his role in August Rush(2007) at the Capri Exploit Awards
2007: Young Artist Awards Nomination- Arthur and the Invisibles
2008: Best Young performer award nomination for his role in A Good Year(2007)
2008: Saturn Awards Won- August Rush
2008: Young Artist Awards Nomination- August Rush
2009: Saturn Awards Nomination- The Spiderwick Chronicles
2009: Young Artist Awards Nomination- The Spiderwick Chronicles
2010: Young Artist Awards Nomination- Astro Boy
2013: He was nominated for the third time at Critics' Choice TV Awards for his role as Norman Bates in Bates Motel.
2013: Won People's Choice Award for his role in Bates Motel.
2013: Satellite Award for Best Actor – Television Series Drama
2013: Best Drama Actor award nominations at the Gold Derby Awards for his role in Bates Motel
2014: Best actor award nomination at the Critics' Choice TV Awards
2014: Satellite Awards- nomination for Best Actor- Bates Motel
2014: Saturn Awards Nomination- Bates Motel
2015: Best actor award nomination at the Critics' Choice TV Awards
2016: People's Choice Award for his role in drama thriller Bates Motel(a prequel to the classic movie Psycho)
2016: Best Drama Actor award nominations at the Gold Derby Awards for his role in Bates Motel
2016: Nomination at the Fangoria Chainsaw Awards for Bates Motel
2017: Golden Globe Award nomination for Best Actor for the role of Dr Shaun Murphy in the drama series The Good Doctor, it was produced by Freddie Highmore.
2017: People's Choice Awards won- Bates Motel
2018: Golden Globe Best Actor award nomination for his role in The Good Doctor
2017: Saturn Awards Nomination- Bates Motel
2018: Best actor award nomination at the Critics' Choice TV Awards
Freddie Highmore: Photos, Pictures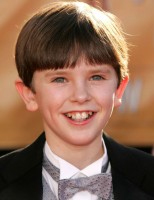 Freddie Highmore childhood

Freddie Highmore childhood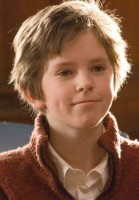 Freddie Highmore childhood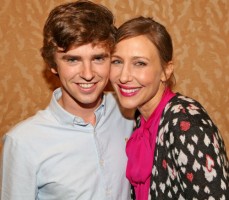 Freddie Highmore with Vera Farmiga