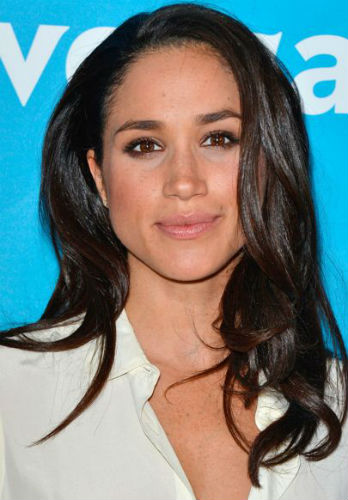 Meghan Markle
Date Of Birth
August 4, 1981
Age
42 years 1 months 21 days
Day of Birth
Tuesday
Place Of Birth
Los Angeles, California, United States
Zodiac Sign
Leo
Professions
Actress ,

Humanitarian

, Model
Birth Name
Rachel Meghan Markle
Personal Information
Residence

Kensington Palace

Religion
Christianity
Languages
Spanish , French , English
Star Sign
Leo
Nationality
American
Ethnicity
Multiracial
Complexion
Fair
Trademark
Freckles

Body Features & Measurements
Height

170 CM


5 Feet 7 Inches
Eye color
Dark Brown
Hair color
Dark Brown
Weight

61 KG


134 lbs

Shoe Size
7
Dress Size
8
Figure Measurements
34-25-34
Figure Type
Hourglass
Body Type
Slim
Bra Size
34C
Family Information
Father
Thomas Markle (lighting director)
Mother
Doria Loyce Ragland (social worker, yoga teacher)
Brother
Thomas Markle Jr. (Older)
Sister
Samantha Grant (Older; half-sister, share the same Dad)
Grandfathers
Alvin Azella Ragland (Maternal)
Gordon Arnold Markle (Paternal)
Grandmothers
Doris Mary (Paternal)
Jeanette Arnold (Maternal)
Relatives
Rev. William Skipper (Ancestor)
Captain Christopher Hussey (Ancester; 17th century)
Sir Philip Wentworth (Ancester; 1424-1464)
King Edward III of England (Ancester; 1312-1377)
Mary Clifford

Education Qualifications
Education (Graduation)
Bachelors degree in Theater & international studies (Northwestern University)
Education (High School)
Immaculate Heart High School
Education(School)
Hollywood Little Red Schoolhouse (Hollywood, Los Angeles)
Alma Mater
Northwestern University (Chicago)
Love, Romance, Marriage
Husband
Trevor Engelson (2004-2013; Actor & Producer;)
Boyfriends
Rory McIlroy (2014; Rumored; Irish Golfer)
Prince Harry (Engaged in 2017)
Career Information
Years Active
2005-
Debut (TV)
General Hospital(2006)
Favorites, Hobbies, Likes/ Dislikes
Hobby
Cooking
Favorite Foods
Green Juice
Sushi
Favorite Movie
Splendor in the Grass (1961)
Favorite Destination
Bali
Favorite Song
Murder On The Dance Floor (to dance)
Favorite Book
The Sound and the Fury
Favorite Drink
Red wine
Favorite TV shows
I love Lucy (while growing up)
The Real Housewives of Beverly Hills
Favorite Animal
Dog
Social Networks, Web links
Twitter Profile
Meghan Markle Twitter Profile
Instagram Profile
Meghan Markle Instagram Profile
Snapchat
meghanmarkle
Contact
Manager
The Gersh Agency, Inc.
More Information
Teacher
Harvey Young (at the university)
Friends
Serena Williams
Priyanka Chopra
Net worth
$7 Million (in 2017)
Biography
Meghan Markle is an American TV & Movie actress, humanitarian. Meghan is engaged to Prince Harry (of Wales). Some of the notable works of Meghan are- Megan in Remember Me(2010), Jamie in Horrible Bosses(2011), Rachel Zane in Suits.
Meghan Markle was born on 4th August 1981 in Los Angeles, California, United States to Doria Loyce Ragland(Mother)- social worker, yoga teacher & Thomas Markle (Father)- lighting director & director of photography. Meghan grew up in Holylwood. Her parents Doria & Thomas divorced in 1987.
Meghan Markle & Trevor Engelson Marriage: Meghan got into a relationship with actor and producer(producer of Heathers, Snowfall, Remember Me, All About Steve, Licence to Wed..) Trevor Engelson in 2004.
The couple got married in Ocho Rios, Jamaica on 10th September 2011. After a long 9 year relationship the couple divorced in August 2013.
---
Meghan Markle & Prince Harry: Meghan & Harry met through a mutual friend on a blind date, (apparently the first question Meghan asked about the prince to her friend was -'Was he nice?'). She had not known about him, neither had he known about her or her works prior to meeting.
First date: They met for drinks for the first time, they liked each other over the conversation and were already willing to go on the next date, they talked about second date on their first date itself.
They started dating in June 2016, they had dates for a long time and had quiet long times together for 5-6 months before engagement. Because of the physical distance between them they had to commit to a long distance relationship for a while. There was a lot of travelling back and forth between U.S and England.
Engagement: They were roasting a chicken on a quiet lone night together in Toronto Canada when Harry surprisingly got on one knee and proposed to her in November 2017. The ring is a Yellow gold with central piece of diamond from Botswana, small diamonds of the ring were from his mother's (Princess Diana) jewelry, Harry himself designed the ring, it was made by Cleave and Company.
On her engagement she was congratulated by celebrities from all over the world, including top politicians like Theresa May, P.M of England.
Wedding: The wedding is scheduled for 19th May 2019 at Saint George's Chapel, Windsor Castle. After the marriage the couple will be living in Nottingham Cottage, Kensington Palace. The wedding is expected to cost half a million pounds.
She is going to get British citizenship after her wedding, she will be retaining her U.S citizenship as per the records.
She attended the Christmas party at Queen's Sandringham estate with the British Royal family.
Meghan is a distant cousin of Prince Harry, Sir Philip Wentworth & Lady Mary de Clifford are their common ancestors.
Image: Meghan Markle with prince Harry
Through Harry Meghan has met Queen Elizabeth twice before marriage in her palace.
---
Meghan Markle: Education
School: She went to Hollywood Little Red Schoolhouse (Hollywood, Los Angeles) at the age of 5.
High School: Immaculate Heart High School and Middle School- An All girl Catholic school located in Los Feliz, Los Angeles.
Graduation: she got a bachelor's degree in theater & international studies at the Northwestern University
Internship at the US Embassy: She worked as an intern in Buenos Aires, Argentina.
Meghan Markle: Facts & Trivia
Meghan's father Thomas Markle is an Emmy Award winning lighting director.
Beginning of Acting Career: Meghan used to visit her father Thomas at sets where he worked, her visiting the sets of sitcom Series 'Married... with Children' led to her becoming interested in acting.
She went to Catholic high school but identifies herself as a Protestant Christian.
Ancestry: Meghan is of African(from Georgia)(Maternal), German(Paternal), Dutch(Paternal), English(Paternal), Irish(Paternal), Scottish(Paternal) descent.
Young Campaigner: Meghan wrote to Proctor & Gamble as a 11 year old girl regarding one of their ads (related to a dishwashing soap commercial), she asked them to change the tagline of an ad she deemed was sexist. Her interview was aired on Nick News. (The tagline of the soap said 'for women all over the world', Meghan insisted it should say 'People all over the world' instead of women, which would imply women do the dishes and men do not) P & G changed the tagline after 3 months of the campaign. She was agitated by boys in school who said 'that is where women belong' about the ad, she came back home and shared it with her father and wrote series of letters which lead to her activism.
She was an intern at the US embassy in Buenos Aires, Argentina.
She was short of credits to complete her junior year in High School.
Freelance Calligrapher: Meghan worked as a freelance calligrapher for some time between her acting jobs. She did calligraphy for weddings.
The Tig: a website to help those with a passion for food, travelling, fashion and beauty. She discontinued the project in late 2017 as she got busy with other adventures of life. It was named after the wine she enjoyed much and the name she related with happy moments.
Fashion designing: in collaboration with Reitmans (Canadian Clothing company) she designed women's fashion workwear.
End to acting career: She has decided to move away from acting after her marriage to Prince Harry.
She has worked as an ambassador to United Nations Women
First Mixed race woman to marry someone from British royal family.
She is the second American woman to marry into British royal family.
Meghan will be baptized again before the wedding and confirmed into the Church of England (She does not identify as Roman Catholic)
One Young World: She was Counsellor for the UK-based non-profit organization which gathers young impressive people from all over the world to discuss serious issues of the world and find solutions. It has had Kofi Annan, Desmond Tutu, Sir Richard Branson as the Counselors in the past.
World Vision Canada: She worked with the Christian relief organization which helps overcome poverty & injustice in Rwanda and campaigned for Clean Water.
She visited India in 2017 to raise awareness about women's issues in association with World Vision.
One thing she couldn't live without: Her passport
Her first audition: Hot Girl #1 in Lot like Love starring Ashton Kutcher.
She loves dogs and has a dog named Bogart.
Favorite pizza toppings: Chilly Pepper
Favorite phone app: Heads up.
If she was a superhero her super power would be- Teleportation
She was the most searched actress of 2016.
She is a foodie.
She loves cooking for others and carries her Vitamix blender literally everywhere she goes.
Person she likes to go to dinner with- Anthony Bourdain(Chef).
Guilty Pleasure: The Real Housewives of Beverly Hills
Most memorable day: the day she found out she got role in Suits
She had curly hairs in youth
She prefers Vegemite over Marmite.
Her father would bring her a black Mommy Barbie and white Daddy doll for Christmas, he tried to make her feel equally proud of both her heritages.
She had closed her Instagram & Twitter accounts temporarily after her engagement and reopened them a month after.
She celebrated her 36th birthday in Botswana, South Africa
At age 16 she was travelling through Europe and had taken a photograph outside Buckingham palace, her future place of in-laws.
She stood up against bullying when she was in High school, she helped her juniors from bullying of seniors.
Kappa Kappa Gamma: was the sorority she was in the college.
She has appeared in commercials- Jeep, Lexus, Tostitos and others
Her workout includes Yoga & Pilates. Diet includes Fish & Vegetables
Meghan Markle: Quotes
I'm half black & half white I have embraced who I am, I have learned to voice my pride in being a strong, confident, mixed race woman.
I wasn't black enough for the black roles & white enough for the white ones, I was the ethnic chameleon who couldn't get a job.
We're two people who are really happy and in love. (About her relationship with Prince Harry)
I don't read any press. The people who are close to me anchor me in knowing who I am. The rest is noise.
Change is difficult for people. It is difficult to get out of things which we are accustomed to.
Being a feminist and being feminine are not mutually exclusive, It is great to be a feminist and as well as feminine.