Biography
Sean Gunn is an American TV & movie actor. He is known for playing Kraglin in Guardians of the Galaxy 1 & 2, Kirk Gleason in Gilmore Girls, Traction Sailor in Pearl Harbor.
Sean Gunn was born on 22nd May 1974 in Saint Louis, Missouri, United States to Leota Gunn(Mother) & James F Gunn(Father)- a corporate advocate with Thompson Coburn law firm. He has 3 brothers- James Gunn, Matt Gunn, Brian Gunn, Patrick Gunn and a sister Beth Gunn.
Sean Gunn: Facts & Trivia
Sean Gunn is the youngest of 6 siblings- James Gunn, Matt Gunn, Brian Gunn, Patrick Gunn, Beth Gunn, Sean Gunn. He is often cast in his brother James' projects.
Sean started a Theater company with his close friends after his graduation.
kgb.com- a text message service hired Sean to act in their commercial as an agent (Why agent? because KGB :) )
PG Porn: a spoof porn series by Sean and his brother James & Brian
All the 5 Gunn brothers are in the entertainment industry, their sister is a lawyer like the father Gunn.
He has posed for Nick Holmes's photography portraits
Sean has appeared on TV shows of:
He has appeared in commercials for- Illinois lottery, KGB.com, Read California(charity foundation) among others
The Judge: Matt accused Sean of being judgmental and the name stuck among siblings.
Saint Louis University High: Sean and his siblings Matt, Brian, James all studied form the same high school
He worked as a busboy at the Art Institute of Chicago for a while among other supporting jobs, but he had a smoother acting career in L.A
He loves playing sports in free time, he loves basketball.
He is of Irish descent, the family surname comes from Mkgilgon, which in turn became MacGilGunn & later just Gunn. MacGilGunn means- sons to the servants of the god of the dead.
Sean plays fantasy baseball with singer Geddy Lee
Tenth Life cat rescue: He is associated with the organization in fundraising for their rescue operations
Caturday Night Fever: A fundraising party which helps fund raise for cat rescue
Sean Gunn: Quotes
Take the job of acting very seriously. Don't take it for granted. Don't get caught up in chasing fame
I think I could've had a little more gratitude for the job I did have.
o matter where you go, commit to it, and work and meet people, Stay busy.
Duck you, autocorrect.
Man, I come across as pretty shifty in real life
Turns out that as a celebrity, there's a LOT I'm entitled to that I haven't been exploiting
Any time you need me, and you're somehow able to reach me, I'll be there.
He often attends comic cons, especially related to his movies of Guardians of Galaxy series.
Sometimes it's fun to think about how much our children's generation is likely to f**k everything up for our grandchildren's generation.
Life is like an a**hole: you only have one that you can cram stuff into
Had a dream I went back in time with a quantum computer and gouged out Joseph Stalin's eye with a cocktail fork. VERY gratifying.
Just saw a homeless man wearing a shirt that read 'Believe in God'. Not exactly a ringing endorsement.
He loves animals, especially cats and raccoons.
It's still weird to have people come up to you and ask for autograph
Sean Gunn: Career
Movies
Avengers: Infinity War(2018): Sean vocied Rocket Raccoon in this Fantasy directed by Anthony Russo, Joe Russo created by Christopher Markus, Stephen McFeely, cast included Pom Klementieff, Tessa Thompson, Karen Gillan
Different Flowers(2017): He acted as Ken in this movie directed by Morgan Dameron , it stars Emma Bell, Shelley Long, Hope Lauren in the cast.
Guardians of the Galaxy Vol. 2(2017): He played the character- Kraglin in this Adventure movie , it was directed by James Gunn with the cast Chris Pratt, Dave Bautista, Zoe Saldana
Ordinary World(2016): He acted in the role of Ted in the Musical Comedy Drama movie by Lee Kirk , cast included Billie Joe Armstrong, Fred Armisen, Judy Greer
A Boy Called Po(2016): He played the role- Ben in this Fantasy movie directed by John Asher starring Christopher Gorham, Kaitlin Doubleday, Julian Feder in the lead.
The Belko Experiment(2016): Sean Gunn portrayed the character of Marty Espenscheid in this Horror Thriller movie directed by Greg McLean with stars- Tony Goldwyn, Adria Arjona, John Gallagher Jr. playing important roles.
The Hive(2015): Sean Gunn was Dr. Baker in the Thriller movie directed by David Yarovesky , it has Kathryn Prescott, Sean Gunn, Gabriel Basso playing in the lead.
Guardians of the Galaxy(2014): He played the character of Kraglin in the Adventure movie directed by James Gunn , it has Bradley Cooper, Chris Pratt, Vin Diesel in the lead cast.
Who the F Is Buddy Applebaum(2013): Sean Gunn was Pinto in the Comedy movie directed by Colin Campbell with the cast John Asher, Rachel Boston, Nino Aldi
The Education of Eddie and Mortimer(2013): He portrayed the character of Creepy Carl in the Comedy by Rocky Powell , it features Chad Cox, Lynette Elliott, Luke Coffee in the cast.
The Giant Mechanical Man(2012): He portrayed the role of George in the Romantic Comedy Drama movie by Lee Kirk , cast included Topher Grace, Jenna Fischer, Chris Messina
Super(2010): He acted as Toby in the Comedy Drama by James Gunn with Ellen Page, Rainn Wilson, Liv Tyler in the lead.
Pants on Fire(2008): He played the role of PK in the Comedy movie by Colin Campbell created by Red Deer Pictures, Lee Kirk with Lee Kirk, Joseph Sikora, Sean Gunn in the lead cast.
Jesus, Mary and Joey(2005): He acted as Stevie in the Romantic Comedy movie directed by James Quattrochi , it stars Vincent Pagano, Jennifer Esposito, Marley Shelton in the cast.
Pearl Harbor(2001): He played a Traction Sailor in the Historical Drama movie directed by Michael Bay starring Ben Affleck, Josh Hartnett, Kate Beckinsale in the lead.
The Specials(2000): He portrayed the character of an Alien Orphan in the Fantasy Comedy directed by Craig Mazin featuring Thomas Haden Church, Paget Brewster, Rob Lowe in the cast. He was also the producer of the movie
The Auteur Theory(1999): Sean Gunn portrayed the character of Tori York in the Mystery Comedy Thriller directed by Evan Oppenheimer , cast includes Sean Gunn, Daniel Cantor, Alan Cox
Stricken(1997): He acted as Guffy in the Thriller Drama movie directed by Paul Chilsen with Kevin Patrick Walls, Jamie Kennedy, Sean Gunn in the lead cast.
Tromeo and Juliet(1996): Sean played Sammy Capulet in the Comedy Drama directed by Lloyd Kaufman created by Lloyd Kaufman, James Gunn , it stars Valentine Miele, Will Keenan, Jane Jensen in the cast. Sean also performed in the song 'Hanson Place'
TV Series
Superstore(2016): Sean played Card Shopper in this TV Series produced by Justin Spitzer with actors- Lauren Ash, Ben Feldman, America Ferrera playing main roles.
Gilmore Girls: A Year in the Life(2016): Sean appeared as Kirk Gleason in the Drama created by my Sherman-Palladino with Scott Patterson, Alexis Bledel, Lauren Graham in the lead cast. He also was a performer on the show.
Bones(2014): He portrayed the role of Dr. Howard Fitch in the Crime Comedy Drama TV Series starring Michaela Conlin, Emily Deschanel, David Boreanaz in the lead.
Bunheads(2012): He played the role- Sebastian in this Comedy Drama Series , the series was created by Lamar Damon, Amy Sherman-Palladino, cast includes Kaitlyn Jenkins, Julia Goldani Telles, Sutton Foster
H+(2012): He played the role of Jason O'Brien in this Series with stars- Francesca Fanti, David Clayton Rogers, Hannah Herzsprung playing important roles.
Glee(2012): He played the role of Phineas Hayes in the Musical Drama Series starring Matthew Morrison, Lea Michele, Jane Lynch in the lead.
For a Green Card(2011): He played Andrew in the Family Comedy Series featuring Clark Harding, Stefanie Black, Jerrod Littlejohn in the cast.
The Homes(2011): Sean was Paul in the Drama TV Series created by Unboiled starring Justin Jesso, Minni Jo Mazzola, Chelsea Kane in the lead.
True Jackson, VP(2009): He acted in the Comedy Drama TV Series
Humanzee!(2008): He portrayed Humanzee in this Comedy Series produced by James Gunn, starring Sean Gunn, Valentine Miele, James Gunn in the lead.
PG Porn(2008): He played Peppermint Patty in this Comedy with Sean Gunn, Belladonna, James Gunn in the lead cast.
October Road(2007): Sean Gunn was Rooster in the Romantic Comedy TV Series , it has Bryan Greenberg, Laura Prepon, Brad William Henke in the lead cast.
Andy Richter Controls the Universe(2002): He played Phil in this Series starring Andy Richter, Paget Brewster, Irene Molloy in the lead.
Yes, Dear(2002): He acted as David Scott in the Comedy Series with actors- Jean Louisa Kelly, Anthony Clark, Liza Snyder playing the lead characters.
Inside Schwartz(2001): Sean appeared in the Comedy Series , cast includes Breckin Meyer, Bryan Callen, Miriam Shor
Going to California(2001): He portrayed Joey Fucetti in this Drama Series , it stars Brad William Henke, Sam Trammell, John Asher in the cast.
DAG(2001): He played the role of Ryan in the Series Jack Burditt, Andrew Gordon, Eileen Conn with Stephen Dunham, David Alan Grier, Mel Jackson in the lead cast.
3rd Rock from the Sun(2001): He played an Attendant in the Comedy TV Series with the cast Jane Curtin, Kristen Johnston, John Lithgow
The Michael Richards Show(2000): He played Dennis in the Comedy Series featuring Bill Cobbs, Michael Richards, William Devane in the cast.
Brutally Normal(2000): He played the role of Lenny in this Comedy TV Series featuring Tangie Ambrose, Lea Moreno, Eddie Kaye Thomas in the cast.
Angel(1999): He portrayed the role of Lucas in the Drama Series created by David Greenwalt, Joss Whedon with stars- Charisma Carpenter, Alexis Denisof, David Boreanaz in the main roles.
Any Day Now(1999): He played the character of Clerk in the Drama Series , cast includes Lorraine Toussaint, Annie Potts, Chris Mulkey
Voice over for Video games
Lollipop Chainsaw(2012): He voiced the Swan character in this Horror Japanese video game.
Sean Gunn: Photos, Pictures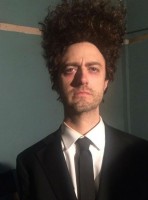 Sean Gunn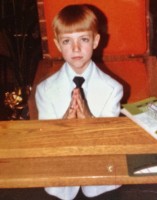 Sean Gunn childhood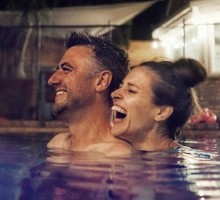 Sean Gunn with his girlfriend