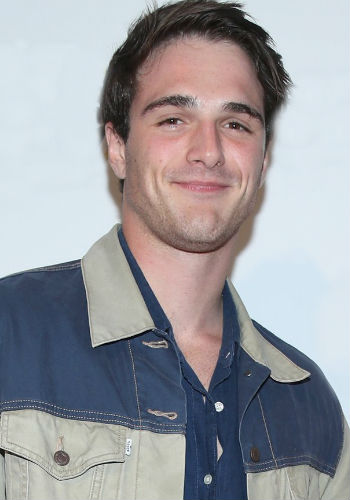 Jacob Elordi
| | |
| --- | --- |
| Date Of Birth | June 26, 1997 |
| Age | 26 years 5 months 5 days |
| Day of Birth | Thursday |
| Place Of Birth | Brisbane, Queensland, Australia |
| Zodiac Sign | Cancer |
| Professions | Actor , Model |
Personal Information
Residence

Los Angeles, California, United States

Religion
Christianity
Nationality

Australian

Ethnicity
Caucasian

Body Features & Measurements
Height

193 CM


6 Feet 4 Inches
Eye color
Hazel
Hair color
Brown
Weight

86 KG


190 lbs

Shoe Size
12 (UK)
Body Type
Athletic
Chest size
44
Waist Size
32
Biceps Size
16
Family Information
Father

John Elordi

Mother

Melissa Elordi

Sisters

Jalynn Elordi




Isabelle Elordi




Isabella Elordi

Uncle
George Elordi
Grandfather
Colin Elordi
Grandmother
Elaine Elordi
Aunt
Tracey Elordi
Relatives
Shane Elordi
Sam Elordi

Education Qualifications
Education(College)
St. Joseph Nudgee College (Brisbane)
Love, Romance, Marriage
Girlfriend
Joey King (2017-)
Career Information
Debut (Movie)
Pirates of the Caribbean: Dead Men Tell No Tales(2017)
Years Active
2015-
Debut(Short movie)
Carpe Liam(2015)
Favorites, Hobbies, Likes/ Dislikes
Hobbies
Singing
Bike Riding
photography
Favorite Actors
James Dean
Marlon Brando
Heath Ledger
Jack Nicholson
Favorite Food
Italian
Favorite Movies
The nightmare before Christmas (Holiday film)
10 things I hate about you (In Romantic Comedy)
Favorite Sport
Rugby
Favorite Country
Australia
Likes
Beaches
Music
Maniac (Netflix Show)
Travelling
movies
Favorite Sports Team
Boston Red Sox
Favorite Beverage
Coffee
Favorite TV Series
Supernatural
Social Networks, Web links
Facebook Profile
Jacob Elordi Facebook Profile
Twitter Profile
Jacob Elordi Twitter Profile
Instagram Profile
Jacob Elordi Instagram Profile
More Information
Friends
Hugh Harvey
Liam Richman
Gerick Leota
Net worth

$500,000
Biography
Jacob Elordi is an Australian actor, writer known for playing Noah Flynn in The Kissing Booth (2018), Nate Jacobs in Euphoria, Rooster in Swinging Safari (2018), Martins Marine in Pirates of the Caribbean: Dead Men Tell No Tales(2017), Jake in The Mortuary Collection(2018), Chris in 2 Hearts(2018)
Jacob Elordi was born in Brisbane, Queensland, Australia on 26th June 1997 to Melissa Elordi(Mother) & John Elordi(father). He has two sisters in Jalynn Elordi & Isabelle Elordi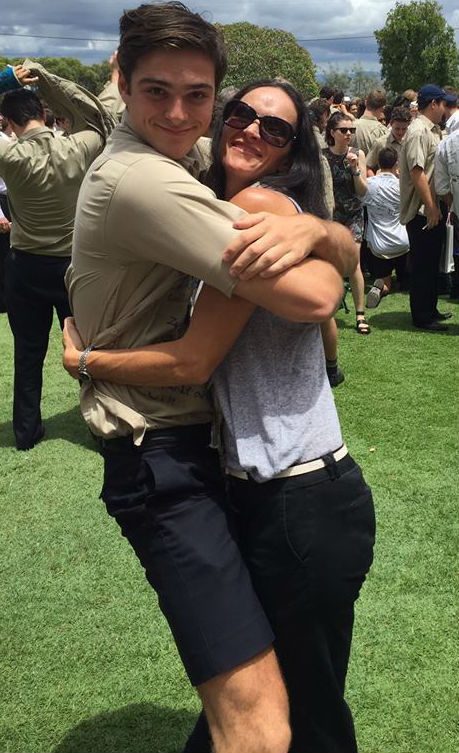 Image: Jacob Elordi with Mom Melissa Elordi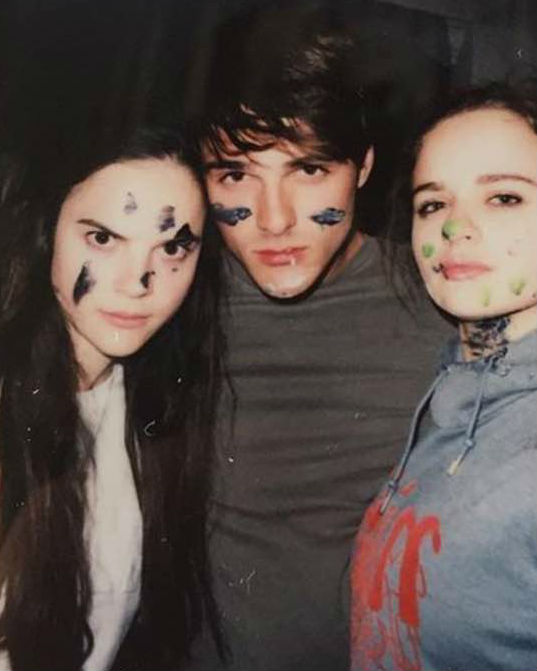 Image: Jacob Elordi with sisters
Jacob Elordi Education
Higher Secondary school education: Jacob attended Saint Kevin's College located in Toorak, Melbourne for higher secondary education
College: Jacob attended Saint Joseph's College located in Nudgee, Brisbane, Queensland.
Jacob Elordi Relationships
Relationship with Joey King:
While shooting for the movie "The Kissing Booth(2018)" actress Joey King and Jacob became romantically close, they have been together since January 2017. It wasn't love at first sight as per Joey King, she thought he was cute, but it was the time on sets that made them grow fond of each other. They will be acting together on Euphoria.
First Kiss: They shared their first kiss at the director's office on the very first day of their work, as a part of their work rehearsal. It was a bit funny, they hit heads couple of times trying to find the best position.
As of late July 2018 there were speculations about the split. In 2019 their split was confirmed. They shot the sequel movie "Kissing Booth 2" where they had a normal friendly relationship that is rare among EXs. Bustle reports that she called it "Crazy"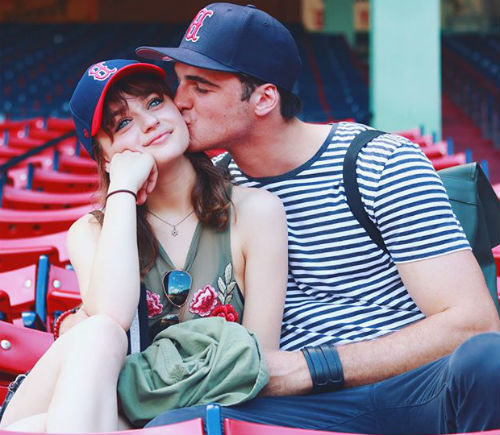 Image: Jacob Elordi with girlfriend Joey King
Zendaya and Jacob Elordi:
There are Rumors about Jacob dating actress Zendaya, they have been seen partying together, vacationing together in his home country Australia. When Zendaya was asked about it she said "No", she explained "he is a great dude, he is literally one of my best friends". Jacob talking about Zendaya said "She is like sister to me"
Jacob Elordi Facts & Trivia
The beginning: Jacob's interest in acting started in his childhood, he first got involved with acting through school drama
Theaters: Jacob grew up acting in theaters
Jacob's debut: Jacob had a very small role as an extra in Pirates of the Caribbean: Dead Men Tell No Tales(2017), in fact it is uncredited, however it served as his debut.
The Kissing Booth(2018): The biggest earliest breakthrough in Jacob's early career is The Kissing Booth, he played Noah Flynn in the movie, he played a main role in the movie. He was a football player in the film, being an athlete comes naturally to him.
Hobbies: Jacob is an amateur photographer & loves riding motorcycle riding. Taking selfies in front of the mirrror is an extra. He doesn't like someone else taking his photos though
Motorbike riding: Jacob learned to ride the bike as a preparation for the film- The Kissing Booth (2018)
Rugby sport: Jacob played (Australian) Rugby at college, he was the top player for 2 years consecutively.
Professional career debut: His professional career began with him playing 'Cat in the Hat' in 'Seussical: The Musical'
March for Our Lives: Jacob along with girlfriend Joey marched in the movement in support of gun control
Heath Ledger Fan: He can be seen doing Heath ledger poses on social network, one can assume he liked the late actor. He takes poster of Heath Ledger wherever he goes. Heath ledger frequently appears on his Instagram posts.
He dislikes cooked vegetables
Avid movie watcher: He loves movies, goes to movies at least twice a week
Funny Nightmares: He has recurring dreams about a rabbit appearing in a dinner suit.
Billy from "Stranger Things" is one of Jacob's favorite characters among the contemporaries. KJ Apa is another
In 2014, he was Master Emirates Stakes fashion icon
He loves pets
He is very close to his family, and often teased Momma's boy on social network
Writer: Jacob co-wrote the story for the short film "Max & Iosefa" with director Liam Riordan.
Dream co-star: Heath Ledger
Supernatural fan: Jacob started watching the Supernatural series when he was in grade 6, he has watched about 12 seasons, he has a collection of supernatural toys, cars, box sets.
Coffee Addict: He used to have about 5-6 coffee cups a day, now has reduced to 3-4
Greatest Gift he ever received: One time his sister gifted him a box, it had a box inside, and another inside, finally there was a character Monkey in it, Jacob feels it was the greatest gift he had ever received.
Jacob Elordi Filmography
2 Hearts(2019)- Chris
Deep Water(2020)-
The Kissing Booth 2(2020)- Noah Flynn
The Very Excellent Mr. Dundee(2020)- Chase
Euphoria(2019-) (TV series)-Nate Jacobs
The Bend(2019-)- Lucas Jackson
Bad Dream(2019) (short)
The Kissing Booth(2018)- Noah Flynn
Swinging Safari(2018)- Rooster
Pirates of the Caribbean: Dead Men Tell No Tales(2017) (uncredited)- St. Martins Marine
Max & Iosefa(2016)(short)-Max
Carpe Liam(2015)(short)- Liam
Jacob Elordi News & Updates
GQ Australia: He was featured on the cover page of GQ in December 2019
British Vogue: He posed for British Vogue in December 2019
Wonderland cover feature: He appeared on the cover page in May 2019
Jacob Elordi Awards
TV Actor Of The Year Award(2019): GQ Australia awarded him the TV actor of the year
2018 IMDB style meter award recipient: He was awarded the style meter award by IMDB in 2018
Jacob Elordi Quotes
Be kind to one another, love, smile a little and be true. Always be true
I have a recurring nightmare that features a slim rabbit in a dinner suit. Not Donnie Darko-esque
I love my mama.
[About his idol Heath Ledger] There's been a lot of times in Hollywood where I kind of wanted to throw in the towel and then I've sort of watched something that Heath said or sort of watched his journey and it's made me feel pretty good
You can't live and not work, you can't live and not love
[About his early experience in Hollywood] It was my first year in Hollywood, it was rotten, I was lucky to have a place to go & Joey had been there
I love when it's raining & brisk and cold
[About his goal] I'd like to go home and make a dinner for my family in Australia
Sources