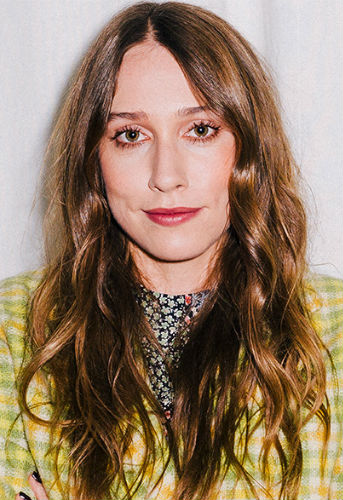 Sarah Sutherland
| | |
| --- | --- |
| Date Of Birth | February 18, 1988 |
| Age | 35 years 3 months 18 days |
| Day of Birth | Thursday |
| Place Of Birth | Los Angeles, California, United States |
| Zodiac Sign | Aquarius |
| Professions | Actress , Writer |
| Full Name | Sarah Jude Sutherland |
Personal Information
Residence

Los Angeles, California, United States

Religion
Christianity
Language
English
Star Sign
Aquarius
Nationality
American
Ethnicity
Caucasian
Complexion
White

Body Features & Measurements
Height

163 CM


5 Feet 4 Inches
Eye color
Hazel
Hair color
Blonde
Figure Type
Rectangle
Body Type
Slim
Family Information
Father
Kiefer Sutherland (Actor, Director, producer;)
Mother

Camelia Kath

Cousin
Theodore Sutherland (Son of Roeg Sutherland)
Uncles
Angus Sutherland (Father's half-brother)
Roeg Sutherland (Father's half-brother)
Rossif Sutherland (Father's half-brother)
Thomas Emil Sicks (Sarah's Father's halfbrother)
Grandfather
Donald Sutherland (Actor,)
Grandmother
Shirley Douglas (Actress)
Aunt
Rachel Sutherland (Paternal)
Relatives
Francine Racette (Wife of grandfather Donald Sutherland)
Lois Hardwick (Wife of grandfather Donald Sutherland)
Celina Sinden (Wife of uncle Roeg Sutherland)
Timothy Emil Sicks
Great Grandfather
Tommy Douglas (Paternal Maternal; Politician)
Stepmother
Elizabeth Kelly Winn (Ex)
Half Sister
Michelle Kath Sinclair (Maternal)
Stepfather
Terry Kath (Deceased; Guitarist)
Great-grandmother
Irma Dempsey (Paternal Maternal)

Education Qualifications
Education (Graduation)
Tisch School of the Arts
Education
Crossroads Drama Conservatory (Los Angeles)
Alma Mater

Tisch School of Arts

Career Information
Debut (Movie)
Beneath the Harvest Sky(2013)
Years Active
2011–
Debut (TV)
Veep
Favorites, Hobbies, Likes/ Dislikes
Hobby
Writing
Favorite Actor
Michael Shannon
Favorite Actresses
Jodie Foster
Jane Fonda
Lauren Bacall
Cate Blanchett
Gena Rowlands (Woman under the influence)
Faye Dunaway
Dianne wiest
Julianne Moore
Marion Cotillard
Rosalind russell
Favorite Movies
Mustang (2015)
Midnight Special (2016)
Magnolia (1999)
Favorite Author
Charles Bukowski
Favorite Music Band
Arcade Fire
Favorite City
New York (For public transporation)
Favorite Artist
Tame Impala
Favorite Theater production
Our town (David cromer production)
More Information
Net worth

$600,000
Biography
Sarah Sutherland is an American TV & movie actress. She is popular for playing Catherine Meyer in the political satire comedy series Veep.
Childhood- Family
She was born on 18th February 1988 in Los Angeles, California, the United States of America to Kiefer Sutherland(Father) & Camelia Kath(Mother)
Her great-grandfather Tommy Douglas was a very prominent Canadian politician.
Mother- Camelia Kath
Sarah's mother Camelia Kath is an actress. Camillia Emily Ortiz was born on December 10th, 1954 in West Hollywood, California, USA.
She has worked in movies/ series such as The Killing Time(1987), Buchanan High(1984), Fake-Out(1982), Terror on Tour(1980).
She has been previously married twice, to Terry Kath from 1974-1978 (until his death) and has a daughter named Michelle from the union. She later married actor Kiefer Sutherland and had daughter Sarah with him. She got engaged to writer/ actor Jeff Lynne in 2008.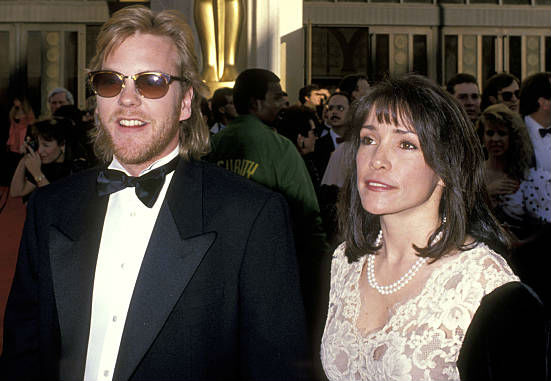 [Sarah Sutherland's parents- Kiefer Sutherland(Father) & Camelia Kath(Mother)]
Father- Kiefer Sutherland
Father Kiefer Sutherland is an actor. Kiefer was born on December 21, 1966, in Paddington, London, England.
The Golden Globe award-winning actor is known for Jack Bauer in 24 (2001-2010), Ben Carson in Mirrors (2008), Doc Scurlock in Young Guns (1988), Tom Kirkman in Designated Survivor(2016-2019), Clay Bryce in "The Fugitive"
He has been married twice. To Kelly Winn from 1996 to 2004 and Camelia Kath from 1987 to 1990. Sarah Sutherland is his only child.
Sarah is said to make fun of him for being a computer illiterate.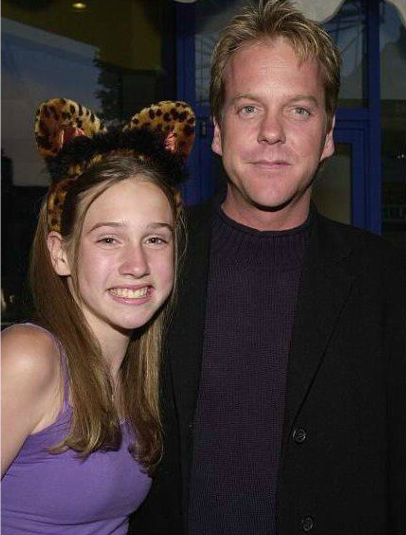 [Sarah Sutherland with her father Kiefer Sutherland]
Half-sister- Michelle Kath Sinclair
She has a maternal half-sister in Michelle Kath Sinclair. Michelle Ortiz Kath was born on 19th May 1976 in Los Angeles, California to Terry Kath and Camelia Kath.
Michelle produced and directed the documentary 'The Terry Kath Experience'
She married actor Adam Sinclair on 6th May 2004 and has two sons Hamish Sinclair (2005) and Robert Quinn Sinclair.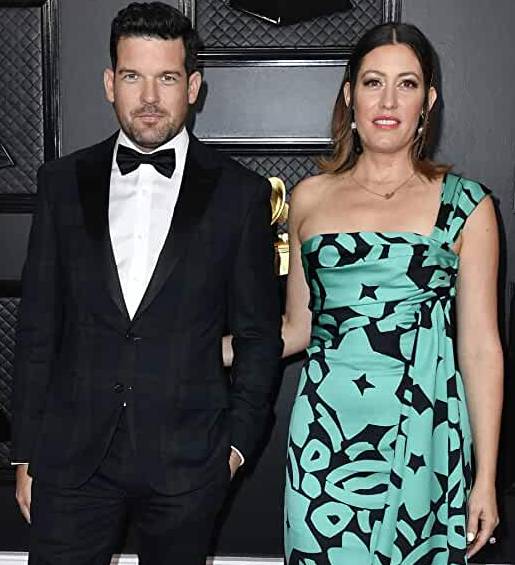 [Sarah Sutherland's half-sister Michelle Kath and husband Adam Sinclair]
Grandfather- Donald Sutherland
Actor Donald Sutherland was born on 17th July 1935 in Saint John, New Brunswick, Canada to Dorothy McNichol & Frederick Sutherland.
He is a Primetime Emmy Award-winning actor known for playing President Snow in The Hunger Games: Catching Fire (2013), Mr. Bennet in Pride & Prejudice (2005), Hawkeye Pierce in MASH (1970), Billy Whistler in The Best Offer (2013), Calvin in Ordinary People (1980)
He has been married three times - Lois Hardwick, Shirley Douglas, Francine Racette. He has six children in Kiefer Sutherland, Rachel Sutherland, Rossif Sutherland, Roeg Sutherland, and Angus Sutherland. (First two with Shirley Douglas, last three with Francine Racette)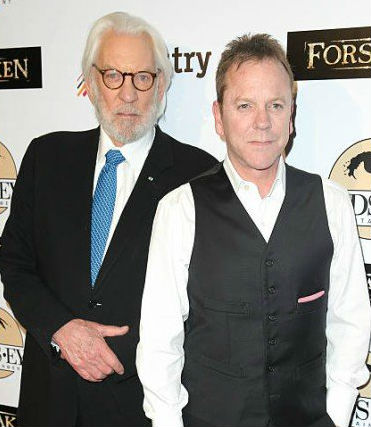 [Sarah Sutherland's father Kiefer Sutherland & grandfather Donald Sutherland]
Grandmother- Shirley Douglas
Actress Shirley Douglas is the paternal grandmother of Sarah. She was born on April 2nd, 1934 in Weyburn, Saskatchewan, Canada to Tommy Douglas and Irma Dempsey. She died on April 5, 2020, in Toronto, Canda. Just three days after completing her 86th birthday.
Shirley Douglas is a TV/ movie/ stage actress and an activist. She is known for playing Laura in Dead Ringers(1988), May Bailey in Wind at My Back (1996-2001), Mrs. Starch in Lolita (1962), Margaret Richards in Shadow Lake (1999)
She has been awarded 'Officer of the Order of Canada' for her service to the Canadian entertainment industry.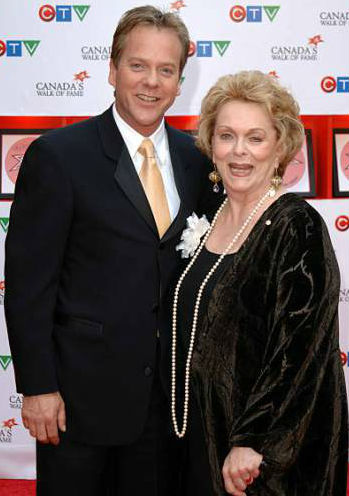 [Kiefer Sutherland with mother Shirley Douglas]
Education
Crossroads Drama Conservatory: She was trained in Acting at the Crossroads Drama Conservatory, Los Angeles (Crossroads School for Arts & Sciences in Santa Monica, California). She received an award at the institution for excellence in Drama. She graduated from the school in 2006.
Tisch School of the Arts: She got her degree in Arts from New York University's Tisch School of the Arts. She wrote and performed in the play 'The Skin of a Grape' for her degree project. She received her training at the Experimental Theatre Wing of TISCH. She studied speech, voice and movement, and multiple acting methods such as Meisner & Grotowski.
Interesting Facts & Trivia
Origin of her name: She was named after actress Sarah Jessica Parker. Her middle name 'Jude' comes from her father's friend & musician Jude Cole.
She had never visited a movie set until she started acting despite being a child from a family of great actors.
Love for acting: She got fascinated with acting when she was 9 years old and saw her father & grandmother act in a theater play.
Wants to stand on her own feet: Her father offered her roles in a couple of his projects, she declined them, she wanted to find roles by her own abilities.
Panic Attacks: She used to have panic attacks at school and outside the home, but acting on stage was always easy for her, she felt very natural standing on the stage, it eventually led her to decide on take up acting as a career.
Her ideal job: She likes to play a character different from her prior jobs, something unlikable and emotionally broken.
She has had the same car since she was 16. She wishes Los Angeles traffic wasn't terrible.
She supports the universal medicare system.
Questions and Answers
Is Sarah Sutherland Lesbian?

Sarah played the lesbian character 'Catherine Meyer' in the TV series Veep, she is believed to be straight in real life.

What is Sarah's favorite mode of communication?

She prefers face to face conversations, or through letters.
Career
"Veep"
In the HBO political satire series Veep (Based on the movie "The Thick of it")created by Armando Iannucci, Sarah plays Catherine Meyer, the daughter of the protagonist Selina Meyer (Julia Louis-Dreyfus) who goes on to become the president of the United States.
She was still in college when she met Allison Jones, the casting director of the show, she was eventually selected for the part.
Her performance as the first daughter has impressed her family, her father Kiefer said that her grandfather Donald Sutherland wept watching her play the role.
Beneath the Harvest Sky
Sarah played Emma in the teen crime drama directed by Aron Gaudet and Gita Pullapilly, Sarah was also an associate producer of the movie. The story revolves around Dominic Roy (played by Callan McAuliffe) a teen boy working on a potato farm. Emory Cohen played Dominic's best friend Casper.
Beneath the Harvest Sky was featured at the Toronto Film festival, Shut Up and Drive was premiered at Tribeca film festival.
The Kid Detective: The comedy, detective movie written and directed by Evan Morgan is about a kid detective who is now an adult but without much of a career, his career takes a turn when a naive woman approaches him to find the killer of her boyfriend. Sarah Sutherland played Lucy in the movie.
Like a House on Fire
The Canadian 2020 drama written and directed by Jesse Noah Klein is about a woman (played by Sarah Sutherland) who had estranged her daughter and husband (Jared Abrahamson) two years ago trying to return back to their lives. She is in a complicated situation, her daughter doesn't remember her, her husband now lives with another woman (Dominique Provost-Chalkley) who is pregnant.
Sarah plays the lead role in this family drama. Amanda Brugel, Ana Sani, Kayla Hutton, Erin Noble also appear in the cast.
Filmography
Movies
| Year | Movie | Character | Notes |
| --- | --- | --- | --- |
| | The Kid Detective | | |
| 2020 | Like a House on Fire | | |
| 2018 | What They Had | Mary | |
| 2015 | Chronic | Nadia Wilson | |
| 2015 | Shut Up and Drive | Jane | |
| 2014 | Pretty Perfect | Eden | |
| 2013 | Innocence | Jen Dunham | |
| 2013 | Beneath the Harvest Sky | Emma | also as associate producer |
TV series
| Year | Movie | Character | Notes |
| --- | --- | --- | --- |
| 2012-2019 | Veep | Catherine Meyer | 43 episodes |
| 2017 | Tim and Eric's Bedtime Stories | Dayna | Episode: "The Demotion" |
| 2014 | The Newsroom | Mary | Episode: "Oh Shenandoah" |
Short
| Year | Movie | Character | Notes |
| --- | --- | --- | --- |
| 2011 | Snuggle Bunny: Man's Most Lovable Predator | | |
Theatre
| Year | Play | Character | Notes |
| --- | --- | --- | --- |
| | Trojan Women | Cassandra | |
| | The Skin of a Grape | | one-woman act, written and performed by Sarah |
| | | | |
Awards
Year
Won?
Award
Project
Category
Notes
2018
Winner
Screen Actors Guild Awards
"Veep"
Outstanding Performance by an Ensemble in a Comedy Series
2017
Nomination
2016
Nomination
Quotes
As a young person, I was really sensitive to my surroundings, quiet and observant.
Everyone should do acting training, you just become a better communicator, you get the secret key to people's moods.
I want to be known as an actor who can shape and embody characters that are different from each other.
No Veep Character Is as Absurd as Donald Trump.
An acting career is not for the faint of heart, it is challenging to work in this industry, that being said it is an interesting job.
I have never been in the absence of things I needed, I have an amazing family.
Technology interconnects people all over the globe together that is a good thing, but at the same time, it makes people isolated.
News and Updates
She attended the 2017 Annual Screen Actors Guild Awards.
'The Hollywood Reporter' wrote an article on Sarah in September 2011, titled "Actress Sarah Sutherland Signs with Gers"
References