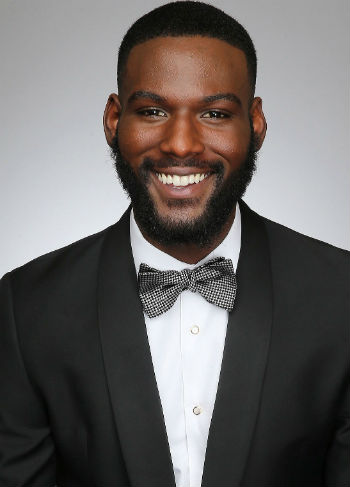 Kofi Siriboe
Date Of Birth
March 2, 1994
Age
29 years 0 months 29 days
Day of Birth
Wednesday
Place Of Birth
Los Angeles, California, United States of America
Zodiac Sign
Pisces
Professions
Model , Actor
Nicknames

King Kofi

,

Kof

Full Name

Nana-Kofi Siriboe
Personal Information
Residence

Los Angles, California

Religion
Christian
Nationality
American
Ethnicity
Ghanian-American
Complexion
Black

Body Features & Measurements
Height

188 CM


6 Feet 2 Inches
Eye color
Black
Hair color
Black
Weight

90 KG


198 lbs

Family Information
Father

Kwame Boakye

Mother

Koshie Mills

Brothers

Kwesi Boakye




Kwame Boateng

Career Information
Debut (Movie)
The Longshots(2008)
Years Active
2003-
Debut (TV)
Lincoln Heights
Favorites, Hobbies, Likes/ Dislikes
Hobbies
photography
Music
fashion
Favorite Actor
Philip Seymour Hoffman
Favorite TV show
Narcos
Social Networks, Web links
Facebook Profile
Kofi Siriboe Facebook Profile
Instagram Profile
Kofi Siriboe Instagram Profile
YouTube Channel
Kofi Siriboe YouTube Channel
Tumblr Site
Kofi Siriboe Tumblr Site
Biography
Kofi Siriboe is an American actor, director, model & actor. He is popular for his appearance in the OWN (Oprah Winfrey Network) TV series- Queen Sugar, he appears as Ralph Angel Bordelon in the series.
His other notable roles include- Malik in Girls Trip (2017), Bassist in Whiplash (2014), Tyler Miller in Awkward. (2014-15), Block Dude in Straight Outta Compton(2015) among others.
He has recently appeared in the drama movie "Really Love", the story of a black painter in the world of art, who is an impulsive romance. It is directed by Angel Kristi Williams, written by Felicia Pride.
Childhood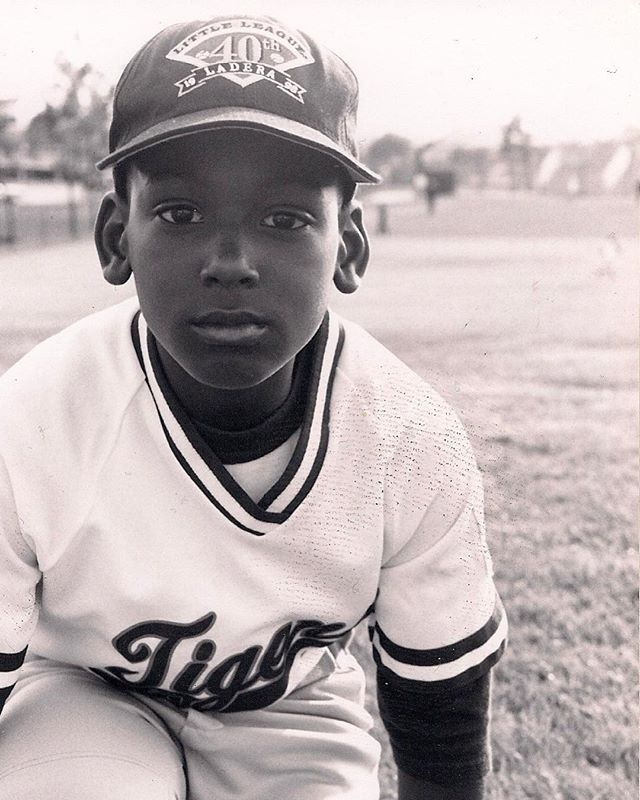 [Kofi Siriboe childhood]
Nana-Kofi Siriboe was born on 2nd March 1994 in Los Angeles, California, the United States to Koshie Mills(mother) and Kwame Boakye(father)
Mother- Koshie Mills
Kofi's mother Koshie comes from the country of Ghana in West Africa. She has worked as a nurse and now retired (ended her nursing career in 2011 after 19 years). She grew up in London, brought her children in Los Angeles.
She works as an international media strategist. She leads K3 firm, it provides branding, strategic support, talent management, and media relations platform to a lot of international clients. Her company started as a platform for her own children and now has grown into an international platform.
Kofi was an introverted shy child, so much so his mother would assume he was a passive kid. While he didn't seem to be doing much activity, his mind was very fertile with creative imagination.
Speaking of Kofi's attributes she said:
"He is more introspective and philosophical​; he's my charmer; everyone flocks to him"
Father- Kwame Boakye
Kofi's father Kwame Boakye is also an immigrant from Ghana, West Africa. Kwame is a fashion consultant.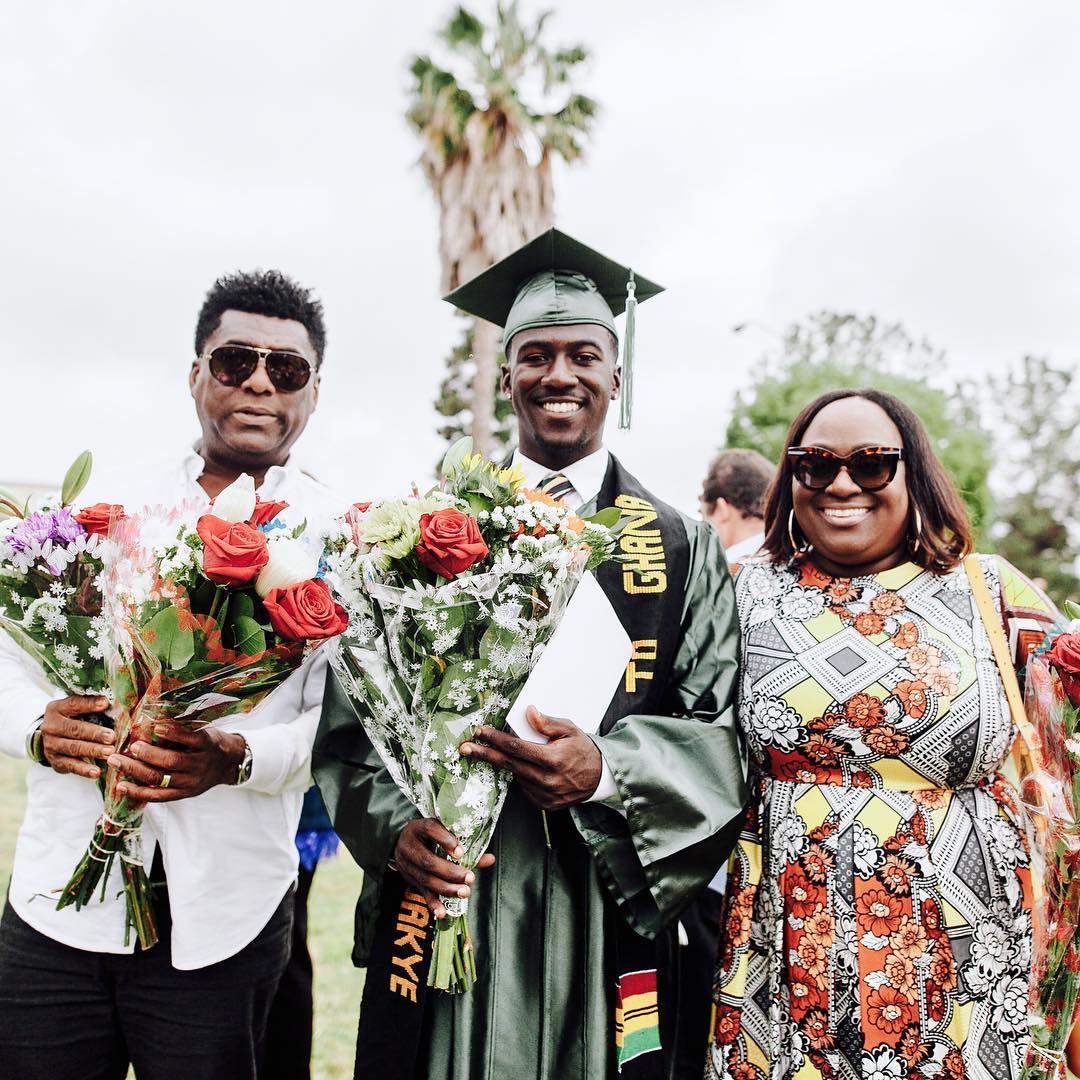 [Kofi Siriboe's younger brother & parents]
Brothers
Kofi is the second child of his parents, the three siblings are:
Kwame Boateng
Kofi Siriboe
Kwesi Boakye
Kofi & his brothers are together called K Brothers. Kofi and his brothers have appeared in "The Steve Harvey Show" together. All the "K brothers" are actors. Mother Koshie calls her three sons- "Three kings".
According to the mother Koshie, Kwame is a cross between Eddie Murphy & Jamie Foxx in personality. Kofi is more like Denzel Washington and Will Smith, "introspective, philosophical​, charmer".
[Kofi Siriboe(right) with his brothers Kwame Boateng, Kwesi Boakye]
Kwame Boateng
Kwame was born on the 5th of January in 1992. Kwame is the funniest among the brothers, 'The party starts when he arrives' according to his mother.
Kwame started acting early, he was acting and modeling at the age of 8. He has appeared in 30+ national commercials.
He has acted as Dibo in The Onion Movie(2008), Darius in Not Easily Broken(2009), Preacher in They Die by Dawn(2013).
Kwame produced his brother Kofi's short movie Jump.
P.S: There is a Ghanian footballer with the same name.
Kwesi Boakye
Kwesi Nii-Lante Boakye was born on 6th April 1999. He is an actor and voice actor. Kwesi, the youngest of the family started modeling when he was just nine months old.
Kwesi is known for his works in "I Can Do Bad All By Myself" (as Tyler Perry), He has voiced the character Gossamer in "The Looney Tunes Show", The Passenger in "Bravest Warriors", Will in Flight (2012)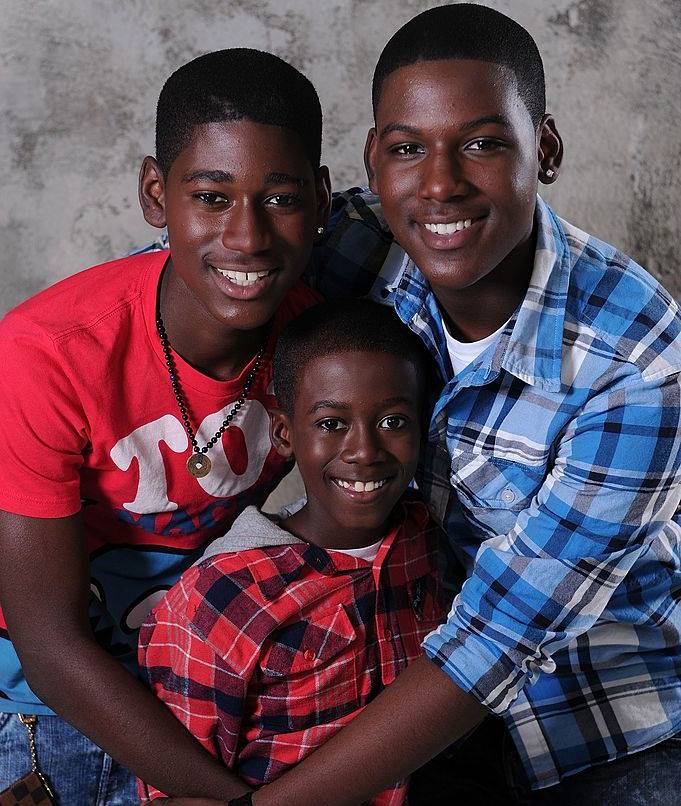 [Kofi Siriboe and brothers- Kwame Boateng & Kwesi Boakye]
Facts & Trivia
Modeling: Kofi has been modeling for Wilhelmina Models, Vision Los Angeles.
30 under 30: Kofi appeared in the Forbes 30 under 30- Hollywood & Entertainment list in the year 2018. Yara Shahidi, Alia Shawkat, Amandla Stenberg, Zoe Kravitz were among the other 29.
Commercials:

Kofi has appeared in the Kumon commercial.
Gatorade "Big Heads": He has appeared in the TV commercial as the voice of Kevin Garnett.
Got Milk: Kofi appears on the TV campaign with his older brother Kwame Boateng.

After 6/7 episodes of Queen Sugar, Oprah called him and praised him for his performance, which Kofi remembers as one of the joyous moments in his career.
His trademark feature: Smile
Residence: He lives in Los Angles, California
Kofi did his own stunts in the movie- The Longshots(2008), director Fred Durst is said to have decided that he had found his guy as soon as he saw Kofi's audition.
Sports: Kofi was an AAU basketball player, he gave up his career in sports to become an actor. He has also played baseball as a child. His mother has taken him to soccer, tennis as well as golf classes too. [2]
Instruments: Kofi plays Trumpet and Violin. [2]
His mother Koshie thinks of Kofi as the spiritual conscience, the diplomat.
Multicultural upbringing: Kofi's parents brought the children with both Ghanian and American foods.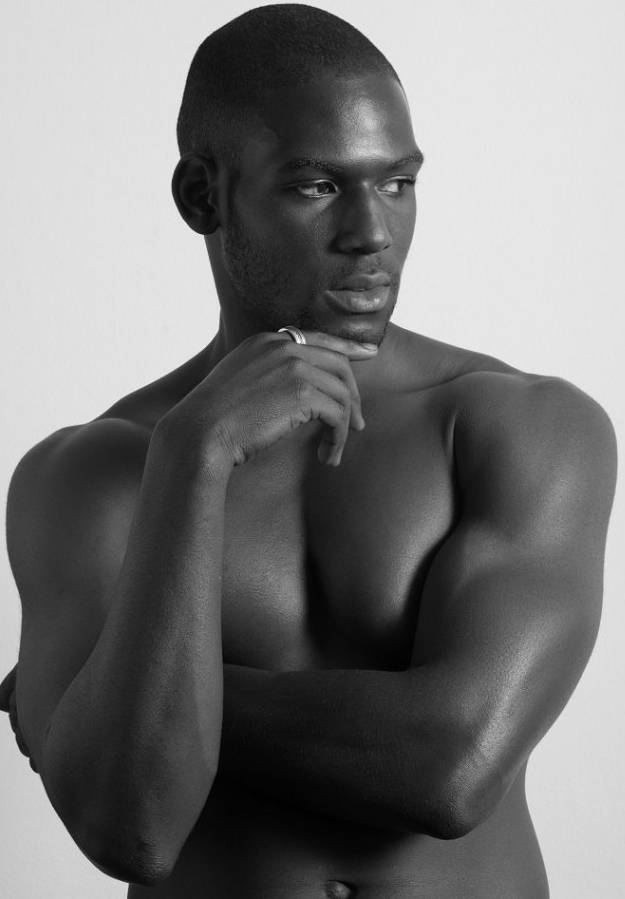 [Kofi Siriboe posing in a photoshoot]
Weight Loss
Once Kofi lost about 50 pounds for his role in 'Queen Sugar'. Speaking of his weight-loss, Kofi said:
"I was oblivious to the weight that I was carrying which kind of made me crash. Once I realized how much was being channeled through me, even just as the vessel, I realized you have to take care of the vessel. What's a Ferrari with no gas? It's just going to sit there. It can't go anywhere."
Activism
George Floyd protests: Kofi has been actively involved with the protests that followed the murder of George Floyd by the police officers.
World Mental Health Day: Kofi lost a big-brother figure to mental health issues. He created the short movie JUMP to help those suffering from health issues relate to and find space for healing, dialogue, and self-discovery.
#KaliefBrowder: Kalief Browder was imprisoned without a trial in 2010, he had attempted suicide in 2010 and 2012, he had spent three years in prison, two of which were in solitary confinement. He died in a suicide in 2015. Kofi tweeted in his memory reminding people of the importance of mental health issues.
#BirthdayForBreonna: As an attempt to bring the death of an African-American medical technician Breonna Taylor to the attention, Kofi participated in a campaign to celebrate her birthday as a reminder. The campaign involved signing the petition on Change.org, donating to her family, keeping her memory alive. As a result of the public pressure, FBI Louisville reopened the investigation into Breonna's death.
#AhmaudArbery: Ahmaud Arbery was murdered by a father and a son by shooting when he was jogging in Georgia. His murderers weren't arrested, Kofi brought this into attention.
Career
Debut Movie: The Longshots(2008), a comedy-drama starring Ice Cube, Keke Palmer marks the debut of Kofi in films, he acts in a supporting role in the movie.
Debut TV: Lincoln Heights(2009), An American family drama starring Russell Hornsby, Erica Hubbard, and others.
Queen Sugar
Queen Sugar is a drama series created and produced by Ava DuVernay for Oprah Winfrey Network. The series is based on the novel "Queen Sugar" by Natalie Baszile. An interesting aspect of the series is that it is directed only by women.
Rutina Wesley (as Nova Bordelon), Dawn-Lyen Gardner (Charlotte Bordelon West), and Kofi Siriboe appear in the main roles. Kofi acts in the role of Ralph Angel Bordelon, the youngest of Bordelon siblings. Ralph was recently released from prison, he has strong bonds with the family.
Kofi won multiple award nominations for his role as Ralph, he received three consecutive 'Image Award' nominations.
Jump(2018)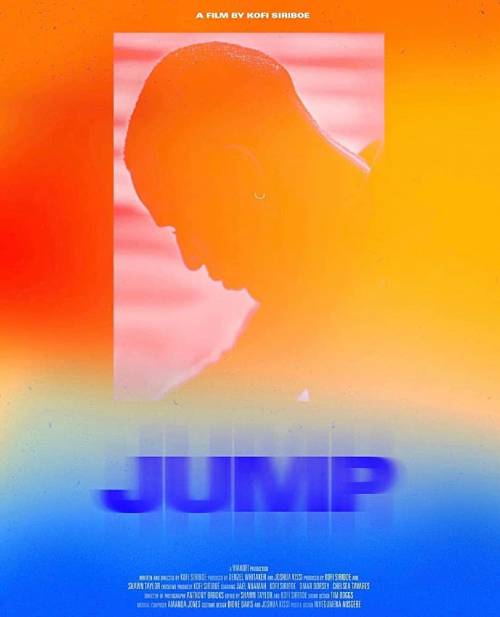 [Jump (2018) poster]
Kofi wrote, directed and acted in the short drama "Jump", it is about the character Ziggy's introspection of grief, his detachment from reality and the mental issues the character goes through.
Kofi created the movie after he was personally affected by the death of a friend suffering from mental health issues.
Omar J. Dorsey appears as Uncle Charlie, Jael Nuamah as Nala, Chelsea Tavares as Kree. It was produced by the ViaKofi productions. Kofi's older brother Kwame was part of the
Music Video
"Someone To Call My Lover": Kofi appears in singer/ songwriter Janet Jackson's 2001 music video "Someone to Call My Lover" from her album All for You (2001).
The album was written and produced by Janet Jackson, Jimmy Jam & Terry Lewis. "Someone to Call My Lover" was the second song of the album. It was released on 26th June in 2001 by Virgin Records
Filmography
Movies
| Year | Movie | Character | Notes |
| --- | --- | --- | --- |
| 2020 | Really Love | | |
| 2017 | Girls Trip | Malik | |
| 2016 | Kicks | Flaco | |
| 2015 | Straight Outta Compton | Block Dude | |
| 2014 | Whiplash | Bassist | |
| 2011 | Prom | Max | |
| 2009 | 40 | Teenage Godwill | |
| 2008 | The Longshots | Javy Hall | |
TV series
| Year | TV series | Character | Notes |
| --- | --- | --- | --- |
| 2016-2019 | Queen Sugar | Ralph Angel Bordelon | 55 episodes |
| 2017 | Snowfall | Kevin Hamilton | Episode: "2016 Original Pilot" |
| 2014-2015 | Awkward. | Tyler Miller | 11 episodes |
| 2012 | CSI: Crime Scene Investigation | James Newman | Episode: Fallen Angels |
| 2009 | Lincoln Heights | JJ | Episode: Bully for You |
| 2007 | Entourage | Teenager | Episode: Dog Day Afternoon |
| | | | |
Short movies
| Year | Short movie | Character | Notes |
| --- | --- | --- | --- |
| 2018 | Jump | Ziggy | also as a writer, producer and director |
| 2018 | WTFIMH: What the Fuck Is Mental Health? | | as director |
| 2016 | Keke Palmer & Jeremih: Enemiez | Daemon | |
| 2015 | Knotts | Michael | |
| 2003 | Strange & Charmed | Benjamin | |
Awards
Year
Won?
Award
Project
Category
Notes
2020
WON
SXSW Film Festival Award
Really Love
Special Jury Award (Narrative Feature Film)
shared with Yootha Wong-Loi-Sing
2020
Nomination
Image Awards
Queen Sugar
Outstanding Actor in a Drama Series
2019
2019
Black Reel Awards
Jump
Outstanding Short movie
2019
WTFIMH: What the Fuck Is Mental Health?
2019
Black Reel Awards for TV
Queen Sugar
Outstanding Actor in a Drama Series
2018
2018
Image Awards
2017
2017
Black Reel Awards for TV
Quotes
God knows I can't wait to be a father and actually have children one day
I tell my friends to call me Uncle Kofi.
About mother "Our relationship is very special. I'm a mama's boy. My mom is one of those people with a big, nurturing spirit." [2]

Fear the right things [

i

]

Growing up Black in America, I've always secretly despised politics. Subconsciously, I developed somewhat intentional oblivion that I now know was only a defense mechanism [i]
I dream of alternate universes where people actually love each other; universes where we love ourselves. [i]
I didn't get here by being smart or being intellectual. I was fully on a spiritual journey. I was brought here. [3]
News and Updates
2019: Vogue magazine covered him in an article, in their August 2019 issue.
2007: He attended the 'High School Musical 2' DVD Release Party.
References