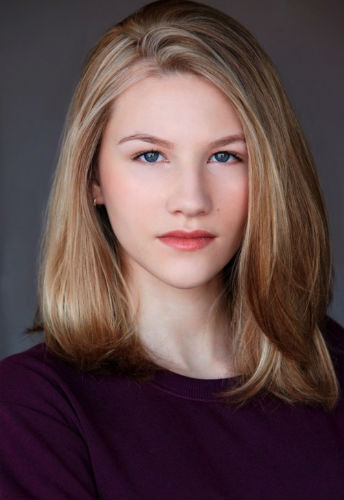 Sofia Hublitz
| | |
| --- | --- |
| Date Of Birth | June 1, 2000 |
| Age | 22 years 9 months 30 days |
| Day of Birth | Thursday |
| Place Of Birth | Richmond, Virginia, United States of America |
| Zodiac Sign | Gemini |
| Profession | Actress |
Personal Information
Residence

Los Angeles, California, United States

Star Sign
Gemini
Nationality
American
Ethnicity
Caucasian
Complexion
White

Body Features & Measurements
Height

163 CM


5 Feet 4 Inches
Eye color
Blue Green
Hair color
Blonde
Weight

49 KG


108 lbs

Shoe Size
8
Figure Type
Rectangle
Family Information
Father

Keiran Lawrence Gaughan

Mother

Sosie Hublitz

Career Information
Years Active
2013-
Debut (TV)
MasterChef Junior (U.S. season 1) (2013)
Favorites, Hobbies, Likes/ Dislikes
Hobbies
Reading ([3])
Playing with her Dog ([3])
video games ([3])
Writing ([3])
Favorite Movies
Mystery Train (Japanese [10])
I Married a Witch ([3])
Bottle Rocket ([3])
Favorite Cuisine
Indian ([3])
Likes
The Jesus and Mary Chain ([3]; Musical band)
Favorite Brand
Remember Brand ([3])
Turn-Off
Vanity ([3])
Turn-On
Not Caring ([3])
Social Networks, Web links
Facebook Profile
Sofia Hublitz Facebook Profile
Instagram Profile
Sofia Hublitz Instagram Profile
More Information
Friends
Danielle Sims ([9])
David Gagliardi ([6])
Passions
Music ([3])
Writing ([3])
Biography
Sofia Hublitz is an American TV actress, she is popular for her role of Charlotte Byrde in the TV serial Ozark, where she plays the daughter of Jason Bateman (Martin Byrde) & Laura Linney (Wendy Byrde).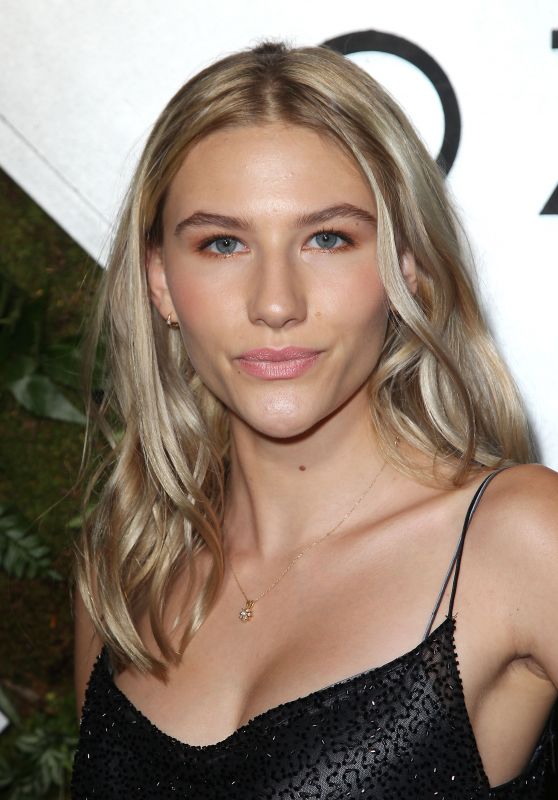 [Sofia Hublitz at the New York premiere of Ozark in July 2017]
Family- Childhood
Sofia was born on 1st June 2000, in Richmond, Virginia, United States [3] [4] to Keiran Lawrence Gaughan (father) & Sosie Hublitz (mother) . Her family moved to New York when she was 7 years old. She was born to
Father
Her father Keiran Lawrence Faughan passed away in May 2018. On his passing she posted this heartful message on Instagram "My Dad was one of a kind and he loved his two daughters and the ocean and stand-up comedy and food and fish and Camel Turkish Gold cigarettes. I will miss him dearly. He was my very best friend" [11]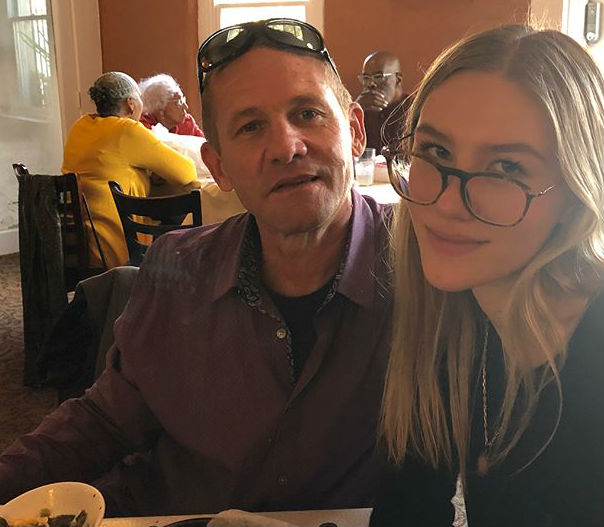 Image: Sofia Hublitz with her father Keiran Lawrence Gaughan
Mother
Sofia's mother Sosie Hublitz is an artist, she has previously worked as a set dresser in the projects- Miss Rose White(1992), My Name Is Bill W.(1989), Barfly(1987), The Whales of August(1987), The Boss' Wife(1986), As Summers Die(1986) [14]. She eventually gave up film industry and got into food industry, seeing her cook in the restaurants kindled interest in Sofia, Sofia eventually participated in the cooking show. [15]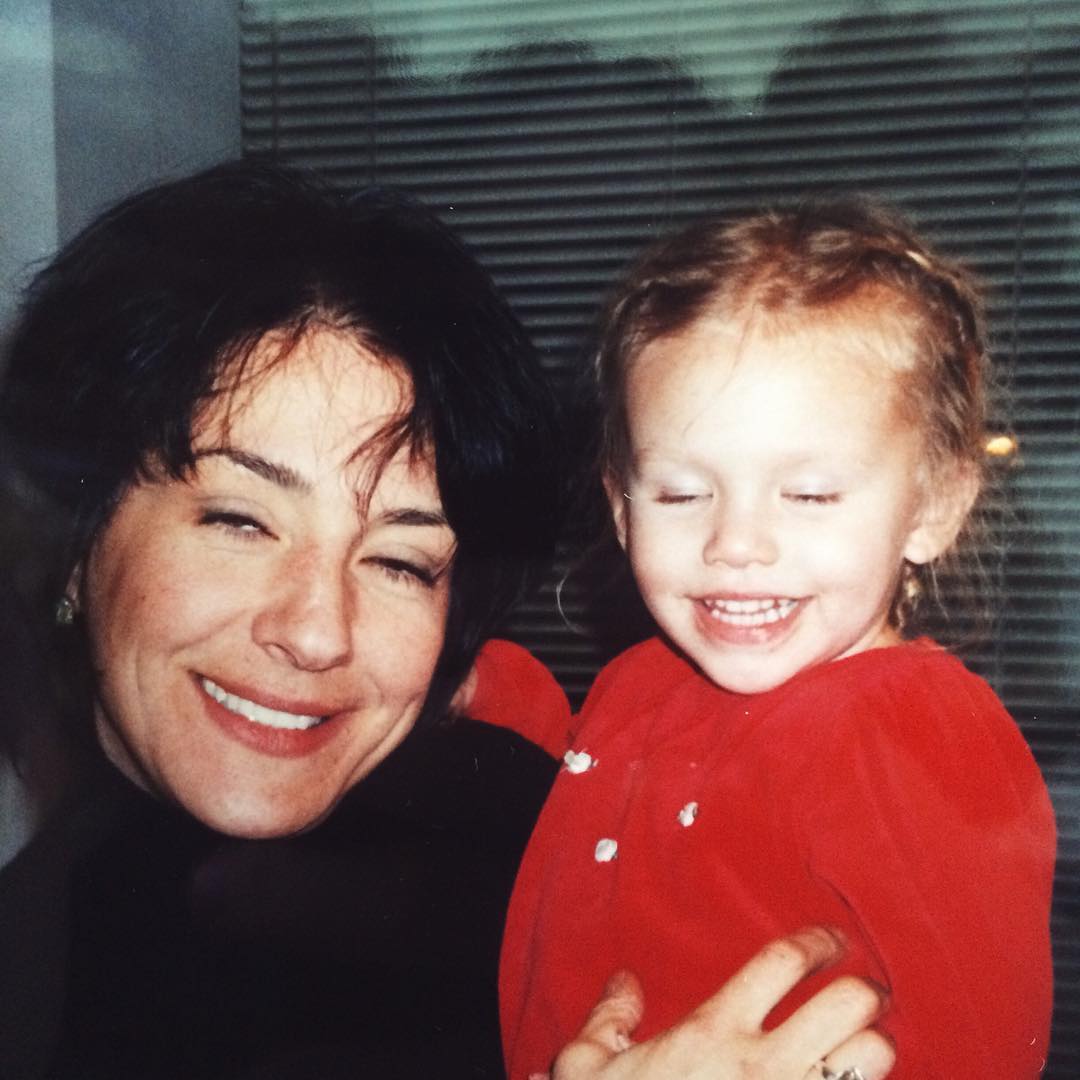 [Sofia Hublitz Childhood photo with Mom]
Sister
She has a younger sister (7/8 years younger to her) born on September 3rd 2007 [13]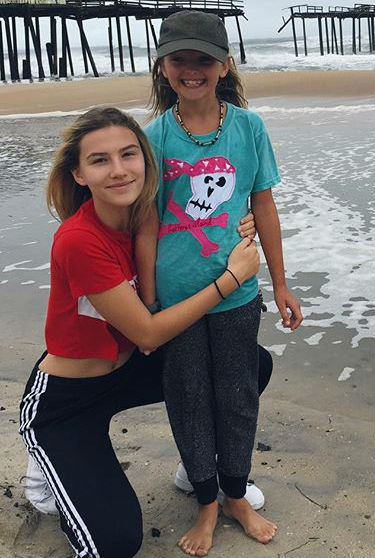 Image: Sofia Hublitz sister
Pets
She has had a pet dog named Spock [7]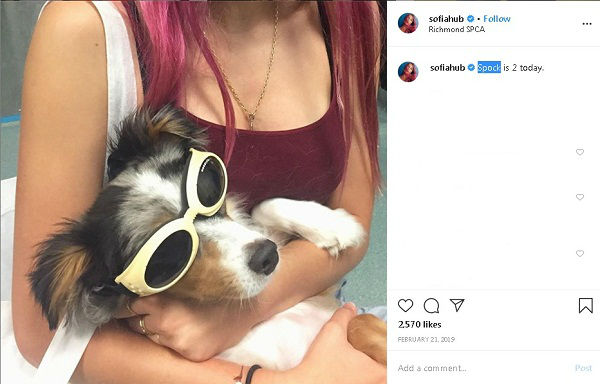 Image: Sofia Hublitz pet- Spock
Education
She has graduated from High School. She has a diploma, but not a college diploma. [3]
Boyfriend & Dating
It is believed that Sofia has been dating David Gagliardi (musician) since 2017 [12]. Nothing is confirmed though. She has been posting pics of them both together on Instagram with compulsory "I Love you" [7] in the end. We believe they are a couple.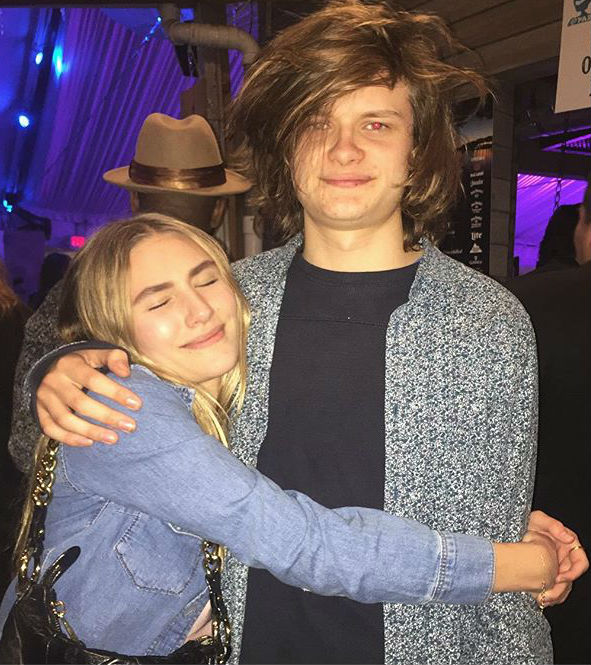 Image: Sofia Hublitz & David Gagliardi
Interesting Facts & Trivia
Ethnicity: Her father's surname "Gaughan" suggests he is of Irish descent, while her mother's ancestors were probably German people
Sofia is associated with talent agencies and representatives like- United Talent Agency (signed in 2016) [2], 3 Arts and Jordan, Gill & Dornbaum.
Backlash, a musical group released audio of Sofia from the show Masterchef Junior named 'Where Are Pomegranates' (feat. Sofia Hublitz), it became a hit on the internet.
Her Instagram bio reads: "Delightfully tacky, yet refined."
Politics: Sofia was against Donald Trump's presidential candidacy for 2016.
Some of her fans on Reddit were surprised that she was only 18 and that she looked mature for her age.
Ozark: She had a scene of sexual nature in the TV series Ozark. Sofia plays a moody teenager in the show Ozark.
Lookalike Family: Fans of the TV series Ozark have been all praises towards the casting director for casting look likes into a family, which makes it totally believable.
Books: She likes reading books, wants to read lots of them, she has read the book "Siddhartha" by Hermann Hesse. [3]
She likes to speak to people in person, write snail mail, "I love sending letters." she said during her interview with the issue magazine. [3]
Wild Strawberries: She fell asleep thrice watching the classic "Wild Strawberries" by the Swedish director Ingmar Bergman. "Not because of the film but because of my own personal sleep schedule," she said. [3]
Pink shorts: Her pink gym shorts scene from "Ozarks" has a separate fan base (pics down below)
Sofia Hublitz Lookalike
Mykenna Dorn, "The Bachelor" contestant, looks pretty much like Sofia Hublitz. Social media has been abuzz with comparisons. We present you a picture of Mykenna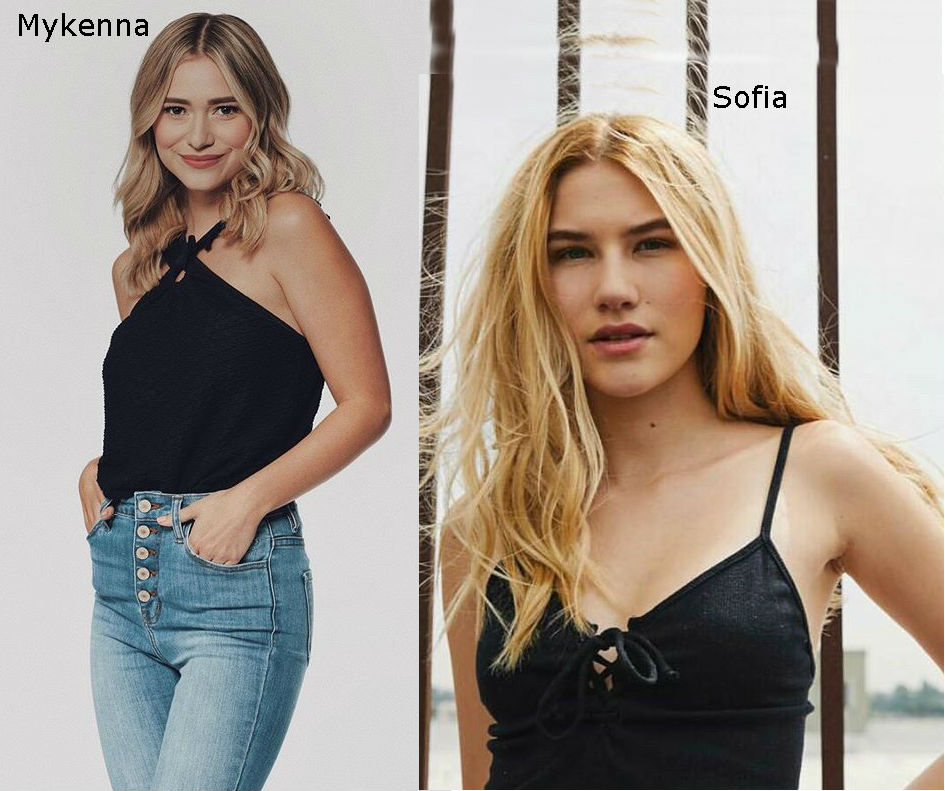 Image: Mykenna Dorn: Sofia Hublitz look alike
Book Love
Sofia is passionate about Books, she wants to read a lot and write a few. Writing is one of her hobbies. She frequently reads books. She has read "Siddhartha" by Hermann Hesse. [3] [4]
Letter to President Barack Obama
In 2015 she wrote a letter to President Barack Obama about what she thinks of ever-increasing gun violence in the United States and her opinions on gun control. President Barack Obama replied to her letter and sent her a signed letter.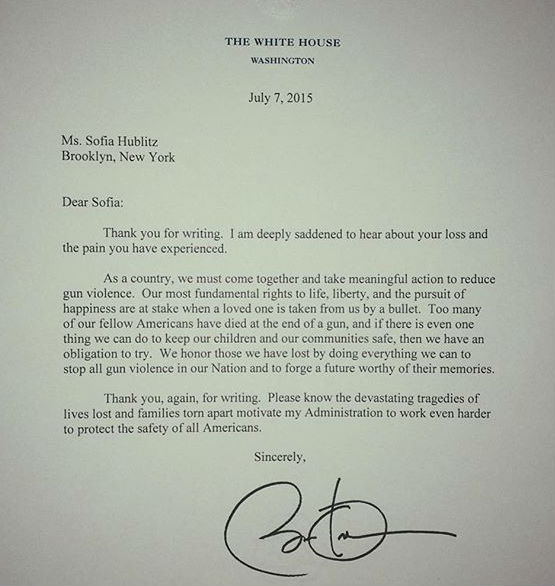 Image: Reply from Barack Obama to Sofia's letter
Masterchef junior
Sofia broke down and cried on the Masterchef junior show, surprisingly it was the stern Gordon Ramsay who comforted her, though Sofia did not last long on the show she had become quite popular through the show.
It wasn't her plan to get into the show business, she was curious, auditioned to participate and was picked.
Video: Sofia, Roen & Sarah in the 1st season of mini-masterchefs
Video: Gordon helps the crying Sofia
Q & A
Ambition: To read lots of books and write a few herself
Favorite Food (cuisine): Indian
Favorite movies: I Married a Witch/ Bottle Rocket, Mystery Train [10]
Favorite Brand: Remember Brand
Artist, she likes to work with: Paul Thomas Anderson
How does she like to spend her time?: Reading, Writing, Playing with her Dog, Video Games
Her Idea of Heaven: A Library, or a party in the woods with all her favorite people
Turn-Off: Vanity
Turn-On: Not Caring
What is she passionate about?: Helping people, being nice to everyone, Music, making bad jokes, Writing.
What things have influenced her? Her Mother, Old Hollywood movies, Good friends
Who are the actors she looks up to? Buddy Davis/ Joan Crawford.
What does she think of having children?: She likes the idea, in her words- "It seems like a good idea"
What is she most grateful for? Her Family
Note: All from either the issue Magazine interview (website) or the youtube video interview [3]
Career
Sofia's mother was an art director, Sofia got to know the production side of the movie industry early in her life. Her mother's job helped Sofia make an easy entry in the industry. Her godfather worked as a key grip.
Debut: Sofia made her first TV appearance as a contestant in the TV series: MasterChef Junior (U.S. season 1) (aired on Fox), she was placed eighth.
Louie: is her first TV series in acting, where she played the role of Danielle Hoffman.
2020s
In "What breaks the Ice", a coming of age thriller, Sofia plays Sammy, one of the two 15-year-old leads (other being Emily played by Madelyn Cline). The plot is about the teens from different backgrounds developing a friendship, having good time, until they get mixed up in a fatal crime during the summer. Aimee Mullins, Brett Zimmerman, Lukas Gage, Shakira Barrera play important roles in the movie written and directed by Rebecca Eskreis. Julia Garner plays Ruth Langmore (her cousin) in the Series.
2010s
In the NetFlix Crime Drama "Ozark" she plays Charlotte Byrde, the daughter of a financial adviser Marty Byrde (Jason Bateman) who is in deep trouble with a drug lord. Laura Linney played her mother Wendy Byrde in the Series, while Skylar Gaertner played her brother Jonah Byrde. She plays a depressed 15-year-old teen who wants to go back to Chicago (the place where she grew up and has friends) against the move to Ozarks by her parents. She finds work at "Blue Cat" in the holidays, has a stressful time because of her family's troubles. She gets involved with the Drug Cartel's business, decides to run away from the parents with her brother Jonah. Files a case for emancipation from her parents.
In Louis C.K.'s comedy-drama Horace and Pete she plays the young version of the role Sylvia, (adult version played by Edie Falco). Steve Buscemi, Steven Wright, Jessica Lange also appear in important roles
In the comedy Drama "Louie" by Louis C.K, she plays Danielle Hoffman.
In 2013, Sofia contested in the "MasterChef Junior' reality show hosted by Gordon Ramsay. It was the first season of the show. She was one of the top 10 finalists. She finished 8th and didn't make it further.
Filmography
| Year | Movie/ Series | Character | Comments |
| --- | --- | --- | --- |
| | What Breaks the Ice | Sammy | |
| 2017-218 | Ozark | Charlotte Byrde | Main role (20 Episodes out of 21); Netflix |
| 2016 | Horace and Pete | (young) Sylvia | the young version of the main role Sylvia; appears in Episode 10 of Season 1 |
| 2014 | Louie | Danielle Hoffman | "In the Woods: Part 1 & 2" |
| 2013 | MasterChef Junior | (contestant) | |
Awards
| Year | Won? | Award | Project | Category |
| --- | --- | --- | --- | --- |
| 2019 | Nomination | Screen Actors Guild Awards | Ozark | Outstanding Performance by an Ensemble- TV Drama |
Quotes
When I was a kid and people would ask what I wanted to do when I grew up, I had no answer. I still have no answer but I like this for now. [3]
In the news you never see anything happy or uplifting, it's always something that is going downhill. But there is good that shines through sometimes [3]
I'd say the future of the world probably isn't looking too good, but I always like to keep my hopes up. [3]
A lot of people think that making a movie is just an actor, a director, a cameraman, and some lights, but hell no. Crews are about two hundred to three hundred people [15]
Sources
Issue Magazine interview video Hometown (T: 03-03 seconds)- [video screenshot]
Sofia's friend (perhaps boyfriend?) David Gagliardi- [Instagram screenshot]
Sofia's pet Spock (Instagram sources, deleted)
Sofia Hublitz & David Gagliardi - ["I Love you" on Instagram]
Sofia Hublitz & Danielle Sims - [Instagram screenshot]
Mystery Train- [On Mystery Train in an Instagram post]
Sofia Hublitz on her father - [Instagram post on her father's death]
Sofia & David Gadliardi - [image in the photos section]
Sofia Hublitz sister- [instagram Birthday wish]