Biography
Max Irons is an Irish British actor & Model. Max is known for his roles such as- Jared Howe in The Host(2013), Lucius in Dorian Gray(2009), Henry in Red Riding Hood(2011), Fritz Altmann in Woman in Gold(2015), King Edward in The White Queen(2013).
Max Irons was born on 17th October 1985 in Camden, London, England to Jeremy Irons(Father)- an English actor & Sinéad Cusack(Mother)- an Irisih stage actress.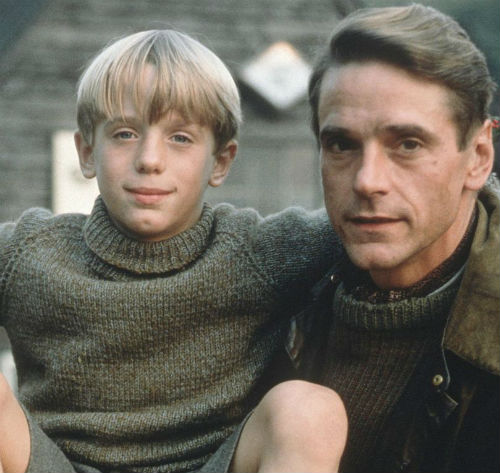 Image: Max Irons childhood with father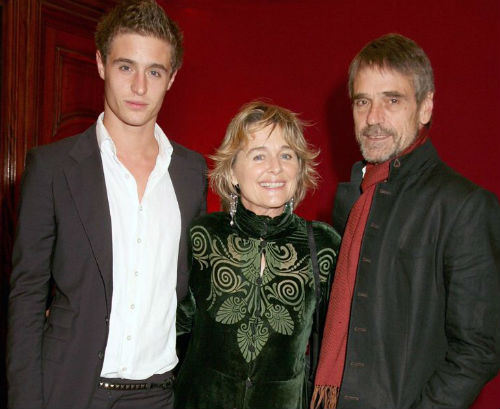 Image: Max Irons with parents Jeremy Irons(father), Sinead Cusack(Mother)
Siblings: He has a brother named Samuel Irons -a photographer. And a maternal half brother Richard Boyd Barrett- an Irish politician. Richard was adopted by Valerie Barrett & David Boyd Barrett.
Grandparents: Max's mother Sinéad was born to Maureen Cusack(1920-1977)- an Irish actress & Cyril Cusack(1910-1993)- an Irish actor.
Paul Dugan Irons (1913–1983) an accountant is his paternal grandfather, Barbara Anne Brereton Brymer (1914–1999) was his paternal grandmother
Aunts & Uncles: Irish actresses Sorcha Cusack & Niamh Cusack are his maternal aunts. Pádraig Cusack a theater producer is his uncle, uncle Paul Cusack is a television producer. Catherine Cusack, paternal half-sister of Max's mother is an English actress.
Christopher Irons(born 1943) is Max's paternal uncle Felicity Anne (born 1944) is his paternal aunt.
Girlfriends: Max dated Australian actress Emily Browning for a brief period from 2011-2012. He began dating model & designer Sophie Pera from 2013.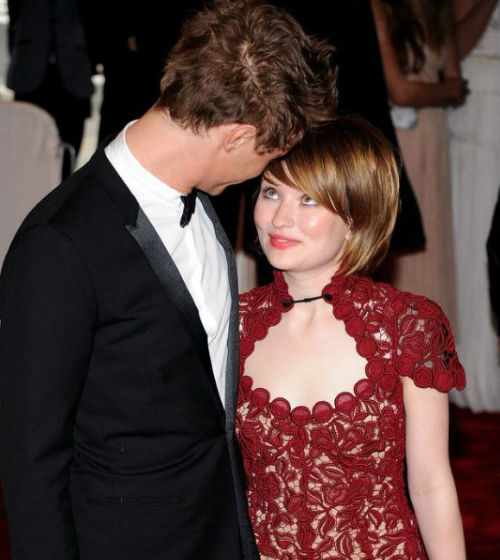 Image: Max Irons with ex-girlfriend Emily Browning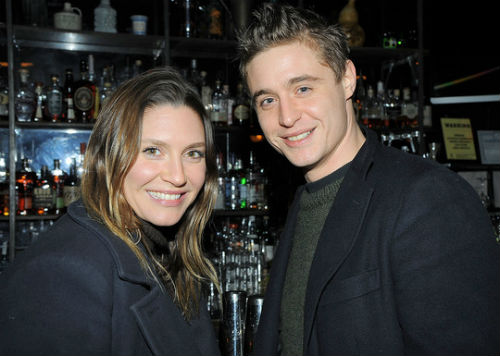 Image: Max Irons with girlfriend Sophie Pera
Max Irons: Education
School: He studied in Dragon School (an Anglican Christian Preparatory day and boarding school) situated in Oxford, Oxfordshire.
School: Bryanston School- a co-educational independent school managed by Church of England situated in Bryanston, Blandford Forum, Dorset in South West England.
Graduation: He graduated from Guildhall School of Music and Drama( an independent music and dramatic arts school) in 2008.
Max Irons: Facts & Trivia
Ancestry: Max is of British & Irish descent. His father is English with a small Irish ancestry, his mother is of Irish origin.
Athletics: He was a silver medalist at the under 14 high jump while at Bryanston School.
Dyslexia : Max has had reading disorder throughout his High School. He was discouraged from going into acting because of that, so far he has done good work at it. He has very good memory and it has helped him do good.
He couldn't write his own name at the age of 8 because of Dyslexia.
Max worked as a bartender for a while during his initial years as an actor. He worked in a restaurant called Ark.
He was nominated for Ian Charleson Award in 2009 for his role of Max Piccolomini in the play Wallenstein
Modelling career: Max has been modelling for brands such as- Burberry(by photographer Mario Testino), Mango, Macy's
Entry into Modelling: He was arguing with his girlfriend in a video shop when the photographer Mario saw him and approached for a chance as a model for Burberry, he accepted.
50 best-dressed British men: He was named as one of the best dressed British by GQ in 2015.
He has appeared on popular TV shows of- Jimmy Kimmel, Carrie Keagan, Kelly Ripa, Nikki Glaser, Sara Schaefer
Elle magazine called him Hollywood's next Prince Charming. He is also called 'the new Robert Pattinson'.
Expulsion from school: Max was expelled from the boarding school when he was caught being intimate with his girlfriend. After his expulsion from school his mother sent him to Zimbabwe to teach English and football to kids.
He likes teaching & children, if he was not an actor he says he would have liked to become a teacher.
In 2014 Max stopped a robbery and in the process he broke his wrist
His mother wanted him to study in the public schools, but because of Dyslexia he couldn't do it as there were too many children.
He taught street drama to children in Nepal for an year
He played parts in plays like- The Revenger's Tragedy, The London Cuckolds while in college
He is proficient with dialects- Liverpool, London, Jamaican, Indian & South American
He played Rugby in High school
He is not on any social media networks. There is however an instagram profile which may or may not be actual him.
He lost his lines 12 times while auditioning for the movie- The Host, still got the role though.
He likes short story science fiction books.
Max Irons: Career
TV Series
Condor(2018): He played the character- Joe Turner in this TV series, cast included Gage Graham Arbuthnot, Leem Lubany, Christina Marie Moses
Tutankhamun(2016): He acted as Howard Carter in the Historical Drama created by ITV Studios with actors- Sam Neill, Max Irons, Jonathan Aris playing main roles.
The White Queen(2013): Max was King Edward in the Romantic directed by created by BBC Drama Productions, Company Pictures, BNP Paribas Fortis Film Fund featuring Aneurin Barnard, Amanda Hale, Rebecca Ferguson in the cast.
The Runaway(2011): Max Irons portrayed the character of Tommy in the Crime series created by Company Pictures with actors- Noah Hedges, Keith Allen, Burn Gorman playing the lead characters.
Movies
Terminal(2017): He has a role in the Thriller Drama directed & created by Vaughn Stein, it stars Margot Robbie, Simon Pegg, Mike Myers in the cast.
The Wife(2017): Max played David Castleman in this Drama by Björn Runge , it stars Glenn Close, Christian Slater, Max Irons in the cast.
Bitter Harvest(2017): Max appeared as Yuri in this War Drama movie directed by George Mendeluk starring Samantha Barks, Max Irons, Terence Stamp in the lead.
Crooked House(2017): Max Irons was Charles Hayward in the Mystery Drama movie directed by Gilles Paquet-Brenner with stars- Honor Kneafsey, Christina Hendricks, Gillian Anderson in the main roles.
Woman in Gold(2015): He played the role of Fritz Altmann in the Historical Drama movie , it was directed by Simon Curtis with the cast Ryan Reynolds, Daniel Brühl, Helen Mirren
The Riot Club(2014): He acted as Miles in this Drama movie directed by Lone Scherfig with the cast Douglas Booth, Sam Claflin, Max Irons
The Host(2013): He portrayed the role- Jared Howe in the Romantic movie directed by Andrew Niccol starring Saoirse Ronan, Jake Abel, Max Irons in the lead.
Red Riding Hood(2011): He portrayed the role of Henry in the Mystery Horror Fantasy movie directed by Catherine Hardwicke , cast included Amanda Seyfried, Lukas Haas, Gary Oldman
Dorian Gray(2009): He portrayed Lucius in the Fantasy Thriller Drama directed by Oliver Parker starring Colin Firth, Rebecca Hall, Ben Barnes in the lead.
Being Julia(2004): He portrayed Curtain Call Boy in the Romantic Drama movie directed by István Szabó starring Annette Bening, Maury Chaykin, Michael Gambon in the lead.
Words of Captain Scott(2012): He played Apsley Cherry-Garrard in this Documentary , it was directed by Paul Copeland starring Alistair McGowan, Max Irons, Leo Bill in the lead.
Short
Article Magazine: Echo(2015)
The Making of Woman in Gold(2015)
Red Riding Hood: Red's Men(2011)
Unrequited Love(2009)
Max Irons: Quotes
(On his parents about his entering acting) My parents said "You will most likely have a life of unhappiness, financial turmoil, jealousy, and paranoia"
If you try to bring teen drama, you end up doing nothing but pouting.
I think it's better to add an element of unavailability
Working with my father would be my worst my nightmare
I'm starting to realise this now, how vulnerable you feel as an actor.
Kindness and a generous spirit go a long way. And a sense of humor, It's like medicine, very healing.
Both of my parents firmly believe this business is largely based on luck.
As long as you don't harm anyone else, what you do and who you love are nobody's business.
I think is a good thing to share about culturally different places with your children by taking them to faraway places, as opposed to giving them an Xbox.
I used to like partying when I was in 20s, but I have kind of moved on.
We actors are all expected to have six packs.
I was very bad at school, constantly being suspended.
My workout is old fashioned
Max Irons: Photos, Pictures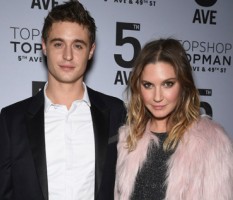 Max Irons with girlfriend Sophie Pera