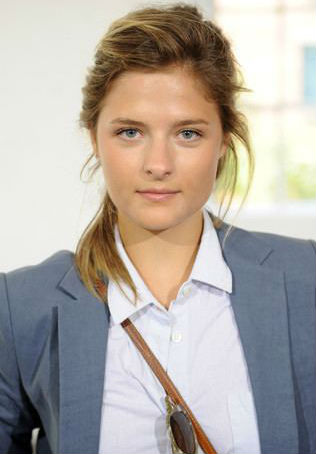 Louisa Jacobson
| | |
| --- | --- |
| Date Of Birth | June 12, 1991 |
| Age | 31 years 11 months 24 days |
| Day of Birth | Wednesday |
| Place Of Birth | Los Angeles, California, United States |
| Zodiac Sign | Gemini |
| Profession | Model |
| Full Name | Louisa Jacobson Gummer |
| Other Name | Louisa Jacobson |
Personal Information
Residence

Los Angeles, California, United States

Religion
Christianity
Language
English
Star Sign
Gemini
Nationality
American
Ethnicity
Caucasian
Complexion
White

Body Features & Measurements
Height

175 CM


5 Feet 9 Inches
Eye color
Blue
Hair color
Blonde
Weight

60 KG


132 lbs

Shoe Size
8.5 (US)
Figure Measurements
32-24-35
24-32-35
Figure Type
Hourglass
Body Type
Slim
Family Information
Father
Don Gummer (Donald James Gummer; sculptor)
Mother
Meryl Streep (Actress)
Brother
Henry Wolfe Gummer (actor, songwriter, musician, singer; born 1979)
Sisters
Mary Willa Gummer (Mamie Gummer; born 1983; Actress)
Grace Jane Gummer (born 1986; Actress)
Cousins
Maud Streep (child of Harry Streep)
David Kyle Streep (Son of Dana Streep)
Carol Ann Streep (Daughter of Dana Streep)
Charles Streep (Son of Dana Streep)
Abraham Streep (Son of Harry Streep)
Jonathan Streep (Son of Dana Streep)
Uncles
Harry Streep (Maternal; Actor/ producer)
William Gummer
Jack Gummer
Dana Streep (Maternal;Actor)
Steven Gummer (Paternal)
Richard Gummer
Mark Gummer
Grandfathers
William Adolph Gummer (Paternal)
Harry William Streep (Maternal;)
Grandmothers
Mary Streep (Maternal; Actress)
Dorothy Ann Jacobson (Paternal)
Aunt
Maeve Kinkead (Wife of uncle Harry Streep)
Relative
Benjamin Walker (Ex-husband of Mamie Gummer)

Education Qualifications
Education(College)
Vassar College
Alma Mater

Yale School of Drama

Career Information
Years Active
2013-
Favorites, Hobbies, Likes/ Dislikes
Favorite Singer
Bob Dylan
Favorite Author
Donna Tartt
Favorite Song
Buckets of Rain (Bob Dylan)
Favorite Restaurant
Test Kitchen (Cape Town, south Africa)
Social Networks, Web links
Instagram Profile
Louisa Jacobson Instagram Profile
More Information
Net worth

$1.5 million
Biography
Louisa Gummer is an American actress and a model. She is known for her theater performances such as "Romeo and Juliet", "Member of the Wedding", "Native Son" and others. she is the youngest of Streep-Gummer children.
Louisa made her TV debut in the HBO Drama series- "The Gilded Age" created by Julian Fellowes as Marian Brook. She acts alongside- Christine Baranski, Cynthia Nixon, Amanda Peet, Morgan Spector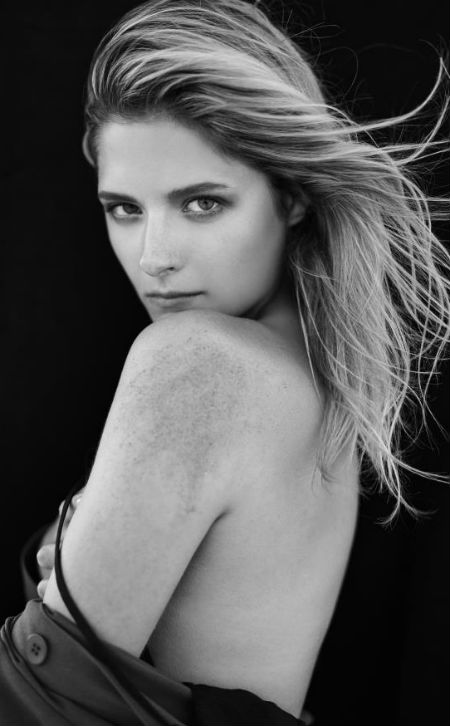 [ Louisa Jacobson Gummer]
Family- Childhood
Louisa Gummer was born on 12th June 1991 in Los Angeles, California, United States. She is the 4th child of the actress (& philanthropist) Meryl Streep & her husband Don Gummer- a sculptor.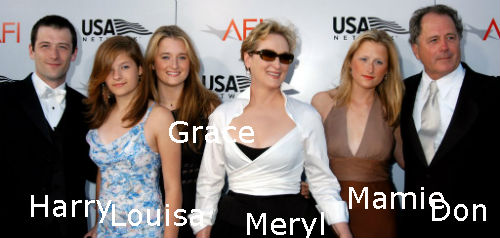 [ Streep-Gummer Family ]
Father- Don Gummer
Louisa's father Don was born on December 12th, 1946 in Louisville, Kentucky to William Adolph Gummer & Dorothy Ann Jacobson. He has brothers in Jack, Mark, William Richard & Steven.
Don is a sculptor by profession. He has worked on table-top, wall-mounted, free-standing sculptures. Don's work "primary separation" is installed at the Massachusetts Museum of Contemporary Art. Another work "Southern Circle" is installed in the city of Indianapolis.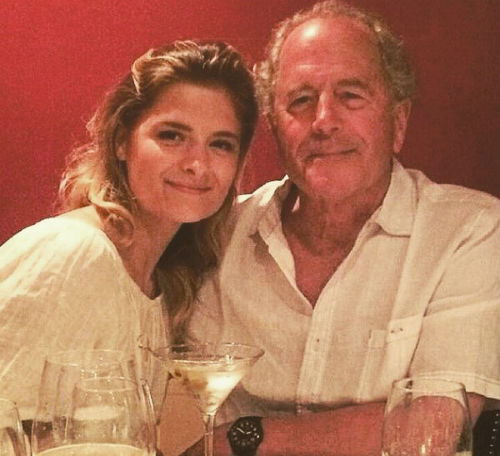 [ Louisa Gummer with her Dad Don Gummer ]
Don married actress Meryl Streep on 30th September 1978. They have four children together including Louisa Jacobson.
Mother- Meryl Streep
Meryl Streep, the mother of Louisa is one of the most successful actresses in the history of Hollywood. Meryl was born Mary Louise Streep in 1949 to Mary Wilkinson Streep (an artist) & Harry William Streep, Jr. (pharmaceutical executive). She has two younger brothers in- Harry William Streep III & Dana David Streep, and both are actors.
Meryl has a record for having the most Academy Award nominations in a career. She is known for her roles in The Bridges of Madison County (1995), Out of Africa (1985), Manhattan (1979), Sophie's Choice (1982), and Mamma Mia! (2008) among numerous others.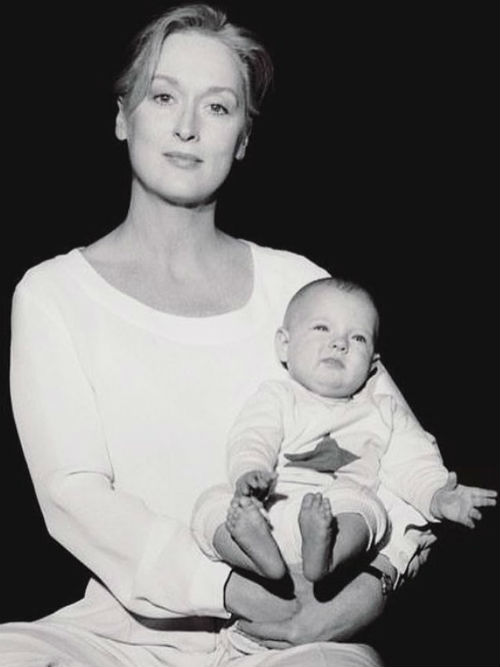 [ Louisa Gummer (childhood) with mom Meryl Streep ]
Meryl and her husband have been contributing freely to philanthropic causes.
Siblings
Louisa Gummer has three older siblings:
Henry Wolfe Gummer (brother; born on November 13, 1979)
Mamie Gummer (Mary Willa Gummer, born August 3, 1983)- is an actress
Grace Jane Gummer (born May 9, 1986)- is an actress.
Brother
Henry Wolfe: Louisa's brother Henry was born on 13th November 1979. He is 12 years older than his sister Louisa. He is a musician & actor based in Los Angeles, California. He is a graduate of Dartmouth College. He co-founded the pop band, Bravo Silva, in 2004. His discography lists- Asilomar (2015), Encino (2014), Linda Vista (2011), and others. He has appeared in movies such as Lying(2006), The Wait(2011)
Sisters
Mamie Gummer: Mamie was born on 3rd August 1983 in New York City, New York. She is 8 years older than Louisa. She is known for appearing in the titular role of Emily Owens in the CW series- Emily Owens, M.D. (2012–13). She has also played Nancy Crozier on The Good Wife (2010–15) & The Good Fight (2018)
Mamie is married writer/ producer Mehar Sethi in February 2019. The couple has a son born in February 2019. Thus making Mamie's parents grandparents for the first time, and Louisa an aunt for the first time.
Grace Gummer: Grace was born on 9th May 1986 in New York City. She is 5 years older than Louisa. She is an actress by profession. She is known for her roles in TV Series such as- "The Newsroom", "American Horror Story", "Extant"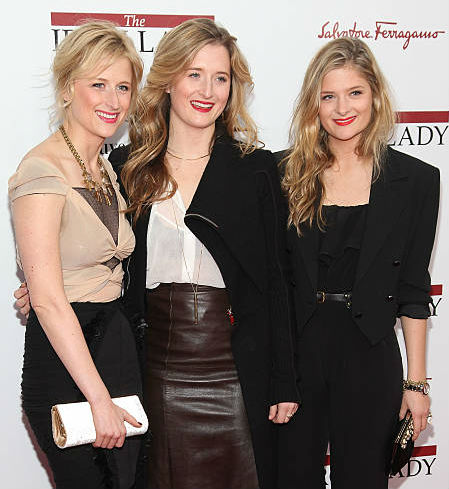 [ Gummer sisters- Mammie, Grace, Louisa ]
Education
School: She studied at the 'Poly Prep Country Day School' (also known as Poly Prep) in Brooklyn, New York, United States.
High School: at the same 'Poly Prep Country Day School'.
College: She graduated from Vassar College (a liberal arts college in Poughkeepsie, New York Founded in 1861 by Matthew Vassar) with a major in Psychology, she graduated in the year 2013 with a Bachelor of Arts (psychology) degree.
British American Drama Academy: She attended the famous 'British American Drama Academy' in Oxford for further training in acting.
Yale School of Drama: She joined 'The Yale School of Drama' in 2016-17 after her experience at the 'British American Drama Academy'. She graduated from the Drama school with a Master's degree (Master of Fine Arts) in Acting. It is to be noted that her father Don Gummer attended the "Yale Arts school".
Modeling
Louisa is passionate about fashion and modeling, right after her studies she ventured into modeling.
IMG Models: she is associated with IMG Models, an international model management firm (based in Los Angeles, London, Milan, New York, Paris & other places).
She likes driving up Highway 1 from Los Angeles to California.
Modeling for magazines: She has been modeling for magazines such as Vanity Fair, Glamour, and Dior (Christian Dior SE) for photographers like- Walter Chin, David A, Adrian Nina, Mae Richardson, and Yuki.
H & M: She has endorsed the Swedish fashion chain
Career
Louisa doesn't remember when her interest in acting started, she would put on performances at home with her siblings and cousins during family gatherings. She attended "tons of" piano and dance recitals as a kid, including theater camp at 8 where they did a "hodgepodge" of different musicals. She played Dorothy in her middle school production of "The Wizard of Oz.", it had three different girls playing Dorothy during the course of the play. [2]
Louisa's acting career started with theater. In fact, all of her earliest acting stints were stage plays. Her first acting role was as Mary Dalton in Nambi E. Kelley's play "Native Son" directed by Seret Scott and produced by Yale Repertory Theatre.
In 2018, she acted in Carson McCullers' play "Member of the Wedding" against actress Tavi Gevinson, the play was directed by Gaye Taylor Upchurch.
In 2019, she appeared in The Old Globe's production of "Romeo and Juliet". She played Juliet in this William Shakespeare's play directed by Barry Edelstein, and Aaron Clifton Moten played Romeo, the play ran from August 11 - September 15, 2019, at The Old Globe.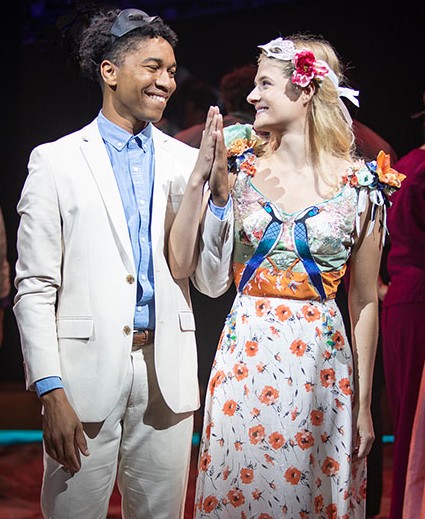 [Louisa Jacobson & Aaron Clifton Moten as Romeo and Juliet]
Gone Hollywood: Louisa appeared in a TV movie in 2019 alongside Sarah Ramos, Nikolaj Coster-Waldau, Jonathan Pryce, John Magaro, Michael Raymond-James, Lola Kirke, and others. Louisa played Trish Sparks in this movie directed by Ted Griffin. The movie is based on how talent agencies have been running in Hollywood.
The Gilded Age(2022-)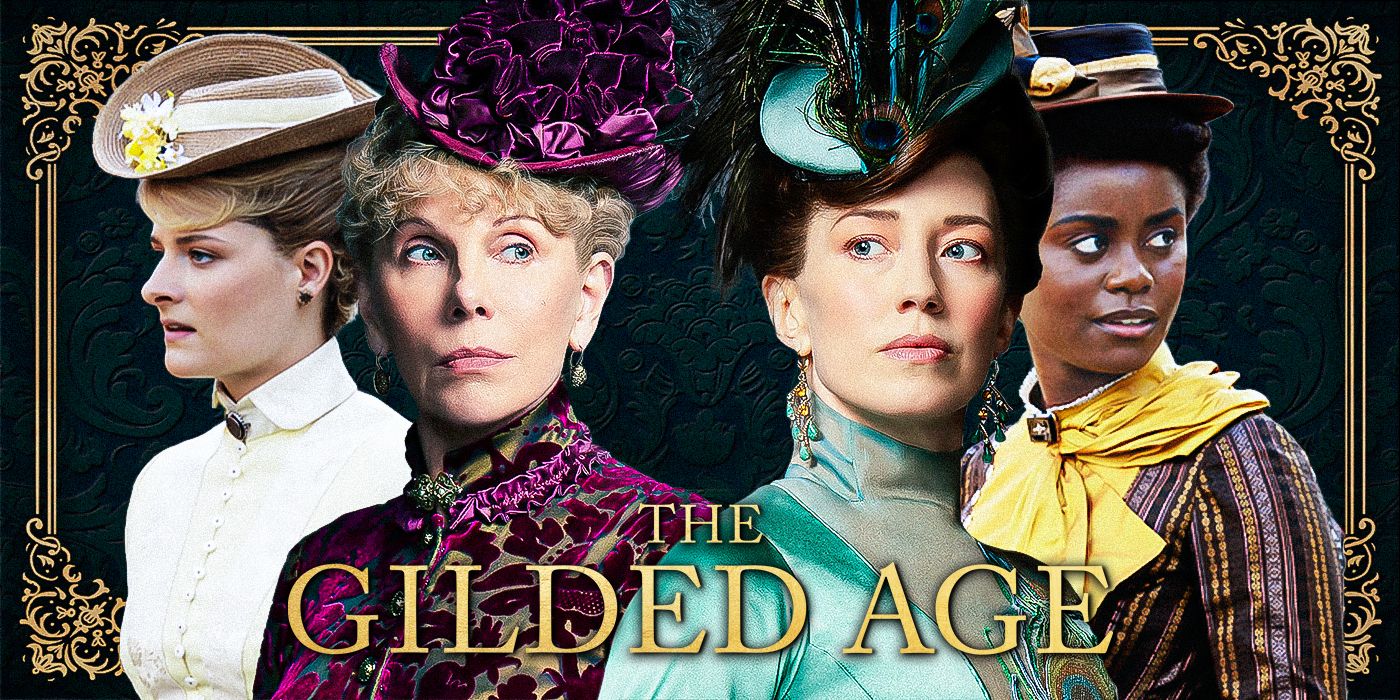 [Louisa Jacobson in The Gilded Age]
Louisa made her TV debut on in 'The Gilded Age', an HBO historical drama series set in the 1880s written by Julian Fellowes. The series was directed by Michael Engler and Salli Richardson Whitfield. It starred Carrie Coon, Morgan Spector, Denée Benton, Taissa Farmiga, Harry Richardson, Cynthia Nixon, and others.
Louisa played Marian Brook, a poor young woman who is forced to live with her estranged aunts by the circumstances.
Filmography
TV Series
| Year | Series | Character | Comment |
| --- | --- | --- | --- |
| 2022 | The Gilded Age | Marian Brook | Created by Julian Fellowes; Co-starring- Christine Baranski, Cynthia Nixon, Amanda Peet, Morgan Spector |
Movies
| Year | Movie | Character | Comment |
| --- | --- | --- | --- |
| 2019 | Gone Hollywood | Trish Sparks | TV Movie |
Theater
Louisa has appeared in stage performances of various roles in plays such as "Romeo and Juliet", "Native Son", and "Member of the Wedding".
Year
Play
Character
Comment
2019
Romeo and Juliet
Juliet
"The Old Globe" production in San Diego
2018
Member of the Wedding

production: Williamstown Theatre Festival

Play by: Carson McCullers

Direction: Gaye Taylor Upchurch

Starring: Tavi Gevinson

Native Son
Mary Dalton

Production: Yale Repertory Theatre

Play by: Paul Green & Richard Green

Direction: Seret Scott
Facts & Trivia
Ancestry: Louisa Gummer is of English(Maternal), German(Maternal, Paternal), Irish(Maternal), Norwegian(Paternal), Swiss(Maternal) descent
Meryl Streep handed the diploma award to Louisa at Vassar College during her graduation.
She often attends Film Award events, Filmfare events among other entertainment industry events with her mother & siblings.
She doesn't have much of social media presence.
The other Louisa Gummer: There is an award-winning British voice-over artist with the same name 'Louisa gummer', she is known for voicing documentaries and commercials.
Louisa Jacobson: Louisa has chosen 'Jacobson' as her surname, to avoid confusion, as there is already an actress named Louisa Gummer. Apparently, "Screen Actors Guild" requires that no two members have the same professional name.
She is a big fan of Downton Abbey, she would watch the show with her friend comedian Tracey Ullman. They would "Order lots of Indian food and drank red wine and ate chocolate". The same crew created the show "The Gilded Age" [3]
Pickles: Her mom calls her Pickles. [4]
Management: She is represented by CAA, Brookside Artist Mgmt, Narrative PR [source: her Instagram profile]
Louisa the artist: She is good at drawing and did some while in college, she is into art, but didn't follow her father into sculpting.
[Louisa as Tod's Band girl]
Quotes
Nothing beats driving on that winding road on the side of the cliffs where pine trees and mountains meet the pacific ocean. It's unreal.
I've always loved performing [2]
Sources
Louisa Jacobson's interview on Vanguard Culture
Louisa Jacobson on Vanity Fair
Louisa Jacobson on Jimmy Kimmel show