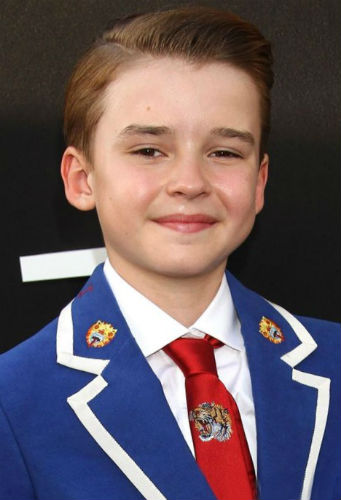 Maxwell Jenkins
Date Of Birth
May 3, 2005
Age
18 years 6 months 28 days
Day of Birth
Tuesday
Place Of Birth
Chicago, Illinois, United States
Zodiac Sign
Taurus
Professions
Actor ,

Circus artist

Nickname

Max

Other Name

Max Jenkins
Personal Information
Residence

Chicago, United States

Religion
Christianity
Language
English
Nationalities

Canadian

, American
Ethnicity
Caucasian
Complexion
White

Body Features & Measurements
Height
150 (2017) CM
4 Feet 11 Inches
Eye colors
light brown , Dark Brown
Weight

45 KG


99 lbs

Shoe Size
5 (UK)
Body Type
Slim
Family Information
Father

Jeff Jenkins

Mother
Julie Jenkins (Julie Greenberg)
Sister
Sammy Ray Jenkins (younger)

Education Qualifications
Education(School)
Old Town School
Career Information
Debut (Movie)
A Family Man(2016)
Years Active
2013-
Debut (TV)
Betrayal
Favorites, Hobbies, Likes/ Dislikes
Hobbies
Horse Riding
Singing
Favorite Movies
Blade Runner
Startrek
Favorite TV shows
Gilmore Girls
Stranger Things
Friends
Everything Sucks
Likes
SpongeBob SquarePants
Soccer
Nintendo DS
Fortnite
Youtube
Favorite Character
11 (Stranger Things)
Favorite Sports Teams
Blackhawks (Hockey)
Whitecaps (soccer)
Favorite superheros
Nova
Captain America
Social Networks, Web links
Facebook Profile
Maxwell Jenkins Facebook Profile
Twitter Profile
Maxwell Jenkins Twitter Profile
Instagram Profile
Maxwell Jenkins Instagram Profile
More Information
Net worth

$500,000

Instruments
Mandolin
Biography
Maxwell Jenkins is an American TV & movie actor known for his roles- Oliver in "Betrayal", Tommy Kessler in Consumed(2015), Ryan Griggs in NCIS: New Orleans(2015), J.J. in Chicago Fire, Young Will in "Sense8", Will Robinson in "Lost in Space", Ryan Jensen in A Family Man(2016)
Maxwell Jenkins was born on 3rd May 2005 in Chicago, Illinois, United states to Jeff Jenkins(Father)- a former Ringling clown & Julie Greenberg(Mother). Maxwell has an younger sister named Sammy(Samantha) Ray Jenkins.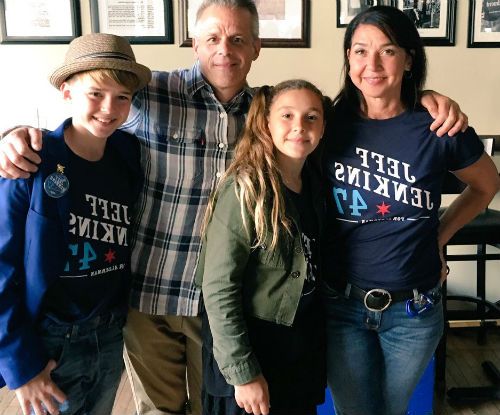 Image: Maxwell Jenkins family: father Jeff Jenkins, sister Samantha Jenkins, mother Julie Greenberg
Maxwell Jenkins Interesting Facts & Trivia
Maxwell is learning Spanish in school.
Max's grandfather (papa) went to school with Carl Sagan, the host of Cosmos.
Instagram Kindness Prom: Max attended the Instagram Prom on 6th April 2018 with his mother in Los Angeles.
11 from Stranger Things is his favorite characters from the show.
Midnight Circus: Both of Max's parents are founders of a circus company that donates money to the Chicago playgrounds. Max's parents are animal activists and do not use animals in circus.
Circus: Maxwell started performing at the circus at the age of 3. He and his sister sometimes perform together at the circus.
Animal Lover: His family loves animals, they have rescued many animals, including couple of pitbulls named Rosie Rae and June bug.
Circus tricks: Maxwell is trained in tricks like juggling, mandolin, tight wire among others.
Captain America Fan: Maxwell is a big Captain America fan, his father made him a shield just like that of captain America's.
Acting Debut: Maxwell was 8 years old when he started acting professionally on the ABC series "Betrayal"
Cowboy Jesus & The Sugar Bums: Max is apart of the chicago based band, he plays mandolin & sings vocals.
He is a Harry Potter fan. He is a Gryffindor, his sister Sam a Slytherin.
Maxwell likes Marvel more than D.C
Sports: Max likes Basketball, Soccer & Hockey. Not much of a rugby fan.
He is addicted to his PS4, he likes video games in general.
Lost in Space: One of the early breakthroughs for Max was through the role of Will Robinson in the remake of Lost in Space. The original was released so long ago that his grandmother had watched that series when she was young.
Science Geek: He is a starwars fan, loves Startrek and loves science fiction and robots in general. He wants to study genetics.
Maxwell takes classes at the Old Town School of Folk Music.
He is a big fan of Barack Obama.
Gerard Butler and Toby Stephens are among his favorite TV/ Movie Dads.
Maxwell attended the 2018 Pasadena Alien Con.
Maxwell's father Jeff on his son-> "He's incredibly humble, and kind, and hardworking, and his feet are planted firmly right here in Chicago."
Endorsements: Some of the brands Maxwell has endorsed are-, Bear, Gucci, Lids, Netflix, SpaceX, Walker.
Maxwell Jenkins Quotes
If you don't anything kind to post, don't post. If you don't anything kind to comment, don't comment on it.
It doesn't feel better to tear someone else down.
[On his parents' circus business] Circus is tough, but it is also fun.
One of the biggest challenges of being on set was being away from my sister
I love space.
[About his sister Samantha] She is the best. I don't know what I would do without her