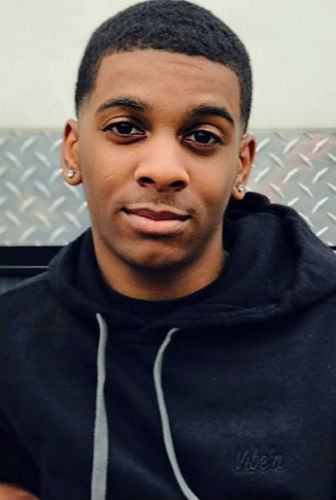 Brett Gray
Date Of Birth
August 7, 1996
Age
27 years 3 months 24 days
Day of Birth
Wednesday
Place Of Birth
Philadelphia, Pennsylvania, United States
Zodiac Sign
Leo
Professions
Model , Actor ,

Songwriter

, Singer
Other Name

Jeffrey Gray
Personal Information
Residence

New York City, New York, United States

Religion
Christianity
Languages
English , Spanish
Nationality
American
Ethnicity
African American
Complexion
Black
Trademarks
Smile , Confidence

Body Features & Measurements
Height

170 CM


5 Feet 7 Inches
Eye color
Black
Hair color
Black
Weight

65 KG


143 lbs

Shoe Size
7
Tattoos
Paper Airplane (left hand)
SELF (left index finger)
Body Type
Slim
Chest size
38
Waist Size
30
Biceps Size
13
Family Information
Mother

Holly Gray

Cousins
Lori Brookè
Tylor

Education Qualifications
Education (High School)
Philadelphia High School
Career Information
Years Active
2016-
Favorites, Hobbies, Likes/ Dislikes
Hobbies
Singing
Eating Snacks
surfing
Music
Dancing
Favorite Actors
Dwayne johnson
Will Smith
Favorite Actress
Jennifer Lawrence
Favorite Color
Black
Favorite Movie
Black Panther
Favorite Singers
Beyonce
Bruno Mars
Favorite TV shows
Breaking Bad
How to get away with murder
Likes
video games
Pizza
Bowling
Chance the Rapper
fashion
Screenwriting
Dislikes
Avocado
Favorite Character
Joker
Favorite Video Game
Candy Crush
Favorite Snacks
French fries
Ice Cream
Favorite TV Series
The Fresh Prince of Bel-Air
Social Networks, Web links
Twitter Profile
Brett Gray Twitter Profile
Official Website
Brett Gray Official Website
Instagram Profile
Brett Gray Instagram Profile
YouTube Channel
Brett Gray YouTube Channel
SoundCloud Profile
Brett Gray SoundCloud Profile
Snapchat
cntforbrettme
Spotify Link
Brett Gray Spotify Link
Tik Tok profile
Brett Gray Tik Tok profile
Contact
Contact (Email)

Iambrettgray@gmail.com

More Information
Inspirations
Selena Quintanilla-Pérez (Biggest inspiration, first hero)
MArtin Luther King Jr.
Usher (music)
Barack Obama
Chris Brown (music)
Net worth

$50,000

Celebrity Crush
Jessica Marie Garcia
Sabrina Claudio
Biography
Brett Gray is an American actor, singer and songwriter. He is popular for his role 'Jamal Turner' in the Netflix series "On My Block"
Brett Gray was born on the 7th August 1996 [1] in Philadelphia, Pennsylvania, United States to Holly Gray(mother) & Jeffrey Gray(Father)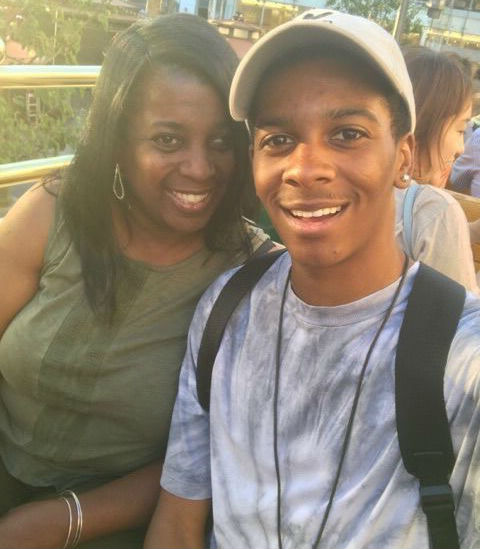 Image: Brett Gray with mother Holly Gray
Brett Gray Interesting Facts & Trivia
Brett's acting career started with Ardmore Junction(2016), where he played Brett
Early acting interest: Brett first got interested in acting at the age of 6, he performed his first school drama at the age of 6.
Academy of Music: At the age of 7 Brett performed his first professional acting at American Academy of Music, Philadelphia (240 S. Broad Street).
New Freedom Theatre: His mom took him to New Freedom Theatre in Philadelphia when he announced to her that he wanted to become an actor.
On My Block: Brett plays Jamal Turner, one of the 4 main characters in the Netflix series. when his talent agent called him and informed of the role Brett was thrilled, he had never done comedy before, he was busy with musicals in the Hamptons. He instantly liked the role after reading for the role, he saw himself in the role of Jamal Turner.

Brett is good friends with Sierra Capri, Jason Genao. "We had no choice but to become a family; we were on set 14 hours a day" says Brett. They do facetime when they are on holidays.

Brett Likes Motorsports
Philadelphia High School: Brett graduated from the Philadelphia High School in Creative and Performing Arts
Btett's interest in music started in 2017, he loved music previously, but it was only in 2017 that he became serious about career in music
Brett Gray, the artist: Brett has love for singing, he has released numerous some of his songs on platforms like youtube. Here is one of his songs.
He is part of Strong Black Lead
NoH8: Brett supports & promotes the no hate campaign, a campaign which is against discrimination and hatred
He likes surfing
He likes Barack Obama
He is a believer in Jesus
Brett previously worked in the McDonald's.
Brett likes 90s and 2000s music, especially R&B, Pop and whatever has got dance in it.
Brett has an elder brother who has served in the U.S. Navy.
He has a little brother
EAZY DAZE: Brett made his EP debut with Eazy Daze in 2018. It had 5 singles- "Worth it", "Old Thing Back", "No One Else", "days", "Last Song"
Brett lives in three different cities, depending on the work- Philadelphia, New York California
Brett went to The Barrow Group Theatre Company and School , to learn acting
He gives good advice to young people on Twitter, Instagram and other platforms.
If he wasn't an actor, he would have liked to be a chef
Brett has appeared in many short movies.
Comedy: He likes physical comedy and wishes to do more of that stuff
Aspirations: He wishes to seek a career in screenwriting, produce content, act as well as fashion.
Charity:

Malibu Foundation: He promoted Malibu Foundation and asked fans to suppor the foundation after the fire devastation at Point Dume & Malibu coastline

Once he lost a bet to his friend Indigo and sang Celine Dion's "My Heart Will Go on" in the basement car parking.
Tattoos:

Left Index finger: He has a tattoo of the word "SELF" sketched
Left hand: Between index finger and thumb he has a "paper airplane"

Hood Houdini: He wanted to become a magician as a kid, his name for himself would have been 'Hood Houdini'. He also wanted to be a roller coaster designer. He wants to learn couple of tricks so that he can do tricks sometimes [6]
His breakfast- Bacon, Eggs, Oatmeal [12]
Video Games: He likes video games, aces in Wii sports bowling [13]
Brett Gray News & Updates
Project Blue: Brett & friends are planning a project, code named 'Blue' for March 2020.
New York Stock Exchange Visit: Brett Visited NYSE in January 2020
Vibe Magazine: covered him in October 2019
Amazon Prime Emmys 2019: Attended in September 2019
Pulse Spikes online cover: Pulse magazine featured him on the cover page in July 2019. It is his first cover
Izon magazine: Appeared in the Izon magazine in April 2018
Brett Gray Filmography
When They See Us(2019) (TV sries- mini)- Clarence
On My Block(2018-) (TV Series)- Jamal Turner
Chicago P.D. (2019) (TV Series)- Aiden West
Afterparty (2018) (Short)- Brian
Rise (2018) (TV Series) (as Dancer)
Law & Order: Special Victims Unit (2018) (TV Series)- Reggie Price
Ardmore Junction(2016)- Brett
Metrocard (2016) (Short)- Henry
The Tale of Four (2016) (Short)- Greg
Tortoise (2015) (Short)- Mezzy
Brand he has done Commercials/ promotions for are:
Brett Gray Music
Brett the musician: Brett comes from musical theater, he makes his own songs, he does covers with his friends.
Some of his popular songs are:
S.O.S (2019)- He wrote & performed the song, it was produced by Forrest Ave Productions
You (2019)- by DJ Diamond Kuts
Dance in the Rain (2019)- by Ross Collins
No One Else(performer) (Easy Daze)
Old Thing Back(writer) (Easy Daze)
Days (Easy Daze)
Last Song (Easy Daze)
Make The Time
Worth It (Easy Daze)
Me & You
Rain
Brett Gray Quotes
Win or fall... It could all spring back.
Every failure is a piece of future luck.
All I do is look stupid / say stupid things
Nothing irks me more than when I'm trying to send a text and it's raining.
I love when people underestimate me
Fun fact: I'm the world's greatest whistler
Heart break is a physical sensation. Like it actually HURTS.
Pretend you know exactly what you're talking about
Sometimes people hate you because of the way other people love you.
Karma is the baddest b**ch there is.
The way out of the fire is through it.
Don't let rude people make it harder for you to do nice things.
Racism is f**king real.
Next time. Go with your gut.
Responsibility hurts.
I feel like the older generation is one that cares way more about what others think
When you live your passion...you become passionate about living.
[On confidence] You just stand there and act like you are confident, that's how you do it.
I take the path of least resistance, I just go with the flow
I am from Philadelphia, born and raised on the playground [1]
I'm so addicted to my friends; I would rather do nothing and be with them all day [1]
[About his role, comfort level on the sets of "On My Block"] This is the most "home" I've ever felt in a project. [1]
I'm learning how hard it is to bring these things into fruition and how little opportunity there is for people of color.
I would love to change the image of Black men in the industry [2]
My dream role would be The Joker, a Black Joker. I really want to play strong, weird complex roles [2]
[His instagram profile reads] Playing, but dead ass at the same time
To sit back and look at our mistakes with no judgment can help us LEARN how we can refine who we are presently into who we want to be in the future [3]
To be still and turn off the voice in our head that speaks negatively of ourselves will give us room to HEAR the whispers of our true spirit. [3]
Change The World One Song At A Time [4]
I feel like the whole world is just waiting for me to discover it [5]
[Mother's day wish to his mother] Thank you for your love and never ending excitement and support and sacrifice. Everything I do is to make you proud and comfortable [7]
It sounds nice to say, but in the moment, just be honest, it's hard not to be selfish and petty sometimes. You really don't care if you hurt someone's feelings sometimes. You do actually do things to get back at people who hurt you sometimes. We all do [8]
I don't wanna be cool.. I just wanna Be ME [9]
Don't believe everything you think [10]
Lots of ghosts walking around pretending to be people [11]
I feel bad for people who live their lives eating dry sandwiches. [14]
Stress comes from not knowing what to do [15]
Sources
References