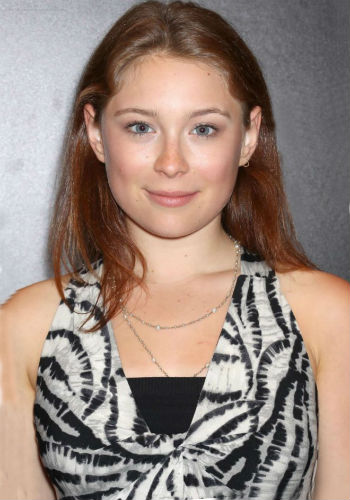 Mina Sundwall
Date Of Birth
October 23, 2001
Age
22 years 1 months 8 days
Day of Birth
Tuesday
Place Of Birth
New York City, New York, United States
Zodiac Sign
Scorpio
Professions

Sognwriter

, Singer , Model , Actress
Other Name

Mina De Julis
Personal Information
Residence

New York City, New York, United States

Religion
Christianity
Languages
Swedish , English , Spanish , French
Nationality
American
Ethnicity
Caucasian
Complexion
White
Trademark
Dimple

Body Features & Measurements
Height

168 CM


5 Feet 6 Inches
Eye color
Blue
Hair color
Red
Weight

55 KG


121 lbs

Shoe Size
6 (UK)
Dress Size
2 (US)
Figure Measurements
32-24-34
Figure Type
Hourglass
Tattoos
Finger
Shoulder blades (of wings)
Back (of flower & creeper)
Body Type
Average
Family Information
Father

Fredrik Sundwall

Mother
Nadia Sundwall (Nadia Leonelli)
Cousin
Andrea Sundwall

Career Information
Debut (Movie)
Maggie's Plan (2015)
Years Active
2010-
2016-
Debut (TV)
Celebrity Ghost Stories(2012)
Debut(Short movie)
The Water Gun Chronicles(2013)
Favorites, Hobbies, Likes/ Dislikes
Hobbies
Cooking
photography
Dancing
Favorite Foods
Corned Beef
Ice Tea
Sushi
Favorite Movie
Girl, Interrupted
Favorite Singer
Billie Eilish
Favorite Sport
Running
Favorite Destinations
Kyoto
Hongkong
Tokyo
Favorite Book
Born a crime (by Trevor Noah)
Favorite TV show
Black Mirror
Likes
Reading
Favorite Characters
James P. Sullivan (Monsters, Inc)
Debbie the chicken
Favorite Beverage
Tea
Favorite Snack
Pickles
Social Networks, Web links
Facebook Profile
Mina Sundwall Facebook Profile
Twitter Profile
Mina Sundwall Twitter Profile
Instagram Profile
Mina Sundwall Instagram Profile
More Information
Friend
Zay Naeem
Celebrity Crush
Cole Sprouse
Instruments
guitar
Piano
Biography
Mina Sundwall is an American TV and movie actress, singer and songwriter known for her roles such as Penny Robinson in Lost in Space(2018), Francesca in #Horror(2015), Justine in Maggie's Plan (2015), Maya Kelder in Freeheld(2015).
Mina Sundwall was born on 23rd October 2001 in New York City, New York, United States to Nadia Sundwall(Mother) and Fredrik Sundwall(Father).
Mina Sundwall Interesting Facts & Trivia
Ancestry: Mina is of Swedish and Italian origins. In fact she spent part of her childhood in Europe.
Childhood: She grew up mostly in New York, but lived for some time in France and Madrid.
Short Movies: Mina has appeared in numerous short movies such as- First Prize(2014), The Water Gun Chronicles(2013), Objects in Mirror Are Closer Than They Appear(2010).
Singer & Songwriter: Mina has interest in music, when not working (acting) she tries music. She can also play Guitar and Piano.
As of 2018, Lost in Space has been her favorite project. Ninth and Fourth episode in the first season are her favorite episodes.
March for our lives: Mina supports gun control laws, she participated in the campaign.
Mutlilingual: She speaks fluent English, French, Spanish, can handle Swedish to an extent (and wishes her family doesn't disown her :)). She doesn't speak Italian (which is her mother's first language)
She is an outgoing girl and socializes easily.
Service: She wants to go on service trips to Ghana and different countries to contribute towards upliftment of humanity, to get to spend time with kids from different background.
She plays video games, but not too well according to her own confession.
Cyber bullying: She was cyber bullied by a friend who turned foe.
Siblings: She doesn't have other siblings, but her parents have a dog which Mina thinks is loved more than herself.
Balancing acting & academics: She has a private tutor who teaches her, they schedule classes whenever she has free time, she is graduating from a regular High school. She is good at school and she likes exams. She wants to go to college.
She is afraid of the dark.
She supports LGBT, she can be seen supporting pride.
Acting: When asked about acting "There are not ricks to acting, it all comes with a lot of hard work, lot of studying, lot of perseverance." Her tips for those who want to learn acting-> "Find a really good teacher, someone who will sit with you, listen to you, and push you." and "Do as much work as possible, whether it is a short small film."
She supported both Croatia and France in the 2018 football world cup.
She supports immigration into USA, she is a daughter of immigrants herself
She is lactose intolerant. She can not eat spinach.
she dreams of doing a historical French movie.
She wanted to be forensic pathologist as a kid.
Mina Sundwall Quotes
[To her mother on her birthday] You are the most beautiful, the most caring, most badass woman I have ever met.
[On Guns] People should not be afraid of going to school, or concert halls, or supermarkets, or in their backyard because of guns.
I wish I could spend all my time with my friends but at the same time, I don't like it when someone wants to own me.
I worry, I often over-think things, and I am more comfortable with boys than girls.
I really need authentic friendships where I know that no matter what happens, these real friends will be there for me no matter what and I will be there for them
[About New York] Every corner of New York is different, some posh and clean, some nitty gritty, I like that it is very genuine, very raw and real.
Recognition based on talent and not on gender is the best thing that can happen for gender equality