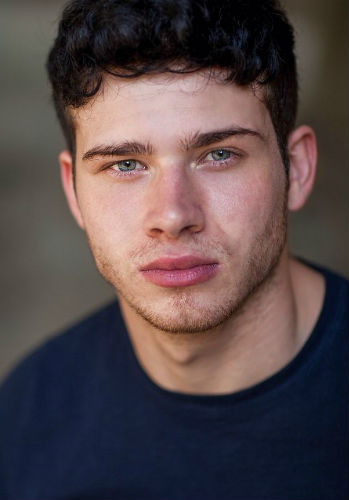 Oliver Stark
| | |
| --- | --- |
| Date Of Birth | June 27, 1991 |
| Age | 31 years 11 months 9 days |
| Day of Birth | Thursday |
| Place Of Birth | London, England |
| Zodiac Sign | Cancer |
| Profession | Actor |
| Other Name | Oliver Leon Jones |
Personal Information
Religion
Christianity
Languages
Welsh , English
Nationalities

British

, American
Ethnicity
Caucasian
Complexion
White
Trademarks
deep voice , Birthmark over Left Eye

Body Features & Measurements
Height

188 CM


6 Feet 2 Inches
Eye colors
Blue , Light Blue
Hair color
Light Blonde
Weight

76 KG


168 lbs
,

74 KG


163 lbs

Shoe Size
11
Tattoos
Left Stomach (Head with heart inside)
left arm
Right Chest (of Star/ Triangles)
Left Ankle (Words)
Shoulder Back (Of Radio/ Music player)
Body Type
Athletic
Chest size
38
Waist Size
32
Neck size
16

Education Qualifications
Education(School)
Hendon School (North West London; 2009 passed out)
Alma Mater

North London Performing Arts Center

Love, Romance, Marriage
Girlfriend
Hannah Harlow (2015-)
Career Information
Debut (Movie)
Community(2012)
Years Active
2011–
Debut (TV)
Casualty
Debut(Short movie)
Follow
Favorites, Hobbies, Likes/ Dislikes
Hobbies
Rapping
Climbing
Hiking
Bouldering
Parkour
Poker
Favorite Foods
Burger
French fries
Favorite Sport
Football
Favorite TV shows
Ozark (on Netflix)
Hustle (as a kid)
Likes
Zendaya
Baseball (After coming to USA)
Favorite Sports Team
Arsenal Football Club
Skills
Improvisation
Live Roleplay
Audio Books
Role Play
Physical Theatre
Devising
Story Telling
Voice over
Sports Activities
Tennis
Squash
basketball
Bowling
skiing
Football
Badminton
Fencing
Cycling
Social Networks, Web links
Twitter Profile
Oliver Stark Twitter Profile
Instagram Profile
Oliver Stark Instagram Profile
Snapchat
oliverstarkk
Contact
Talent Agent
United Talent Agency
More Information
Friends
Chiké Okonkwo
Aja King
Inspiration
Brad Pitt (For producing)
Net worth
$2 million (As of 2018)
Biography
Oliver Stark is a British TV & Movie actor. Oliver is popular for roles- Evan Buckley in 9-1-1(2018), Ryder in Into the Badlands, Gregor in Underworld: Blood Wars(2016), Shaun Butler in Luther (2013),
Oliver Stark was born on 27th June 1991 in London, England. He is the youngest of 2 sons his parents have.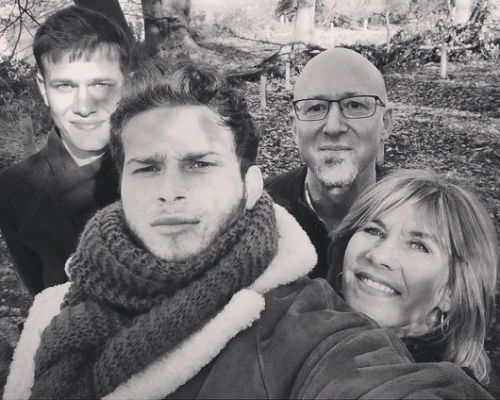 Image: Oliver Stark Family: Father, Mother & brother
Oliver Stark Education
Hendon School: He attended the mixed secondary school in Golders Rise, Hendon in north west London. He graduated from the school in 2009
Oliver Stark Relationships
Oliver Stark & Hannah Harlow
Oliver Stark is in relationship with actress Hannah Harlow (Guardians of the Galaxy Vol. 2) . They have been together since 2015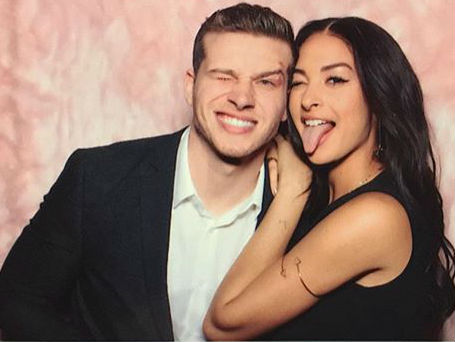 Image: Oliver Stark with girlfriend Hannah Harlow
Oliver Stark Facts & Trivia
He is the youngest of the two children of his parents. He has an older brother.
Odd Jobs before acting: Oliver worked as a Call center operator, Cleaner, Computer Game Salesman, Night club promoter, sports writer, door to door salesman.
He sold computer games till just two years before becoming an actor.
Birthmark: He has a birthmark above his left eye, it is not herpes. "It has never bothered me" says the actor. He is admired for not trying to cover up every small thing like most do in Hollywood
He attended North London Performing Arts Center where he got trained in acting.
Accents: Oliver can do American, Australian, British, Cockney, Irish accents
He is trained in Martial Arts.
He used to do High Jumps in High School
2010 Injury: In 2010 he broke his left kneecap while doing some stunts, he took 7 months to recover.
Oliver Leon Jones: His earlier credits name him 'Oliver Leon Jones', he used that name for his first two short movies.
Stark: His paternal surname is Jones, he chose grandmother's maiden name Stark at the beginning of his career.
Starkk: He uses double ending Ks in his social media profiles, someone had used that name already, 'but he never uses that account, I have no idea' says Oliver.
Football Fan: He follows football, often attends Arsenal's games.
Sports Writer: He used to work as a sports writer for an online website. He wants do a sports movie as an actor.
Journey so far as an actor: Struggle
Favorite movie sound track: Drive & Lion King
Before Mind Gamers he had to go through 6 weeks of training, he would get up with aches every day.
Drama school: He was selected into couple of drama schools at 18, he wasn't feeling very cheerful about it and didn't go.
He supports Firehero: The National Fallen Fire-fighters Foundation, he encourages donating for the cause of helping the families of fallen fire fighters.
He is a Vegan. He tries Seitan instead of Meat. He gained 30 pounds in the first year of being a Vegan
Hercules Universal: Oliver has appeared on the magazine's cover page in 2016
He likes pets, has a car for a pet.
Bored.com listed him as one of the 10 actors to watch in 2016
His left Arm Tattoo reads- "But, my friend, you have not killed me just yet".
He drinks a lot of water
He was about to study economics at the university, at the last minute chose acting
Hollywood's next wave of leading men: People have been calling him one of the next of leading men of Hollywood [2]
Socially Awkward: He keeps turning away people's invites for parties, he doesn't like to go for parties, but when he goes he usually has good times. He feels it is bit awkward to have one-on-one, but Interestingly he is very confident if it is a group [3]
I have always lived my life through a bit of mask (Acting career felt more liberating) [3]
Is Oliver Stark Gay? Some online websites had been gossiping about him being a Homosexual. He has a girlfriend and is straight.
Handy man: He is quite handy around the house, he can fix things
Mean girls- First movie he saw on a Date.
Oliver Stark Filmography
9-1-1 (2018-10) (TV Series)- Evan Buckley
Into the Badlands (2015-2017) (TV Series)- Ryder
Underworld: Blood Wars(2016)- Gregor
MindGamers(2015)- Dylan
Hard Tide(2015)- Alfie Fisher
Venus vs. Mars (2015) (TV Series)
Montana(2014)- Cal
Dracula (2013) (TV Series)- PC Barraclough
The Adventurer: The Curse of the Midas Box(2013)- Glocky Boy
Big Bad World (2013) (TV Series)- Bad Teenager
Luther (2013) (TV Series)- Shaun Butler
12 (2012) (Short)- Victim
Follow (2012) (Short)- Corey
Community(2012)- Pack Leader
Venus Vs Mars (2012) (Short)- Steven
Something Blue (2011) (Short)- Greg
Spirit (2011) (Short)- Goof
Casualty (2011) (TV Series)- Kyle DeNane
Always There (2011) (Short)- John Dagsworth
Talking to the Filth (2011) (Short)- Luke
Break In (2010)- Jeremy
Stage performances
Dirty Promises: it was directed by Dan Hoffman-Gill
Polling Booth: Oliver played Richard in the drama directed by Anna Jordan
Seconds: He played Samuel, it was directed by Adam Morley. The play won the Best new Play award
Fatal Excuses: A drama directed by Darrell Jackson
Oliver Stark Awards
2019: Best Drama Award- Teen Choice Awards- Nomination for his role in 9-1-1
2018: Breakout Star Award- Teen Choice Awards- Nomination for his role in 9-1-1
Oliver Stark News & Updates
WWE Smackdown 20th anniversary- In October 2019 he attended 20th anniversary & FOX premiere of WWE Smackdown
Tatler Magazine: Featured in the Feb 2019 edition of TATLER
Da Man Magazine: Appeared on a bike for the October 2018 edition of 'Da Man Magazine'
Oliver Stark Quotes
Blissfully ignorant confidence, where I just assumed I could be good at parkour got me the job in mind gamers.
I do like 80-90% of my own stunts, the more we are able to do, more it sells among the audience.
Sometimes it is smart to take the advice of stunts crew, sometimes your ego can get in your way sometimes.
I am a nice family man.
I am a man of peace, the world needs good-hearted people more than anything else.
Couple of years I was just worried I won't get roles. When I first started acting with big stars I was like a deer in the headlights.
I'd like Evan Peters to come and make an appearance on 9-1-1 show. Michael Shannon is another one I'd like to appear on 9-1-1. He can play my Dad (or brother)
Fight scenes are big (on money) and hard to get right.
I think every actor on every job has a different gateway into their part.
It is nice to be part of British films, I am a big fan and I want to support
A few months ago I was thinking of quitting acting. Hadn't worked in a year and I thought maybe my chance had gone. I started to look into becoming a fire-fighter. Now we are two days away from my new show airing- I play a fire-fighter. The universe is funny.
He promotes PETA online sometimes
He got American green card in November 2017.
I am a massive soccer fan- and it hurts my soul to call it soccer; it's football
I have gone through many different iterations of myself as an actor. I have done many things, I went through time where I was like 'I'm not gonna do any work, it's all gonna be instinct', not recommended. [3]
I feel very much confident going into the auditions, but less confident going into the jobs. I'm much more nervous and insecure about jobs rather than auditions (He laughs) [3]
I spent my first 5-6 years- not at all being discerning about the script, I just wanted a job, now I'm able to look more and be able to consider. There are number of things I look now- Has it got a good message, not just my role but the script. [3]
I want to bring down that side of myself that is Ego [3]
I certainly see myself as my High school self, which was short (which I'm not btw), very skinny, had really bad acne, I haven't been able to shake this feeling off [3]
If you are not feeling good about what you are doing, work harder till you feel good about it [3]
Get out of your own head, stop standing in your own way [3]
I've been vegan four years. I've always made a point of not being preachy about it and simply sharing my experience when asked. However. The world is burning. Cutting out red meat and dairy from your diet is a huge step you can take. Not even fully vegan. Just one small step. [4]
Our planet could become close to uninhabitable for our grandkids. If there are any little day to day changes you can make that might increase the Earth's chances- Now is the time. [5]
[About being Vegan & weight] Being plant based is not a surefire way to lose weight. You still have to make good choices [6]
In acting, you can work the hardest and still not reach the top [3]
Sources