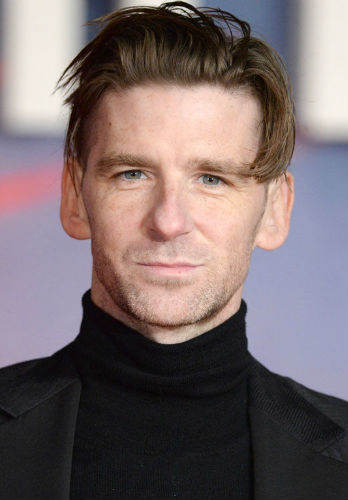 Paul Anderson
| | |
| --- | --- |
| Date Of Birth | February 12, 1978 |
| Age | 45 years 7 months 13 days |
| Day of Birth | Sunday |
| Place Of Birth | London, United Kingdom |
| Zodiac Sign | Aquarius |
| Profession | Actor |
| Nickname | Boycey |
Personal Information
Residence

London, England

Religion
Christianity
Language
English
Nationality

British

Ethnicity
Caucasian
Complexion
White

Body Features & Measurements
Height

175 CM


5 Feet 9 Inches
Eye color
Light Blue
Hair color
Light Blonde
Weight

75 KG


165 lbs

Body Type
Athletic
Family Information
Brother

Andy Anderson

Sister

Vicki Anderson

Nephew
Jacob Anderson (Son of sister)
Relatives
Bethany Anderson Rich
Stephanie Clark (Girlfriend? Friend?)

Education Qualifications
Alma Mater

Webber Douglas Academy of Dramatic Art

Career Information
Debut (Movies)
The Firm(2009)
Engaged to Kill(2006)
Years Active
2000-
Debut (TV)
Pink Serenade
Favorites, Hobbies, Likes/ Dislikes
Hobby
Smoking
Favorite Food
BBQ
Favorite Movie
The Warriors
Likes
Ice Cream
Favorite Sports Team
Tottenham Hotspur
Social Networks, Web links
Instagram Profile
Paul Anderson Instagram Profile
More Information
Friends
Indie Nelson
Adrien Sauvage
Alexander Cooke
Gregory Burke
Noomi Rapace ([3])
Talisa Carling
Christian Cooke
Biography
Paul Anderson is a British TV & Movie, Stage actor. He is known for playing Arthur Shelby in Peaky Blinders, Anderson in The Revenant(2015), Sebastian Moran in Sherlock Holmes: A Game of Shadows(2011), Leslie Lewis in '71 (2014), Albert Donoghue in Legend (2015) among others
Childhood - Family
Paul Anderson was born on 12th February 1978 in London, England, United Kingdom. His mother worked in a pub as a barmaid. [3]
He has a sister named Vicki Anderson & a Nephew in Jacob Anderson (actor who played "Grey worm" in Game of Thrones).
He has an older brother whom he looks up to, he says "My older brother has a big say in what I do and what is good and what is not. Sometimes he has too much of a say in it". Paul sends his scripts to his brother for approval. [2]
Education
School: Paul left school very young, he was about 14-15 when he left school. Going to drama school was like goign to school again. [3]
Webber Douglas Academy of Dramatic Art: Paul got enrolled in the institution thus officially switching careers. He was sitting around eating at the table where one of the friends was an actor, Paul was reciting lines from his favorite movie 'The Warriors', the meeting inspired Paul to apply for drama schools, he got selected both at Guildhall & Webber Douglas.
Interesting Facts & Trivia
Loves Pets: He loves pets and has a puppy named Ray/ Bear.
Early Life: He grew up in a council estate. His mother had worked as a barmaid in a pub.
Ticket Scalping: He spent most part of his early youth (before 2000s) as a ticket reseller.
Musician & Artist: He found his interest in acting in 2000s, he has tried his hand in music as well.
Friendship: Gregory Burke (Scottish playwright) was a friend of Paul's, the friendship lead to Paul getting chances early in the career
London Accent: He has a thick South London accent
Tottenham Hotspur: Paul is a football fan. He supports the English football club named- Tottenham Hotspur
Paul is a Legend: For his role in Legend, Paul based the voice of his role 'Albert Donoghue' on a friend of his who sells tickets. It sounded like an old man, but it was an interesting experiment. His friend had found that out through Paul's brother. He was very flattered. He is a big supporter of Paul. [3]
Tattoo
He has many tattoos on the front side of his body. A Cross on his chest. Letters below his left chest, A diagram on his right chest.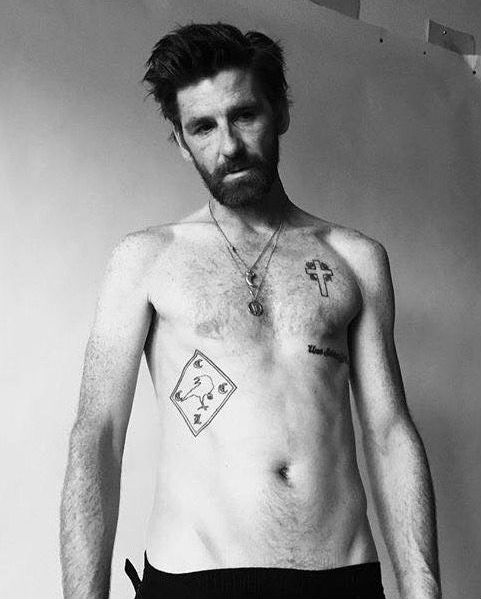 [ Paul Anderson Tattoos ]
Career
Stage & TV: After the drama school, Paul ventured into London stage, he quickly found himself promoted to TV screen.
Singing: Paul is passionate about singing, in fact it was singing that brought him to acting, he says "I always wanted to be a front man in a band, Not a footballer, not an actor, not a policeman nor a fireman" about singing. [3]
Peaky Blinders
Paul plays- 'Arthur Shelby'- the man in charge, the leader of the pack in Peaky blinders. He runs pubs and gambling rackets.
Paul was attracted towards the character because of the script. He is a fan of the writer Steven Knight. Otto Bathurst, the director first 3 episodes had created a good impression on him, which helped Paul take up the role of Arthur.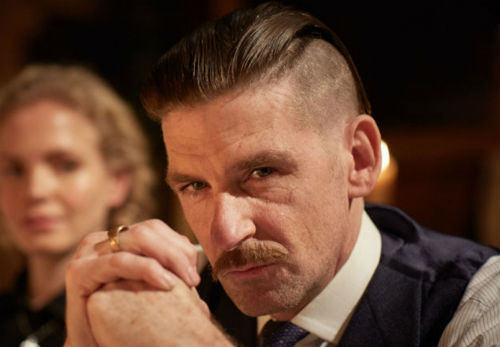 [ Paul Anderson in Peaky Blinders ]
Filmography
Movies List
| Year | Movie | Character | Comments |
| --- | --- | --- | --- |
| 2019 | Tijuana Bible | Nick | |
| 2019 | Feedback | Andrew Wilde | |
| 2018 | Robin Hood | Guy of Gisbourne | |
| 2017 | 24 Hours to Live | Jim Morrow | |
| 2017 | Hostiles | Corp. Tommy Thomas | |
| 2016 | Brimstone | Frank | |
| 2015 | The Revenant | Anderson | |
| 2015 | In the Heart of the Sea | Caleb Chappel | |
| 2015 | Legend | Albert Donoghue | |
| 2014 | Electricity | Barry O'Connor | |
| 2014 | '71 | Sergeant Leslie Lewis | |
| 2013 | Still Life | Homeless Man | |
| 2012 | Passion | Dirk | |
| 2012 | The Sweeney | Francis Allen | |
| 2012 | Piggy | Piggy | |
| 2011 | Sherlock Holmes: A Game of Shadows | Col Sebastian Moran | |
| 2011 | A Lonely Place to Die | Chris | |
| 2009 | The Firm | Bex | |
| 2008 | Frankie Howerd: Rather You Than Me | Roger | |
TV Series List
| Year | Series | Character | Comments |
| --- | --- | --- | --- |
| 2013-2019 | Peaky Blinders | Arthur Shelby | Main Role; 31 Episodes |
| 2013 | The Great Train Robbery | Gordon Goody | "A Robber's Tale", "A Copper's Tale" (Season 1 Episode 1-2) |
| 2013 | Top Boy | Mike | 3 Episodes; Season 2 Episodes 1-3 |
| 2008-2011 | Inspector Lewis | Alastair Darlow/ Frank Sporetti | "The Great and the Good" (Season 2 Episode 4); "Wild Justice" (Season 5 Episode 2) |
| 2011 | The Promise | Sgt. Frank Nash | 4 Episodes; Season 1 Episodes 1-4 |
| 2009 | Midsomer Murders | Graham Spate | "The Black Book' (Season 12 Episode 2) |
| 2008 | Ashes to Ashes | PC Murder Suspect | Season 1 Episode 8 |
| 2007 | Silent Witness | D.S. Dave Leeson | "Peripheral Vision: Part 1 & 2" (Season 11 Episode 9-10), |
| 2005 | Doctor Who | Jason | "The Christmas Invasion" (Season 2 Episode 0); Special Episode |
Short movies List
| Year | Short movie | Character | Comments |
| --- | --- | --- | --- |
| 2014 | Chandide | Dervish | |
| 2010 | The Basement | Jake | |
Stage
Tartuffe: In 2018 he appeared in the play written by famous French playwright Molière & directed by Gérald Garutti , it was at the Theater Royal Haymarket
The Firm
Piggy
The Sweeney
Quotes
I like playing the bad guys, you know it is fun.
Canada was freezing cold, up in the mountains, if you were cold you just had to sit there and bear it.
When I watch the film I want to ring my phone and share that experience, I want people to get the feel when they see my movies, the urge to see great movies.
I have few options, it is a nice place to be as an actor
When I first heard the title "Peaky Blinder" I thought it was a musical. It is great how people took it.
I don't gonna lie, when I read the script (of peaky blinder) I cried a little.
Haircut is a hard thing to wear
I left school when I was about 14, so there was a large gap in my education. Going to drama school was like university that I never had.
[About Ticket Scalping] I loved it. A wealth of experience. Artistically, there was nothing in it for me, I always wanted to do something else.
I knew a lot of 60s gangster. It wasn't hard for me to replicate the vernacular and the vocabulary on screen.
You always have that insecurity as an actor
Brutal & Violent characters are the most interesting roles to play, there is so much scope in playing those roles.
It was a pleasure to play Arthur Shelby. Much better than playing the nice guy.
I do play a lot of darker characters, I am drawn to them
I'm an actor, I don't dig roads for a living—it's a luxury [3]
Sources