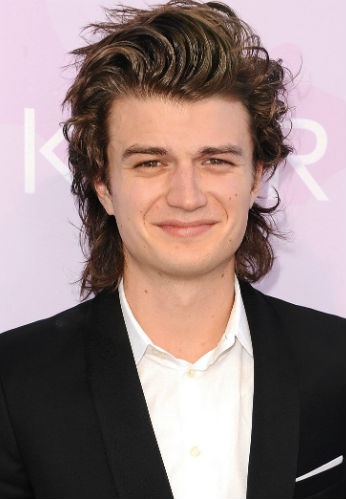 Joe Keery
Date Of Birth
April 24, 1992
Age
31 years 5 months 1 days
Day of Birth
Friday
Place Of Birth
Newburyport, Massachusetts, United States
Zodiac Sign
Taurus
Professions
Singer ,

Musician

, Model , Actor
Full Name

Joseph David Keery

Other Name
Djo (moniker for music career)
Personal Information
Residence

Chicago, Illinois, United States

Religion
Christianity
Language
English
Nationality
American
Ethnicity
Caucasian
Complexion
White
Famous For
Stranger Things
Trademark
Long Hair

Body Features & Measurements
Height

180 CM


5 Feet 11 Inches
Eye color
Hazel
Hair color
Dark Brown
Body Type
Slim
Chest size
41
Waist Size
34
Biceps Size
14
Family Information
Father
David Keery (Architect)
Mother
Nina Keery (English professor)
Sisters

Lizzy Keery


Caroline Keery (Older; Conny; Caroline Keery Whitmore)
Emma Keery (Kate's Twin)
Kate Keery (Emma's Twin)
Grandfathers
Thomas Keery (Paternal)
Robert Barger (Maternal)
Grandmothers
Constance FitzGerald (Paternal)
Susan Rae Haney Rust (Maternal)

Education Qualifications
Education (Graduation)
The Theatre School (DePaul University, class of 2014)
Education (High School)
Newburyport High School (Graduated in 2010)
Education(School)
River Valley Charter School
Alma Mater

DePaul University

Education (Middle School)
River Valley Charter School
Love, Romance, Marriage
Girlfriend
Maika Monroe
Career Information
Debut (Movie)
Henry Gamble's Birthday Party(2015)
Years Active
2015-
Debut (TV)
Sirens
Salary
$30,000 (Per Episode of Stranger Things)
Favorites, Hobbies, Likes/ Dislikes
Hobbies
Music
Reading
Favorite Actor
Sylvester Stallone
Favorite Actresses
Kristen Stewart
Emma Stone
Favorite Foods
Pizza
Burger
Favorite Movies
Star Wars (Series)
Indiana Jones (Series)
Favorite Musician
Elvis Presley
Favorite Drink
Irish Whiskey
Favorite TV show
Smart Guy
Favorite Sports Team
Boston Red Sox
Favorite Artist
Frank Sinatra
Sports Activities
basketball (Highschool)
Football
Hockey (Highschool)
Favorite Cartoons
Pokemon
SpongeBob
Social Networks, Web links
Twitter Profile
Joe Keery Twitter Profile
Instagram Profile
Joe Keery Instagram Profile
Contact
Manager
Literary Management
Talent Agent
Authentic Talent
More Information
Teachers
Lisa Zaleski (Drama)
Jane Brody (Acting)
Stephanie Williams (Drama)
Friends
Jake Hirshland
Javi Reyes
Lucas Baisch
Tim Nagle
Inspirations
Tracy Letts
Michael Shannon
Net worth
$2 million (in 2017)
Instruments
guitar
Biography
Joe Keery is an American TV/ Movie actor & Musician. Steve Harrington in Stranger Things, Cole in Molly's Game, Jackson in Slice, Chris in Shotgun.
Family - Childhood
Joseph David Keery was born on 24th April 1992 in Newburyport, Massachusetts, United States to David Keery (father) & Nina Keery (mother). He grew up in Newburyport, Massachusetts.
Parents
Joe's father David Keery is an Architect & his Mother Nina Keery is an English professor.
Sisters
Joe Keery has 4 sisters. Older sister Caroline and 3 younger ones in- Lizzy, Emma & Kate. Emma & KAte are twins.
Caroline Keery(Born 1990)
Joe Keery(Born 1992)
Lizzy Keery(Born 1996)
Emma Keery(Born 1998)
Kate Keery(Born 1998)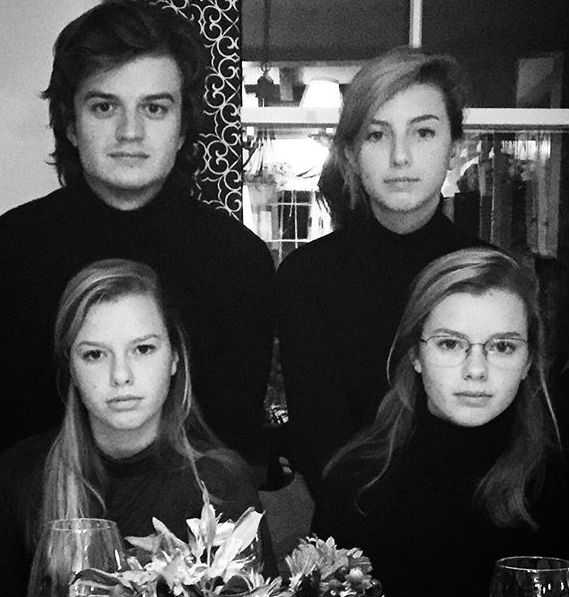 Image: Joe Keery with sisters
Education
River Valley Charter School: He attended the local elementary & middle school in Newburyport.
Newburyport High School: He attended NHS- a public high school for students from 9th to 12th grade, located in Newburyport, Massachusetts. Joe started acting in the High School on his sister Caroline's insisting. He has acted in Plays such as The Pajama Game(Prez), Emma(Mr. Knightley), Dangerous Liaisons(Vicomte de Valmont). [2]
Maudslay State Park: Joe attended performing arts & Theater camp at the Maudslay State Park.
The Theatre School: He studied Fine Arts at the 'The Theatre School' affiliated to DePaul University. He graduated with Bacholor of Fine Arts (Acting) degree in 2014
Girlfriend - Dating
Joe Keery & Maika Monroe
Joe has been dating Maika Monroe (Maika Monroe Buckley) an American actress (known for "It Follows", "Independence day: resurgence", "The 5th wave", "The Guest") & a professional kiteboarder.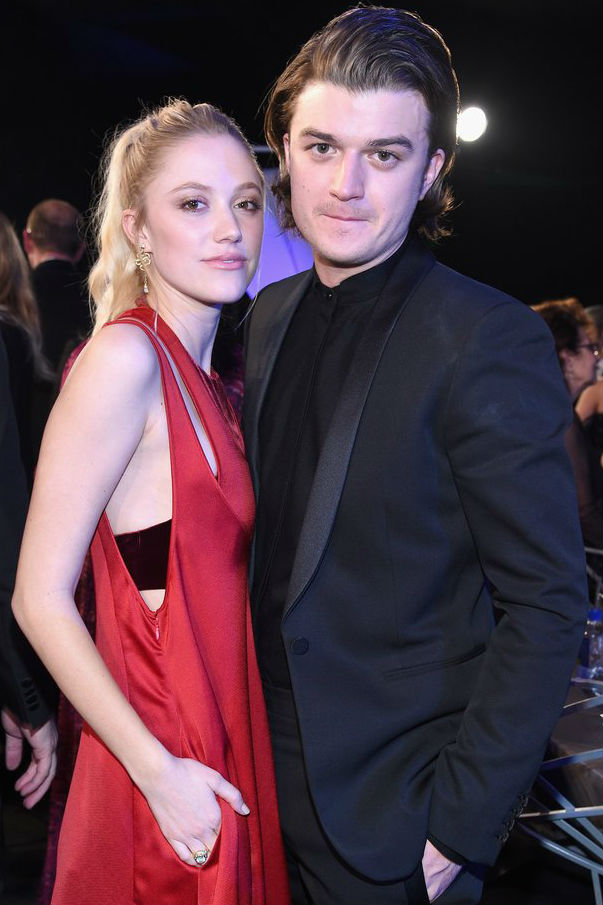 Image: Joe Keery with girlfriend Maika Monroe
Facts & Trivia
Five Siblings: He has 4 siblings, he is the 2nd of the 5, he is the only boy among 5 siblings. He apparently had to watch lot of girl movies while growing up.
Ancestry: His family is mostly from Ireland (with some German down the line) he suspects the surname must have been changed from O'Keery or O'Kerry.
Previous Jobs: Before getting steady jobs in the industry he used to work small jobs, some of them are:

He has worked at a restaurant
Delivered Pizza
Waited tables at a burger restaurant(DMK Burger Bar, Lakeview)

Funny incident: When he was working as a Pizza delivery boy there were no mobile phone maps, he was using old maps and talking to a customer on phone finding it difficult to find the place, the customer was getting grumpier by the minute, when he finally found the place and gave the pizza, the customer handed him a piece of paper which read "Pizza delivery is not for you", That is when Joe decided to quit the job.
String of Auditions: Joe went through 100s of auditions for roles without much luck, Stranger Things changed things for him. It gave him the major breakthrough (he has acted in other projects previous to that)
Commercials: Joe has appeared in commercials for

Amiibo(Nintendo)
Domino's (Recreated scenes from "Ferris Bueller's Day Off" (1986) for the Ad)
KFC

Friendship: Joe Keery & Gaten Matarazzo are good friends off the screen.
Replies to Instagram comments: Once he was invited by a few people to a bar on Instagram, Joe and his friend went there and hung out for a while.
Shades are good: He wears Ray-Bans when he is outside.
I'm Not Smart: Joe wrote, played and recorded the song back in 2013
Twitter: He got a twitter account in late 2016, his sister helped him.
Dog Fight: Joe & co-star David both love the dog that belongs to one of the makeup artists, they have been posing with it and posting pics on their social media, a cute battle.
Young Hollywood: He is a card carrying member of

Young Hollywood

association.
Joe Keery kissing Charlie Heaton
Joe Keery & Charlie Heaton had a funny kiss incident on a Stranger Things event. Here for your viewing pleasure
[ Koe Keery kissing Charlie Heaton ]
Joey Keery Haircut/ Hair Style
Joe gets his crazy hair from his parents, his dad wanted him to have his hair cut, but Joe likes it long. His mom has thick hair, while dad has poofy hair.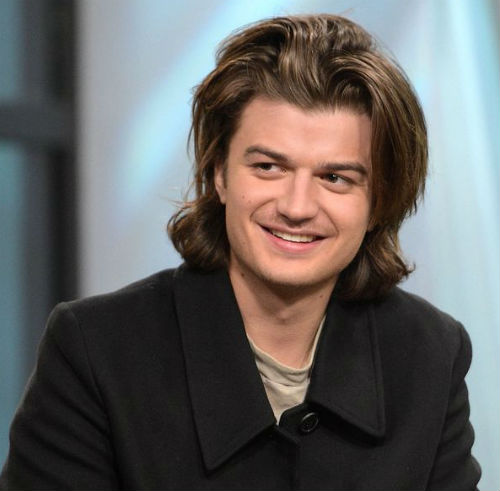 [ Joe Keery haircut ]
Joe Keery Look alike
Joe Keery & actor Ben Schawrtz share some facial features, but not related in any way. In October 2017 they made a video together for VISA, where they acted as each other's doppelganger. [Link]
[ Joe Keery & Ben Schawrtz ]
Joe Keery- Dominos commercial
Joe recreated the iconic Ferris Bueller scene for the Dominos ad in 2017
Questions & Answers
What is Joe KEery's Hair secret routine?

Get up in the morning, have window down if you are driving, do not wash your hair as much as you want. (He doesn't use any shampoo or conditioner in specific, it is just a gift)

Which are Joe Keery's favorite Hangouts in Chicago?

Brooklyn Boulders Chicago (Workout)
Ten Cat Tavern(Drinks)
Osmium Coffee Bar
Red Line train(Lunch)

Is Joe Keery Gay?

Joe played a gay character in Henry Gamble's Birthday Party(2015), he is straight in real life though, he has a girlfriend.

Which is his Favorite Guitar?

He owns a Getch Corvetter 1967 made up of Mahogany which he loves. He also likes playing American Stratocasters, Gibson b25.

What is his Advice to aspiring actors?

The most important thing I have learned is- Be prepared when the time comes, make sure you have all the tools in the kit and can capitalize when the opportunity comes.

Which are the places he wants to visit?
What is Joe Keery Salary?

Joe Keery was paid $150,000 per episode of Stranger Things Season 3
Career
Stranger Things
He practiced the role of Steve Harrington in Stranger Things for about 6 weeks without knowing if he has got the role. He practiced swimming because the character demanded it, but when he actually went to the sets he found out that the swimming scenes were cut out. He originally auditioned for the role of Jonathan, he liked Steve's character and auditioned for it. His Mom thought Steve (the role) was kind of a jerk though.
Favorite Scene: Walking down the train track with Gaten Matarazzo(who plays Dustin) was one of Joe's favorite scenes in Stranger Things
Music Career
Joe Keery Band- Post Animal
Joe is a musician as well, He was a guitarist in the Chicago based psychedelic rock band Post Animal [Facebook page]. Dalton Allison, Jake Hirshland, Javi Reyes, Matt Williams, Wesley Toledo are the Other members of the band. Joe also writes songs, handles drums and sings. He is no longer associated with the band.
He has worked vocals and guitar for the band's album- "When I Think Of You In A Castle"
---
Cool Cool Cool: Joe has previously released music under the musical name 'Cool Cool Cool'. He now uses the moniker Djo.
Singles by Joe Keery
Some of the singles Joe has released are:
"Roddy" (July 2019)
"Chateau (Feel Alright)" (August 2019)
"Mortal Projections" (August 2019)
Albums
"Djo, Twenty Twenty" (September 2019)

Djo- Total Control
Djo- Showtime
Djo- bnbg
Djo- mutual future
Djo- ring
Djo- flash mountain
Djo- tentpole Shangrila
Djo- personal lies
Video: I'm not Smart- written, played and recorded by Joe Keery.
Filmography
Movies List
| Year | Movie | Character | Comments |
| --- | --- | --- | --- |
| 2020 | Free Guy | Keys | |
| 2020 | Spree | Kurt Kunkle | |
| 2018 | Slice | Jackson | |
| 2018 | After Everything | Chris | |
| 2017 | Molly's Game | (Trust Fund) Cole | |
| 2016 | The Charnel House | Scott | |
| 2015 | Henry Gamble's Birthday Party | Gabe | |
TV Series List
| Year | Movie | Character | Comments |
| --- | --- | --- | --- |
| 2016-2021 | Stranger Things | Steve Harrington | Main Role; 31 Episodes; also stars Millie Bobby Brown |
| 2019 | No Activity | | "Oops Sorry" (season 3 episode 8) |
| 2015 | Empire | Tony Trichter III | "Who I Am" (Season 1 Episode 12) |
| 2015 | Chicago Fire | Emmett | "Red Rag the Bull", "Forgive You Anything" ( Season 3 Episode 16-17) |
| 2015 | Sirens | Scenester | "Screw the One Percent" (Season 2 Episode 6) |
Short Movies List
| Year | Movie | Character | Comments |
| --- | --- | --- | --- |
| 2019 | How to Be Alone | Jack | |
Awards
| Year | Won? | Award | Project | Category | Comments |
| --- | --- | --- | --- | --- | --- |
| 2018 | Nomination | Screen Actors Guild Awards | Stranger Things | Outstanding Performance by an Ensemble- TV Drama | |
| 2017 | WON | Screen Actors Guild Awards | Stranger Things | Outstanding Performance by an Ensemble- TV Drama | |
Screen Actors Guild Awards(2017): He won the 'Outstanding Performance by an Ensemble' award along with the cast in 2017. The cast received a nomination again in 2018.
Quotes
Jeans are very tight in lot of ways, in places you might not want them to. Nowadays jeans are like baseball gloves, they stretch everywhere.
Newburyport will always be a part of my life, It is a great place to grow up, traveling away and living in Chicago has only made me appreciate it more.
I feel lucky to have the opportunity to get paid to do something that I love.
Learning your lines is just the tip of the iceberg, acting is about being prepared & ready to collaborate once you get on set.
Do enough preparation and hard work so that when you are in the right moment at the right time, you can be in the right frame of mind to relax and be yourself
[About characters in Stranger Things] Everyone thinks they're the hero in their own story
Chicago is a place where actors can live and be without becoming narcissists, it's very hard to live in Los Angeles and not become a narcissist.
[About role in Stranger Things] I'm really blessed to be on the show, just after my acting school, I was nobody a week ago, but to be recognized so widely is crazy.
I just don't have hair-care regimen, It's just my genetics
In order to do what is best for the ones you really love, you have to put yourself in the backseat
Just knowing what you need is a very important part of the job.
Kids dressing as my character for Halloween, some fans doing art work on my character are like the coolest thing ever, It will never get old.
I was a little bit of a boss while growing up, I troubled my little sisters.
I think it helps a little to be a bit nervous.
Dancing is a little awkward, it becomes more fun the less you care.
I was a bad High School student, I was not a dummy or anything, I was just bored all the time.
I'm good at making an impression in person than if asked to write an essay.
It is a fun thing to compete, I'm pretty competitive.
I do like all Boston sports teams.
Sources