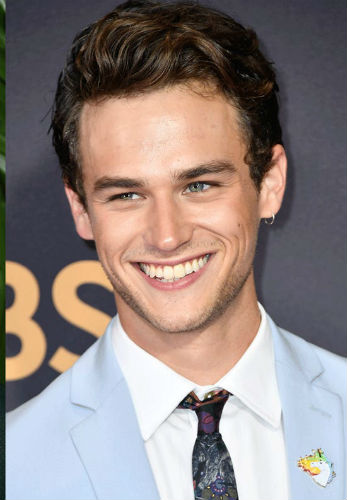 Brandon Flynn
| | |
| --- | --- |
| Date Of Birth | October 11, 1993 |
| Age | 30 years 1 months 20 days |
| Day of Birth | Monday |
| Place Of Birth | Miami, Florida, US |
| Zodiac Sign | Libra |
| Birth Name | Brandon paul flynn |
Personal Information
Religion
Judaism
Nationality
American
Ethnicity
White
Sun Sign
Libra
Body Features & Measurements
Height

175 CM


5 Feet 9 Inches
Eye color
Greenish-Blue
Hair color
light brown
Weight

65 KG


143 lbs

Tattoo
Arms
Chest size
40
Waist Size
32
Biceps Size
14
Family Information
Father

Michael Flynn

Mother

Debbie Flynn

Sisters

Jaime Flynn




Danielle Flynn

Grandmother
Bubbe
Body Build
Athletic
Education Qualifications
Education(School)
New World School of the Arts, Miami, Florida , Mason Gross School of the Arts
Education(College)
Rutgers University (BA degree)
Career Information
Salary
$135,000 (per episode of 13 Reasons Why in Season 3 [5])
Favorites, Hobbies, Likes/ Dislikes
Hobbies
Listening to music
Travelling
Likes
Schitts Creek (TV series)
Social Networks, Web links
Twitter Profile
Brandon Flynn Twitter Profile
Instagram Profile
Brandon Flynn Instagram Profile
More Information
Inspirations
Montgomery Clift
James Dean
Net worth

$1 Million
Biography
Brandon Flynn is an American actor. He is known for playing Justin Foley in the Netflix series "13 Reasons Why". He has appeared as Mike the Intern in BrainDead (2016).
Recently he has appeared in the American crime drama series- True Detective (2019) as Ryan Peters and has a recurring role. It stars Matthew McConaughey, Colin Farrell, Mahershala Ali and others
Childhood - Family
Brandon Flynn was born on 11th October 1993 in Miami, Florida to Debbie Flynn(Mother) & Michael Flynn(father).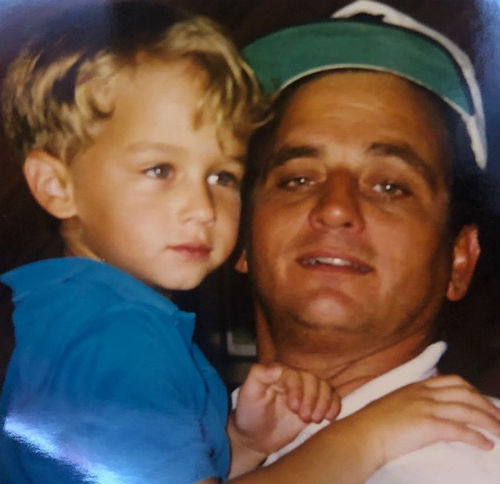 [ Brandon Flynn with father ]
On February 20th in 2020 Brandon posted the above picture of his father with him wishing him a happy birthday with the message "Thank you for showing me that a man can be tender and sensitive and full of love; that our flaws don't define us but get us to where we need to be"
Siblings
He has two siblings in sisters- Danielle Flynn & Jaime Flynn.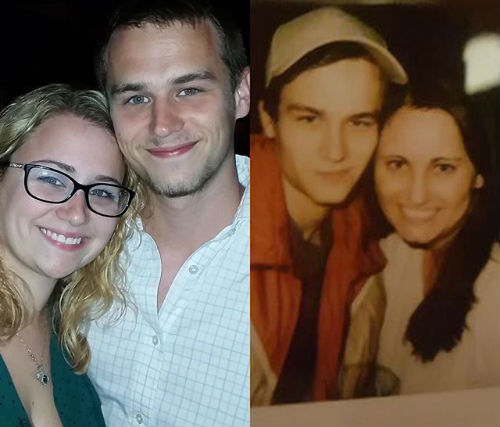 [ Brandon Flynn with sisters- Danielle (left) & Jaime Flynn ]
On national siblings day in 2017 (April 2010) Brandon posted this thank you note to his sisters [7]
..these two are blood! Always supportive of who I am and what I do. I love them so much it hurts. Thank you Jaime and Danielle for always being there and for giving me my niece and nephew who inspire me everyday
Education
He was bullied at Middle school for his sexual orientation. He had a good time at High school and college. [6]
I had all of that trauma and obstacles to deal with when I was younger, so I had a very open educational experience where high school and college never felt like that was an issue to other people
New World School of the Arts: Brandon studied at the visual and performance arts school and college located in downtime Miami, Florida.
Mason Gross School of the Arts: Brandon graduated from the Mason Gross School of the Arts located in New Brunswick, New Jersey (affiliated to Rutgers University) with a degree in fine arts (Bachelor of Fine Arts) (B.F.A) in the year 2016.
Boyfriend - Dating
Brandon Flynn & Richard Madden
Brandon Flynn is believed to be dating Game of Thrones (played Robb Stark) fame Scottish actor Richard Madden. Twitterati first speculated the two being a couple in March 2019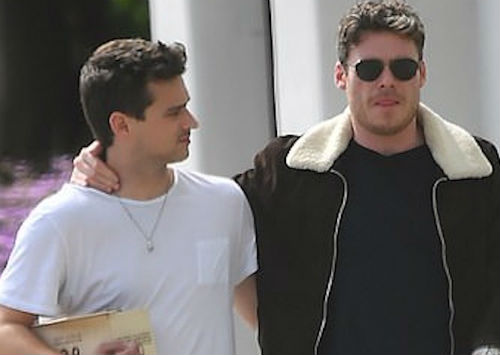 [Brandon Flynn & Richard Madden]
When asked about the relationship rumors he looked annoyed at the speculations, he expressed his annoyance during his interview with the Variety magazine [6]
It is hard not to feel like something in my personal life is not being scandalized because that's kind of the way it feels when you read headlines about yourself.. It's all just something to egg on some sort of rumor cycle that will just keep going around until you finally get something that will actually just make it all true or false
Brandon Flynn & Sam Smith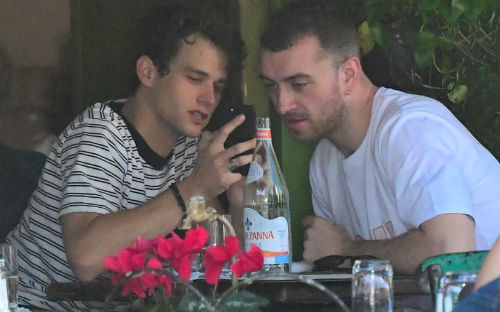 [ Brandon Flynn & Sam Smith ]
Brandon has dated English singer and song Sam Smith since September 2017 till June 2018. They two broke up after a relationship of 9 months.
Facts & Trivia
Ancestry: Brandon is of Irish descent from his father's side and is of Russian Jewish descent from mother's side
He can lick his elbows: Brandon demonstrated his ability to lick his own elbows on Broadway.com.
Best friend: His best friend is Miles Heizer and the actor repeatedly posts pictures of them on Instagram.
Freakazoid fan: As a kid Brandon loved the animation TV show Freakazoid, it was created by Bruce Timm & Paul Dini. Developed by Tom Ruegger for WB (Kids). "He came out of the computer and he was a freak of nature. Like me, I guess. I related to that" reveals Brandon why he loves the show.
Animal Lover: He has a pet dog named Charlie.
FL Kidcare Health: He has appeared in an advert for CWW's Florida Kidcare Health.
Shorty's barbeque joint: He waited tables at the Shorty's barbeque joint in Miami before becoming a successful actor in Hollywood.
Supports Donald Trump: He lauds the President of the united States Donald Trump for his stand and support for the LGBT community.
He smokes Occasionally[3]
Religion: He is Jewish, he made a funny post for Christmas with deer filter on- "Everyone is asking if I hate working on Christmas, but I'm Jewish, they just don't get it." [3]
He is a fan of RuPaul's Drag Race & has it on DVD
Brandon Flynn & Alisha Boe
Brandon and Alisha had a rocky start. They had met on the sets of '13 Reasons Why', but were not keen on talking to each other. Brandon was nervous initially, he feared it would be painful if he had to spend more than six months with the actress on the sets shooting together.
However the two shed their reservations on each other over time and have become very friends, they often post instagram posts of each other with sweet messages to each other.
Brandon posted the below, sweet, birthday wish to Alisha on her birthday through an instagram post [2]
"You have become one of the closest people in my life, wherever our lives may lead us, you've always been there for me and I hope to always be there for you in anyway you need. Have the best birthday"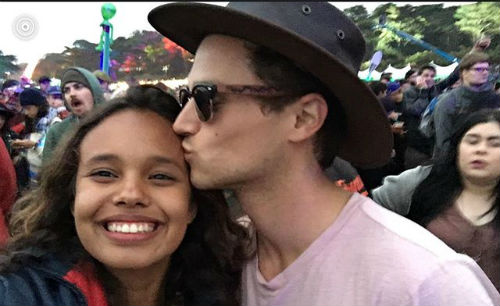 [ Brandon Flynn & Alisha Boe ]
Brandon got a semi-colon on his right arm in suppor the movement dedicated to precenting suicide by "Project Semicolon" by the organization.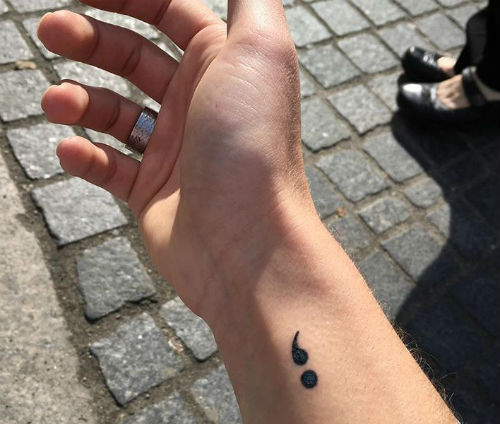 [Brandon Flynn Semi-colon tattoo]
He wrote an encouraging message on his instagram post
..be the author of your own story and allow your story to continue because it could help others and change the world..
Homosexuality & LGBT issues
Bullying at school: Brandon was bullied in his middle school by a few idiotic fellow students for acting in a more feminine way (from their perspective). To deal with the pressures of harassment he took to prescribed drugs, he eventually started abusing drugs heavily.
Confession: He had called his father on a speaker phone on father's day to come out as gay. He came out to his family and friend around 2008-2009 at the age of 15. He hasn't come out in the public, but he has always kept his sexuality open.
The actor has been openly gay, he identifies himself as "gay-boy" [2]. He has been an active part of LGBT community.
He often wears purple on the spirit day in support of the LGBT community and to condemn the prejudice and bullying they have to face through.
Criticism of anti-LGBT message in Australia: In September 2017, Sydney city of Australia had a (non-binding) plebiscite over legalization of same sex marriage in Australia. An airplane flew over the city leaving the message "Vote NO" in air. Brandon criticized the anti-LGBT attempt at influencing people to vote NO.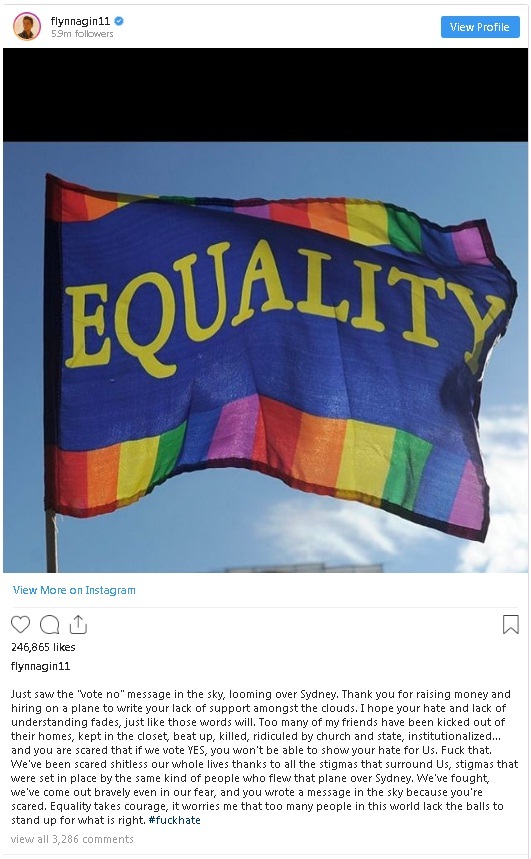 [ Brandon Flynn message on "Vote NO" message]
Career
Beginning: The firs role Flynn ever played was In the musical version of Peter Pan, he was just 10 at the time, he played the character of Mr. Smee.
13 Reasons Why
Brandon plays Justin Foley in the teen murder mystery series. Justin is a student at the Liberty High. He is in relationship with Jessica Davis, he comes from an abusive family and he was the first person in the storyline to humiliate Hannah (during their first date) and set the story of Hannah in motion.
Clay Jensen's (Dylan Minnette) parents Lainie Jensen (Amy Hargreaves) & Matt Jensen (Josh Hamilton) adopt Justin in the second season.
Katherine Langford (as Hannah Baker), Christian Navarro (as Tony Padilla), Alisha Boe (as Jessica Davis), Justin Prentice (as Bryce Walker) also apepar in the series.
Brandon wasn't aware how big the series had gotten to be, he hadn't imagined it would make him so much famous.
He has appeared on several of the series promo videos like- "Bringing the Book to Life", "Justin Foley - Not Your Typical Jock", "Beyond the Reasons', "Season 3 Promo" [4]
Music Videos
In the musical video Lockjaw by Cook Thugless Brandon appears along with Shyrley Rodriguez & David Hunte. It was directed by Jean Louis Droulers; Anthony King & Alexander Gurevich handled Photography. Jean Louis Droulers & Shyrley Rodriguez were the lead vocalists.
[Cook Thugless - Lockjaw ]
Year
Song
Artist
Comment
2018
Lockjaw

Cook Thugless

(Vocals: Jean Louis Droulers, Shyrley Rodriguez)

Feat Shyrley;

Director- Jean Louis Droulers
Theater/ Stage/ Broadway
He has had good theater experience. His Broadway debut was in a musical skit called Victory. His other theater performances include- Alton, Henry V, Acting is believing and Iwanna.
| Year | Play | Writer | Character | Venue |
| --- | --- | --- | --- | --- |
| | Kid Victory | | Luke | Vineyard Theatre |
| | Alton | | | |
| | Henry V | | | |
| | Acting is believing | | | |
| | Ivona, Princess of Burgundia | | | |
| | Much Ado about nothing | William Shakespeare | | |
| | The Crucible | Arthur Miller | | |
| | Our Town | | | |
| | An Oresteia | | | |
Filmography
Year
Movie/ Series
Type
Character
Comment
Looks That Kill
Movie
2017-2019
13 Reasons Why
NetFlix Series
Justin Foley
2019
True Detective
TV Series
Ryan Peters

3 Episodes (Season 3 Episode 1-3)

The Great War and Modern Memory

Kiss Tomorrow Goodbye

The Big Never

2018
Binge
short movie
Johnny
also as co-producer
2017
Home Movies
short movie
2016
BrainDead
TV Series
Mike the Intern
1 Episode- "The Power of Euphemism: How Torture Became a Matter of Debate in American Politics" (Season 1 Episode 7)
News & Updates
He posed shirtless for the 'Hero Winter magazine'. He was interviewed along with the co-star Alisha Boe for the 2017 Winter edition.
Sources