Robert Wahlberg
Date Of Birth
December 18, 1967
Age
52 years 6 months 17 days
Day of Birth
Monday
Place Of Birth
Dorchester, Boston, Massachusetts, United States
Zodiac Sign
Sagittarius
Profession
Actor
Nicknames

Bobbo

,

Bob

Full Name

Robert G. Wahlberg
Personal Information
Religion
Christianity (Roman Catholic)
Language
English
Star Sign
Sagittarius
Nationality
American
Ethnicity
Caucasian
Complexion
White
Sexual Orientation
Straight

Body Features & Measurements
Height

178 CM


5 Feet 10 Inches
Eye color
Blue
Hair color
light brown
Weight

78 KG


172 lbs

Body Type
Average
Family Information
Father
Donald Edmond Wahlberg Sr. (school bus driver/ delivery driver; died on February 14, 2008)
Mother

Alma Elaine Donnelly

Sons

Oscar Wahlberg




Charlie Wahlberg

Wife
Gina Santangelo Wahlberg (Divorced)
Brothers
Donald Edmond Wahlberg Jr (singer/ songwriter/ actor; born August 17, 1969)


Mark Wahlberg




Arthur Wahlberg


Paul Wahlberg (Chef/ Actor)


Jim Wahlberg

Sisters

Tracey Wahlberg


Debbie Wahlberg (she died in 2003)


Michelle Wahlberg

Grandfather
Axel Simon Wahlberg (paternal)
Nephews
Michael Wahlberg (born in 2008; son of Mark Wahlberg & Rhea Durham)
Elijah Hendrix Wahlberg (born August 20, 2001; Son of Donnie Wahlberg & Kimberly Fey)
Ethan Wahlberg (Son of Paul Wahlberg)
Brendan Joseph (born in 2008; son of Mark Wahlberg & Rhea Durham)
Xavier Alexander Wahlberg (born March 4, 1993; Son of Donnie Wahlberg & Kimberly Fey)
Brandon Wahlberg
Nieces
Ella Rae Wahlberg (born in 2010; daughter of Mark Wahlberg & Rhea Durham)
Grace Margaret Wahlberg (born in 2010; daughter of Mark Wahlberg & Rhea Durham)
Madison Wahlberg (Daughter of Paul Wahlberg)
Sisters In-Law
Teresa Wahlberg (wife of Arthur Wahlberg)
Rhea Durham (model; wife of Mark Wahlberg)
Jenny McCarthy (actress/ model/ TV host/ author; 2nd wife of Donnie Wahlberg)
Great Grandfather
Axel Gustaf Wahlberg (paternal)
Half Brothers
Buddy Wahlberg
Scott Wahlberg
Half Sister
Donna Wahlberg
Great-grandmother
Ida Albertina Nordstrom (paternal)

Education Qualifications
Education (High School)
Copley Square High School, Newbury Street
Career Information
Debut (Movie)
Southie(1998)
Years Active
1998-
More Information
Friends
Johnny Alves (Childhood)
Henry Laun (Childhood)
Net worth
$10 Million (as of 2017)
Biography
Robert Wahlberg is an American movie actor. He has acted in movies such as Mystic River(2003), The Departed(2006), On Broadway(2007), Gone Baby Gone(2007), Contraband(2012), The Equalizer(2014)
Family & Personal Life
Robert Wahlberg was born on 18th December 1967 in Dorchester, Boston, Massachusetts to Donald Wahlberg(Father) a school bus driver, Korean war Veteran & Alma Wahlberg(Mother) a bank clerk.
He is the 7th of 9 Wahlberg children. He has three half siblings from his father's relationships before his marriage to Alma. He is the brother of Popular actor Mark Wahlberg and musician Donnie Wahlberg.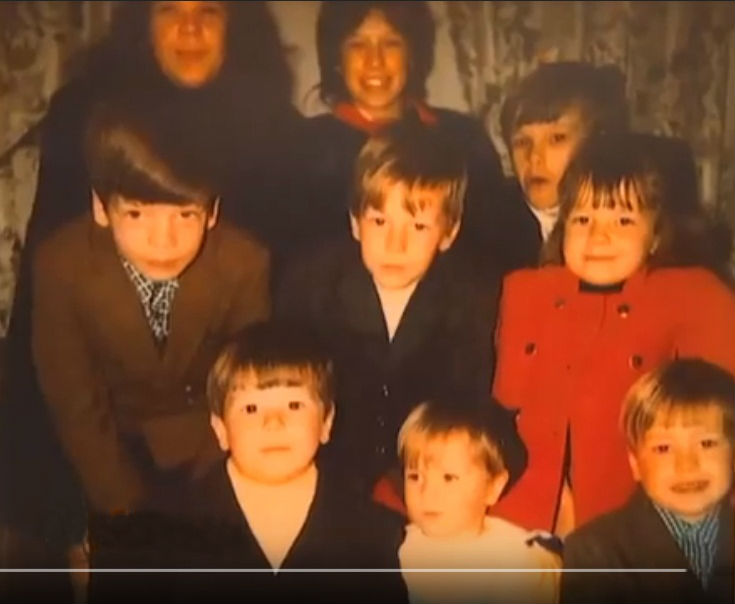 Image: Robert Wahlberg Family Childhood photo; Mother, brothers & sisters
Image: Robert's father Donald Wahlberg & brother Donnie Wahlberg
Interesting Facts
He is the 7th child of 9 children in his family.
He is a great story teller, he says he imbibed it from his mother, who is an animated story teller.
He is of English(6%), French-Canadian(6%), German, Irish(60%), Scottish, Swedish(25%) descent.
His mother is the strongest mother he knows according to him and he is a lot like her.
He dislikes American chop suey which his mother liked cooking for him all his childhood, but he never told her.
He is the only Wahlbergs to still stay in Dorchester.
Robert feels his brother Mark is emotional in his business investments, he wants to be an investor in the business of his brother & Chef Paul's restaurant named- Wahlburgers.
He was part of the show named - Wahlburgers on A&E. A Wahlberg family reality TV show.
Bob was voted the 4th favorite Wahlberg son on the Wahlburgers on A&E show. He wished he was placed ahead of his brother Donnie, just because Donnie wanted so badly to be the top.
His parents divorced in 1982, they had 9 children by then.
Bob used to do pranks as a kid, sometimes those would scare the rest of the siblings. Mother Alma's practical jokes were fun, Robert's were scary & sometimes dark (as per Donnie who as at the receiving end mostly).
Robert once pushed Donnie out of bus just as the bus was about to leave. He was left in a strange part of city without any money.
He has had a troubled relationship with his brother Donnie, they have patched up their differences and are in good terms now.
He produces music at 'Boston's Finest'.
He is a distant relative of singer Madonna & actress Halle Berry.
As a kid he liked playing and watching baseball, All wahlberg kids had their custom T-shirts with their names on them. Bob's number was 3. Donnie-7, Mark-8
Bob is a Red Sox fan since childhood, he once punched a neighborhood kid for teasing him after his favorite team lost.