Biography
Britt Baron is an American movie & TV actress. She is known for playing the role of Justine in the Netflix comedy drama GLOW (where she plays a wrestler in a low budget wrestling league).
Britt Baron was born on 16th October in White Plains, New York. She grew up in Connecticut, United States.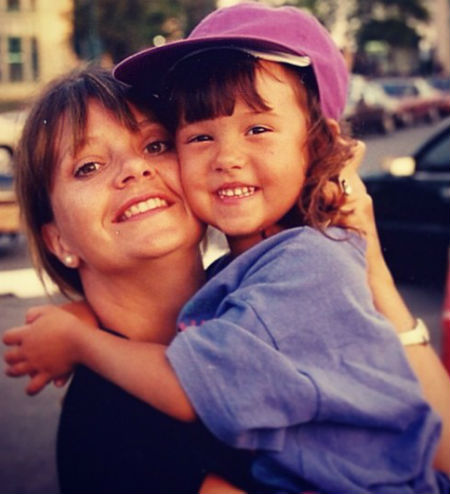 Image: Britt Baron with her mother in childhood
Image: Britt Baron with her father in childhood
Career
Britt Baron previously worked as an actress at the theaters like- Steppenwolf Theatre (Chicago) (where she performed in plays 'East of Eden', 'Grand Concourse'), Burban's Falcon Theatre.
She has acted in the movie Meshes of Dusk (2015). She has been part of short movies like- Mad (2013), Static (2013)
She made her TV debut in a small role in Grey's Anatomy (2005- ). Some of the Other TV series she has appeared in are: Awkward. (2011-2016), Jennifer Falls (2014), Movie Trivia Schmoedown (2014-), Chicago P.D. (2014- ), Lucifer (2015- ), Criminal Minds: Beyond Borders (2016- ), GLOW (2017- )
She has lent her voice to Video games like- Halo 5: Guardians, Skylanders: Imaginators, Dishonored 2, Agents of Mayhem, Dishonored: Death of the Outsider.
Britt Baron Interesting facts & Trivia
Her goal in Life- To continue as a an actress for the rest of her Life.
She got introduced to acting while playing Sherlock Holmes in her 1st grade summer camp. She insisted on playing male roles as a kid.
When free- she likes spending time with friends, having Bonfires.
She has 'the handwriting of a 12 year old boy' according to her.
She was spotted by an agent while performing in a clown's dress at her college.
Her dream Role: Abigail (The Crucible), Jafar(Aladdin)
She doesn't like driving, not much into cars either.
She likes kids and wants some of her own when she is ready.
She had to learn wrestling for her show GLOW. They trained her for 4 and half weeks before the series Pilot.
She babysat for a while for money during the initial years of her acting career
Suicide awareness campaign: She participates in mental health awareness programs, one of her close cousins- Kelly, committed suicide, it shook Britt and made her commit to help other people who are going through rough life.
She is a women's Rights, Human rights, racial equality activist.
She supports IAmThatGirl, an organization to help women feel comfortable the way they are.
She supported the democratic party in 2016 elections.
She wanted to audition to be an actress when she was in elementary school, her mother however wanted her daughter to be a normal kid who learns to ride bike, go to school until she grew up.
She was about to quit acting and get some other job just before GLOW. She was the last one to be casted for the show
She feels women are told to be pretty, speak in low pretty voice, and that it was a relief to go over the top and be a wrestler in GLOW.
She doesn't feel comfortable being nude on screen, just for the sake of nudity without any value to the scene.
Britt Baron Quotes
I grew up listening to Kate Nash music. Now I get to sit on her shoulders and choke her out
I don't mind pain in difficult times, when we succeed it makes us feel we have earned it
There are both high highs & low lows in acting career, I love them both.
Change will not come if we wait for some other person or some other time. We are the ones we've been waiting for. We are the change that we seek.
All of the cultural clashes and wars over religion and racism, none of that will matter if our planet doesn't survive.
Everyone needs some instant gratification, but obviously, you can't live your life like that. Everything in moderation.
I have stopped comparing myself to friends, family, co-workers and just focus on my own journey, to forgive myself.
It's easy in the age of social media to compare yourself to your idols and feel yourself not measuring up.
When I don't know what to do, I pretend that I'm holding an invisible umbrella
I really don't understand the Grammys. It's like if the Oscars nominated Transformers 5 for best picture.