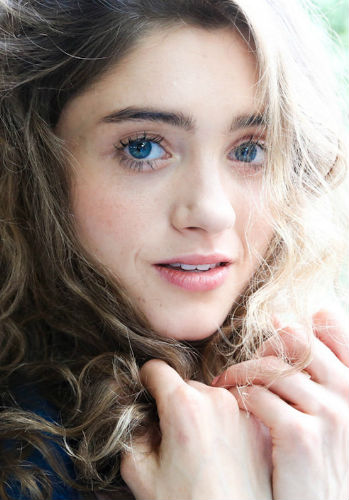 Natalia Dyer
| | |
| --- | --- |
| Date Of Birth | January 13, 1995 |
| Age | 28 years 10 months 18 days |
| Day of Birth | Friday |
| Place Of Birth | Nashville, Tennessee, United States |
| Zodiac Sign | Capricorn |
| Profession | Actress |
| Full Name | Natalia Danielle Dyer |
Personal Information
Residence

New York, United States

Religion
Christianity
Language
English
Star Sign
Capricorn
Nationality
American
Ethnicities
Caucasian , British
Complexion
White
Famous For
Nancy Wheeler in Stranger Things
Trademark
Blue Eyes

Body Features & Measurements
Height
163 (as of 2019) CM
5 Feet 4 Inches
Eye color
Blue
Weight

48 KG


106 lbs

Shoe Size
6 (US)
Dress Size
2 (US)
Figure Measurements
30-22-31
Figure Type
Rectangle
Body Type
Slim
Bra Size
30A
Family Information
Father

Allen Miles Dyer

Mother

Karen Dyer Young

Stepfather
John Young

Education Qualifications
Alma Mater
New York University (Class of 2013-2015)
Love, Romance, Marriage
Boyfriend
Charlie Heaton
Career Information
Debut (Movie)
Hannah Montana: The Movie(2009) (she played Clarissa Granger)
Years Active
2009–
Favorites, Hobbies, Likes/ Dislikes
Hobbies
Cooking
Reading
Baking
Favorite Actor
Leonardo Dicaprio
Favorite Actress
Kate Winslet
Favorite Foods
Spicy tuna roll
Chocolate
Ice Cream
Avocado toast (Breakfast; from Bluestone Lane)
Sashimi
Cake
Doughnut
Sushi (Lunch & Dinner)
Tacos
Favorite Color
Red
Favorite Movie
Million Dollar Baby (2004)
Favorite Destinations
Paris (city)
Spain (country)
Favorite Car
Lamborghini
Favorite TV show
Orange Is The New Black (Netflix Series)
Likes
Friends
Favorite Character
Maggie Fitzgerald (from Million Dollar Baby (2004))
Favorite Animal
Dog
Favorite Beverage
Coffee (cold brew)
Favorite Brands
Apple (Mobile)
Sandro Paris
Urban Decay (Lipstick)
Favorite Restaurants
Rubirosa (New York)
Victory Sandwich Bar (Atlanta)
Otafuku (New York)
Sunflower Cafe (Nashville)
Argosy (Atlanta)
Fido (Nashville)
Nom Wah Tea Parlor (New York)
Social Networks, Web links
Twitter Profile
Natalia Dyer Twitter Profile
Instagram Profile
Natalia Dyer Instagram Profile
Contact
Talent Agents
WME ([4])
One Entertainment ([4])
More Information
Net worth
$200,000 (in 2017)
Biography
Natalia Dyer is an American TV & Movie actress. She is popular for playing the roles- Nancy Wheeler in Stranger Things, Davina in I Believe in Unicorns (2014), Clarissa Granger in Hannah Montana: The Movie(2009), Grace in Blue Like Jazz(2012).
Family- Childhood
Natalia Danielle Dyer [3] was born on 13th January 1995 in Nashville, Tennessee, United States [3] to Allen Miles Dyer(father) & Karen Dyer Young(mother). She grew up in Nashville, Tennessee, United States. She has two sisters [14]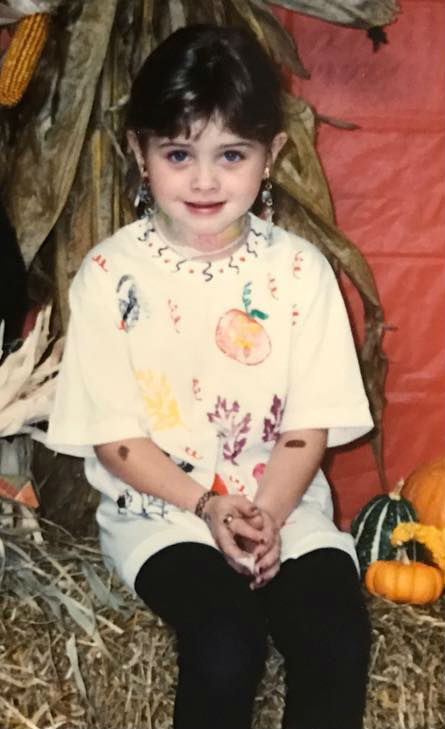 Image: Natalia Dyer childhood
Father
Allen Miles Dyer- a clinical engineering specialist, is her father. Allen is a graduate from Vanderbilt university with degree in Law & Medicine. Allen and his wife Karen met while studying together in the University. Allen & Karen have two daughters- Natalia & Virginia. Allen & Karen are divorced. [17] [18]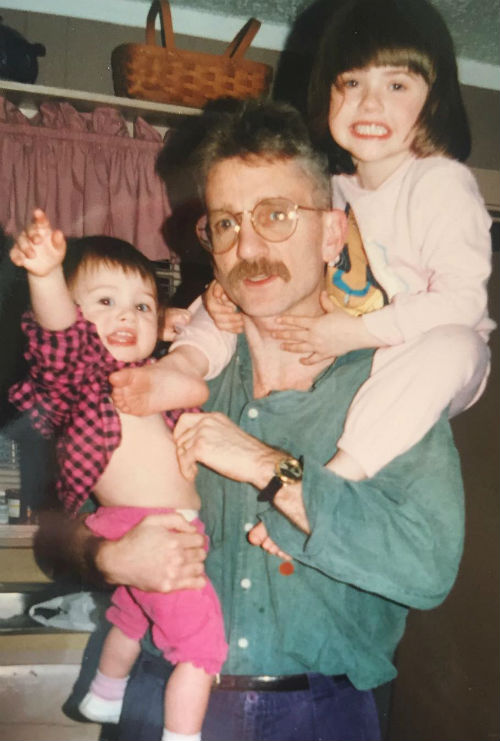 Image: Natalia Dyer (on the shoulders) with Father & Sister
Mother
Karen Dyer Young is Natalia's mother- an exercise physiologist & fitness instructor, she studied at the Arizona state university and worked at Vanderbilt University, where she met her future husband Allen dyer. She is separated from her first husband Allen Dyer now and is married to John Young. She lives in Nashville, Tennessee, originally from Kingsport, Tennessee. She has worked at the Vanderbilt Dayani Center for Health and wellness, where she cared for the patients recovering from cancer & stem cell transplant [15] [16].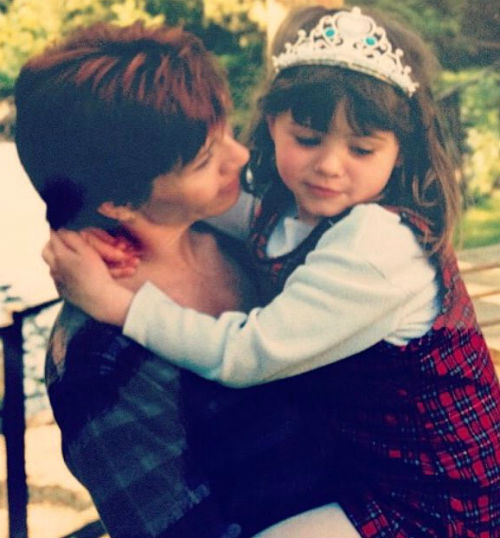 Image: Natalia Dyer with Mother
Sisters
Natalia has two sisters, one a full biological sister named Virginia Dyer & another a maternal half-sister.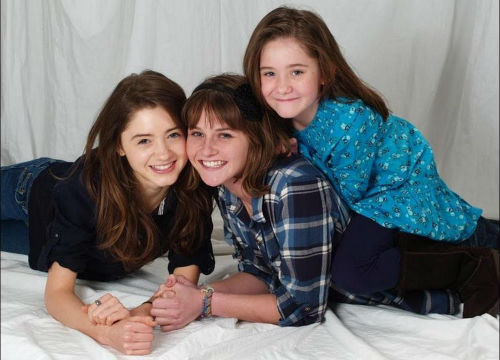 Image: Natalia Dyer with Sisters
Education
Nashville School of the Arts: She attended the performing Arts High school NSA located in Nashville, Tennessee for her grades 9-12. She learned Dance, music, theater, liberal arts and visual arts at the institute [1] [2]
New York University: She studied at "The Gallatin School of Individualized Study", a interdisciplinary college in NYU from 2013-2015.
Dating & Relationship
Natalia Dyer & Charlie Heaton
Charlie Heaton and Natalia Dyer have been dating since 2016. Tabloids had been speculating about it since September 2016, it became official when the two made red carpet debut as a couple holding hands in December 2017. Charlie has a son named Archie from his previous relationship.
Charlie Heaton played Jonathan Byers in the Netflix Thriller Series "Stranger Things". It is on the sets of "Stranger Things" that the two met. coincidentally, Charlie's character on the series- Jonathan Byers- is the boyfriend of the character Nancy Wheeler played by Natalia.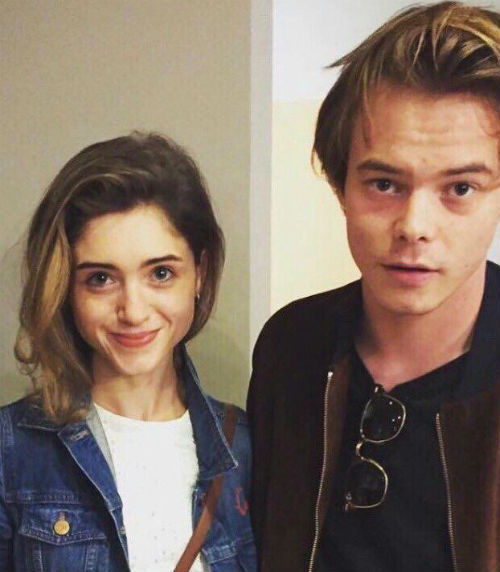 Image: Natalia Dyer with Boyfriend Charlie Heaton
Facts & Trivia
Beginning of acting: When she was in elementary school sports camp she staged a sprained ankle, her parents moved her to a drama camp which had a spot available, that is when her interest in acting took off.
Her Mantra in Life- Everything happens for a reason.
Her biggest fear: Flying in the airplane.
She auditioned for "I Believe in Unicorns" through a tape and sent it to them
Variety magazine praised her performance in their column as "Sensitively observed & arrestingly impressionistic"
She was a floater in high school, she moved between lot of different groups.
She has a younger sister, who is younger to her by approximately 7 years.
She drinks lot of water in the morning and likes to walk.
The best advice she has ever received: Question everything (from her dad).
Perfect smoothie according to her: Lots of berries & greens, almond milk and little cardamom.
For her hair she uses- Oribe Dry Texture Spray
Her go to lipstick- Urban Decay's lipstick in Carnal.
She doesn't like horror movies.
Anorexia: She is believed to have a eating disorder.
As a kid she had Attention Deficit Hyperactivity Disorder(ADHD).
She has a pet dog named- Ozzy.
Natalia is represented by- WME & One Entertainment [4]
Likes: pitaya+coconut [11]
Biggest celebrity Crush: Orlando Bloom [13]
Ads/ Commercials/ Promotions
She has modeled for products such as:
essie
Into The Gloss
Longchamp
Maybelline
Milk Bar
Noon by Noor
Salvatore Ferragamo
Sandro Paris
Shopbop
TAO Asian Bistro
Natalia Dyer was in Hannah Montana
Natalia made her on screen debut through Hannah Monatana as Clarissa Granger, she had a very small role to play. Here is a screen grab of her for your viewing pleasure.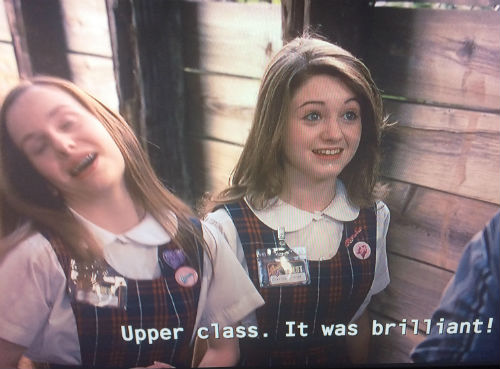 Natalia Dyer Look alike- Emmy Rossum
Natalia has a stunning resemblance to Emmy Rossum, she can pass off as her younger sister. Both of them have chestnut hair, big round eyes and adorable smiles. Can you guess who is who?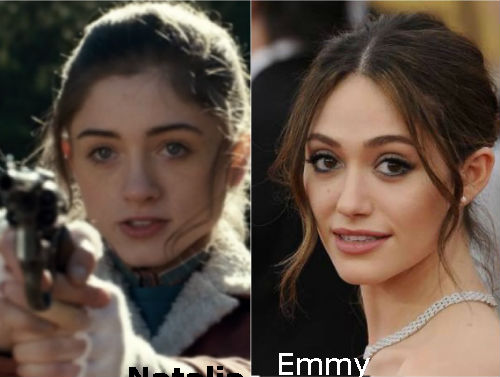 Image: Emmy Rossum & Natalia Dyer
Natalia Dyer Look alike- Mia Sara
Some fans have compared Natalia with the young version of Mia Sara (of Ferris Bueller's Day Off fame). Do they look alike? what do you think?
Image: Mia Sara & Natalia Dyer
Stranger Things
Career breakthrough: Natalia's role as Nancy Wheeler in Stranger Things gave her a breakthrough on TV, she has become a familiar face after the first season. Stranger Things was mostly filmed in Georgia.
Preparation for Stranger Things: As preparation for her role in the TV Series she watched all the 1980 classic movies and shows like- Close encounters of the 3rd kind(1977), A Nightmare on Elm Street (1984), The Clash, Poltergeist and others.
Hardest scene from Stranger things: according to her is the scene where she is covered in the nether goo and had to crawl into a tree (season 1). Pool scene was her favorite.
She feels she has to believe in monsters (For her role in Stranger Things)
She met her future boyfriend Charlie Heaton on the sets of "Stranger Things".
Stranger Things stands out as one of the notable roles she has ever played on TV. The popularity of the Stranger Things has only increased over time.
Salary: Imdb lists her salary per episode in the 3rd season as $150,000. A handsome sum indeed.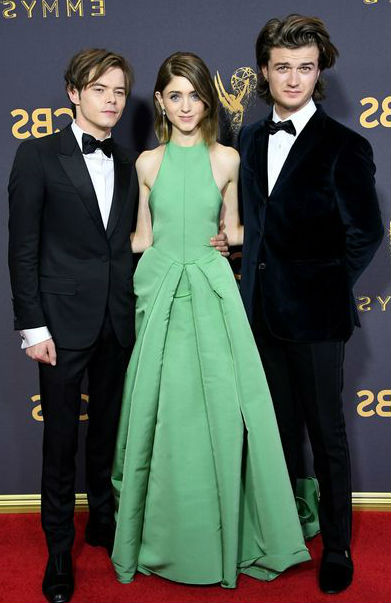 Image: Natalia Dyer, Joe Keery & Charlie Heaton
Filmography
Movies List
| Year | Movie | Character | Comments |
| --- | --- | --- | --- |
| 2020 | Tuscaloosa | Virginia | |
| 2019 | The Nearest Human Being | Monique | |
| 2019 | Yes, God, Yes | Alice | Lead role; extended version of the short movie |
| 2019 | Velvet Buzzsaw | Coco | Netflix |
| 2018 | After Darkness | Clara Beaty | |
| 2018 | Mountain Rest | Clara | |
| 2016 | Long Nights Short Mornings | Marie | |
| 2014 | I Believe in Unicorns | Davina | Lead role |
| 2013 | Don't Let Me Go | Banshee | |
| 2012 | Blue Like Jazz | Grace | |
| 2011 | The Greening of Whitney Brown | Lily | |
| 2009 | Hannah Montana: The Movie | Clarissa Granger | |
Netflix/ TV Series List
| Year | Series | Character | Comments |
| --- | --- | --- | --- |
| 2020 | Things Heard & Seen | Virginia | Netflix |
| 2016-2021 | Stranger Things | Nancy Wheeler | Main role; Netflix |
Short movies
| Year | Movie | Character |
| --- | --- | --- |
| 2018 | After Her | Hailey |
| 2017 | Yes, God, Yes | Alice |
| 2015 | Till Dark | Lucy |
| 2014 | The City at Night | Adeline |
| 2010 | Too Sunny for Santa | Janie Ferguson |
Music Videos
| Year | video | Artist |
| --- | --- | --- |
| 2018 | Wild Love | James Bay |
Career
2020
Things Heard & Seen: Natalia will appear in the NetFlix Series- "Things Heard and Seen". The cast of the series includes- Rhea Seehorn, Alex Neustaedter, Amanda Seyfried.
In Tuscaloosa a psychological drama (based on novel by Glasgow Phillips ), Natalia plays Virginia- a mental patient with multiple personality disorder undergoing treatment at the insitution helmed by D. Mitchell (Tate Donovan). Doctor Mitchell's son Billy Mitchell starts gettign attracted to Virginia. His life takes turn from that of a boy from high society college kid's. Ella Rae Peck, Nathan Phillips, Birgundi Baker are also in the cast.
2019
She played Monique in the Romantic Comedy movie The Nearest Human Being (2019), It was written and directed by Marco Coppola; with Charlie Hofheimer, Leticia Peres, Josephine Huang, Aaron Scott Koen in the cast.
In Yes, God, Yes, she plays Alice, a devout Catholic teen from the Midwest. After exploring her sexuality through racy AOL chats she is guilt ridden. She goes to a religious retreat to control her sexual thoughts and suppress her desires. Seeing the apparently devout hiding behind masks she leaves the retreat, on her way she unexpectedly meets a co-traveller who gvies her a better idea of what "good" is. She finals finds her freedom from guilt. The movie was based on the short movie by the same name where Natalia had played Alice. The movie was written and directed by Karen Maine, while Timothy Simons, Francesca Reale, Susan Blackwell played the other important roles.
In the horror thriller "Velvet Buzzsaw" created by Dan Gilroy, she plays coco- a former assistant of Rhodora Haze (Rene Russo), who has now started working for Jon Dondon(Tom Sturridge). Jake Gyllenhaal plays the lead role of Morf Vandewalt- an art critic in Miami beach. The story revolves around the mysterious death of Vetril Dease. Toni Collette, Zawe Ashton, Daveed Diggs play main roles.
2018
In the science fiction After Darkness directed by Batan Silva, she plays Clara Beaty. As the Sun is dying out and the earth is turning dark, the Beaty Family must find reconciliation. They must mend their bonds and let go off grudges. Kyra Sedgwick, Tim Daly, Valorie Curry, John Patrick Amedori, Sam Daly play the important roles.
In the family drama Mountain Rest, she plays Clara, the daughter of Frankie(Kate Lyn Sheil) and granddaughter of an aging popular actress Ethel (Frances Conroy). Clara who has never met anyone from her extended family starts a liking for her grandmother, her conflicts with her mother Frankie grow, while Frankie has her own troubles in love life. Shawn Hatosy, Joshua Brady are seen in the main cast.
In the short movie After Her Natalia plays Hailey- a teenage girl living in a small two, who disappears. Christopher Dylan White plays Callum a past friend of Hailey who comes back to the town and visits places he and Natalia past visited. Aly Migliori directed the short film, Kasey Buckley played Connie.
She appears in the musical video "Wild Love" by James Bay
Music Video: Natalia in "Wild Love" by James Bay
2017
In the short movie Yes, God, Yes Natalia plays Alice, a teen catholic who has found her exploration of human sexuality a pleasant experience, but is overcome with guilt. The story is about her finding the release from guilt. John Doherty, Joe Reece, Merissa Czyz, Suzanne Lenz also play supporting roles.
2016
In the Netflix Fantasy thriller "Stranger Things" created by Matt Duffer & Ross Duffer, she plays Nancy Wheeler- a disciplined and law-abiding teenager, sister of Mike Wheeler (Finn Wolfhard). She plays the love interest of Jonathan Byers(Charlie Heaton). She plays one of the pivotal roles in Series. Millie Bobby Brown, Joe Keery, Winona Ryder, Caleb McLaughlin, Gaten Matarazzo are also in the main cast.
She plays Marie in the Romantic Drama film Long Nights Short Mornings, Shiloh Fernandez played the lead role of James. Ella Rae Peck (as Katie), Paten Hughes (as Monica), Christine Evangelista (as Natalie), Cassandra Freeman (as Anna), Helen Rogers (as Lorraine) also appear in the movie. The story is about the romantic life of a young man in New York.
2015
In the short Drama thriller Till Dark, Natalai plays Lucy, one of the 3 childhood best friends, other two roles were played by Ian Colletti & Will Denton. The story is about the obsession of teen boy when he finds out that his two best friends are spending time together privately.
2014
She plays Adeline in the short movie The City at Night. The story is about the changes in behavior of people when something out of the ordinary happens. Doua Moua (Tsheej), Jack Burk Goldman (Barber), Alexander Rotella are also in the cast.
She played Davina- a high school freshman from San Francisco in the Drama movie I Believe in Unicorns by Leah Meyerhoff. The story revolves about the troubles of young lovers, the struggles in their relationship, her escaping to a fantasy world as the relationship turns abusive. Julia Garner plays her best friend Cassidy. Peter Vack, Amy Seimetz, Toni Meyerhoff play other important characters.
2013
She is seen portraying Banshee in the fantasy horror film Don't Let Me Go, The story is about an ailing father taking his family into the woods in an attempt to feel the closeness the family once had. Isabelle Fuhrman, Joel Courtney, James Le Gros, Peter Bogdanovich are in the cast while Giorgio Serafini wrote and directed the movie.
2012
In Blue Like Jazz, she appears in a small role as Grace. The cast included- Marshall Allman, Claire Holt, Jason Marsden, Tania Raymonde, Eric Lange, Justin Welborn.
2011
Natalia plays Lily in the family adventure- The Greening of Whitney Brown, Sammi Hanratty played the lead role of Whitney Brown- a spoiled city girl facing difficulties in the country side after her parents were forced to move to the country side because of financial difficulties. Brooke Shields, Aidan Quinn, Keith David are in the cast.
2010
In the short comedy drama Too Sunny for Santa, she plays Janie, the daughter of Jim Ferguson. Her mother is dying and would not be living long. Jim and Janie try to create Christmas for their dying loved one.
2009
In Hannah Montana: The Movie, Natalia has appeared in minor part as Clarissa Granger. The movie was the beginning of the movie career of Miley Cyrus. Apart from them- Emily Osment, Jason Earles, Mitchel Musso, Moises Arias were also in the movie.
Awards
| Year | Won? | Award | Project | Category |
| --- | --- | --- | --- | --- |
| 2018 | Nomination | Screen Actors Guild Awards | Stranger Things | Outstanding Performance by an Ensemble |
| 2017 | Nomination | Gold Derby Awards | Stranger Things | Best Ensemble of the Year |
| 2017 | Nomination | Young Artist Awards | Stranger Things | Best Performance in a Digital TV Series- Teen actress |
| 2017 | WON | Screen Actors Guild Awards | Stranger Things | Outstanding Performance by an Ensemble- TV Drama |
News & Updates
Attended The 26th Annual Screen Actors Guild Awards in 2020
Attended Vanity Fair event in September 2019
Posed for the "Hunger Magazine" in June 2019
Was in Paris for the premiere of Stranger Things Season 3 with the whole team.
Posed for refinery29 in July 2019
Has appeared on the cover page of ELLE in June 2019 [6]
Has appeared in "The Last Magazine" June 2019 edition
Appeared on the cover page of FLAUNT in March 2019 [7]
Wore Dolce Gabbana to the 2018 Emmy's [8]
Appeared on the cover of "Clash Magazine" in January 2018 [9]
Natalia attended San Diego Comic-Con in 2017.
She watched La La Land in 2016 and really liked it. [5]
Quotes
[About co-star Winona Ryder] Winona is amazing. she is great at what she does, she can really get down to business. But between the takes she is fun and she is grounded, smiling and laughing, she is a pleasure to be with.
I genuinely believe that everything works out in the end, good vibes attract good vibes. Just trust the universe to do what the universe is supposed to be doing.
[About Flying in airplane] Every time I fly I think I'm going to die or lose a good minute.
[About success of Stranger Things] It is absolutely exciting, it is just like mental, to see the fan base, to hear them is really cool.
[Her advice to kids at 13] At 13 kids are mean, your face is breaking out and it's a lot of stress & a lot of things are out of your control. It's going to get better.
In this day and age.. An ultimate definition of who you are and how popular you are and how much people like you [is apparently decided by] friends and likes. It's not real.
Social media is not real life. It can be good and it can be fun, but you can't let it get toxic. Your friends are real, You are real and what you think of yourself is real, not others' opinions.
I'm not much one for horror stuff.. I'm really drawn to relationship stories and human emotions.
I'm really interested in playing cool characters and telling cool stories, just being a part of that in any capacity.
I know there's a lot of hate out there so I just wanted to voice my love and support for candy corn [10]
I think the most beautiful thing is being happy- it really shows when someone is genuinely happy.
(about millennials) I guess I think generalizations are a misunderstanding from the get go.
As a woman, you have to speak up, You feel like in order to be heard you have to be a little more aggressive. It's a fine balance.
We are all kids playing pretend in a way
Part of the life of an actor is just waiting on the precipice of what the universe is going to deal out for you
Sources
[12] video Time: 7:40 onwards
[12] Video Time: 9:50 seconds