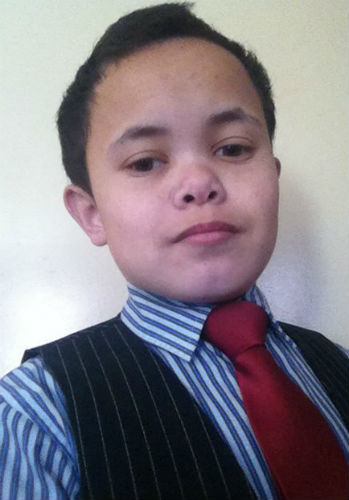 Sam Humphrey
| | |
| --- | --- |
| Date Of Birth | 1994 |
| Age | 29 years |
| Place Of Birth | New Zealand |
| Zodiac Sign | |
| Profession | Actor |
Personal Information
Residence

Frankston, Victoria, Australia




Los Angeles, California, United States

Religion
Christianity
Language
English
Nationality

New Zealander

Ethnicity
Multiracial
Complexion
Olive
Trademark
Short Height

Body Features & Measurements
Height

129 CM


4 Feet 3 Inches
Eye color
Brown
Hair color
Black
Weight

30 KG


66 lbs

Body Type
Athletic
Hair type
Straight (& Short)
Chest size
29
Waist Size
20
Family Information
Father

David Humphrey

Mother

Sally Humphrey

Brother
Josiah Humphrey (co founder at Appster)
Sister

Esther Humphrey

Cousin
Nathaniel Sears

Education Qualifications
Education(College)
Mount Erin Secondary College (From age 7-12) , Elizabeth Murdoch College
Career Information
Debut (Movie)
The Greatest Showman(2017)
Years Active
2016-
Debut (TV)
Neighbours
Favorites, Hobbies, Likes/ Dislikes
Favorite Actors
Hugh Jackman
Chris Pratt
Favorite Actress
Jennifer Lawrence
Favorite Food
Chocolate
Favorite Movie
Star Wars
Favorite TV show
Prison break
Favorite Beverage
Pepsi
Childhood Hero
Hugh Jackman
Social Networks, Web links
Facebook Profile
Sam Humphrey Facebook Profile
Twitter Profile
Sam Humphrey Twitter Profile
Official Website
Sam Humphrey Official Website
Instagram Profile
Sam Humphrey Instagram Profile
YouTube Channel
Sam Humphrey YouTube Channel
Contact
Web Contact
Web Contact
Talent Agent
ICCAM
More Information
Friend
Chris Taylor (nickname - Godxilla; fellow Star Wars nerd)
Biography
Sam Humphrey is an Australian actor from New Zealand background. He is popular for playing- Tom Thumb in The Greatest Showman(2017), Jai in Jeremy the Dud(2017), James Udagawa in Neighbours.
Sam Humphrey was born in 1994 in New Zealand. He lives in Victoria, Australia.
Sam Humphrey: Facts & Trivia
Apert syndrome: Sam was born with a form of acrocephalosyndactyly (Skeletal Dysplasia), a congenital disorder with malformations of the head, face, hands & feet. In his youth the bones did not grow.
Crohn's disease: He had inflammatory bowel condition as a kid, he has had to go visit Hospitals frequently because of his condition.
Suicide attempt: Given his hard trials, times to Hospitals and doctors Sam attempted suicide many times. His family support, his faith in God, his courage and dream to become an actor have helped him overcome the mental depression.
The Greatest Showman: Sam played General Tom Thumb in this periodical movie, he was taller for the job, thus he had to walk on his knees to suit the job, some alterations were made to his voice as well.
As a child Sam was a great fan of fellow Australian star Hugh Jackman who made it big in the Hollywood, he dreamed of working with him in future, he eventually did it in his debut movie.
He and parents were told that he would not live beyond 18, the challenge inspired him to live it fully.
Sam's brother Josiah Humphrey is a mobile app maker, he is a millionaire. Josaih admired his brother's courage and strengths on Linkedin at the release of his brother's first movie.
He was occasionally followed by people around the mall asking him if he was lost and looking for his parents. He knew they were worried about him, but it was bit annoying as it would repeat over and over
Only on the last month of pregnancy could doctors find out that the baby was not growing and could have some disorders.
His mother on him- "He was very tidy as a kid, never afraid to be the center of attraction, girls liked to be around him asking questions"
His brother on him- "I love my brother, I definitely think there is a different confidence, he has sort of embraced himself, I think he can do a lot more, he has all the talent in the world, not only that, he is a genuinely loving, nice and incredible character"
He wanted to get into acting school, but he couldn't afford it, however he started learning on the sets soon after.
Ancestry: His father is a Caucasian from New Zealand & Mother a South East Asian.
Charity: He wants to set up a charitable foundation to eradicate poverty. To shelter homeless people, integrate them on society.
His Goals for life:

Win an Oscar
Possibly marry and have a child

He has lot of star wars clothes collection, and doesn't want to get rid of it.
He does a scarily similar Smeagol(character from Lord of the Rings) impersonation.
He doesn't like dancing.
He has a Diploma of Australian Television Acting from Tanya Powell Modelling Agency.
He has been interested in acting since his preschool.
There are about 3 people who have the similar condition as him, but he has never met anyone else. He has had dwarf friends with whom he says he could relate with.
He wants to increase his height to 150 through stretching exercises.
Driving: He uses a booster seat in his car to be able to drive and hit the right peddles.
He loves animals and has a kitten for pet.
Attitude Live made a great biographical video on him in 2016.
Sam Humphrey: Quotes
[About disease] It makes me unique, people can point me out from a crowd, plus I get to do weird adventures like climbing up the shelves in shopping centers.
I'm like Jack and the Beanstalk [adventurous]
[About dating] People don't necessarily see me a datable type, I'm like a kid to them, it's a little bit weird you know. I hope that when people get to know me, it's my personality the wins them over.
One thing I want people to know about me is that I'm more than my disability, I'm more than just a short person. I'm funny, I'm charismatic, I'm sensitive, I like to have a laugh. When you see me, don't stare at my height, some and talk to me, I like to chat.
No matter who you are, what you look like, what your abilities are, there is a place for you and a place to make a difference in the world.
I tried to kill myself a few times but the thought of what it would do to my family and friends was too much and ultimately I just couldn't bring myself to end my life.
I have always loved to be the centre of attention, which not many people enjoy.
I went to the dark side in my teen years, bit depressed. I have come out that.
I am a workout junkie, I keep pushing until I literally can't anymore.
I wear a lot of adult clothes like suits and avoid kiddy stuff which my mother buys me.
Every day you need to be working to get that next job, do as many auditions as you can get, just grind until you get that next paycheck and do it all over again.
I have spent most my life in my bedroom.
I have always wanted to be independent, no matter what.
My biggest challenge that I have overcome has been to fulfil my life long dream of becoming a professional actor.
I'll definitely be typecast, especially initially.
I don't have a backup plan, if there is plan B we won't give our full to plan A. It is all or nothing for me.
Every year I wasn't sure if I was going to be alive for the next one; that was hard to live with
I get mistaken for a kid quite a lot.
There is a joke in our household, that my brother got the height, my sister got the brains and I got what was left.